Article
How Much Does a Restaurant POS System Cost?
What factors into the cost of restaurant POS systems? A breakdown of upfront hardware costs, recurring software costs, and other things to keep in mind.
A restaurant POS system is the central nervous system of your restaurant. It carries messages and important information from the head (the leadership team) to the heart (your staff) and throughout the rest of the body (your restaurant as a whole, and your guests).
Choosing which restaurant POS system to invest in is a big decision, one that involves a lot of research and demos with various vendors. You need to consider the best POS software in addition to POS hardware. And that's no easy task.
Sometimes, even after spending a lot of valuable time searching for the best possible system, restaurant owners end up making a mistake by basing their final decision on cost alone. This usually leads them to choose the least expensive pricing proposal. Instead, when analyzing the cost of a POS system, it's important to focus on how the various costs will translate into value for your business.
So, here's the real question: What are the different components of a restaurant POS system, how much do they typically cost, and how will they improve your restaurant operations? Below are answers to the questions restaurateurs have about restaurant POS system costs.
And to help you evaluate the tools along the way, you can download the POS comparison guide and check out the Toast vs competitors compare guide.
RESOURCE
Find the right POS for your restaurant's unique needs
We'll handle your info according to our privacy statement.
What does a restaurant POS system do?
The basic function of a restaurant point of sale system is to facilitate customer orders and accept payments. With the advent of new technology, however, POS systems have become increasingly robust in their capabilities. Many POS systems, like Toast, have the ability to serve as an all-in-one platform for your restaurant.
Along with sending orders from customers to the kitchen, modern restaurant point of sale systems commonly offer users features such as:
Analytics & reporting (sales reports, product mix reports, and key business metrics)

Inventory management and tracking

Digital menu management

Labor/employee management (time clocks, track hours worked, and track earnings)

Customer relationship management or CRM

Integrated payment processing (including contactless payment support)

Reward/loyalty program management

Online ordering and delivery

Tableside service and payments

Customer support options
Most importantly, it's key to find the right POS for your restaurant. Whether you're a brand new operation or a multi-location chain, the best POS systems will be able to grow with you and support your business.
How much does a restaurant POS system cost?
The range of costs for restaurant POS systems typically falls between $60 - $250 per month for software. In addition to those monthly fees, hardware costs are often a one-time fixed cost starting at $700.
Of course, the cost of your restaurant POS system, particularly the hardware, is dependent on the size and needs of your restaurant. A smaller operation, such as a food truck, can run on a handheld POS tablet package while a larger, full-service operation may require several terminals.
When researching POS systems, here are the factors to consider:
Hardware: This includes routers, terminals, kiosks, handheld devices or mobile POS, card readers, kitchen display systems, printers, and guest-facing displays.

Software: This includes the tech stack or platform that enables your guests and staff to place orders and conduct key business operations such as payment processing and reporting.

Additional Features: This includes add-ons such as software integrations, gift card programs, online ordering, takeout/delivery, payroll/team management, and loyalty/rewards program hosting.
There are many different types of systems and pricing structures. More expensive doesn't always mean a better system, and less expensive doesn't necessarily mean better value.
With each of these systems comes different hardware and capabilities from different brands, including hardware, software, and additional features. Because of this, you can't compare quotes from different POS vendors as apples to apples.
It's important to compare each POS system's value to your small business. For example, are you looking for an iPad or an Android device? Do you run a cafe or quick-service restaurant that would benefit from customer-facing displays? Each of these considerations should be taken into account when attending a demo or reviewing a quote.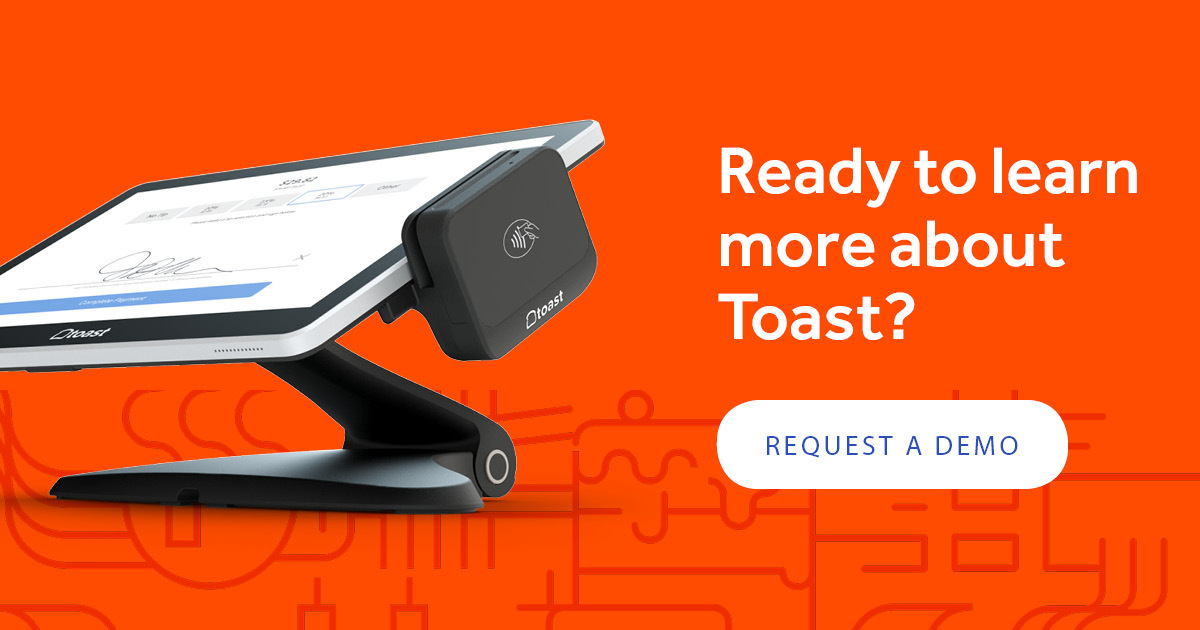 How much does restaurant POS equipment cost?
Here's a comprehensive breakdown of the POS hardware costs you can expect to encounter.
1. POS hardware
POS hardware costs vary depending on the type of system you're looking to purchase for your restaurant. The two main types of restaurant point of sale systems are:
Cloud-Based Systems: These are also referred to as software-as-a-service (SaaS) or web-based, cloud-based POS systems. These systems store data on remote servers and give users the ability to access said data anywhere they have an internet connection.
Legacy Systems: Legacy systems — sometimes called traditional POS systems or on-premise POS — store data on local servers (in your restaurant) and run on a closed internal network.
Here are some of the hardware items you can expect with point of sale systems:
Front of house (FOH)
Terminals (cash registers)

Cases

Stands

Credit card readers (EMV compliant)

Cash drawers

Receipt printers

Guest-facing display
Back of house (BOH)
Technical hardware
Wifi Router (for a cloud-based system)

Servers (for a legacy system)

Cables
Innovative features
Rather than looking at the total charge for the hardware, focus instead on the cost of each line item. Ask questions like:
How does the cost of the handheld POS systems and countertop terminals compare?

Are credit card readers, receipt printers, cash drawers, stands, and cases included in a bundle cost? Or is each additional item an additional fee?
Legacy POS systems traditionally have the largest hardware costs, ranging from a few thousand to tens of thousands of dollars. In fact, some can even cost as much as $50,000 a year!
Most POS providers offer both terminal and handheld POS options as well. When choosing a handheld POS for your restaurant, look for something that is compact and comfortable for your servers, fully integrated into the rest of your tech stack, and is specifically built for restaurants — like the Toast Go® 2. The mobile Toast Go® 2 has even been found to reduce table turn times by as much as 46 minutes, improving your customer experience and creating happier servers.
Here's how much you can expect POS system hardware to cost:
Approximately $800 for a terminal and credit card reader bundled
Approximately $1,000 per terminal bundle (terminal, case, stand, credit card reader, receipt printer, cash drawer, cabling)
Approximately $200 - $400 for each additional receipt printer/kitchen ticket printer
Approximately $200 for a router
Approximately $600 for a handheld POS system with a credit card reader. If you're investing in handheld systems, you should expect additional networking hardware costs. These costs can range anywhere from $200 to $800, depending on the number of handhelds you are purchasing and the square footage of your restaurant.
Approximately $500 - $1,000 for a kitchen display system (KDS)
2. POS software
Software is a huge differentiator when it comes to purchasing a restaurant point of sale system.
In a restaurant, it's necessary to have reliable, durable POS hardware. But it isn't worth your money if the software powering your concept isn't lightning-fast, robust in functionality, and always improving and updating.
Cloud-based POS systems typically have a monthly or yearly software fee, and it varies significantly between vendors. When you're trying to judge how the software price will translate into value for your restaurant, you need to look beyond the listed price. Here are a few questions worth considering and asking any vendor you're evaluating:
Does the software subscription include phone and email support?

Does it include free updates and feature releases?

How often are software upgrades being released?
Most restaurant owners would agree that it's worth paying a little more each month in order to ensure that: 1) you and your staff can get support when you need it 2) you'll always have the most up-to-date software available.
Legacy on-premise systems often charge very little for the software and discount the listed price significantly to make a sale. This is because the monthly subscription typically doesn't include regular software updates, feature releases, or support — let alone 24/7/365 support. Legacy software updates can also sometimes require a total shutdown of the system, which can greatly impact your operations.
Here's how much you can expect POS system software to cost:
Approximately $70 per device, per month

Approximately $25 per month for KDS software
3. Additional POS features
The basic purpose of a restaurant POS system is to facilitate orders and accept payment from customers. But most, if not all, restaurant owners are looking to invest in a system that does way more than that.
In a way, this is similar to the purpose behind restaurants: A restaurant's basic function is to feed people, but you and your staff do way more than that by creating delightful, memorable dining experiences for your guests.
The best modern restaurant POS systems offer customers additional features that allow you to take things to the next level. These can include:
Online ordering facilitation

Gift card program hosting

Loyalty/rewards program hosting

Credit card pre-authorization

Inventory tracking and management

A customer relationship management (CRM) solution

Integrations with other software vendors

Offline mode
At Toast, these features are integrated into the POS experience. This way, a user — whether they're a customer or staff member — can access and use these services whenever they're connected to the system.
For example, if you invest in a restaurant POS system with an online ordering integration, your customers can order food online from your website. From there, those orders will be routed directly to the kitchen to be fulfilled. They'll also be tracked in your POS system's reporting. Pretty cool, right?
Some restaurant POS systems offer these features as an integrated part of their system, but many do not. And if your restaurant uses additional, third-party vendors to power different areas of your business, you'll want to invest in a restaurant POS system that offers the ability to integrate their services into your system via API sharing.
Here's how much you can expect additional POS system features to cost:
Approximately $50/month each for gift cards, online ordering facilitation, and mobile ordering solutions

Approximately $50/month for loyalty/rewards program hosting
How much does restaurant POS installation and training cost?
You've chosen a restaurant POS system. You're ready to get up and running.
Then, it hits you: Who's going to install this thing? Me? My vendor? Who's going to teach my staff and me how to use it?
Installation and training are two crucial factors to consider when choosing a new restaurant POS system. These services are critical for ensuring that the system and network are set up properly and that you and your staff feel comfortable using all of the different features effectively.
But here's the catch: Not all POS vendors offer installation and training services. If you go with a restaurant POS vendor that doesn't offer installation and training, it'll be on you to both install and train your staff.
This can take days to weeks to accomplish, with costly speed bumps and roadblocks along the way.
When you're comparing installation and training costs, it's important to look at exactly what's included in those services. Here are some questions to consider:
Is there a time limit on the amount of time the company will spend installing the system and training the staff?

How much does it cost if additional time is required?

Will the vendor actually come to the restaurant to complete these tasks? Or will you have to use online documentation and phone support to install and learn how to use the entire system?

Will the POS vendor build the entire menu for my restaurant, complete with all of the menu groups, items, and modifiers that are offered?
Paying more for professional installation and hands-on, in-person training is often worthwhile to restaurant owners who care about a seamless transition and making sure that the system is set up correctly from the get-go.
Here's how much you can expect restaurant POS system installation and training to cost:
Approximately $75/hour for remote install (support gives set-up instructions digitally)

Approximately $125/hour for onsite install (support comes to your restaurant to perform the install in-person)

Approximately $400 for a full menu build in the POS
RESOURCE
Creating a training manual can be a drag. Let's fix that.
We'll handle your info according to our privacy statement.
How does POS system cost factor into your decision?
A restaurant POS system is a significant business investment, and it's essential to treat it as such.
Select the system based on the value that it'll add to your restaurant. If the quality of the software, support, and services will prove itself as an investment — not just an extra business expense — it'll be worth it.
Your ultimate goal should be to find the system and vendor that's going to help you improve and strengthen your operations, attract and serve more guests, and improve every customer's dining experience.
Related Restaurant Resources
DISCLAIMER: This information is provided for general informational purposes only, and publication does not constitute an endorsement. Toast does not warrant the accuracy or completeness of any information, text, graphics, links, or other items contained within this content. Toast does not guarantee you will achieve any specific results if you follow any advice herein. It may be advisable for you to consult with a professional such as a lawyer, accountant, or business advisor for advice specific to your situation.