The right plan for every restaurant
Special Offer for New Restaurants
Save money by bundling POS and Payroll
Get started with our Restaurant Basics Package, a limited-time software bundle designed to get you up and running smoothly.
$140
$110 /month
+ $4 per employee/month
Get Quote
Everything in Core, plus:
Payroll lite

Scheduling lite

Additional employee management tools including Business insurance, Vestwell 401k, and Toast PayCard
---
View all features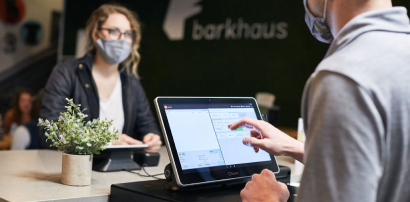 "And in about 24 hours we went from boxes to processing payments at our soft opening that evening."

Justin LeGore
Co-Founder | Barkhaus
Explore add-ons
All of the products on the Toast platform work seamlessly together – so you can spend less time troubleshooting and more time doing what you love.
See how it works
Point of Sale FAQ
The upfront costs for Toast are hardware and implementation, which vary depending on your specific hardware packages and installation needs. 0% interest financing by application and subject to approval.
Within our Starter Package, we also offer the Pay-as-You-Go plan that reduces your upfront hardware and installation costs through an all-in-one platform rate.
Certain hardware is compatible with Toast, but we advise against using your own hardware because it prevents us from ensuring your success, as we're unable to support equipment not purchased through Toast. Using Toast products makes sure your hardware is optimized for your restaurant operations.
Toast handles the credit and debit card processing for all of our customers. We believe you should get more from your processor than just statements, so we process cards to benefit our customers. By combining integrated processing with our guest-facing technology, Toast helps our customers capture guest data that can be used to understand their customers and send targeted marketing campaigns. Our processing rates are custom-built based on your business and have no hidden fees so that you don't get blindsided at the end of each month. Learn more about how payment processing fees work here.
Customer care is included in every software subscription, giving you access to real employees via phone, email, and web 24 hours a day, seven days a week.
Toast point of sale does not need wifi to operate, so you don't need to purchase a 4G stick. As additional protection, Toast offers an offline mode feature so your Toast Flex and Toast Go® products will continue to operate even if you lose internet connection.
We know that one size doesn't fit all with restaurants, so we'll work with you to build a custom configuration for your restaurant-grade hardware. We have flexible payment options available, including payment as a percentage of your sales or fixed monthly payment. These solutions are not just for restaurants with great credit, we have an option with no interest or fees, a 100% approval rate, and no credit check.
How real restaurants use toast
Whether you're a single-location burger joint or the noodle chain down the street, every Toast package is customized to fit your needs.
Schedule your free demo of Toast
We'll reach out within 24 hours to schedule your demo.
By requesting a demo, you agree to receive automated text messages from Toast. We'll handle your info according to our privacy statement. Additional information for California residents available here.