---
---
Results
Dozens
of restaurant tech companies fell short, while Toast's attention to detail, transparency, and the commitment to being partners made us the clear choice to Bareburger.
Customer Story
Bareburger Builds a Scalable Enterprise with Toast
A commitment to growth, fine attention to detail, and products that improve table turn time and their bottom line brought Bareburger to the Toast family.
COO Eric Kinniburgh has worked in the restaurant industry his entire life. He and Paul Zarmati, who previously installed restaurant POS systems for legacy technology companies, joined Bareburger in 2015. They were immediately tasked with replacing the iPad POS system that had been implemented only a year before.
Making the Switch from iPads to Toast
One year after purchasing an iPad POS system, Eric and Paul arrived at the hard realization that it just wasn't working.
"The existing system was hard to deal with, the company wasn't responsive, we had orders disappearing, and there were wifi issues across all locations. The company didn't feel like it was their problem," Paul laments. "In the end, they said, 'If you want help from us, you're going to have to pay.'"
And so began the process of looking for a reliable technology partner for their growing enterprise. Paul and Eric initiated a formal RFP process with multiple cloud-based POS systems, including Toast.
"We were looking for a company with whom we could build a relationship. We evaluated dozens of companies, but we felt almost immediately that the best partnership was with Toast," says Paul. "During that first demo, we kept thinking, 'Wow that's really cool.' It was Toast's attention to detail, transparency, and the commitment they showed to the partnership that stood out to us."
"It was also the fact that Toast is growing and innovating like crazy," adds Eric. "Since first looking at Toast two years ago, the amount of growth is unbelievable. That was a huge thing for me, to see this system transform into the advanced enterprise restaurant management software it is today."
Implementing Toast Across the U.S.
Bareburger piloted Toast in three locations but quickly decided to move forward with a more aggressive rollout.
"We were going to do a 2-month pilot," remembers Eric, "but it only took a couple of weeks to realize that it was time to move things over quickly."
The Toast team installed two locations per week until the first 27 Bareburger locations were live.
"Our Toast installers were amazing," says Eric. "If we had any problems there was literally a crew of people that jumped on it. We were never alone with any challenges. The launch wouldn't have been half as successful if Paul didn't have the installation team to support us and be hands-on in the stores."
Handhelds Improve Server Efficiency
Bareburger guests are treated to speedy service in a sit-down environment. The mobility of Toast tablets has enabled the staff to further speed up throughput while spending more time at the table with guests.
"With the handheld tablets," Paul says, "you can have a conversation with guests while you're taking the order. They help our turn times and efficiency by eliminating another step in the process."
The average ticket time at Bareburger is 12 minutes, with servers taking orders and processing payments right at the table.
"It makes the servers seem like magicians!" Paul laughs, "When they take the drink and food order at the same time, sometimes the guests' drinks show up while the server is still standing there. It helps us with table turns but it's also a cool experience for the guest."
The implementation of handheld tablets has also turned out to be an advantage for the servers themselves.
"With payments at the table, tips for our servers have gone up between 10% and 20%," Paul says. "They drop off the tablet and customers can enter a tip based on the percentage options."
With the option to easily switch to paper receipts if necessary, Toast offers Bareburger the flexibility and mobile capabilities they needed to scale their enterprise.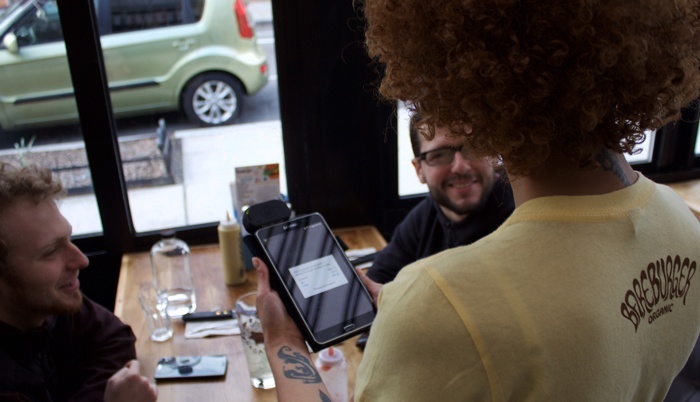 Time Saved with Enterprise Reporting and Management
A growing business like Bareburger requires accurate, accessible data in order to be successful. Paul and Eric needed to see how each location was performing, what they were selling, and where the restaurant was potentially losing money.
"Before Toast, all of our data was localized," says Paul. "For one restaurant, it would take three to four hours to generate a report because all the data was on-premise. It would take a week to remote into each system, format the data properly, and aggregate reports across multiple locations. Now, I go to my Toast dashboard and see everything on one overview page. It's instant."
Bareburger also utilizes Toast's integration with CrunchTime, a back-office restaurant software system, to unify their reporting company-wide.
A Long-Term Technology Partner
Needless to say, Eric has learned a lot from his research and trials with restaurant POS systems. For multi-location businesses, he emphasizes the need for a formal RFP process, including connecting with existing customers of the prospective technology.
"My recommendation to people buying a POS system is, above and beyond anything else, to call and get references," he advises. "If we had called a few references before we went with our last system, it would have saved us $100,000 and a year of headache. I called three references for Toast and they were all glowing."
"Toast is flexible and committed to making the customer happy," says Eric. "It astounds me still."