Article
The Top Lightspeed Alternatives for Restaurant POS Systems (2024)
Interested in alternatives to Lightspeed for your restaurant's POS system? See how real restaurant industry users feel about Lightspeed and others, like Toast.
Restaurants need a POS system custom enough to work for their needs, with industry-specific features to support their success. The right POS helps restaurants grow by improving staff and customer experiences. This system manages inventory, track sales, take orders and payments, and streamlines your entire operation.
If you research the best restaurant POS systems, you likely heard of Lightspeed as a popular choice for simplifying your POS experience. Yet, fast-growing businesses or restaurants looking to scale often need more support. While Lightspeed has been recognized by users for its consistent feature updates, across the board, users report bugs and glitches, a steep learning curve during onboarding, and limited reporting features.
Let's take a look at some of the best Lightspeed alternatives so you can find the perfect fit for your growing food and beverage business.
RESOURCE
Find the right POS for your restaurant's unique needs
We'll handle your info according to our privacy statement.
The Best Lightspeed Alternatives According to Third Party Reviews
To get a good idea of which Lightspeed competitors rank high among users, we turn to G2 — the world's largest tech marketplace where businesses can discover, compare and review the best software for their needs. G2's v3.0 algorithm uses validated POS system reviews from their community of users (1.7 million reviews strong), as well as social and web traffic data, to rank the best products in the market according to customer satisfaction and market presence.
Customer satisfaction scores are based solely on validated G2 consumer reviews. Market presence scores rely on 15 different metrics. These metrics include reviews, online presence, social media presence, vendor age, growth, number of employees, employee satisfaction and engagement, and net promoter score, which measures customer experience and predicts business growth.
That may sound like a lot of data. Thankfully, the G2 Restaurant POS Grid translates this data into a user-friendly format, allowing you to compare restaurant POS systems and see the top Lightspeed competitors at a glance.
Topping the list for Restaurant POS systems is Toast. With an excellent customer satisfaction score and strong market presence, Toast's overall G2 score leads with 88 points compared to Lightspeed's overall G2 score of 76.
The #1 Rated Lightspeed Competitor: Toast POS
Ranking #1 on G2's Restaurant POS Grid, Toast is a cloud-based restaurant POS system that helps simplify operations, increase revenue, and improve the guest experience for food and beverage businesses.
Toast's flexible POS system covers every aspect of your business, from front-of-house to back-of-house to enterprise management. With a robust POS system, Toast offers features such as handheld technology designed for tableside service, menu management, durable IP54 spill-proof, dust-proof POS terminals, and much more.
Toast provides a comprehensive suite of add-on features and integrations, including gift cards, loyalty programs, customer relationship management (CRM), accounting, and more. Toast's payroll, team management, and scheduling features ensure that your staff is always taken care of. With this support, you can coordinate schedules and complete the payroll process within 30 minutes.
Toast also integrates 70+ leading restaurant applications from various categories like reservations, accounting, security, analytics, loyalty, payroll, online ordering, marketing, and CRM.
Customer Support
Toast is recognized across all leading review sites for its award-winning customer support. A national in-person sales team, 24/7/365 online and onsite customer service, online educational resources, and a thriving online user community mean that you are never left in the dark.
RESOURCE
Find the right POS for your restaurant's unique needs
We'll handle your info according to our privacy statement.
Ease of Use
Toast's user-friendly interface with full onboarding support ensures you get your restaurant POS system up and running seamlessly. Their restaurant-grade hardware allows you to customize your POS system to suit your business needs — whether for a casual counter-service restaurant or a high-end table service establishment. Contactless ordering options are also excellent for a post-COVID market, allowing customers to order and pay using a contactless QR code.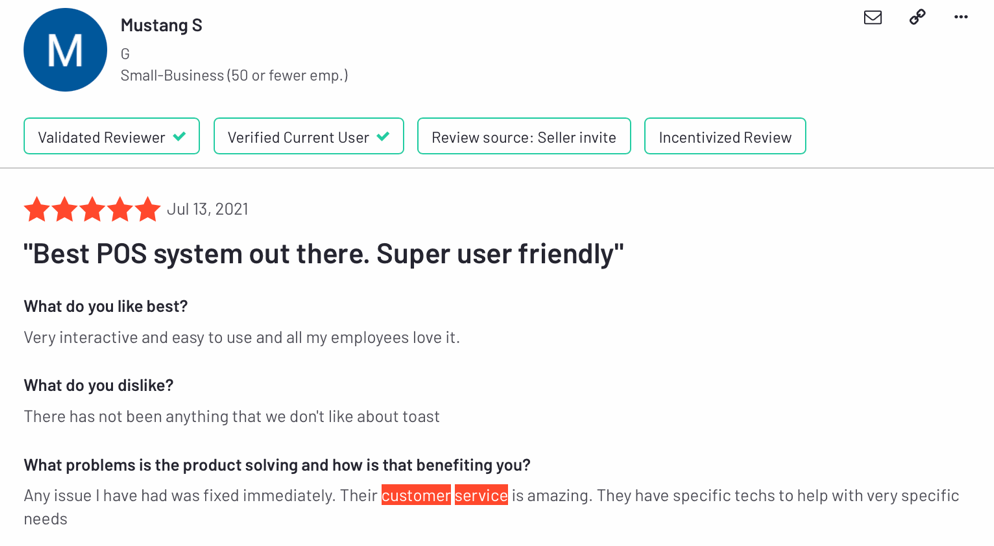 Payment Processing
Toast's payment processing capabilities are some of the best in the industry. With a wide range of options for EMV, NFC, and contactless payments, you can be sure that customers can pay using their preferred method. Offline mode means you can continue to take payments even if your internet connection is lost.
Real-time machine-learning fraud monitoring safeguards your business against fraud with card data encryption guaranteeing that your customers' information remains safe. With the ability to capture guest data and track sales performance metrics, Toast's payment processing features are an excellent way to get your business running more efficiently.
Reporting and Analytics
Toast also offers an advanced reporting system that gives insights into your business operations. Cloud-based access to reports and sales performance metrics means you can track your business' progress from anywhere. With xtraCHEF, Toast's proprietary recipe and inventory management tool, you can save time and money by reducing food waste, managing your inventory more effectively, and streamlining your ordering process. Toast users enjoy an in-depth insight into all aspects of their business, nurturing informed decision-making and accelerated growth.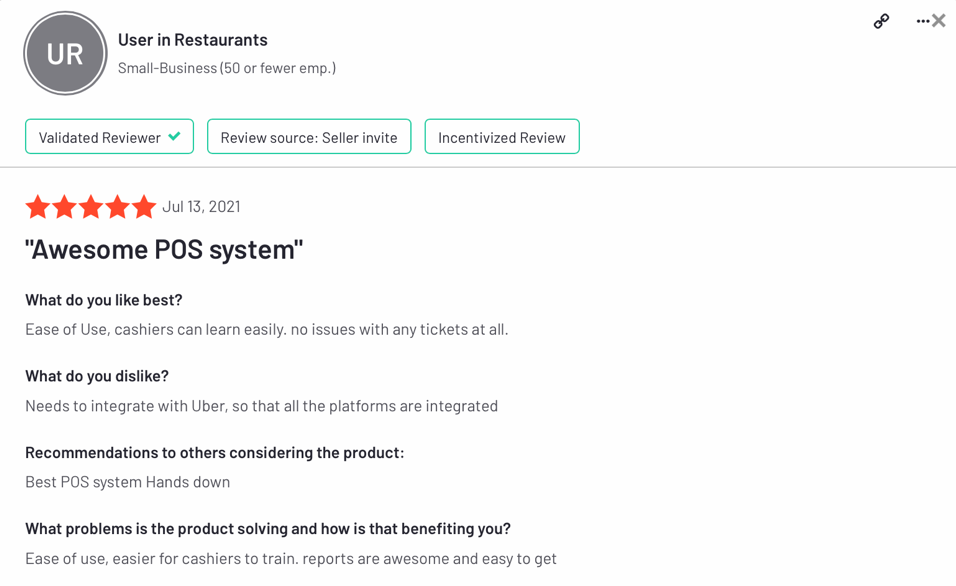 Feature Comparison: Lightspeed vs. Toast
As the top Lightspeed competitor, Toast has received positive reviews across the board in a few key areas where Lightspeed users tend to find difficulty.
Reporting
Lightspeed reviews reveal that - while their reporting features provide basic insights - they are neither comprehensive nor user-friendly enough.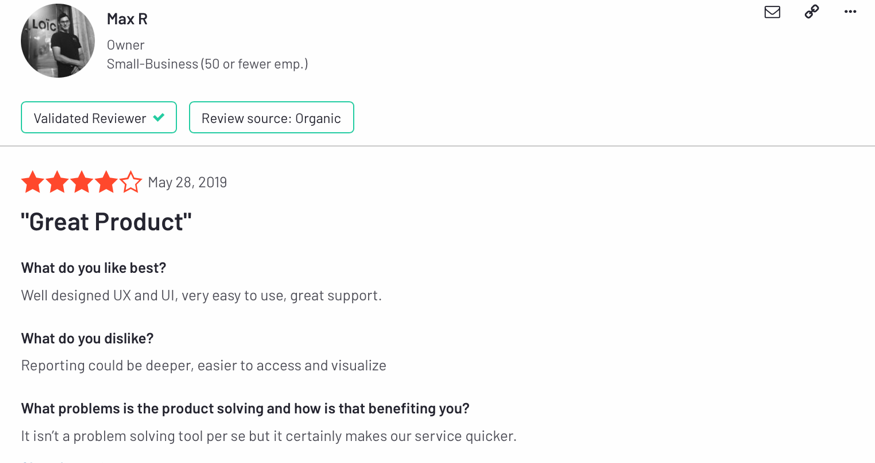 Toast, on the other hand, has been praised for the comprehensiveness and accessibility of its advanced reporting features.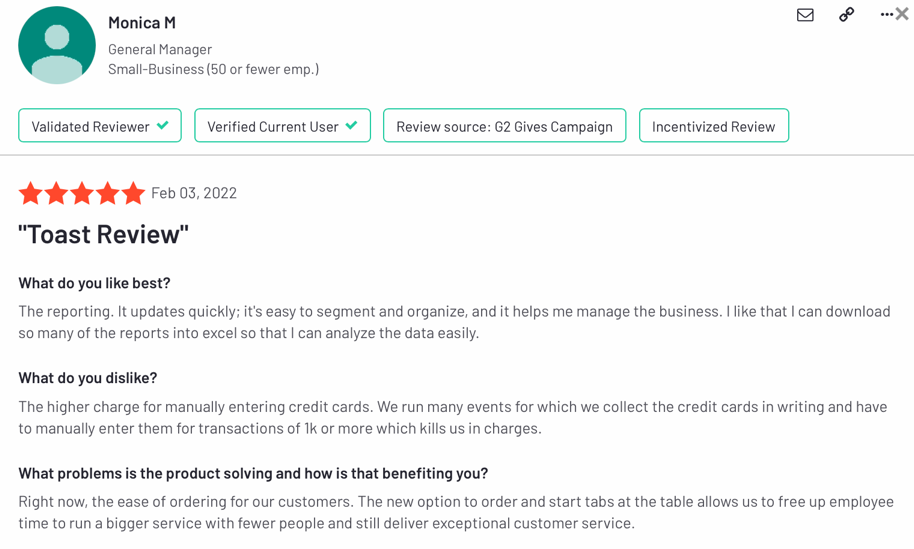 Onboarding and setup
Lightspeed users find onboarding a challenge due to all the details to master and the inadequate customer support. Users criticize this POS system's customer support for being unresponsive and unhelpful when issues arise.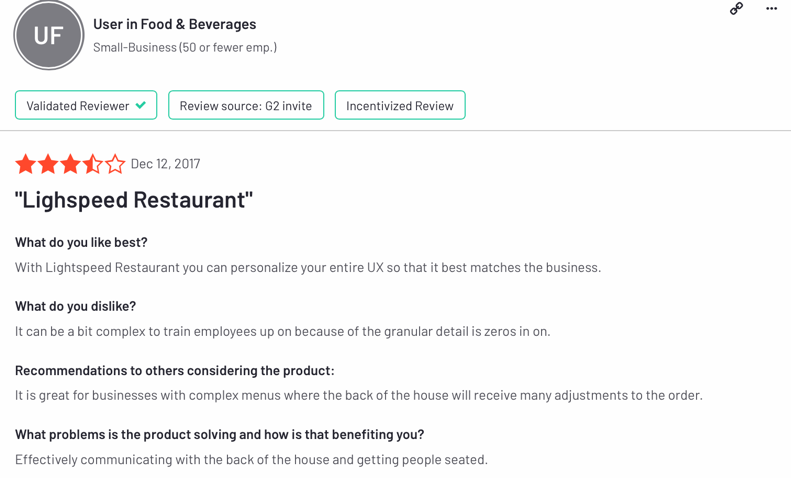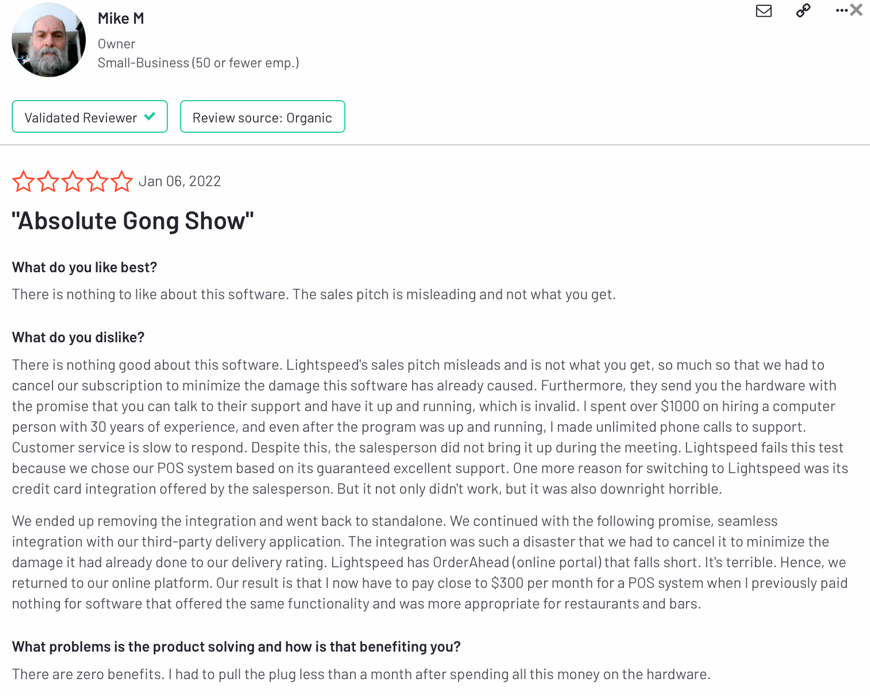 In contrast, many Toast reviews mention a user-friendly interface and full onboarding support to get your restaurant POS system up and running seamlessly.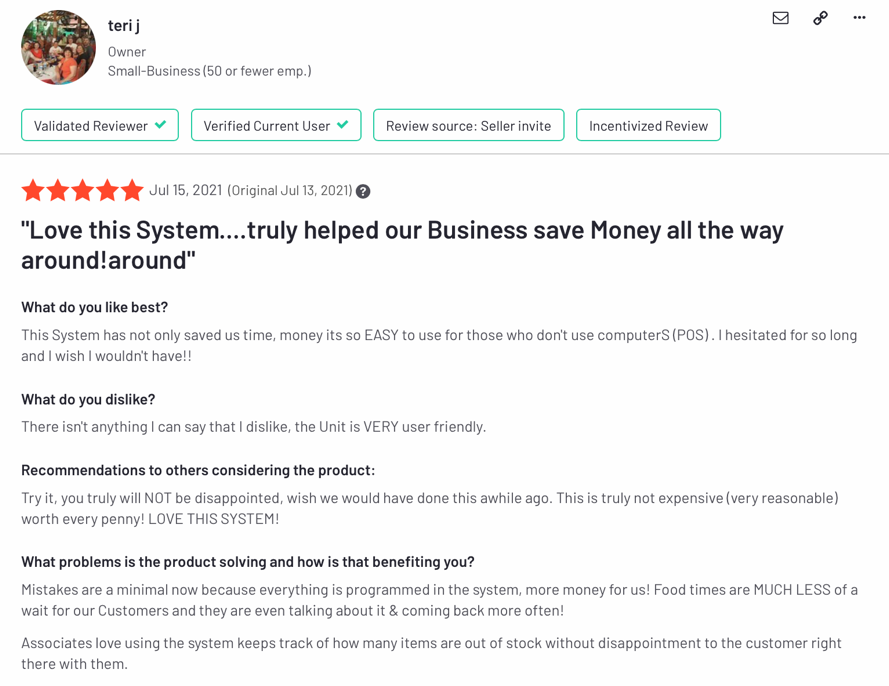 The rewards program and gift cards
One of the leading complaints from users who switch to Lightspeed is the lack of gift cards and loyalty programs.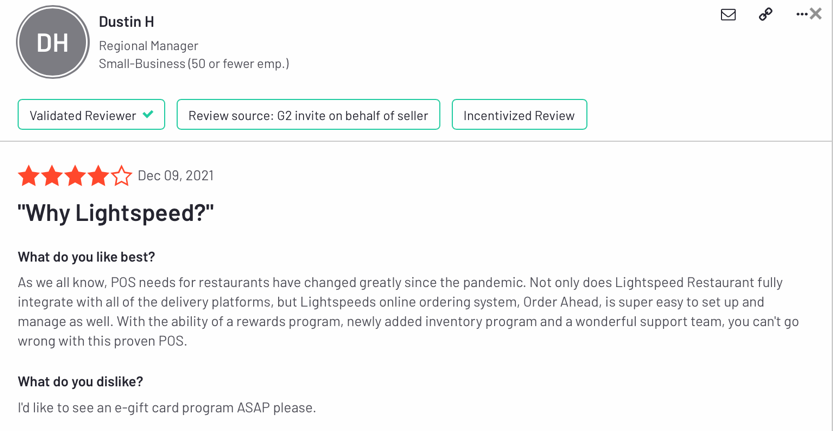 Toast reviews - on the other hand - mention that the restaurant POS system has a robust rewards program and support for third-party gift cards.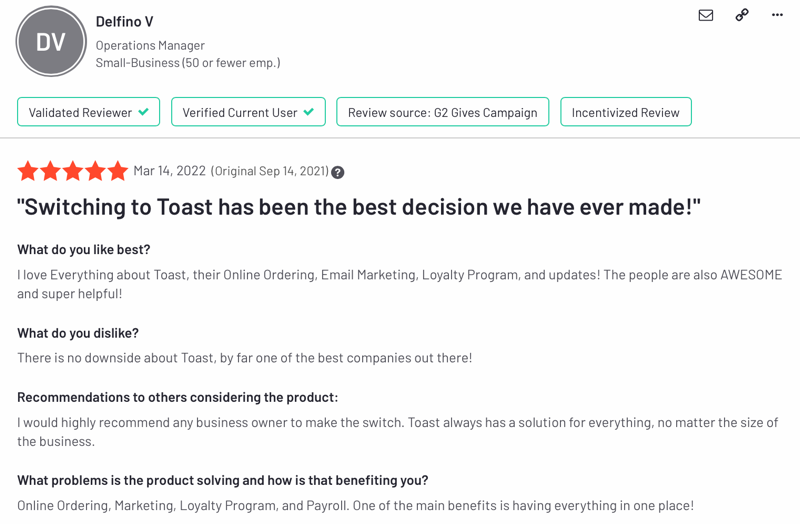 Bugs and glitches
Users report that Lightspeed has software glitches, causing significant disruptions to business operations.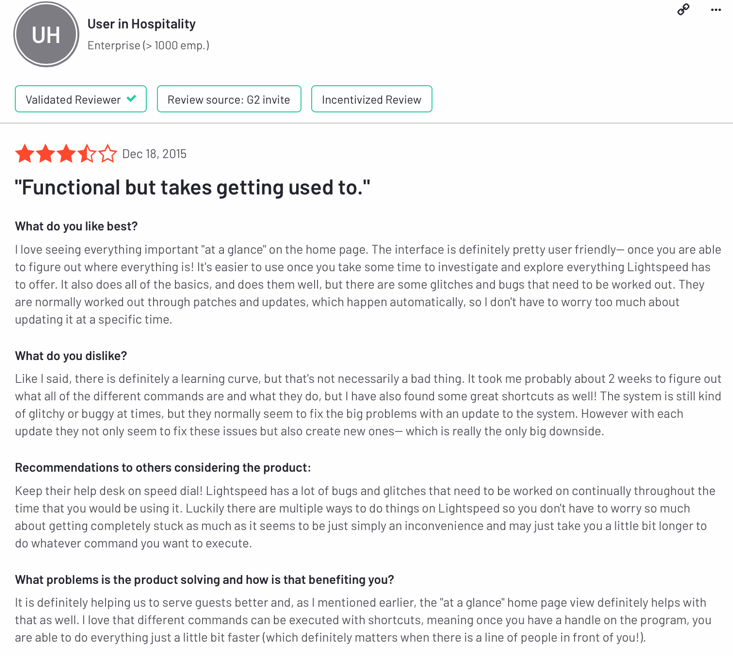 Toast reviews mention that the software is stable and reliable with few glitches. If the servers are down, users say that Toast's offline mode is a beneficial feature.
Other Lightspeed Alternatives for Your Restaurant POS System
If you're still not sure about Lightspeed or another competitor for your business, here are a few other POS options to consider:
TouchBistro Restaurant POS
Pros: TouchBistro has a variety of customizable add-ons and an easy-to-use interface. They offer live support and integrate with several third-party apps. Their standard service includes essential elements, like table management, tableside ordering, inventory management, and reporting analytics.
Cons: Perks such as reservations, online ordering, gift cards, loyalty programs, self-ordering kiosks, the kitchen display system, customer-facing display, and their digital menu board come at an additional cost. In other words, costs can add up quickly. TouchBistro customer support reviews are often not favorable - many users note faulty hardware and the limitations that an iPad-based system presents.
Posist Restaurant POS
Pros: Posist offers 24/7 global support, secure data backup systems, and a multilingual interface. Their restaurant POS system allows the option to split bills which are not always available with Lightspeed competitors. An omnichannel ordering system lets you receive orders from multiple online channels on one single POS.
Cons: Posist reviews reveal a steep learning curve when switching to this system. Reporting and access to backend data can be challenging. Also, customer support is not always reliable.
Square Point of Sale
Pros: Square is a popular choice among small businesses because it is affordable and easy to use. They offer a variety of features such as inventory management, table management, online ordering, and gift cards. User reviews note that it has a friendly interface, a good support team, and high-tech equipment.
Cons: Square reviews show that users struggle with day-to-day use. Users remark that the system is not a natural fit for the restaurant environment. They feel that Square is not designed for restaurants, rather it is simply a retail POS adapted to restaurants. Other users say that Square's reporting features are not advanced enough. Also, many cite that Square's add-ons are expensive for small business owners.
SpotOn
Pros: SpotOn is recognized by users for being highly customizable to their needs. This POS system integrates with popular accounting, payroll, and food delivery software. It also offers guest Wi-Fi with email capture as a unique feature.
Cons: Refunding is said to be a challenge for multiple users. Also, SpotOn has received some poor customer service reviews across all leading review sites. Users mention that they experience service disruptions when SpotOn updates their software, which seems to be relatively often. Some users have also stated that they received "surprise charges" during their contract period.
Clover
Pros: Clover reviews reflect that the solution has leading software with a wide range of integrations. It's easy to configure Clover to your liking. The interface is modern and aesthetically pleasing. Password protection ensures that only authorized users can access the system, a reliable feature for business owners with a growing workforce. Users also applaud Clover for its beneficial loyalty program
Cons: Clover reviews show that the upfront costs are relatively high with no free plan options. Some users say Clover locks you into a contract even if the service is not up to your expectations. They also note that customer support is not always reliable. Clover also has certain users frustrated by its complex system that can be difficult to navigate for new users who aren't familiar with Android.
On the Road to the Perfect POS System
Picking the right POS system for your business is an important decision to make. It is an incredible tool that can streamline service and help you scale your business.
Lightspeed is a well-designed POS that has its pros and its cons. There isn't a right or wrong choice here - at the end of the day, you need a POS system that supports your business's unique needs. If you know the features you're looking for and consult reliable reviews, you're on the right track.
Learn more about Toast competitors and what makes us the #1 choice for restaurant POS systems — check out how we compare to the leading restaurant-facing tools, and find out which features are available for your business.
Related Restaurant Resources
RESOURCE
Find the right POS for your restaurant's unique needs
We'll handle your info according to our privacy statement.
DISCLAIMER: This information is provided for general informational purposes only, and publication does not constitute an endorsement. Toast does not warrant the accuracy or completeness of any information, text, graphics, links, or other items contained within this content. Toast does not guarantee you will achieve any specific results if you follow any advice herein. It may be advisable for you to consult with a professional such as a lawyer, accountant, or business advisor for advice specific to your situation.