Article
Best Revel Systems Point of Sale Competitors and Alternatives (2024)
How does Revel Systems' POS system stack up to the restaurant industry competition? Let's explore Revel Systems' competitors and alternatives.
Revel Systems POS Software Competitors and Alternatives
As restaurant owners know, the point-of-sale (POS) market is saturated with providers that each have different benefits to offer the industry.
Revel Systems is one of those providers, offering a cloud-based POS and business management system. Notably, Revel Systems serves both restaurants and retailers, while some POS providers (Toast included) are tailored specifically for restaurants.
To supplement your research as you choose the right restaurant POS for your business, we're exploring the pros and cons of Revel Systems and how it compares to other POS options on the market. Use the information below to assess how Revel Systems aligns with your own needs and identify any areas where it may fall short.
First, we'll explore why some restaurant owners don't choose Revel Systems.
Why Consumers Switch From Revels Systems or Choose Revel Systems Competitors
Moving away from a point-of-sale (POS) system that you're already familiar with and comfortable using can be a big move — especially when sales tracking and payment acceptance are key to running a restaurant. But for both new and experienced restaurant owners, moving to a POS system that better suits your needs is a long-term investment in the future of your business.
As you begin to understand what Revel Systems offers restaurants, you'll find that there are a few shortcomings that ultimately lead businesses to switch to another POS. While Revel Systems does offer key benefits (like 24/7 live support and a familiar iOS interface), it also fails to deliver an exceptional experience in other areas.
Let's take a closer look at the three most common reasons restaurants switch from Revel Systems to another POS, based on reviews that verified users have posted on G2.
As a current Revel Systems user (or a restaurant owner on the hunt for your first POS system), you might be wondering what alternatives are out there that can provide you with a robust POS system that suits your needs and fills in the gaps where Revel Systems may be lacking. Understanding what Revel Systems competitors can offer will help you confidently determine who to choose and when to make the switch.
RESOURCE
Find the right POS for your restaurant's unique needs
We'll handle your info according to our privacy statement.
Most Common Reasons Why Users Switch From Revel Systems
Across third party reviews sites, these reasons are cited as the most common issues by Revel Systems users and should be understood for consumers considering Revel Systems alternatives.
Added Fees and Surcharges for Necessary Features
By far the most common complaint about Revel Systems is the pricing, which tacks on surcharges and fees for features restaurant owners assumed were included. Many reviewers were blindsided by this lack of pricing transparency, thinking the monthly payment was reasonable only because it offered the bare minimum features.
The two review snippets below, both from Revel Systems reviews on G2, sum up the experience clearly. If you're considering Revel Systems and you're assuming your monthly payment will cover all your needs, make sure to dig into the details of what your subscription will cover.
Long Support Wait Times
Long support wait times are also a complaint, although most G2 reviewers added that the Revel Systems support team is very capable and knowledgeable once you reach them.
Overall Complexity
Lastly, many reviewers cited a general complexity to the Revel Systems POS. Many people indicated that it's necessary to take the onboarding process slowly and really understand the software's different features and capabilities. One review says "Set up is a bit time consuming and working through the first part with no experience can be frustrating."
These issues are the main cons that drove reviewers to alternative POS systems. With that in mind, let's take a closer look at G2's aggregate ratings for Revel Systems compared to the industry at large.
Best Revel Systems Alternatives According to Third Party Reviews
When searching for the best Revel Systems alternatives, it's important to use impartial, unbiased data. Reading through customer reviews can be a great help, but it's difficult to accurately evaluate a product based on a few good or bad experiences.
To aggregate multiple third-party reviews, we'll turn our search to G2, an industry-leading review site.
G2 collects real-time data from user reviews, online sources, and social networks to assess various products and vendors. As G2 collects data, its algorithm quickly works to calculate the customer satisfaction and market presence scores. The platform updates in real-time to consistently provide business owners with the most current and accurate information.


What's great is that G2 presents this data accessibly on its G2 Scoring Grid. The G2 Scoring Grid shows how restaurant POS systems rank in relation to each other. To discover information on each product, users can click on any POS icon on the grid and read hundreds to thousands of real unbiased customer reviews.
How does the G2 scoring system work?
The G2 Restaurant POS Scoring Grid has two axes. The X-axis measures customer satisfaction and the Y-axis measures market performance.
These two axes create four quadrants in the grid, listed below.
Top Right: Leaders, Strong satisfaction, strong market presence
Top Left: Contenders, Weak satisfaction, strong market presence
Bottom Right: High Performers, Strong satisfaction, weak market presence
Bottom Left: Niche, Weak satisfaction, weak market presence
All data points on the G2 Scoring Grid are based on the following information:
Review recency
Amount of feedback provided in the review
Attribution (did the reviewer keep their name and company public?)
Whether the reviewer is a current user of the solution
Community engagement with the review
Users can alter their grid view based on the following filters: market segments, star rating, pricing options, trending products, and company size. Each filter allows users to compare products used in markets similar to their own.
Which Revel Systems competitor wins?
In G2's Restaurant POS System category, Toast ranks #1 out of 19 total competitors.
As you can see on the grid above, Toast is the strongest performer in its category. The Toast G2 Reviews page shows that Toast has 198 reviews with an average 4.5/5 star rating.
When customers leave a review, they are asked to detail what they like and dislike about the product. Here is an example Toast review on G2: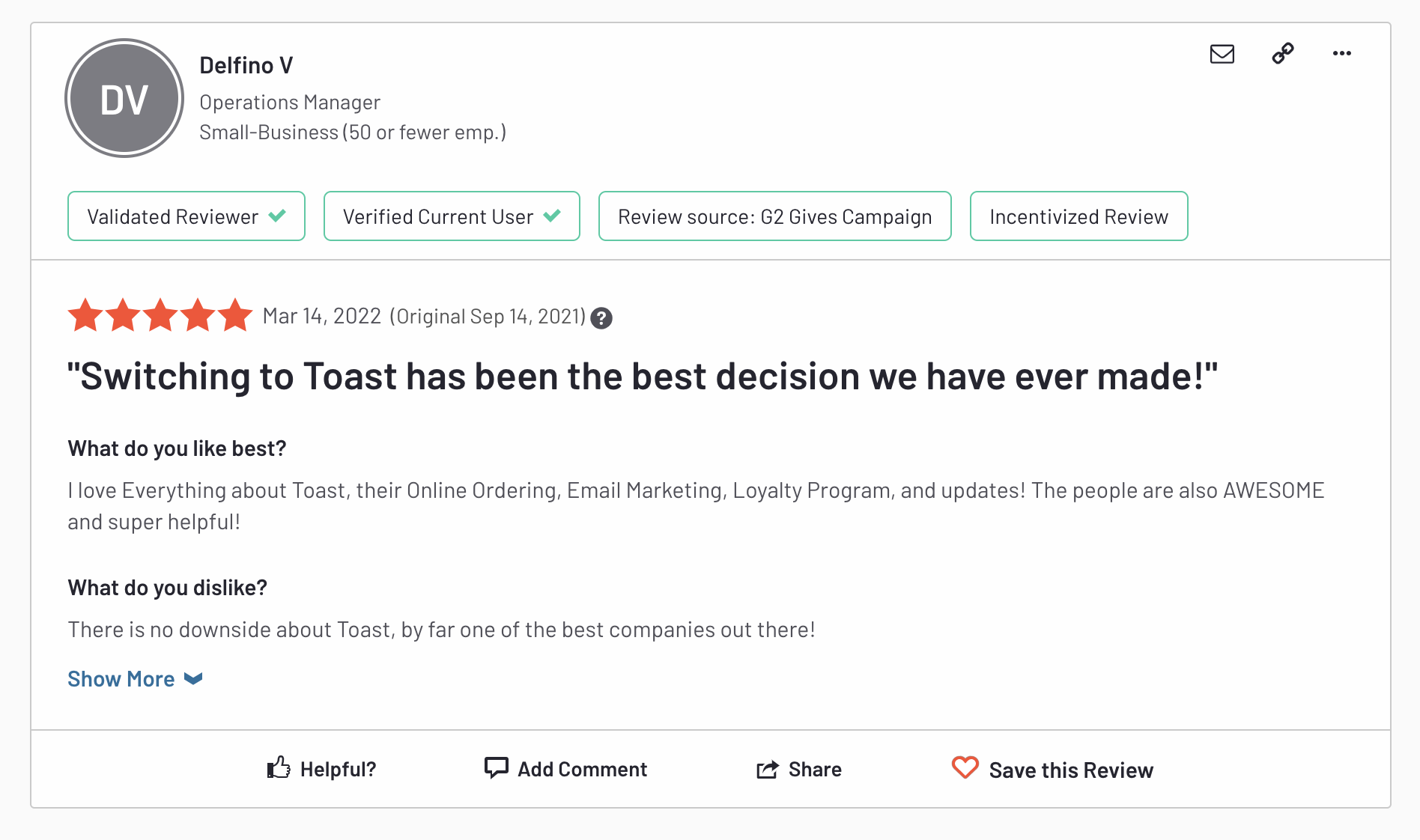 About the #1 Rated Revel Systems Competitor: Toast POS
According to G2's research, Toast POS is the best Revel Systems alternative. Toast is an all-in-one POS platform and software system built specifically for restaurants.
Because Toast is designed exclusively for restaurant use, it can solve issues unique to businesses in the food and beverage industry. Toast offers online ordering, loyalty programs, website management, email marketing, employee management, and other features that pair with its top-of-the-line hardware options. And, it's all cloud-based, providing restaurateurs with analytics to help them grow.
Here's a list of Toast's Key Features
Restaurant-grade hardware that is IP54 spill-proof rated and super durable

Faster speed of service with quick order and payment processing

Hardware designed to blend in with restaurant decor

Cloud-based access that allows restaurant owners and managers to access data anywhere, anytime, and on any device

Software that is easy to set up and simple to learn

Open integrations with leading industry partners

Transparent pricing options and competitive rates on all transactions

No hidden fees or additional markups

A single point of contact for payment and point of sale
Additional Toast Features
Tableside Service
Toast offers handheld technology designed for busy restaurant environments. Their portable devices allow servers to spend more time with guests, accelerate service, and speed through payment processing.
Order Ready Notifications – Servers immediately receive notifications when their table's order is ready

Tableside Payments - Take tap, dip, or swipe EMV and card payments tableside

Guest Feedback - Collect and respond to guest feedback immediately
Analytics & Reporting
Toast allows restaurant owners and managers to take control of performance with detailed analytics. The cloud-based system provides access to essential reports and sales data from anywhere, on any device.
Menu Management
Make menu updates from any terminal or a connected smartphone. Servers can view item countdowns in real-time to avoid awkward conversations with customers.
Cloud-based menu – Access and modify your menu from any device

Manu countdown – Manage item availability

A single menu – Menu updates automatically reflect in-house and online
Comparing Revel Systems and Toast
How does Revel Systems compare to Toast, the #1 rated competitor on the G2 scoring grid based on restaurant POS features? Let's dive into the details.
Restaurant-Grade Hardware
The first key difference between Toast and Revel Systems is that Toast offers restaurant-grade hardware, while Revel Systems doesn't. Revel Systems is an iPad-based system with no opportunity for modifications, and iPads often reveal their points of failure in high-heat, high-impact restaurant environments.
Toast hardware is built to last, with both 10" and 15" screen sizes to choose from. Plus, Toast offers the industry-leading handheld POS for maximum comfort, seamless syncing, and a fully mobile experience.
Seamless Partner Integrations
Toast integrates with over 70 technology partners that its restaurant clients are likely to utilize. While Revel Systems also offers integrations, it lacks the ability to integrate with many key partners like GrubHub and Paytronix, and some integrations cost extra. With Toast, all 70+ (and counting!) integrations are included in the original quote.
Reliable, Cloud-Based Network
Lastly, Toast offers a reliable, cloud-based network. It's ultra-fast when Wi-Fi is available, and has a robust offline mode when it's not. Even without an internet connection, restaurants can continue to use Toast to accept card payments and run regular operations.
While these three descriptions likely give you an idea of the key differences, don't forget to explore our full feature comparison between Toast and Revel Systems.
RESOURCE
Find the right POS for your restaurant's unique needs
We'll handle your info according to our privacy statement.
Alternatives to Revel Systems for Restaurant Point of Sale
Upserve
Upserve designed its software for restaurant use. There are customization options for different restaurant types, including bars, breweries, coffee shops, delis, and quick-service restaurants.
Upserve Pros
Compatible with Android and iOS devices

24/7 customer support

Built specifically for restaurants
Upserve Cons
Online ordering and inventory management must be purchased as add-ons

Users must sign a contract

Installation and configuration fees start at $1,700
Lightspeed
Lightspeed is a good option for restaurant owners who already have the hardware. Its software is compatible with iPads, iPhones, and other devices with iOS operating systems. Users can choose to use a third-party payment processor if they wish.
Lightspeed Pros
Free online training with a specialist

24/7 customer support

Compatible with iOS devices
Lightspeed Cons
Not compatible with Android devices

Annual contacts must be signed to receive lower prices

Many features are only available as add-ons.
TouchBistro
TouchBistro is a local-cloud hybrid, which means it is installed in the restaurant and sends data to the cloud. This POS system is a good option for on-the-go or mobile restaurants, including food trucks, catering companies, and delis.
TouchBistro Pros
24/7 customer support

Software is designed specifically for restaurants

Allows real-time menu changes and updates
TouchBistro Cons
No offline ordering

No 100% cloud-based option
SpotOn
SpotOn is a full-service POS system with features that support various types of restaurants, bars, cafes, coffee shops, and more.
SpotOn Pros
24/7 customer support

Easy-to-use systems

Advanced data reporting
SpotOn Cons
Users report being charged unexpected fees

Prices are more expensive for users who don't use SpotOn payment processing
Using SpotOn hardware is required

How to Switch from Revel Systems
There are plenty of reasons why you might search for Revel Systems competitors. No matter your reason for switching, you deserve to find a POS system that perfectly matches your restaurant's needs and budget.
Looking for more support in your POS system search? Use our guide to navigating the top restaurant POS options and find the one that's right for your business.
Take a look at how Toast and Revel Systems compare as restaurant POS platforms, and which one is the best choice for your restaurant or bar to help you boost sales, improve team productivity and morale, and accelerate your business growth.
Related Restaurant Resources
RESOURCE
Find the right POS for your restaurant's unique needs
We'll handle your info according to our privacy statement.
DISCLAIMER: This information is provided for general informational purposes only, and publication does not constitute an endorsement. Toast does not warrant the accuracy or completeness of any information, text, graphics, links, or other items contained within this content. Toast does not guarantee you will achieve any specific results if you follow any advice herein. It may be advisable for you to consult with a professional such as a lawyer, accountant, or business advisor for advice specific to your situation.