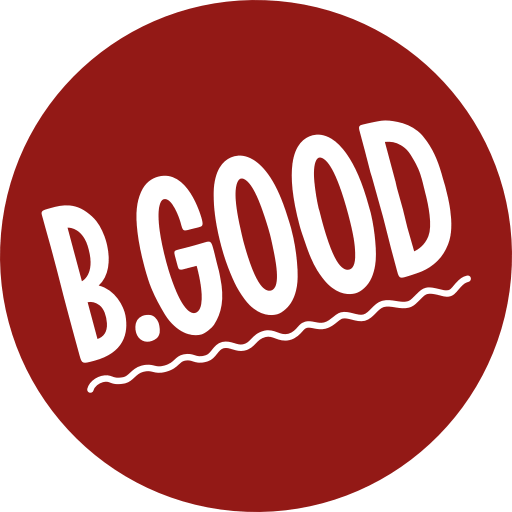 ---
---
Products Used
Email Marketing
Reporting and Analytics
Multi Location Management
Results
50%
reduction in IT resourcing
Customer Story
B.GOOD Aspires to Be Great With an Integrated Data Systems and a Partnership With Toast
With 50 locations across the Northeast, B.GOOD chose Toast because of its data accessibility, integration capabilities, and commitment to building a partnership as their growing business scales.
Driven by a growth strategy rooted in analytics, B.GOOD is one of the fastest growing restaurant chains in the region. Robust data across multiple channels guides business decisions and marketing strategy.
"Data quality was the primary reason we started looking for a new POS system," says VP of Analytics Austin Brinson. "There were a lot of options in the market, but very few that were aligned with our focus on user data and integrations. Toast was different. Toast allows us to take our reporting a couple levels deeper - transforming the data into actionable insights."
B.GOOD ultimately selected Toast for its data accessibility, integration capabilities, and cloud-based enterprise management.
Robust Business Insights with Real-Time Data
Tasked with consolidating data and providing his team with actionable insights, Austin looked to the core piece of technology in every store - the point-of-sale system.
"My job is to get the right systems in place and to develop a strong core infrastructure," he says. "With good data coming out of our systems, we can start to do some testing with customer profiles and automation. Technology like Toast helps us to use data to get ahead."
Austin and his team are building a proprietary data warehouse for B.GOOD, pulling minute-by-minute data from Toast.
"With our legacy system, we could only load a full day of data at a time," Austin remembers. "Now we get it every minute with Toast. We can see speed of service at every location in real time from the kitchen display system, for example."
Immediate access to this data enables us to address issues right away, which is crucial when you're talking about the guest experience. We can do root cause analysis on bottlenecks and be specific about what's causing them.
"Our entire organization is empowered to make better decisions," he adds. "We can start optimizing pricing, running weather- and volume-driven promotions, and dynamically targeting different users. "
An Extensible Platform to Power Real-Time Marketing
Putting their data-driven strategy into action, B.GOOD utilizes its popular loyalty app to connect directly with customers, drive repeat business, and gain insights into consumer preferences.
"Our loyalty app has tens of thousands of downloads and processes 25% of all transactions," Austin says. "The goal is for 100% of repeat traffic to come through the app because it allows us to narrowly target our customer base and drive offers that are tailored to each specific person."
Paired with data from Toast, B.GOOD's loyalty app allows the Marketing team to experiment with dynamic campaigns.
"Toast has opened the floodgates to allow us to do new things with loyalty," Austin says. "When we test an offer through the app, Toast shows us how it's performing right away. If one location is slammed during the lunch rush, for example, we can immediately push an incentive to visit another location nearby. Toast shows us the speed of service data in that moment so we can identify bottlenecks as they're happening. We can throttle our marketing through the loyalty program and distribute traffic across locations."
Toast offers an extensible platform that enables B.GOOD to capture a robust picture of both their business and their customers.
Decreased Labor Costs with Cloud-Based Technology
In addition to powerful data and loyalty integration, Toast's cloud-based system has enabled B.GOOD to centralize management and decrease support costs.
"In the past we've had to do all tech support internally and on-site," Austin says. "It was really a hindrance to us scaling up. Now we can pass off a lot of that to Toast. As we grow, we can focus more on the restaurants themselves and not worry about keeping the POS turned on. Toast allows us to focus on the big picture."
Austin has been able to reallocate his team's resources, spending less time troubleshooting and more time on strategy.
"Before Toast, the cost to maintain our system was extremely high," he says. "We needed a dedicated person just to enforce data quality and troubleshoot POS issues. If three things went wrong at the same time, we were expected to be in three places at once. Because Toast is cloud-based and staffs a professional customer care team, we've been able to cut our internal POS resources in half."
As B.GOOD's enterprise grows, so too does the power of their data to drive repeat customers and effective marketing campaigns. With Toast as a strategic partner, Austin and his team are empowered to build the scalable infrastructure they need.