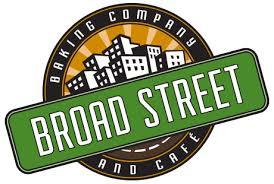 ---
---
Products Used
Toast POS
Multi Location Management
Results
58%
Increase in Credit Card Tips
Customer Story
From Digital Dining to Toast, Broad Street Baking Co. Doubles Tips Using Toast Guest Facing Displays
Where speed, efficiency, and accuracy take priority, Toast Guest-Facing Displays help deliver delight during the rush at Broad Street Baking Company.
Jeff Good and Dan Blumenthal opened the retail bakery and delicatessen in 1998 as an homage to Dan's grandfather, in addition to two other restaurants to form the Mangia Bene group in Jackson, Mississippi. Broad Street is where people from all backgrounds can meet and chat while enjoying delicious handmade breads and desserts. After switching from Digital Dining to Toast, Broad Street has avoided technical failures, enhanced the employee and diner experience, and improved reporting capabilities.
Struggling with Digital Dining and Making the Switch to Toast
After years of troubleshooting and frustrating support calls, the Broad Street team decided to ditch Digital Dining for Toast to improve system reliability and operational efficiency.
With Digital Dining, system crashes were interrupting Broad Street's business operations, and issues with data corruption were received with little support.
"Before using a cloud-based system like Toast, whenever there was an issue with corruption, we had to seek service from our dealer, not the manufacturer, who was often unresponsive and dysfunctional," says Jeff Good, Broad Street's managing partner. "Their staff would have to make arrangements to dial in after hours and rebuild the database, which was only sometimes successful."
Once Jeff and his team made the switch to Toast, they never looked back. "With Toast, we're dealing with the people who write the actual software and are available to help so that my team isn't staying up all night with fingers crossed, hoping it would work," Jeff says.
Along with system crashes, Broad Street experienced many barriers during system updates. "If there was a new feature coming out, it was not easy to have our system updated. The entire system had to be taken offline and the update often involved licensing fees and compatibility issues between software and hardware," says Jeff.
Another pain-point Broad Street faced was the lack of durable hardware Digital Dining provided. Just like any restaurant, employees are rough on the equipment. With Toast hardware, they're no longer "Frankensteining" terminals together with "rubber bands, baling wire, and masking tape" to keep things going.
With Toast, Jeff's team spends more time managing and interacting with guests and less time worrying about the POS system.
Toast Guest-Facing Displays Improves Employee & Diner Experience
The implementation of Toast Guest-Facing Displays at Broad Street has dramatically increased tips, improving employee recruiting and retention.
Because of the suggested tip amounts presented to guests on the screen, Broad Street's System Operations Manager Bryan Bell reports a rise in tip percentages.
"In October, our credit card tips were 3.6% of sales, and in February they were 5.7%," Bryan shares. "That's an overall increase of 58%."
Jeff insists that the increase in tips has helped with employee retention. "There is not a single person who has left our organization because they weren't making enough money. Our team members are delighted," he says.
"We do tip pooling at Broad Street. Our tip pool has doubled since we implemented the Guest-Facing Displays, just as I knew it would," Jeff adds. "I now have a highly satisfied staff which allows me to make different decisions for base pay level for new hires. Overall, I have the ability to have a more robust employee who is interested in working in our environment because there is a higher level of pay. This is one of those times when technology has really provided the opportunity for a financial win for the business."
Toast Guest-Facing Displays have also helped Broad Street save money by increasing order accuracy and customer accountability. This feature allows diners to review their orders before they are fired to the kitchen, decreasing risk for human error during the ordering process.
The Versatility of Toast In Multiple Locations
In addition to Broad Street, Jeff uses Toast at two other restaurant locations: Bravo, a full-service Italian restaurant, and Sal & Mookie, is a traditional pizza joint. Toast's versatile restaurant technology fits the needs of all of Mangia Bene's restaurants with different concepts.
Susan Farris, Mangia Bene's marketing manager, notes that the customizability and flexibility of Toast's menu management functionality made Bravo's multiple menus and extensive wine and liquor list easy to navigate.
"With multiple restaurants, command and control was happening remotely. Running a report through Digital Dining via a tunneling software took several steps. It was very, very difficult to the point where we just stopped doing it," Jeff says. "With Toast, my team is able to work online as much as they want and never impact the performance of what is going on on the dining room floor."
"Toast sends us the nightly sales report. My business partner, who is extremely focused on numbers has made it his personal, everyday routine to view the labor reports of each of our restaurants," says Jeff. "He will send an email to all of the managers and say 'Johnny didn't do this. You need to clock out Sue. Or, why is Sammy clocking in 30 minutes early?' That level of ease of access from a remote location to the actual, real data is very powerful."
Broad Street, along with the other two locations run by the Mangia Bene team, have used different functions of Toast to drive their bottom line.