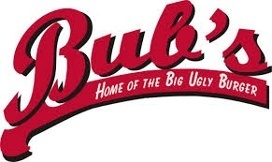 ---
---
Products Used
Toast POS
Gift Cards
Inventory
Multi Location Management
Results
More efficiency, speed, and savings.
Customer Story
Bub's Burgers Capitalizes on Toast's All-in-One Platform
Bub's Burgers & Ice Cream, home of the "Big Ugly Burger" featured on Man vs. Food, upgraded their old POS system to Toast after years of headaches with the legacy system's poor support, complicated configuration, and inability to integrate with other systems.
Matt Frey is the owner of Bub's Burgers & Ice Cream, a multi-location burger concept based in Carmel, Indiana. Bub's is home to the 1-pound "Big Ugly" burger, which has been scarfed down by over 90,000 people including Adam Richman of Travel Channel's Man vs. Food.
Bub's upgraded their old point of sale after years of headache dealing with the legacy system's poor support, complicated configuration, and expensive updates. Gordon Food Service introduced Matt and his team to Toast, and it proved to be a perfect fit for Matt's growing burger chain.
"Toast is efficient, smart, and safe," Matt says. "Those three factors really make the decision pretty easy."
Multi-Location Management for a Growing Business
The most difficult thing about running a multi-location business, according to Matt, is letting go of being personally involved in the daily activities. He's worked to enable his staff to build the brand on their own, with his oversight.
"Technology is changing every day so you have to stay up to date with what you're doing and how you're doing it. We need to be efficient and keep our staff happy," Matt says. "From a staff perspective, the [Toast] touch screens are so easy. The feedback after a few weeks is that it's so much easier and so much faster than what we were using before."
With Toast, Matt doesn't have to be physically at the restaurant to understand what's happening with his sales and staff there. With real-time POS analytics, Matt can check in on any location from his phone or personal computer.
Powered by Froala Editor
When it comes to managing multiple locations, Toast has helped increase efficiency by making it easy to pull reports and gather data. We can quickly get up to date on how the businesses are doing - it's helped dramatically.
Integrated Inventory Management
Toast's integrated restaurant inventory management enables Matt to easily import orders and invoices from his food distributor. With combined inventory and sales data, food costs analysis and variance reporting is a breeze compared to manual tracking in Excel spreadsheets.
"Toast coordinates so well with Gordon Food Service from an inventory perspective," Matt says. "Before Toast, we tracked inventory manually. We had our own spreadsheets, we'd do our count, and import it into the system by hand. Now, Toast and Gordon Food Service work together to synchronize the process automatically. I get a weekly report that shows what our food cost is this week and what the prices were when the invoice was received. We can easily track how much we have on hand."
Gift Cards Spread the Love for Bub's
When you buy or redeem a gift card at Bub's, the experience is as simple as ordering an item off the menu. Toast integrates gift cards into the point-of-sale, making it easy to promote and track the program.
"Offering gift cards is extremely important for us," Matt says. "Bub's a celebratory experience and when you offer a high-quality product like ours, the gift cards really come into play. During the holidays, we run a promotion where you buy so many gift cards, you get a certain dollar amount for free. That provides an incentive that really helps drive business."
Overall, Bub's in now equipped with technology that drives them forward rather than holds them back.
"We've been in business for the past 13 years and we still have a lot of opportunity to grow," Matt says, proudly, "When it comes to Toast, at the end of the day, I've saved money. I've got a more efficient system that's better for the staff and the customers. I've got much better back-of-house reporting — I feel really good about it."
Powered by Froala Editor