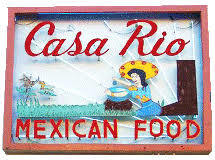 ---
---
Results
80%
reduction in comped meals
Customer Story
Casa Rio improves table turn times and reduces human error with Toast Go
Casa Rio adopted new technology with Toast to invigorate the business, manage multiple levels of seating areas, and cut turn times.
Using Toast Go to Decrease Table Turn Times
Casa Rio, found on the banks of the San Antonio River, features three dining levels: a street level area, river walk level, and one in between, in addition to specialty dining rooms. "We operate a patio that is over 100 yards long, we operate on different levels, that are all producing revenue, so we needed a hand held that could be used in multiple places," says Dan Gonzalez , General Manager of Casa Rio. Before becoming a Toast customer, Casa Rio used Aloha Kiosks, which had to be strategically placed in order to accommodate servers wherever they were in the restaurant. "There could be a long line to use that kiosk," recounts Gonzalez.
In order to avoid long wait times for customers, Casa Rio switched to Toast, and invested in Toast Go handheld devices. With Toast Go, servers at Casa Rio are able to carry the POS in their hands as they move from table to table, eliminating the need to find a stationary terminal. This also allows servers to spend more time at the table with guests, rather than traveling back and forth to stationary terminals.
As servers send orders directly to the kitchen from the table, guests' meals arrive faster, allowing for faster table turn times overall. "We knew that there would be other benefits. Lowering table turn times, lowering ticket times, we knew there was going to be a benefit. We just didn't know how big a benefit it was going to be," says Gonzalez.
Server Confidence with Toast Go
The benefits of Toast Go are much more than turn times, however. "When someone is confident in the piece of equipment that they're using, it directly translates into success on the floor." says Gonzalez. With Toast Go, servers have an accurate readout on orders, rather than risking incorrect orders with pen and paper. "They [the servers] were able to do things that they weren't able to do before. Before they had these devices, they had to worry about getting the order right." said Gonzalez.
The more accurate ordering does more than keep guests happy, as it has a direct correlation to the number of voids or comps that Casa Rio has seen. "We could operate on a very busy night where we may have had some hiccups, and have a 3% comp on a really awful night. We're down to a 0.5% on a regular basis, which can turn a $300 comp on a busy night to $50, $60, or $80 a night."
Peace of Mind with Toast
The most important offering that Casa Rio enjoys from Toast goes beyond innovative technology. "Toast makes me feel awesome. I don't have to worry about the point of sale, I don't have to worry about things going down, it's very stable. It's a rock."
By not having to worry about their point of sale, Casa Rio can spend their time focusing on their customers, staff, and product. "I love Toast. I'll tell anyone that wants to hear it."