Article
These Digital Restaurant Receipt Hacks Increase Revenue and Repeat Customers
Receipts can be more than just proof of payment. Learn how to use them to your advantage.
The receipt has, by and large, been considered an after-thought in restaurants.
A slip of paper that habitually finds itself crumpled in pockets, stuffed into wallets, stuck to the bottom of a shoe, or immediately relegated to your email trash bin, the receipt is approached with an air of nonchalance: Staff members only print them out when prompted, and guests tend to forego them altogether.
Though they be but small and flimsy, the receipt is a powerful tool for restaurants looking to improve their customer retention rate, staff training, and overall guest experience.
In this post, we'll address three ways the digital restaurant receipt can be used to:
Increase gratuities for front of house staff
Provide invaluable guest feedback
Drive sign-ups to your restaurant loyalty program
RESOURCE
Find the right POS for your restaurant's unique needs
We'll handle your info according to our privacy statement.
Digital Receipt Tip #1: Include a Suggested Gratuity Call-Out
Suggested gratuity is, as the name suggests, an amount guests could consider leaving as a tip at the end of their meal. They are typically tiered, depending on the level and quality of service, and appear at the bottom of a guest's bill underneath the total.
Here's an example of a digital restaurant receipt with suggested gratuity included.
Suggested gratuity can appear in the following two forms:
Percentages
Fixed dollar amounts
Suggested gratuity percentages are typically more popular in fine-dining atmospheres, where it's customary to tip your server 15, 18, or 20 percent of your total bill as a thanks for their continued hospitality and support during your visit.
The best restaurant POS systems help restaurant managers customize the suggested gratuity percentages shown to customers, and they can calculate the suggested percentages based on the total with or without tax included. Toast customers who use the suggested gratuity feature see a higher average tip amount than Toast customers who don't use the suggested gratuity feature.
Fixed-dollar suggested gratuity is more popular in quick-service restaurants, bars, and coffee shops — places where guests' bills are typically lesser in value, where they don't have a traditional server helping them during their visit.
Including a suggested gratuity callout at the bottom of your restaurant's checks can be beneficial for a few reasons. First, it's a gentle reminder for patrons to tip their server or bartender. Suggested gratuity cuts out the guesswork involved with calculating how much to tip; the restaurant's already done the math for you, along with factoring in social graces.
Digital Receipt Tip #2: Add a Guest Feedback Prompt
Sub-par dining experiences happen; that's just a fact of restaurant life.
Your ambiance may be captivating, your menu perfectly paired, and your staff extensively trained, but there will come a time when a guest is unhappy with one or more parts of their visit to your restaurant. And that's okay.
Negative dining experiences are valuable. They highlight ways your restaurant can do and be better, providing opportunities for management and staff to learn, improve, and hone their craft.
Unfortunately, the most popular way a restaurant can gain access to guest feedback – positive, negative, or otherwise – is through a public-facing review site.
The way these sites approach guest feedback (letting the customer publicly speak their peace then force the business to play defense once the review has gone live) hinders restaurant management and staff from being able to nurture relationships and connect personally with their guests — especially the disgruntled ones. This feedback model doesn't allow for hospitality professionals to do what they're good at (hint: it's hospitality). So why has it become our industry's de facto method of gaining customer insights?
Toast Guest Feedback, available on Toast digital restaurant receipts, is helping restaurants capture feedback from guests who are taking their food to go – without negative reviews ending up online. This allows restaurants and guests to return to a time where unhappy dining experiences were met with a listening ear and a conversation for all guests, whether they finished their meal in the restaurant or at home.
When a guest selects a text message or email receipt during checkout, they're asked to rate their dining experience with either a thumbs up or thumbs down within the receipt. Regardless of their answer, they're then asked if the restaurant can reach out to learn more about what did or did not go well.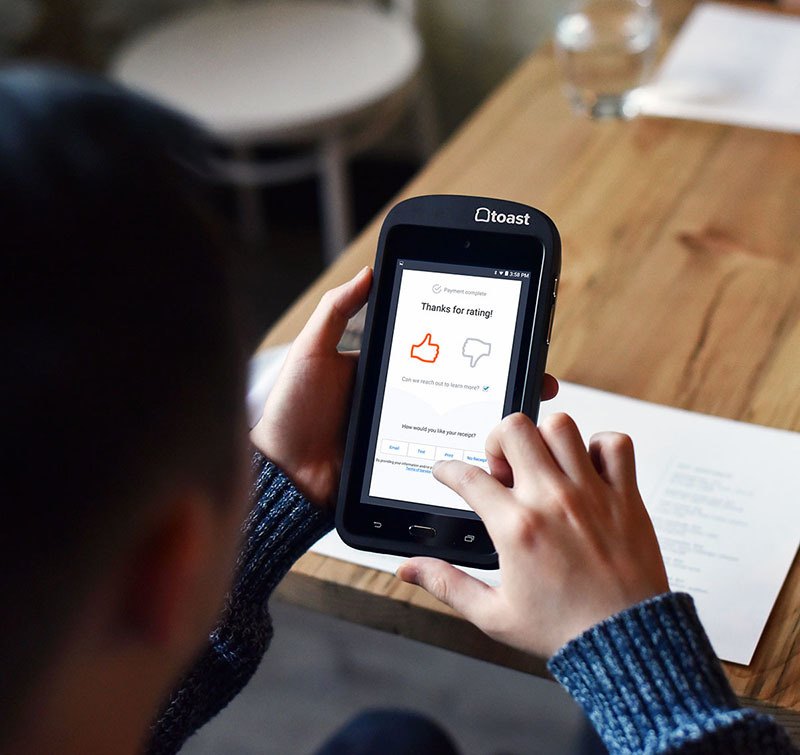 After the rating has been logged, restaurant management will receive an SMS (text) notification alerting them of the feedback. If the guest agreed to be contacted, restaurant management will receive the guest's contact information to reach out.
Adding the guest feedback feature to your digital restaurant receipts will set you up with valuable insights about your overall dining experience; this feedback can then be used to optimize and improve countless areas of the business, including your staff training processes.
Say, for example, guests are leaving feedback that your staff doesn't seem confident in their knowledge of your draft menu. Using this feedback, you could focus your pre-shift meetings for the next week around improving your front-of-house staff's bar menu knowledge.
Digital Receipt Tip #3: Include a Guest Loyalty Sign Up
We've talked a lot about the importance of restaurant loyalty and rewards programs, the customer retention benefits they come with, and their ability to generate a spending-spike phenomenon with your customers.
In 2018, guests who participated in a Toast-hosted loyalty or rewards program spent, on average, 32 percent more than non-loyalty members.
If you'd like to learn more about starting guest loyalty program in your restaurant, here are a few related resources from The Toast Restaurant Management Blog:
There are as many ways to encourage a guest's future patronage as there are restaurants in the United States, but creating a restaurant loyalty program is as close to a sure-thing as it gets.
By incentivizing your customers with redeemable rewards, you give them a reason to return in the future. One effective way to drive sign-ups to your restaurant loyalty program is by using your print and digital restaurant receipts, like so: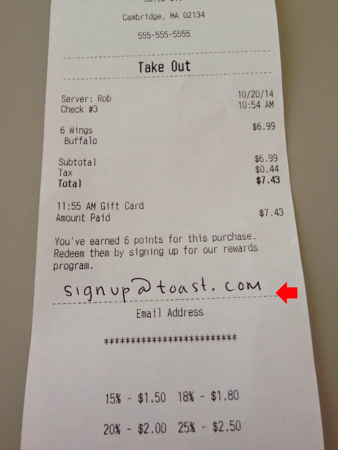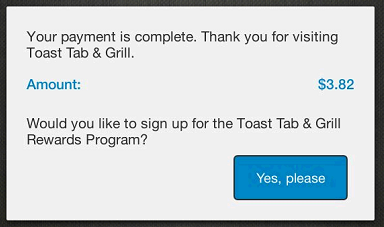 In the print receipt example, a staff member's assistance will be needed to complete the loyalty program sign up by simply adding the guest's information in the point-of-sale system.
By including a sign-up call-out on your restaurant's receipts, it's easier than ever to encourage participation and grow both your restaurant loyalty program as well as your bottom line.
Would You Like Your Receipt?
And there you have it: three ways the digital restaurant receipt can be used to increase repeat customers, revenue, and server tips. The three examples included are all available through Toast POS — speak to a member of our team about helping your restaurant succeed.
Related Restaurant Resources
DISCLAIMER: This information is provided for general informational purposes only, and publication does not constitute an endorsement. Toast does not warrant the accuracy or completeness of any information, text, graphics, links, or other items contained within this content. Toast does not guarantee you will achieve any specific results if you follow any advice herein. It may be advisable for you to consult with a professional such as a lawyer, accountant, or business advisor for advice specific to your situation.