---
---
Products Used
Toast POS
Online Ordering
Toast Takeout
Toast Delivery Services™
Email Marketing
Loyalty
Order with Google
Results
Saved time and increased sales
while capturing their brand
Customer Story
How FRÉSKO Greek Kitchen Grew Their Brand with Toast Websites and Online Ordering
To create an enhanced online presence, FRÉSKO Greek Kitchen adopted Toast Websites and Online Ordering to save time and drive sales while capturing their brand.
FRÉSKO Greek Kitchen is a fast casual, modern Mediterranean restaurant serving the freshest ingredients for their build-your-own bowls and pitas. As owner John Mason says, "We're commonly referred to as the Greek Chipotle."
Open since September 2018 and inspired by the desire to make Mediterranean food more approachable, John has worked diligently to turn what was once a franchise into a delicious and unique restaurant.
FRÉSKO Greek Kitchen is a favorite among local young professionals to grab lunch during the workday. And while online ordering for weekday lunch is the restaurant's bread and butter, FRÉSKO Greek Kitchen has focused on building a larger community by expanding its in-dining experience and spicing up its ambiance.
Throughout this journey, John has improved many aspects of FRÉSKO Greek Kitchen, including expanding the menu and experimenting with a brand refresh. Amidst all this, they've chosen Toast as their online platform solution, providing an easy-to-use experience for their staff and guests.
How FRÉSKO Greek Kitchen created their unique website with the help of Toast
FRÉSKO Greek Kitchen knew from the start that in today's digital age, having a restaurant website is critical to getting discovered, showcasing your brand, and achieving success. First impressions are key, and what used to be walking through the restaurant's front door is now clicking on a website. This has only been exacerbated by the pandemic, which shifted dining habits from on-premise to digital avenues — a change noticeable in the dining behavior of FRÉSKO Greek Kitchen's customers even today in 2023.
"Pre-COVID, 20% to 30% of our business came through a digital avenue such as online ordering and mobile ordering," John said. "Now, over 70% of our business is off-premise. The days of people coming in, placing orders, and hanging out have passed, whereas the digital element has just boomed. If we didn't have a good solution to cater and funnel them to, we would be in a much worse position than we are today."
However, throughout its duration as a franchise, FRÉSKO Greek Kitchen's website did not provide their team an ideal digital presence and hindered their abilities to seamlessly build and update the website. This provided a poor guest experience and was also frustrating for the FRÉSKO team.
This is why, when FRÉSKO Greek Kitchen had the opportunity to evolve from a franchise and transition into an independently owned business, John eagerly raised his hand to begin using Toast Websites.
Toast Websites is a new website builder that allows you to host and create a customized, search engine optimized, and natively integrated website. This new tool from Toast was designed to allow restaurants to capture and maintain their brand while increasing sales and saving time with each click. With access to customizable templates, colors, images, and fonts, restaurants can create an online presence that engages guests and provides a delightful experience to keep them coming back.
"Once we jumped onto Toast Websites and got it going, it was fairly easy to accurately represent what our brand, food, and in-store experience looks like," said John. "That has been a big bonus."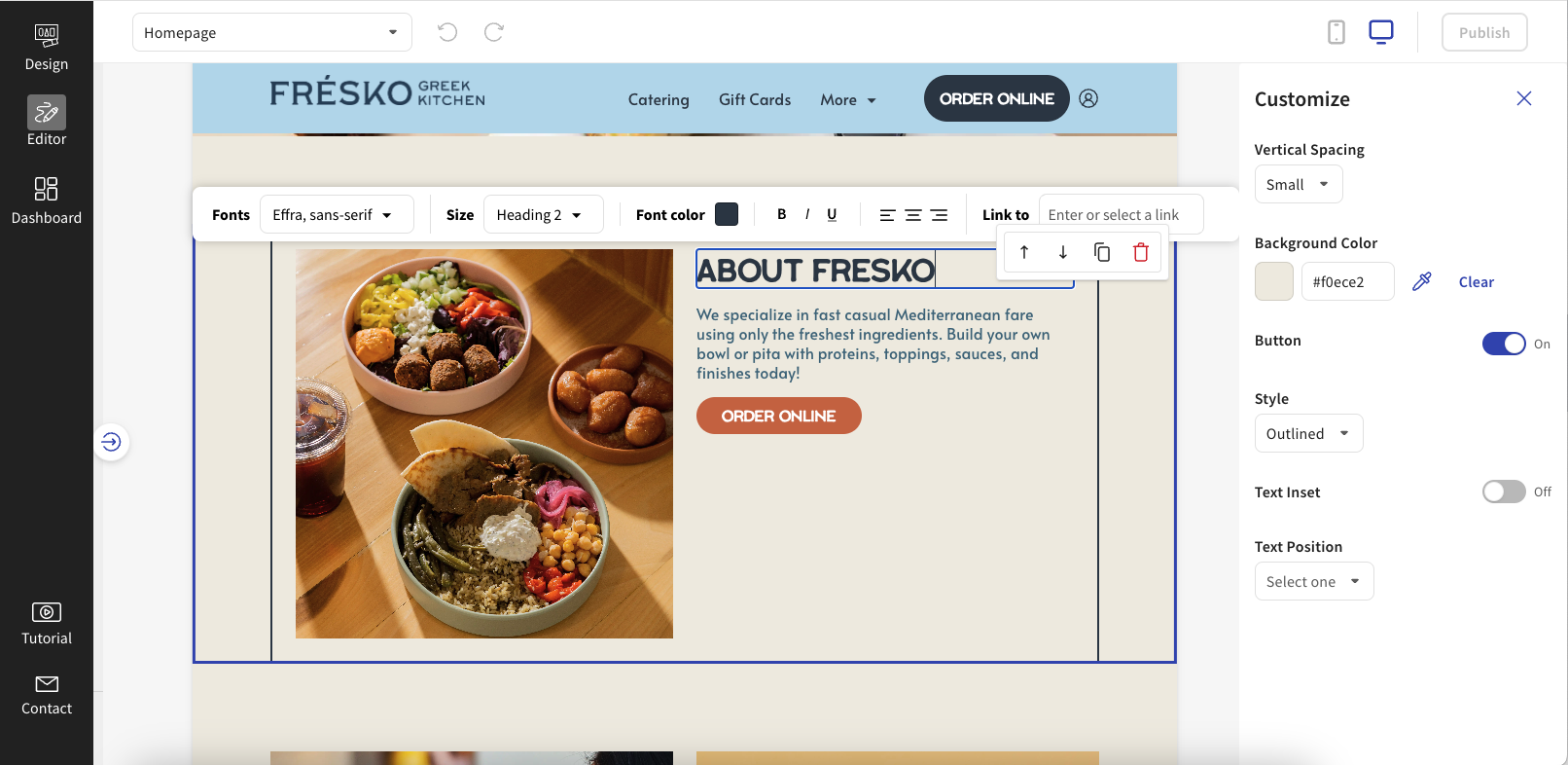 Toast Websites is built for busy operators like John and his team, with do-it-yourself functionality to make it easy for restaurateurs to build in minutes and update in seconds. At Toast, we know how demanding running a restaurant can be, which is why Websites was designed to allow you to set it and forget it. Plus, the seamless integration with Toast POS provides automatic and real-time updates across digital menus, online ordering, and more.
"The benefit I've found with Toast Websites is that it updates in real-time. Being able to make an update on the POS system, which automatically pushes to the website, was very attractive to me," John shared. "It makes it easier for us on the restaurant level, knowing that we do not have to chase down or push these updates in multiple systems for the customer, and our customers are getting real-time access to updated info. Avoiding those hurdles was certainly attractive."
Now, the plethora of pain points that John was previously experiencing are no longer a concern. Toast Websites has provided FRÉSKO Greek Kitchen with more than just a beautiful, branded website; their guests have a positive user experience, and John has the time back to focus on other areas and continue to grow his business.
"I wear so many hats," John said. "I'm the delivery driver, the accountant… everything. I have very little time to manage all of these solutions in the backend so it makes my life a lot easier knowing I can log into one system and have all of those elements I want without having to juggle multiple vendors across the board."
An integrated digital platform made to create a seamless experience for guests
FRÉSKO Greek Kitchen's website also utilizes Toast Online Ordering. Toast's newest generation of online ordering includes several exciting new features that allow restaurateurs to better showcase their brand and help their restaurant stand out from the crowd. Users who upgrade their Online Ordering can customize fonts, colors, and images to improve the ordering experience and bring their brand to life. The newly enhanced search engine optimization (SEO) tools help your restaurant stand out when new guests are searching for food near them, while an updated multi-location picker minimizes ordering confusion for restaurants with multiple locations all embedded directly into their website.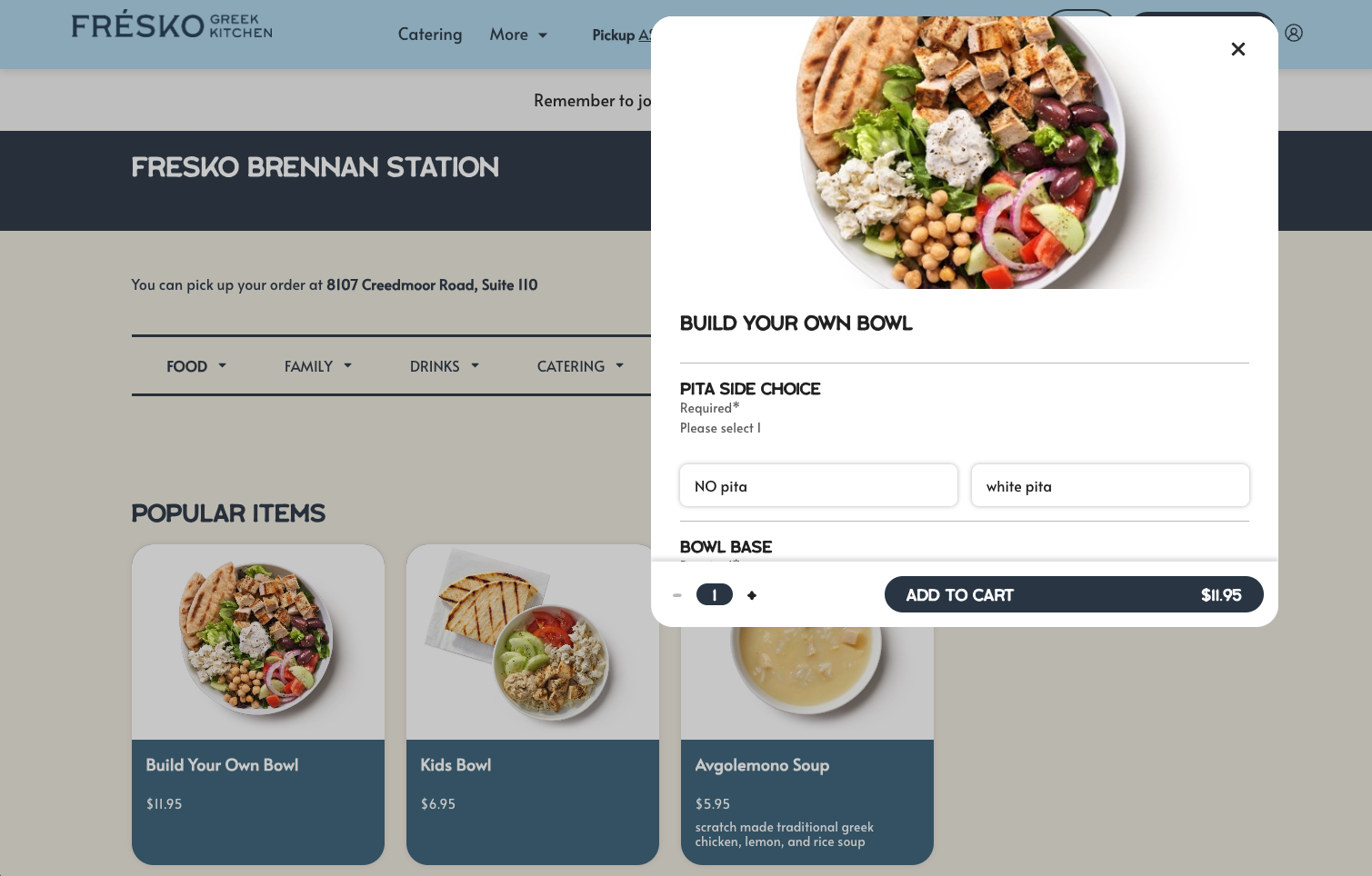 While FRÉSKO Greek Kitchen uses third-party online ordering partners, Toast's Online Ordering is the preferred channel for their guests. Toast's first-party Online Ordering platform provides FRÉSKO Greek Kitchen with an easy-to-use, commission-free, and fully integrated solution. This integration makes it easier to manage online orders and can reduce the potential for human error when manually transferring an order from a third-party tablet to the POS. As John remarks, "They're not having to translate from the third-party platform to Toast which is when we'd sometimes see errors.
With features such as the ability to embed directly into your website, menu item direct links, and pixel tracking, Toast's Online Ordering is focused on giving the best guest experience. "I'm seeing more people order through the Toast platform directly versus the third-party system that we have," John added.
Setting up Online Ordering and Websites in tandem has been an easy and intuitive process for FRÉSKO Greek Kitchen. Through Toast's self-service option to easily set fonts, colors, images and more, any restaurant is able to quickly create a customizable engaging website and online ordering experience for their customers.
Continuing to grow your brand with Toast
FRÉSKO Greek Kitchen is one of many restaurants currently expanding their online narrative — and Toast is the perfect partner offering one digital platform to achieve that.
"It would take many steps to create, change, and update my website and online ordering. With Toast, it's easy to set it and forget it — I make an update in one place and see changes across my whole tech stack."
From a professional website to a seamlessly integrated online ordering solution, Toast equips restaurants with the ability to stay on brand while offering a first-class experience that can save both time and money.
Are you interested in learning more about implementing Toast in your restaurant? Click here to request a demo. Are you already using Toast? Click here to learn more about Toast Websites and our new and improved online ordering products.