Article
3 Perks of Integrated Credit Card Processing for Restaurants
Learn how integrated credit card processing is a benefit to restaurants, not a necessary evil.
Credit card payment processing is often viewed as a necessary evil by restaurateurs — a set of fees that need to be paid for the ability to accept credit cards.
But what if the fees you paid for credit card processing actually benefited your business?
Integrated credit card processing — or payment processing tied directly to your point of sale system — creates value for your business by helping you develop a deeper understanding of your customers.
Restaurateurs with access to this feature have been able to take something typically treated as a taxing commodity — to be negotiated to the lowest price possible and then forgotten — and turn it into something that strengthens their businesses.
What is Integrated Credit Card Processing?
Integrated credit card processing means that your payment processing is directly integrated into your restaurant technology stack, including your POS system, loyalty programs, reporting and analytics, and more.
These features allow credit card and transaction data to flow through your technology solutions and enable you to do things like track your customers' transactions and build a database of loyal guests.
Here's a helpful breakdown of the differences between separate and integrated credit card processing: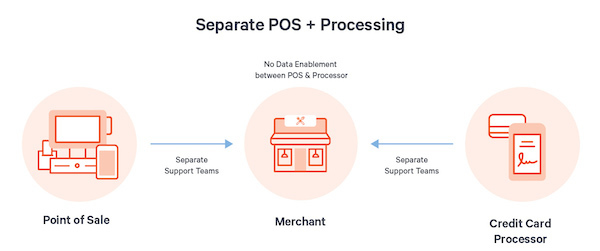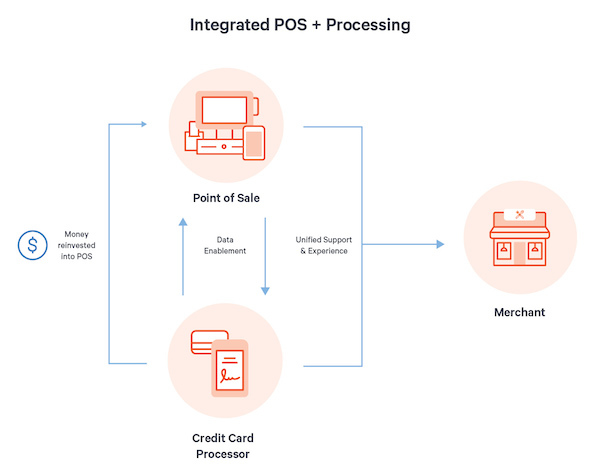 Below, we go in-depth on three perks of integrated credit card processing and how restaurants benefit from them.
Perk #1: Capture Valuable Diner Data
The most immediate benefit that integrated credit card processing provides restaurants is the ability to securely capture diners' data from credit cards right at the point of sale.
Drink, a unique bar concept in Boston, MA, is a great example of a restaurant that's taking advantage of integrated credit card processing. The system and their use of preauthorization allows guests to start tabs with customer names attached with just the swipe of a credit card. They're able to hold and capture guest information without the staff having to keep customers' physical cards behind the bar.
For restaurants that use loyalty programs, integrated credit card processing can tie a consumer's credit card to their loyalty program, eliminating the need for guests to carry around loyalty cards. This gives you insight into the customer behavior data that you need in order to better understand your market and your guests. It can also help you effectively run targeted marketing campaigns and offer your guests rewards that'll turn them into loyal repeat customers and improve your business' ROI.
Perk #2: Reinvest Processing Fees in Your Restaurant
A benefit of integrated credit card processing that's often overlooked is the reinvestment of credit card processing fees.
Standalone credit card processors provide credit card processing in order to turn a profit. Integrated credit card processing can take the revenue generated from credit card processing and reinvest it into your core POS system, putting money towards continuously improving your POS, loyalty, reporting, CRM, and ordering technology.
Tip: Ask your integrated credit card processor or other payments provider how they reinvest their processing fees in your business.
Perk #3: Work with a Single Support Team
No matter how great your technology and integrated payment processing solution is, questions or issues inevitably come up. That's where technical support comes in, and it should be one of the key criteria you use to evaluate a credit card processing partner.
With multiple vendors across payment processing, point of sale, and any number of other restaurant technology solutions you use, it often becomes your or your staff's responsibility to troubleshoot issues or call multiple vendors when something stops working.
When you work with a restaurant technology vendor that's integrated with your credit card processor, you only have to go to a single source for support when an issue comes up in your restaurant. On a Saturday night, that can mean the difference between pulling key staff off the floor to call multiple vendors or having a single point of contact for resolving issues quickly with little disruption.
RESOURCE
Find the right POS for your restaurant's unique needs
We'll handle your info according to our privacy statement.
Tip: Ask your integrated credit card processor or other payments provider how they troubleshoot support issues across payments, POS, and reporting to identify the root cause of any issues.
Integrated Credit Card Processing: Finding the Value in Payment Processing
Integrated credit card processing can help you better understand your customers and improve the guest experience with enhanced loyalty. It can also put an integrated technology partner on your side to invest in better technology to grow your business and a specialized support team to turn to when the inevitable challenge arises.
If innovative restaurant technology is important to you, talk to an expert on our team about the benefits of integrated credit card processing and a single, unified center of support.
DISCLAIMER: This information is provided for general informational purposes only, and publication does not constitute an endorsement. Toast does not warrant the accuracy or completeness of any information, text, graphics, links, or other items contained within this content. Toast does not guarantee you will achieve any specific results if you follow any advice herein. It may be advisable for you to consult with a professional such as a lawyer, accountant, or business advisor for advice specific to your situation.