Article
How to Set Short-Term and Long-Term Goals for Your Restaurant
Are you setting short-term and long-term financial goals for your restaurant? Learn how with these goals and examples.
As a restaurant owner or manager, how many hours a week do you spend exporting and updating Excel sheets to gauge the success of your restaurant?
And when you finally have the numbers and you've determined your key performance metrics, also known as KPIs, do you set data-driven restaurant goals down to the year, month, and day? Or do you look at all of the numbers on the sheet and say, "Well, my restaurant is earning money, so I must be doing something right," and call it a day?
The truth is, restaurant numbers can tell any story you want them to tell. But in order to tell the right story and set yourself up for success, you need to set short-term and long-term goals. By doing so, you can dive into the good, the bad, and the ugly of your restaurant sales and menu analytics.
With the right restaurant analytics platform, you can even drill all the way down to the extra cheese option for your nachos to easily determine exactly which parts of your business are boosting your profits and which need improvement — instead of spending hours grappling with charts and pivot tables to get the same answer.
With so many uncontrollable challenges and variables in the restaurant industry these days, it can be helpful to focus on what you can control. Here are six examples of short-term and long-term goals for restaurants that you can set to improve restaurant KPIs.
Restaurant Business Goal Examples: Short Term and Long Term
Increase monthly net restaurant sales
Increase daily net restaurant restaurant sales
Improve new revenue streams
Improve your top-selling items
Test new menu items
Test service charges
6 examples of short-term and long-term restaurant goals
1. Increase monthly net restaurant sales

Net restaurant sales might be the most important metric for your business. It's the foundation for all of your restaurant analytics. In fact, your restaurant's success — and your investors' success, if applicable — is wholly dependent on this number.
Net sales equals gross sales minus discounts, and it can be a pain to calculate every day if you're stuck rifling through yesterday's receipts. If you're able to access that number from anywhere at any time through your restaurant analytics platform, you can focus less on finding those numbers and more on increasing those numbers.
Depending on your restaurant's historical data, location, and what you know about how seasonality affects your restaurant, you should set goals for your net restaurant sales to increase month over month. Check out this helpful guide to learn how to analyze and improve your restaurant's sales numbers.
Restaurant Goal: Increase net sales by 5% month over month
2. Increase daily net restaurant sales

Sometimes it's helpful to zoom in a bit and see a daily snapshot of your net restaurant sales. It can help you see what promotions are or aren't working and figure out where you can lean in and give sales a boost.
Here's an example: A restaurant ran a weekend promotion on December 14 and 15 and, as you can see in the graph above, it brought in the majority of sales for the month. Without that promotion, they may have seen an average net sales per day of approximately $3,000, but now they've brought that number up to approximately $5,000.
The promotion obviously improved sales for this restaurant, so they might want to add it to their playbook to run once a month or quarter.
Restaurant Goal: Increase average net sales per day by 10%
RESOURCE
More orders, more profit – a guide to understanding your restaurant sales
We'll handle your info according to our privacy statement.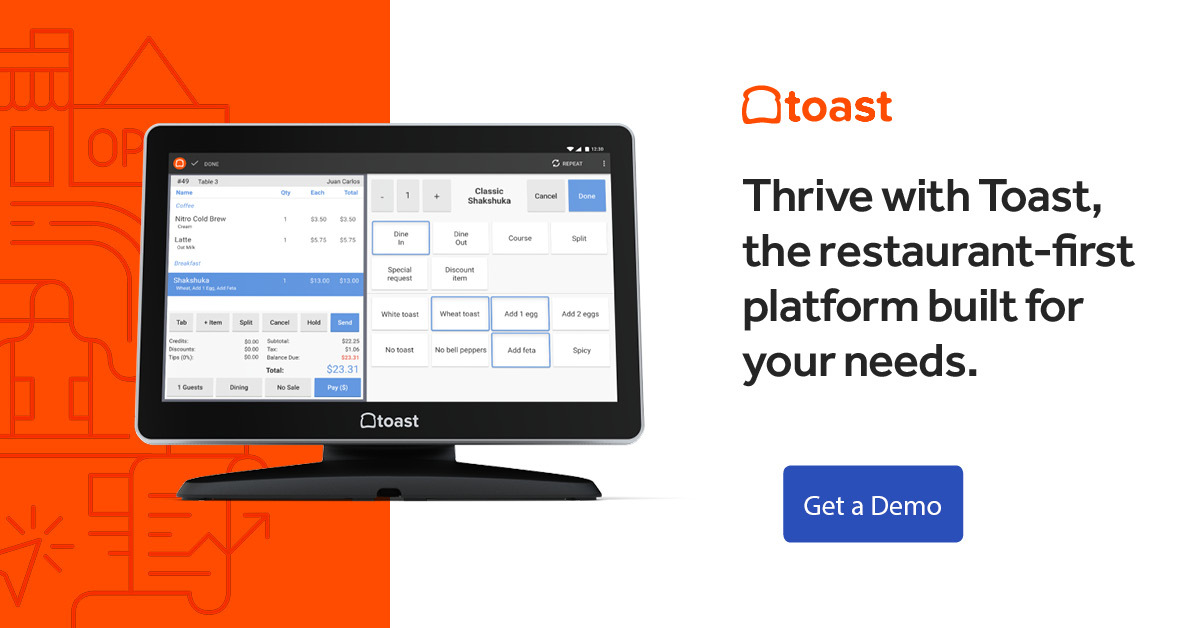 3. Improve new revenue streams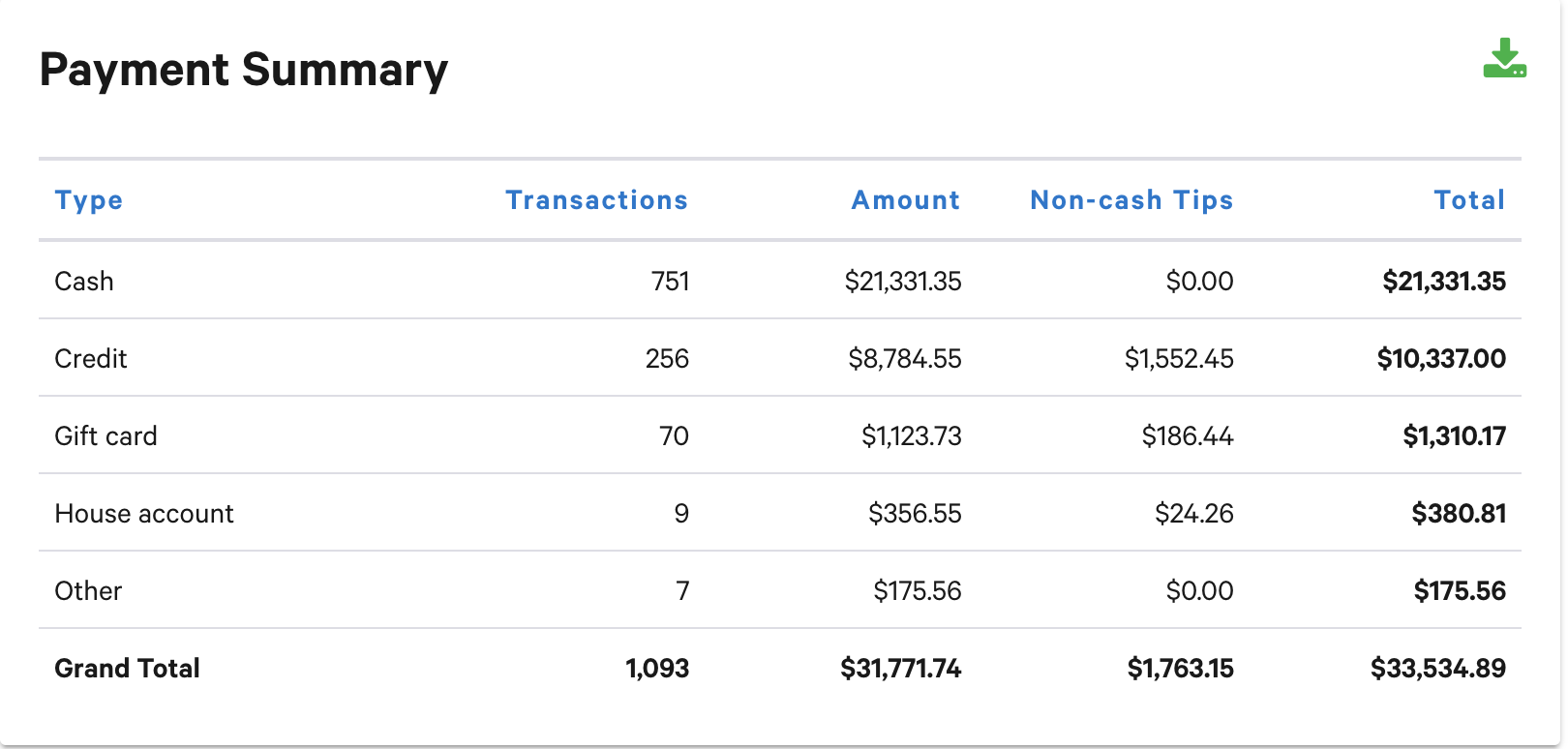 According to the 2019 Restaurant Success Report, 77% of diners marked loyalty programs as "Somewhat Important" or "Very Important" to the guest experience. And 59% marked gift card programs as "Somewhat Important" or "Very Important." So, newer revenue streams like these can significantly contribute to growing your guest base.
The restaurant example in the graph above had 70 transactions via gift cards, which is 6.4% of their total transactions. But those gift cards only brought in 4% of total sales.
To improve gift card sales, you could start a fun, incentivized competition with your servers to see who can sell the most gift cards over a certain time period — with the goal of increasing the percentage of gift card transactions and sales. Or you can routinely post on social media reminding your loyal customers and supporters that you have gift cards available.
4. Improve your top-selling items

If you're familiar with menu engineering — a way to evaluate current and future restaurant menu pricing using restaurant data to influence design and content decisions — you know the "stars" of your menu are your most popular and most profitable menu items.
The analytics dashboard pictured above provides a breakdown of which three menu groups, menu items, and menu modifiers are most popular. Once you know which of your menu items are your "stars," you can then focus on getting them in front of more guests.
If you don't currently have access to a helpful analytics dashboard like the one pictured above, you can do menu engineering the old-fashioned way — by digging into food cost percentage, contribution margin, item popularity, and menu design and psychology.
Is there a cheaper cut of 10 oz. sirloin steak you can purchase to improve your food cost percentage? Could you change your menu design to move a lower-cost, high-profit item to a better spot on the menu to beat out the calamari, which might be costing you a pretty penny to produce? Menu engineering can help you answer questions like these and more. Take our free menu engineering course so you can start using data to engineer the best menu for your restaurant.
5. Test new menu items

With a breakdown of your product mix like the one pictured above, you can see exactly how a new menu item stacks up against the rest, and even get ideas for other menu items based on popular modifiers guests are ordering. Though they might not know it, your customers are often your best idea-generators for new recipes.
To test the success of a new menu item, calculate the average net sales per each menu item over the course of a month. Then, add a new item to your menu for one month. After the month is over, see if the monthly net sales for the new menu item beat out the average. If it did, you might want to keep it in your lineup.
6. Test service charges
HOUSEpitality Restaurant Group implemented a service charge instead of tips when trying this new model, and it led to significant increases in pay for staff across the board, both in the front- and back-of-house. Floor captains — what they now call their servers — and cooks are making upwards of $20 an hour, with bussers, dishwashers, and food runners earning $15 - $17. "The beautiful thing is people are leaving additional tips as well," said Kevin Healy of HOUSEpitality.
As always, check with your local labor laws before making any changes to your compensation structure and consult with a lawyer and/or accountant.
With the start of a new year, many restaurants are thinking about how to set achievable long-term goals for 2022. But it's important to not get too carried away and also to remain focused on what you can do to improve your sales and achieve goals in the short term. Focus on one goal at a time, and once you've achieved it, move on to the next one.
RESOURCE
Find the right POS for your restaurant's unique needs
We'll handle your info according to our privacy statement.
Related Restaurant Financial Resources
DISCLAIMER: This information is provided for general informational purposes only, and publication does not constitute an endorsement. Toast does not warrant the accuracy or completeness of any information, text, graphics, links, or other items contained within this content. Toast does not guarantee you will achieve any specific results if you follow any advice herein. It may be advisable for you to consult with a professional such as a lawyer, accountant, or business advisor for advice specific to your situation.