---
---
Products Used
Toast POS
Kitchen Display System
Results
Deli Orders, Bar Tabs, and Holiday Order Deposits
Three features that sets Toast apart for Morgan & York
Customer Story
From Square to Toast, Morgan & York is Increasing Revenue and Reducing Service Times
Morgan & York is an artisan wine and cheese shop plus sandwich deli.
Morgan & York is known as the "Cheers" of Ann Arbor, where everyone knows your name. Every Saturday morning people flock to the shop and deli to enjoy food and catch up. Committed to supporting local vendors and providing the highest quality products possible, Morgan & York has transitioned from a small party store into a well-loved staple of Michigan for artisan food and experience.
Jody Klein may not have an official title at Morgan & York, but she has a hand in all aspects of its operations. Jody oversees the office, bookkeeping, HR, pricing, and marketing. When Morgan & York needed a change in its POS system, Jody spearheaded the search and was committed to finding a compatible solution.
Struggling with Square and Making the Switch to Toast
Ever since Tommy York purchased the Big 10 party store on Packard street, Morgan & York has grown from a gourmet specialty store to include an artisan wine and cheese shop, a deli, and a coffee shop.
"We have the best selection of wine and cheeses. We will not sell anything that is mass-produced or mass-marketed," says Jody. "Our products are natural and artisan quality." Morgan & York is consistently ranked as one of the top wine shops in Michigan as well as a popular spot for sandwiches and breakfast. "You're supporting the local economy but you're also getting the freshest ingredients. We want to provide our customers with the best products we can."
As the shop grew and the deli moved up front, Jody and the shop's partners decided to purchase Square. Over time though, the system began to show that it couldn't keep up with Morgan & York's rapid growth. "One of the major problems about Square is that they were running over wifi," says Jody.
"The kitchen printer would constantly be going down. The issues became a daily occurrence and continuously got worse." In addition to the printer issues, Square was unable to perform necessary tasks like tracking deferred revenue and separating sales tax and bottle deposit tax.
"Instead of putting more money into Square as our business grew, we needed a more reliable system overall," Jody remembers.
Utilizing Toast Specific Features to Improve Operations
After Morgan & York received its Class C Licenses to open up a full-service bar, Jody and her partners decided to switch to Toast. "With so many exciting developments happening, we needed a more robust system than what we had with Square," says Jody.
"Now we have the ability to operate on a more restaurant-dedicated system," she says. "Toast is more robust with capabilities that match all the parts of our shop, such as orders for the deli and open tabs for the bar. Having the technology hardwired improved the customer experience significantly. The systems talk to each other and get orders out as fast as they can."
One important capability that decreased room for error and made their reports more accurate was the use of house accounts.
"We liked that Toast offers house accounts that can be authorized by me. Square gave anyone the capability to charge anything at any time, which created consistency problems. It's helpful now that I have to sign off on all other employees' house accounts," Jody says.
Toast has proven itself to be a strong partner for Morgan & York during the holiday season too. Jody utilizes Toast's online ordering to sell tickets for special dinners in a quick and easy portal.
"During the holiday season, Toast helps us get out as many holiday orders as we can. This includes our specialty cheese platters and our bulk wine orders. We put those orders right into Toast and we're able to take deposits. It helps keep those things on schedule."
Staying Organized and Decreasing Service Time with Toast's Kitchen Display Systems
The average order at Morgan & York starts as the customer walks through the door. After placing their order, the customers wait on the side of the shop for their food. During a busy Saturday, tickets would get lost or go unfulfilled with Square. Jody made the decision to purchase a Toast Kitchen Display System and never looked back.
"We now have the KDS which helps a lot," she says. "Tickets are going straight to the system. It's easier for the food staff to stay organized while making sure all orders are fulfilled as soon as possible."
The shop has seen its service times decrease significantly, allowing them to serve more customers daily. "The deli is an important way to show and promote our handcrafted items. Our sandwiches are made the old-fashioned way for our customers to enjoy," Jody says.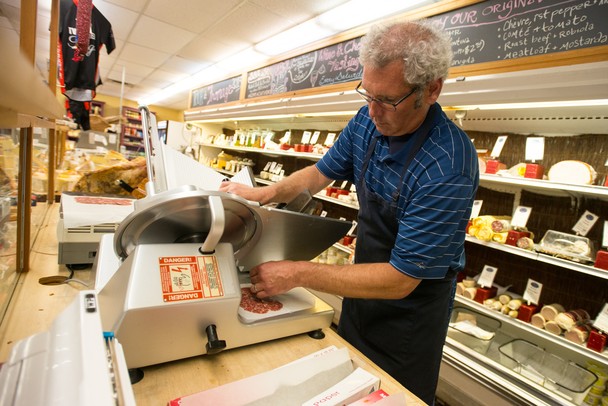 Developing a Reliable Relationship with Toast
When Jody was researching new POS systems to replace Square, she created a comprehensive spreadsheet titled, "Square vs Toast" in which she contrasted the benefits of Toast against the struggles they had been having with Square. In the end, what really sold Jody and her partners on Toast was their sales rep Lucas.
"Lucas making cold calls and reaching out to one of our partners is what really hooked us on the idea of Toast. We really liked him and felt very comfortable with his customer service and that he wasn't just going to sell us a system and leave. He's been a great resource," she says.
Even beyond making a sale, Lucas continues to be a local contact for support.
"The benefits of having a local Toast rep are huge," Jody says. "When we had a problem with our chip readers, Lucas came on site and he was able to set up a hardware replacement. If I have a problem I can text him and he's readily available."
Looking Ahead to an Exciting Future
When asked about the future of Morgan & York, Jody was enthusiastic and passionate.
"Morgan & York is proud to support local vendors and contribute to a sense of community," she says. "People from all walks of life come together on Saturday mornings to enjoy the same food and share that experience with each other."
Jody expects that the addition of the full-service bar and restaurant concept will expand Morgan & York's influence in the Ann Arbor area and beyond. "We're looking forward to growing with Toast."