Article
How to Optimize Your Restaurant Website for Success
Your restaurant website should help new guests find you while providing raving fans with the quick information they're looking for. Here are some tips for success.
Built it and they will come. That is if your restaurant website is optimized for success, of course.
Whether you're thinking about building a brand new website for your restaurant, launching your first website for a new restaurant opening, or simply looking to update your existing website, you've come to the right place.
In this article, you'll learn:
Why a restaurant website is important
What to include on your restaurant website
How to draw inspiration from some of the best restaurant websites
What to avoid including on your website
How to use a restaurant website builder to create a great restaurant website
Let's dive in!
What is the purpose of a restaurant website?
Before the internet, most folks found a restaurant by proximity, advertisements in the Yellow Pages, or word of mouth. And while (most of) these methods are still quite popular, the age of the internet has brought in a whole new way for diners to discover new restaurants to try.
However, there are a lot of ways for prospective customers to find information on restaurants online, some of which restaurant owners have limited or no control over. For example, a guest may Tweet about an experience at your restaurant or post a review to an aggregator like Yelp.
A restaurant website is a great way to control at least some of the information shared about your restaurant online and ensure that vital details — such as your address, hours, story, menu, and more — are accurate.
In short, the purpose of a restaurant website is to own your restaurant's online footprint and share accurate, up-to-date information about your business to attract new guests and keep existing guests coming back.
RESOURCE
Tips & tricks for getting the most out of your website
We'll handle your info according to our privacy statement.
What to include on your restaurant website homepage
It helps to think of your homepage as the windowfront of your restaurant's website. It's where guests will likely land first when searching for your restaurant online, so it helps to add the most pertinent information here for easy access.
The best restaurant websites make it clear up-front what the guest can expect from them. They are well-branded and can easily be identified even if the restaurant name and logo were removed.
Here are some things you should include on your homepage:
An eye-catching photo or carousel or photos that demonstrate your restaurant's best dishes, team, or another defining factor of your business
A navigation bar that provides users with a short list of links to other pages of your website, such as your online ordering system, gift cards, catering, loyalty program details, dine-in menu, and more.
Crucial business information such as your address, hours, phone number, and email address.
Links to your social media accounts, such as Instagram, Facebook, Twitter, TikTok, and YouTube. Only link to social media profiles that you are truly active on — linking to old or defunct accounts may lead prospecting customers to assume you are no longer in business.
An email sign-up form to allow guests to stay in touch with your restaurant and receive your newsletters or special event emails.
Examples of the best restaurant websites
Looking for ideas for your own restaurant website? Here are some examples of restaurant websites to help spark design inspiration.
MIDA
MIDA, a contemporary Italian eatery in Boston, uses its website to showcase who they are. With powerful imagery and a focus on their renowned chef, Douglass Williams, guests get an immediate feel for what to expect from MIDA. Plus, they keep their navigation menu short and succinct, with options to view locations, catering, events, job openings, and purchase gift cards.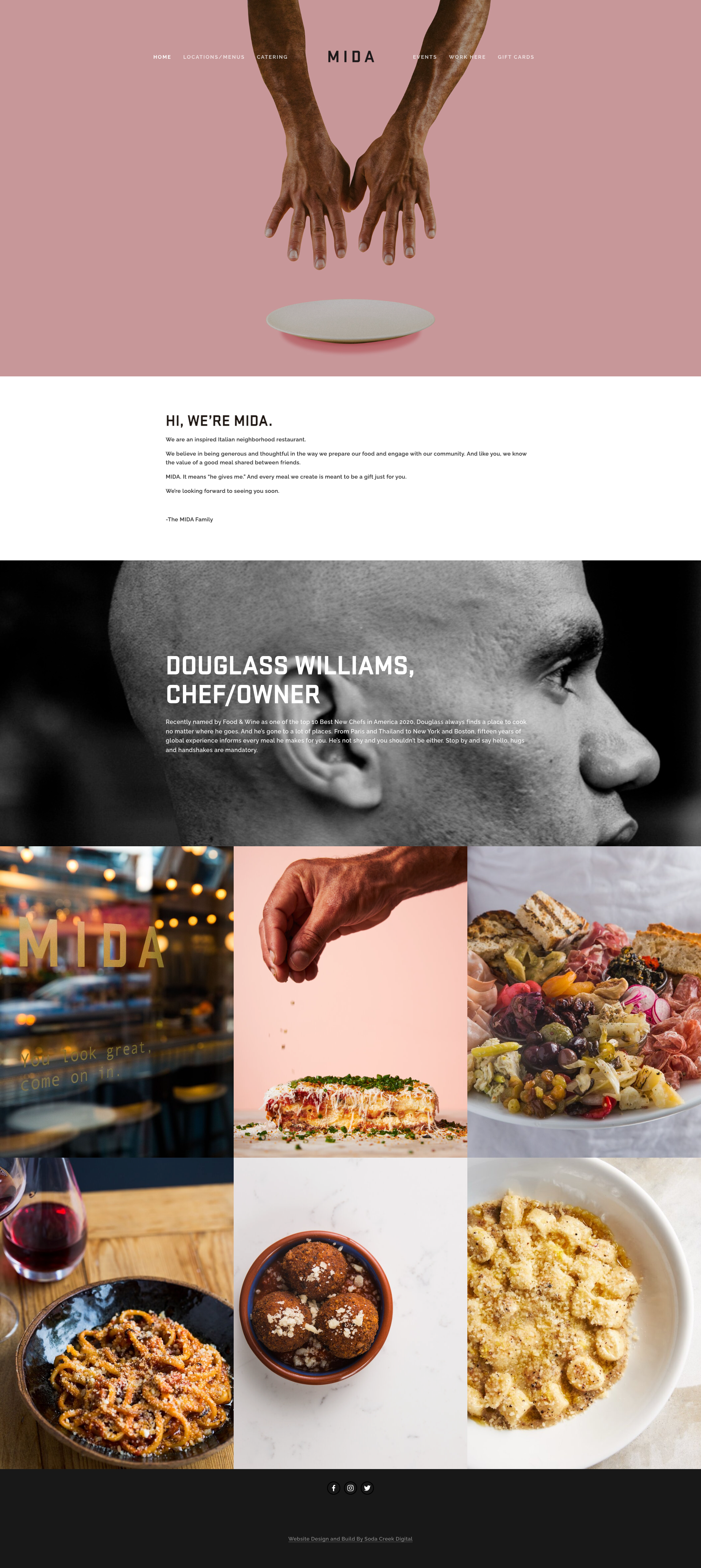 PlantPub
This vegan fast-casual restaurant gets straight to the point on its website, showcasing drool-worthy photos and a large heading on what they offer: plant-based pub food. With a main call-to-action to order online, this website drives action while providing guests with the opportunity to learn more about PlantPub's mission.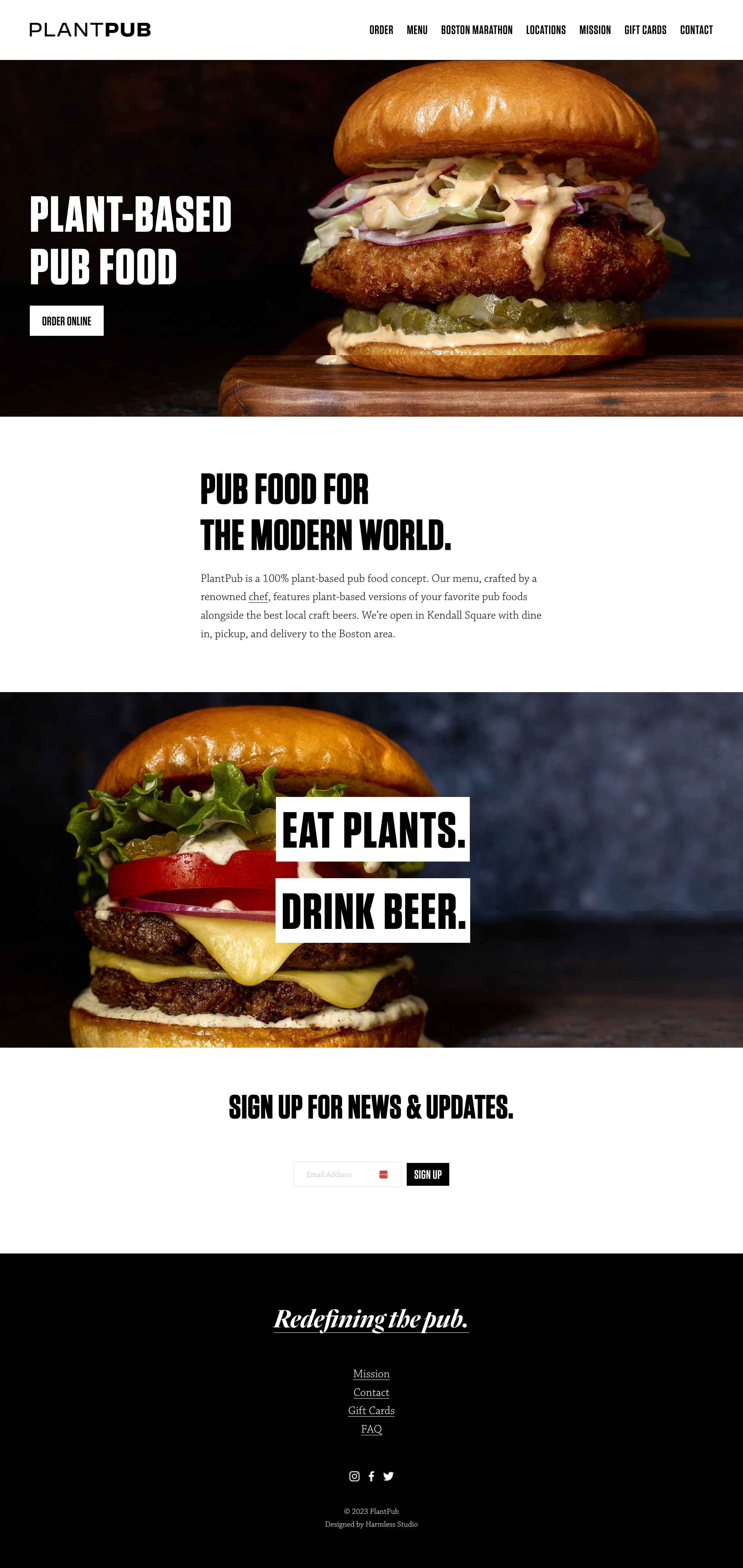 OTTO Pizza
OTTO keeps its homepage short and sweet, with an eye-catching photo carousel welcoming guests to the site followed by locations, reviews, an email newsletter signup, and — of course — a link to their online ordering platform to provide guests an easy way to order now. They also include links in the navigation dropdown to view loyalty program options as well as catering and even an online store to buy OTTO merch.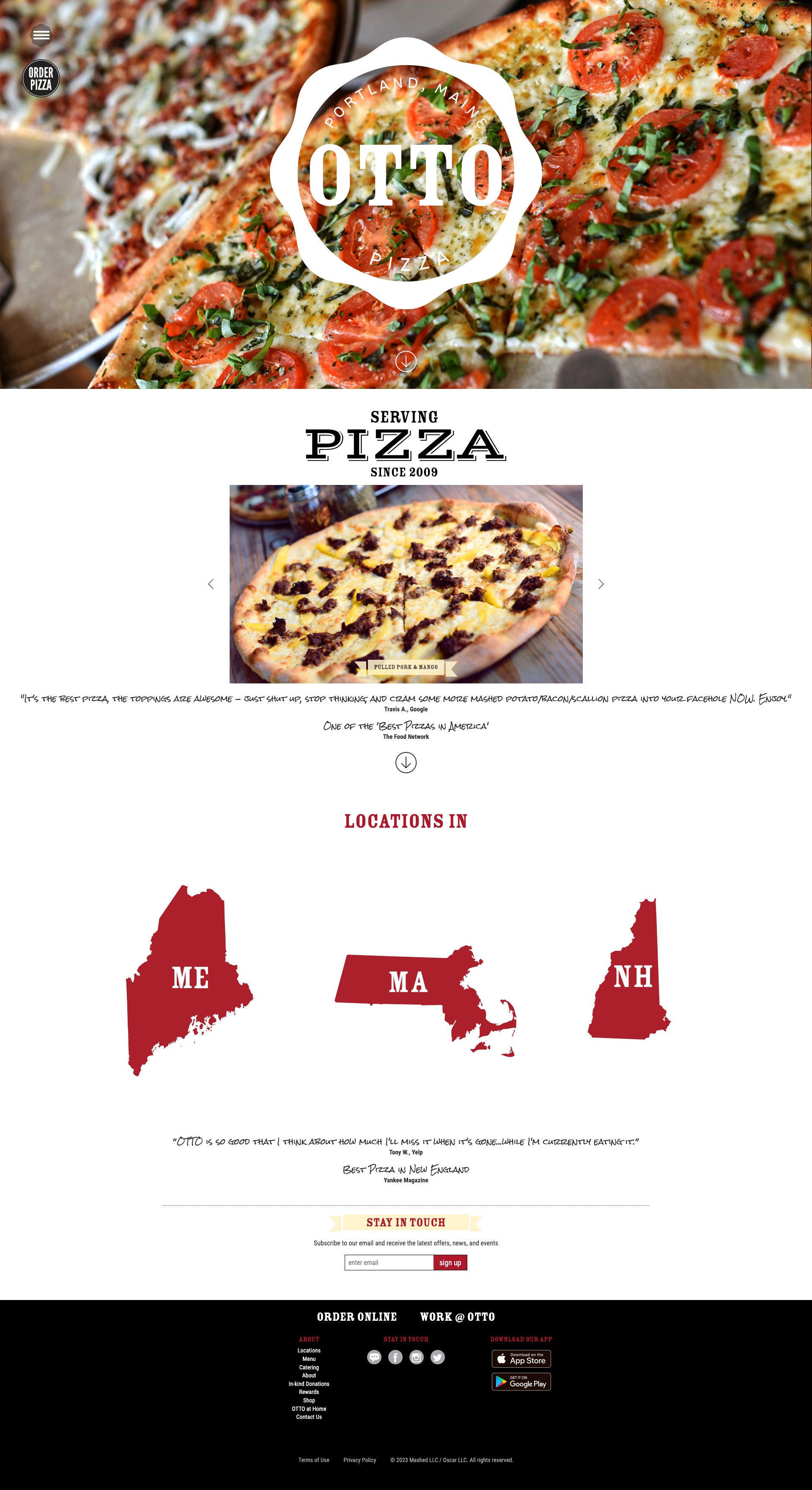 What not to include on your restaurant website
Now that we've covered what you should include on your restaurant website, here are some things to avoid.
Stock imagery (or unflattering photos)
While stock photos can be great in a pinch, they don't accurately reflect what your restaurant has to offer. When possible, stick to photos you — or your guests — have taken of your dishes and stay away from the stock photos.
While you don't have to be a food photography expert to take photos for your social media or website, there is a certain art to making sure your photos are flattering and appetizing. Here are some quick tips:
Always shoot your photos in natural, well-lit environments when possible. Try to light the photo from the side rather than the front to avoid harsh shadows.
Focus on your dish's biggest strengths. For example, when taking a photo of your famous cheeseburgers, focus on the burger itself — not the side of french fries.
Try to take your photos in a natural environment, such as on a table in your restaurant, as opposed to against a plain backdrop. This makes the photos feel more genuine and less generic.
PDF menus
While it's perfectly fine to include a PDF version of your menu on your website, it shouldn't be the only way guests can view your menu.
PDF formats are not accessible to users with disabilities, such as guests who use screen readers to access the internet. Plus, providing only a PDF menu means it likely will not be crawled by search engines, such as Google. This can hurt your visibility in the long run and prevent your restaurant from popping up in common cuisine-based searches such as "tacos near me."
If you're going to include a PDF menu on your website, make sure there is a text-based, non-PDF version available as well.
Too many links, photos, or general clutter
Sometimes, less is better. When it comes to your restaurant website, try to avoid cluttering the site with things that may distract viewers or confuse them. Keep it simple with links to your online ordering platform, menu, catering options, locations, contact form, and other critical functionality.
How to build a restaurant website
You don't have to have a degree in web design to build a restaurant website. Luckily, there are several restaurant website builders on the market that can help you get up and running online.
Many website builders, such as Wix and Squarespace, provide website templates that make it easy to adapt an existing design to fit your personal restaurant brand. Many of these website services also have built in search engine optimization, also known as SEO, tools to help your restaurant rank higher in search engine results, such as Google or Bing. SEO tools help your restaurant website to populate in results relevant to your business, such as "ice cream near me" or "delis in New York City that deliver."
You can also work with a small restaurant website design agency that will build your website for you. Regardless of what you choose, it's important to build a user-friendly website so you can make a great digital impression with prospective diners.
Relevant Restaurant Website Resources
DISCLAIMER: This information is provided for general informational purposes only, and publication does not constitute an endorsement. Toast does not warrant the accuracy or completeness of any information, text, graphics, links, or other items contained within this content. Toast does not guarantee you will achieve any specific results if you follow any advice herein. It may be advisable for you to consult with a professional such as a lawyer, accountant, or business advisor for advice specific to your situation.