Article
The Top 10 Data Reports for Your POS Software
Monitor trends at your restaurant by running these data reports with your POS software.
It's been a stressful day. A disgruntled customer wrote a negative review on Yelp. Your produce order didn't show up until after brunch. Your staff schedule needs adjusting and you still need to check your restaurant reports.
The good news for you: checking your reports is the least stressful part of your day.
Gone are the days of updating an Excel sheet and trying to make sense of the cells of numbers. No more manually tracking restaurant data.

Today, most point of sale (POS) systems offer reporting integrated into the software. Software as a service (or SaaS POS systems), in particular, allow you to access these reports in real-time. And they're readily stored in the cloud, accessible via any device — not only on the back-office system.
Even more advanced POS software allows you to customize and prioritize depending on the restaurant metrics most important to you, whether you're the CEO, restaurant owner, or GM.
How are you using POS software to streamline your reporting? Which reports are saved on your dashboard? Which reports are you running this week to monitor trends in your restaurant?
Let's take a look at the top 10 reports every restaurant owner should frequently run with their restaurant POS software.
To help you evaluate the tools along the way, you can download the POS comparison guide and check out the Toast vs competitors compare guide.
RESOURCE
Find the right POS for your restaurant's unique needs
We'll handle your info according to our privacy statement.
Top 10 Reports to Run with Restaurant POS Software
1. Restaurant Sales Reports
Number one is sales. Of course.
Your restaurant sales are the cornerstone of your business. The sales report dashboard on your POS provides an overview of all transactions completed during a selected time period. It should also include net sales, gratuity, tips, total guests, table turn time, and a breakdown of all service types and payment methods. The sales report on your dashboard should provide a scannable overview of the restaurant performance metrics you really care about.
From there, you can break it down to specific categories, such as individual items sold, tips collected, credit card types, sales by a server, and more, to determine your strategy for saving money and optimizing your menu.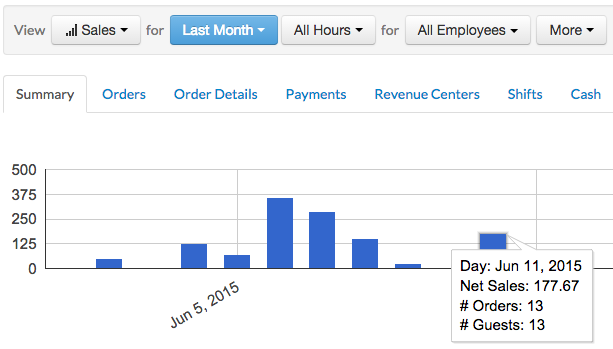 2. Sales Exceptions Reports
Sales exception reports allow you to quickly view an overview of all voids, discounts, and refunds.
A blank exception report indicates that your team is running efficiently, whereas a clogged exception report may indicate that your team needs specific or additional training. The reports also allow you to identify the specific servers and managers who are giving and approving sales exceptions — voiding receipts, discounting food, and offering refunds. With this report on your POS dashboard, you can see the total number of sales exceptions, total amount, and void percent that each of your staff members has given, and closely monitor your staff's productivity.
3. Labor Reports
Labor reports provide detailed insight into how your labor is translating into sales.
The report on your POS dashboard should provide a summary of each of your employees, including labor cost percentage. You can run reports on all labor-related items including hours worked, pay, tips, and time entries. Labor reports can be customized based on dates, shift hours, and to view all employees or an individual employee.
4. Payouts Reports
Depending on your tipping policy, your waitstaff may be taking payouts at the end of every shift. With an integrated POS system, your payouts report will show an itemized list and amount of each pay out that was issued. You can track these payout reports alongside your labor reports to determine what payouts are coming out of your cash drawer, and make sure that everything is lining up correctly.
5. Product Mix Reports & Menu Reports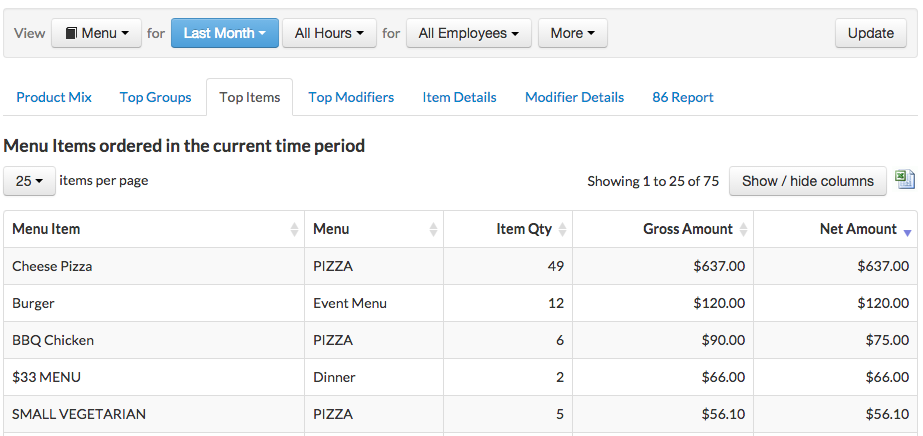 A restaurant's success centers around the food it delivers. After you've hired the perfect chef and labored over a menu, it's time to track how it's performing.
Product mix and menu reports automatically track menu sales and use that data to show you exactly how your menu items are affecting your sales. Identify the top menu groups, items, and modifiers. If you want to break it down even more, check out how your menu is performing by time and day of the week. This way, you can easily identify the items that are directly contributing to restaurant sales — and consider dropping those that aren't.
RESOURCE
Hack your restaurant's menu using data & psychology
We'll handle your info according to our privacy statement.
6. Accounting Reports
For so many restaurateurs, tax season can be incredibly stressful -- especially when your reports need updating.
With your POS software, you can view and dig into your key financial information, including your restaurant's assets, liabilities, revenue, and expenses. This general ledger report will do all your bookkeeping for you, so all your accountant has to do is prepare the tax return, saving both of you money and time.
7. Guest Behavior Reports
If your POS system has a customer relationship management (CRM) system that captures your customers' contact information and order history, you can track guest behavior. Use customer reports to identify customers who visited your restaurant the most or spent the most amount of money, and then send them a targeted email as thanks.
This report can give you key insight into what marketing campaigns to run, and how to keep your customers coming back.
Do a deep dive into individual customers, viewing information like their average check, days since the last visit, and most frequently ordered items, to learn more about, and optimize, the guest experience at your restaurant.
8. Gift Cards & Rewards Reports
Offering gift cards and rewards at your restaurant? You should be tracking how these campaigns are running.
The gift and rewards report gives you insight into all active rewards and gift cards, including information about all transactions using these cards. View the current balance or points, first and last transaction date, and a detailed breakdown of all gift and rewards cards.
Why should this be on your dashboard? Because it's important to gauge the effectiveness of your loyalty program at your restaurant. If it's not working, check out how to fix it.
9. Kitchen Reports
Often, a restaurant's productivity is measured by front-of-house activity. But if yours is a busy kitchen, it's equally (if not more) important to track their success.
A POS software that integrates with kitchen display systems allows you to track tickets by the hour (by net sales and average fulfillment time), tickets by fulfillment time (and by specific station), and ticket details, which gives you an overview of each ticket that comes to the kitchen as well as the fired time and fulfillment time. KDS reporting, alongside labor reporting, can give you a full view of what's going on in your back of house.
10. Catering & Delivery Reports
For so many restaurants, catering and delivery are a key part of their services.
For example, pizza chains rely very heavily on smooth deliveries, while burrito restaurants may focus on catering. The catering and delivery reports should outline all upcoming orders that need to be fulfilled, sortable by time periods, items or products, as well as required delivery dates.
With Toast, you can see pending orders that have been submitted for delivery that have not been dispatched to a driver, in progress orders that have been dispatched to an on-duty driver, or delivered orders that have been delivered and rendered complete. You can then measure the time spent on delivery orders, to make sure your drivers are optimizing their time.
What Reports Do You Run on Your POS Software?
This is only a handful of the many reports you can run with your restaurant POS software. With cloud-based POS software, all of these reports can be fun in real-time, from any internet-connected device, so you can know what's happening right now at your restaurant, no matter where you are.

As a point of sale system for your restaurant is a big investment, you want to make sure that you're making the most of all the features it has to offer — especially when it comes to reporting.
Related Restaurant POS Guides
DISCLAIMER: This information is provided for general informational purposes only, and publication does not constitute an endorsement. Toast does not warrant the accuracy or completeness of any information, text, graphics, links, or other items contained within this content. Toast does not guarantee you will achieve any specific results if you follow any advice herein. It may be advisable for you to consult with a professional such as a lawyer, accountant, or business advisor for advice specific to your situation.