Article
The Restaurant Management Software Ecosystem in 2023
Restaurants have unique needs when it comes to restaurant management software. Learn and compare top choices for restaurant management software in 2023.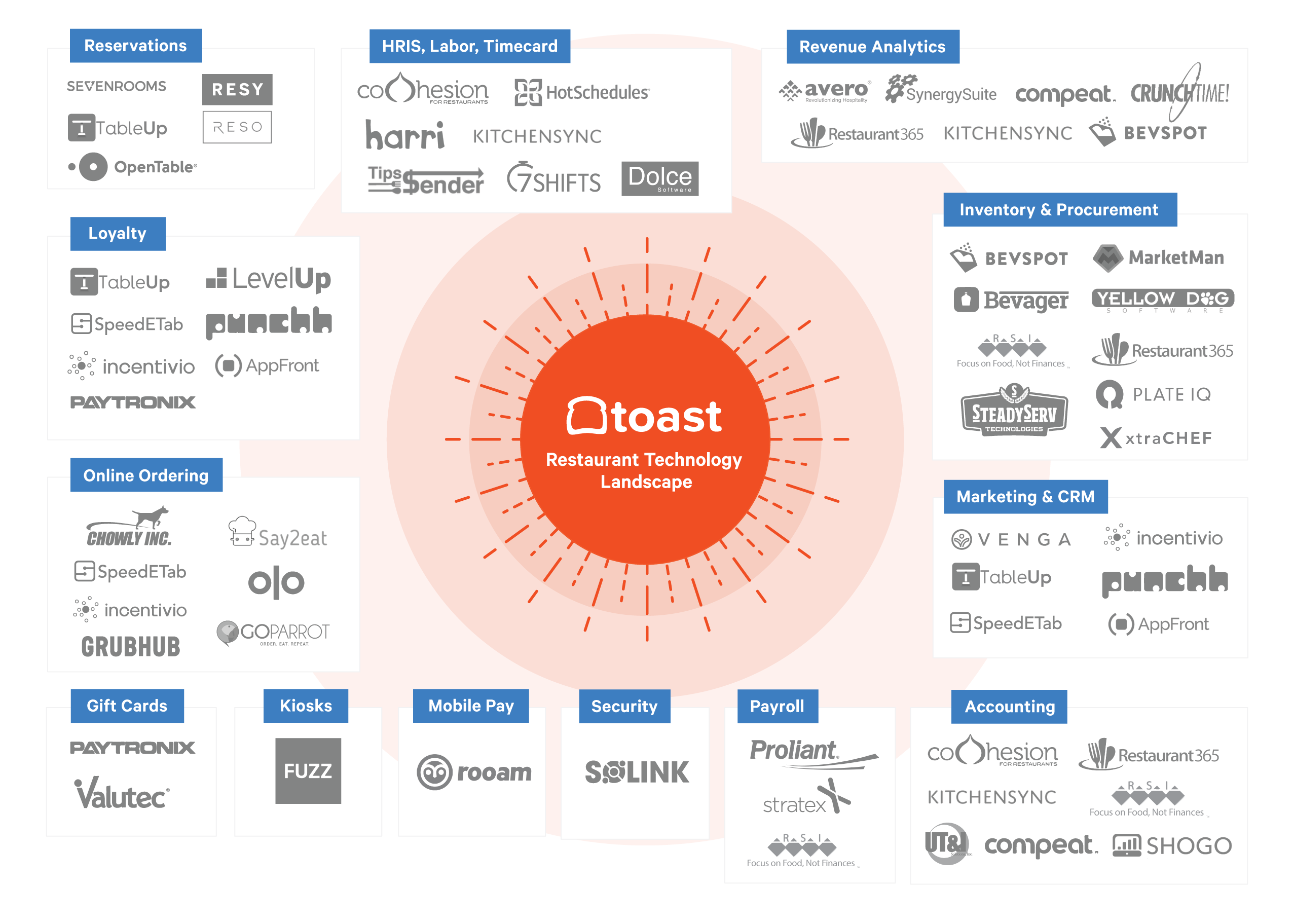 From restaurant computer systems to restaurant management systems, the restaurant software industry has grown exponentially in the past few years.
It's no surprise, either. People spent more at restaurants last year than at grocery stores, according to USDA data. An emerging ecosystem of companies are now leveraging technology to help drive the the restaurant failure rate way down.
Many restaurant software companies want to improve various parts of the restaurant experience — guest experience, front-of-house operations, back-of-house efficiency, back-office analytics.
With a central piece of technology that seamlessly integrates with other software, restaurants can avoid wrangling with separate systems that can't talk to each other and require manual consolidation. Point of sale systems can be the central node of all this technology.
Some restaurants pile on dozens of these tools in the hopes they'll improve operations. Other restaurants avoid technology altogether. Both options can be detrimental to your business. With so many options, your restaurant technology suite should depend on your concept and your goals. Choosing the right software takes research into ROI, and that research takes time. To help restaurateurs Toast developed resources to make comparing point of sales simplified.
To further help in your journey to create the best software ecosystem for your restaurant, here's an explanation of what's out there.
The Top Restaurant Management Software in 2020
Restaurant POS Software
Restaurant POS software is usually the first foray restaurants take into the restaurant software space, allowing them to take cash and credit and consolidate sales data in one place. Many next-gen POS systems also offer tablets with restaurant ordering apps, modules for integrated loyalty and gift cards, and real-time business analytics.
Perfect for: Any type of restaurant that takes payments, cash or credit.
Business Intelligence & Operations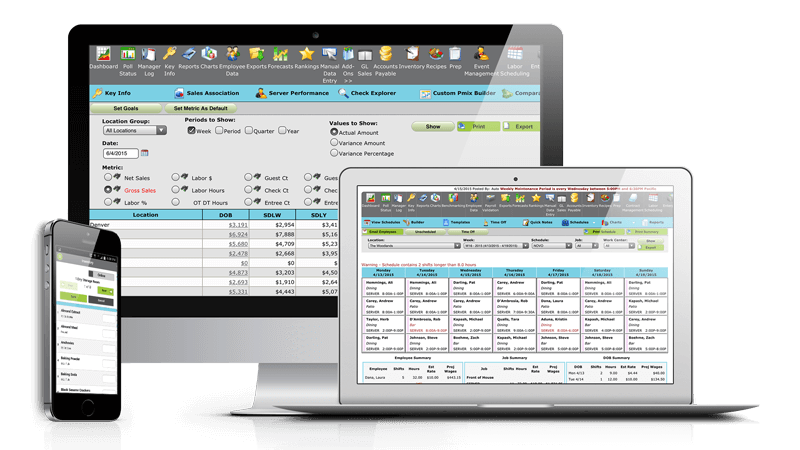 Companies like Avero, Restaurant365, SynergySuite & Compeat | Ctuit offer restaurant management software to help restaurants manage prime costs through sales, inventory, labor, and accounting intelligence. With a back-office solution, these are broad restaurant management systems that help improve restaurants' bottom line with analytics.
Perfect for: Restaurants that want a more clear view of inventory, staffing, marketing, and finances.
Purchasing & Inventory
Tools like MarketMan, Bevspot, Bevager & Foodager, Yellow Dog Software, RSI, Peachworks, CrunchTime, SteadyServ and Compeat | Ctuit help restaurants manage food and bar costs, actual and theoretical, as well as inventory, from ordering to depletion. With waste tracking, daily prep, and production planning, these tools help restaurants engineer the most profitable and popular menu.
Perfect for: Restaurants that order food from food suppliers and want to optimize their food costs.
Reservations & Wait List Management
Some restaurants have a problem with long wait lists. Guests might show up, put their name in for a table, and wait an hour or more for something available. Some guests might decide to leave during that time. Reservation platforms like Reso, TableUp, or Sevenrooms can help guests and restaurateurs get ahead of the problem but for those that do end up in line, wait list management apps like TableUp and Sevenrooms add guests to a digital wait list and allow them to check their wait time on their phone, as well as receive texts when their table is available.
Perfect for: Fine dining and casual dining restaurants that want to eliminate the line to wait for a table.
Table Top Ordering, Payment Devices & Mobile Payment Apps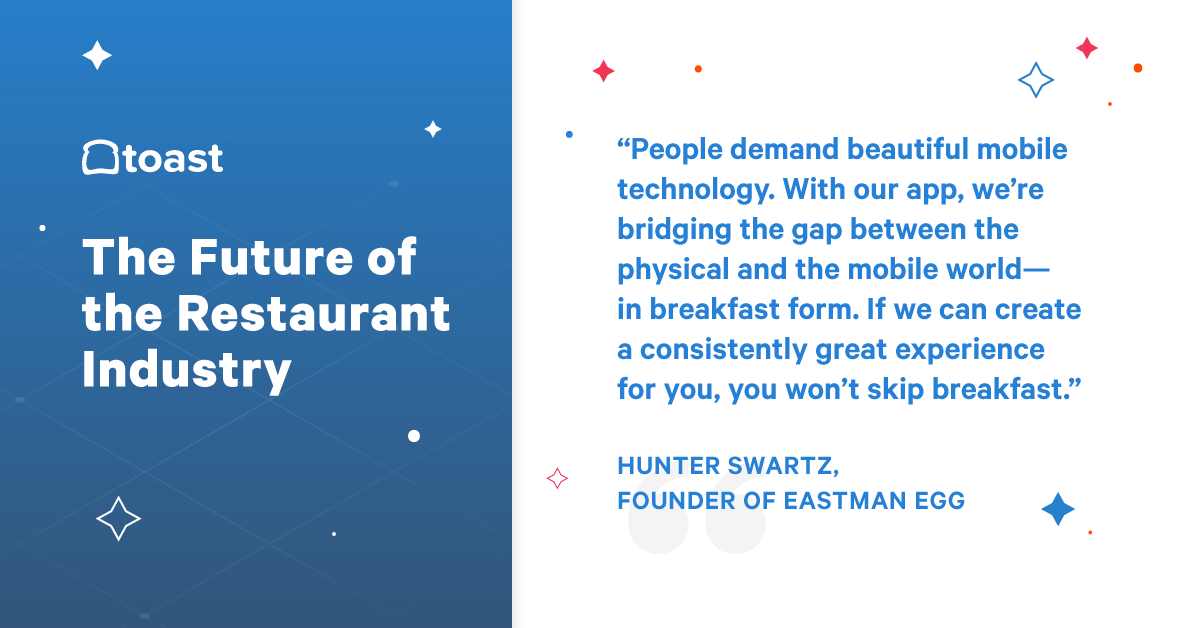 You may have seen these table-top tablets in establishments such as Applebee's or Buffalo Wild Wings. These technologies allow guests to input an order at the table and pay the check without talking to a server. Some solutions also include games on their platform, a welcome distraction for families on a night out. Other companies like Rooam are bridging the mobile payment world to the hospitality industry by allowing guests to open, view, and pay their bill directly from their phone.
Perfect for: Casual dining restaurants and bars that want to increase table turn time.
Employee HRIS, Scheduling & Payroll
Companies Harri and Dolce offer a full suite of HRIS solutions while HotSchedules, 7Shifts, and Peachworks create employee scheduling software specifically designed for restaurants, and offer employees and managers simple ways to view schedules, make requests, and communicate more efficiently with co-workers online. Proliant and KitchenSync provide payroll services to manage compensation, tips, and all employee financials.
Perfect for: Restaurants with many people on the staff that want to improve employee scheduling and communication.
White Label Mobile Apps
Think custom mobile ordering apps are only for the Starbucks of the world? Think again. Companies like SpeedETab, Incentivio, LevelUp, and TableUp are offering white label solutions to create a customized, on-brand mobile ordering experience for your guests.
Perfect for: Operations with high volumes of orders concentrated at specific times of day, like coffee shops in the morning or lunch take out spots.
Third-Party Online Ordering Aggregators
Restaurants with heavy online ordering volume are likely accepting orders from several third parties. Companies like Chowly and Checkmate intercept those orders and send them directly to your kitchen.
Perfect for: Restaurants with lots of online orders that want to save on time and labor inputting orders.
Restaurant Accounting Software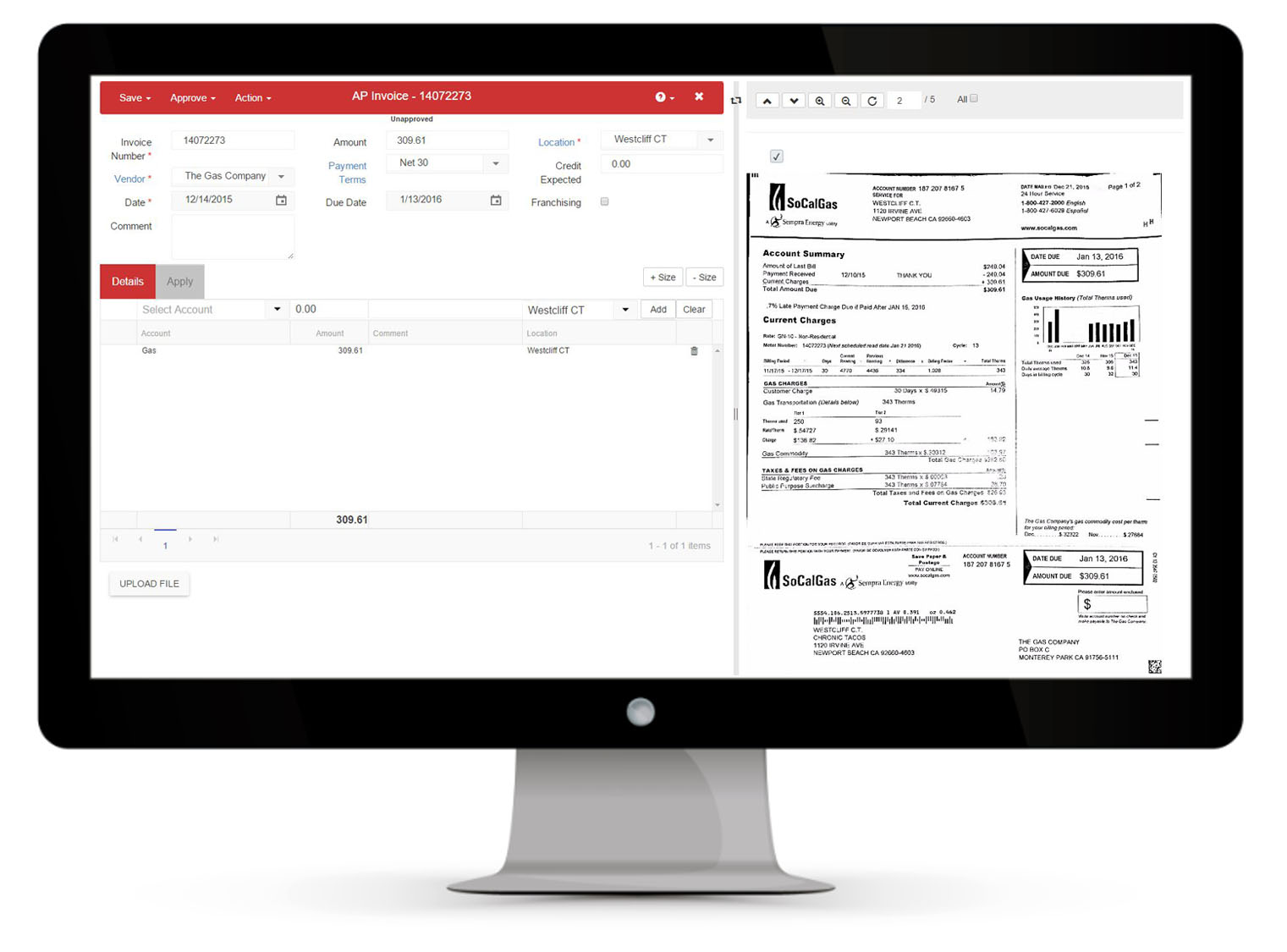 Companies like RSI, Restaurant365, Shogo, and Cohesion give restaurants a secure, digital way to manage their finances and accounting. From document management - keeping W9s in your file cabinet might not be the safest way to store social security numbers - to budget and financial reporting, these systems help restaurants year-round, not just when they're doing their taxes.
Perfect for: Restaurants that want to manage finances and accounting paperless.
Guest Wifi
Advanced guest wifi systems not only allow guests to log on to a restaurant's wifi - how many times have you been asked, "What's your wifi password?" - but also track who's logging on and off to better analyze customer behavior and demographics. However, not all restaurants even want to offer guest wifi, which is why these systems may be better suited for cafes where customers may be using wifi over time.
Perfect for: Cafes and bakeries where customers stick around to work.
Security
Smart security systems like Solink build customized reports and alerts into a restaurant's daily security and operations by layering your POS data with video footage, providing insights on operations and loss prevention.
Perfect for: Restaurants interested in loss prevention.
Energy Efficiency
There's always a lot of chatter about food costs, labor costs, and prime costs - but what about energy costs? Some restaurant software companies are aiming to help reduce energy and maintenance costs for restaurants by designing low-voltage LED lighting systems and cloud-based HVAC control systems.
Perfect for: Large restaurants that wants to reduce energy usage in HVAC and lighting.
Phone Charging Stations
Some guests expect to be able to charge their phone when they visit a cafe, bakery, or fast casual restaurant and plan to stick around for a while. If your business model is based on keeping guests around for a long time, rather than in and out, phone charging stations may be a good solution. Starbucks certainly thinks so.
Perfect for: Casual dining eateries, bakeries, or coffee shops that want to allow guests to charge their mobile phones.
Customer Loyalty & Gift Cards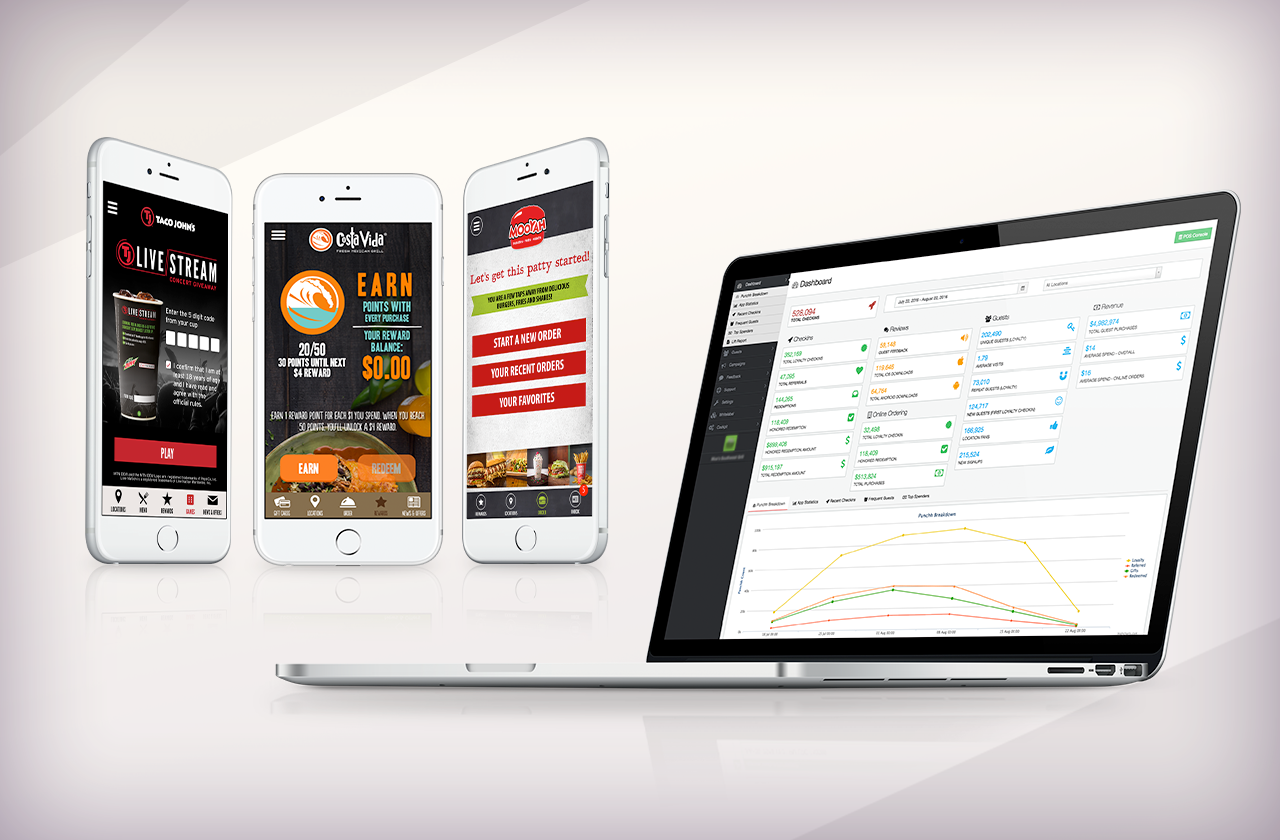 Many point of sale companies have integrated gift & loyalty systems, but other companies like Punchh and Paytronix give restaurants the ability to gather 360° views of their guests by developing custom white-label mobile apps for loyalty programs and gift cards, with real-time insights to personalize marketing and drive same-store sales.
Perfect for: Fast casual and casual dining restaurants that want to increase repeat customers.
Digital Displays
With digital displays, fast food and fast casual restaurants can display their menus to customers digitally. That way, every time they make a change to their menu, that change will be reflected on the digital display automatically.
Perfect for: Fast casual and quick service restaurants that want to show their menu on a digital display.
Music Systems
Companies like Rockbot are revolutionizing the way restaurants play music in their establishments. Rather than just plugging in a speaker system and letting it play, these music software companies give restaurants a dashboard with access to thousands of copyrighted songs to create custom soundtracks, and can even allow guests to control what's playing.
Perfect for: Restaurants and cafes that want to create an interactive music experience for customers.
Smartphone Payments
Companies like LevelUp allow guests to pay with a smartphone app and accrue loyalty points to your restaurant instantly. Plus, as mobile pay becomes more prevalent, restaurants might want to consider adopting Samsung Pay and Apple Pay options, especially if they're seeing requests for those payment options from customers.
Perfect for: Fast casual restaurants, delis, cafes, and bakeries that want to allow customers to pay with their smartphones.
Restaurant Websites
As a marketer, I often cringe at the restaurant websites I see out in the wild. Companies like BentoBox aim to make it easier for restaurants to create websites, especially mobile-friendly websites, by either offering software platforms that make it considerably easier or taking over website management completely.
Perfect for: Restaurants that want an optimized restaurant website without the time commitment.
Restaurant Delivery Software
While some point of sale companies such as Toast offer integrated white-label online ordering software, other systems also offer robust delivery management software. Chowly, for example, delivers data from several online ordering platforms directly to your kitchen display system, so restaurants don't have to juggle a handful of tablets with different orders at once.
Perfect for: Fast casual restaurants, pizzerias, Chinese restaurants, Japanese restaurants, and other restaurants that have many online orders and takeout orders.
Marketing & CRM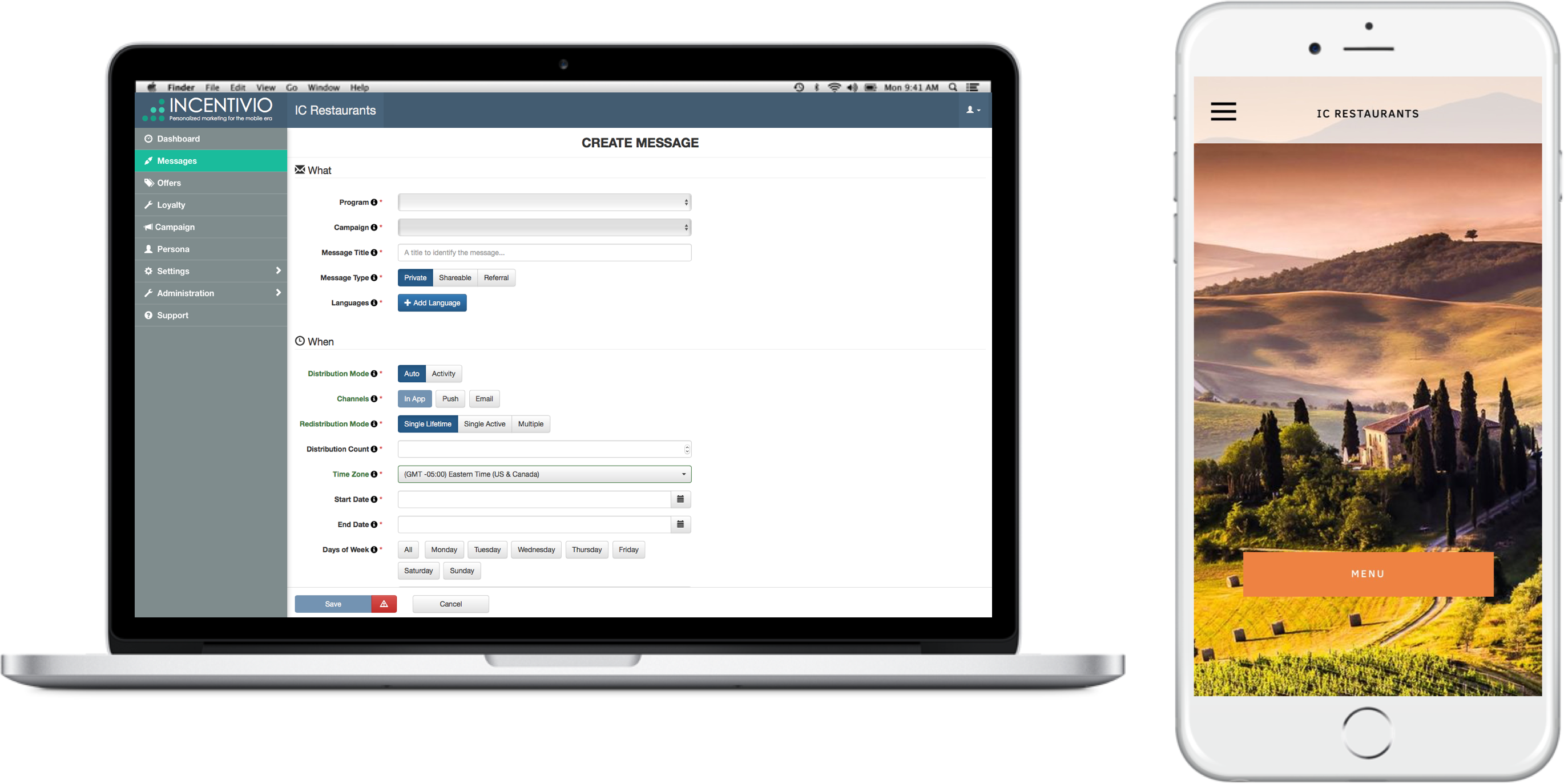 Many restaurants forget to invest in marketing, but it can be the most cost-efficient way to get new and returning customers. Companies like Incentivio allow restaurants to "incentivize" customers with a mobile app that includes combo offers, referral campaigns, and more.
Perfect for: Full service and quick service restaurants that want to increase the percentage of new visitors and returning visitors.
Restaurant Reviews & Local Discovery
If you're not actively monitoring Yelp or TripAdvisor, then you're not listening to your customers. But did you know that customers could be reviewing you in a lot of other places - social media, Google, Foursquare, etc? Companies like ReviewTrackers help you manage and analyze your reviews for valuable customer feedback.
Perfect for: Restaurants that want to improve their local presence and track their online reviews.
What Technology is in Your Restaurant's Future?
When it comes to restaurant management software, it's important to partner with companies who will partner with you to help improve restaurant operations and lower costs.
That's why Toast teamed up with eighteen restaurant experts — restaurateurs, software company CEOs, and more — to pontificate on how technology will affect the future of the restaurant industry.
Read the interactive ebook — it's futuristic itself! — below, or learn more about Toast's integrations with our restaurant software to offer a consolidated experience and make your restaurant operations simpler.
Related Restaurant Operations Resources
DISCLAIMER: This information is provided for general informational purposes only, and publication does not constitute an endorsement. Toast does not warrant the accuracy or completeness of any information, text, graphics, links, or other items contained within this content. Toast does not guarantee you will achieve any specific results if you follow any advice herein. It may be advisable for you to consult with a professional such as a lawyer, accountant, or business advisor for advice specific to your situation.