Article
How to Unlock the Power of the Restaurant Receipt
Here's how to optimize your digital and paper receipts to help you keep guests coming back.
The age-old question, "would you like a receipt?" is slowly being replaced with "do you want your receipt via email, text, or printed?"
Digital receipts have burst onto the scene along with their digital restaurant menu counterparts. Guest-centric, technology-powered service models — such as Toast's New Steps of Service — are eliminating the need for paper receipts.
As self-service and table-side ordering increase in popularity, the need, let alone the opportunity, to get a paper receipt is replaced with more efficient, digital restaurant receipts.
Whether you're interested in digital or paper receipts, it's important to think about how you can tap into their powerful potential as marketing tools.
What is a digital receipt?
Before we jump into the nitty gritty, let's cover the basics.
A digital receipt is a paperless option that summarizes your restaurant bill and payment method. Rather than receiving a printed, paper receipt after your meal, a digital receipt allows you to receive this information on your phone via text or as an email receipt to your inbox. Just like a printed receipt, digital receipts outline the total amount spent as well as the subtotal and gratuity amounts individually.
Why your restaurant should switch to digital receipts
Handheld POS systems, such as the Toast Go® 2, enable the use of digital receipts, which have a host of benefits. These receipts can be sent to customers via email or text, and appeal to environmentally conscious customers through reduced paper waste.
According to Safety Culture, 250 million gallons of oil, 10 million trees, and one billion gallons of water are used to make receipts in the U.S. each year. Not only does switching to digital receipts reduce a restaurant's carbon footprint, but it can also cut down on costs for managers who often spend money on reams of paper that ultimately end up in the garbage.
Brian Hunt, of Via 313, was spending $50-60 per week on paper, but switching to a kitchen display system and digital receipts eliminated that cost — providing his restaurant with almost $3,000 in savings a year.
Not only can digital receipts help your restaurant save money on paper, but they'll also reduce your need for related equipment such as receipt holders/receipt spikes and check presenters. Plus, digital receipts allow your restaurant to deal with less clutter.
Overall, digital receipts can help your restaurant save money and be more efficient.
RESOURCE
Find the right POS for your restaurant's unique needs
We'll handle your info according to our privacy statement.
How to do more with digital receipts
There are more benefits to digital receipts than cost-savings and eco-friendliness, though. Digital restaurant receipts allow you to learn more about your guests. Plus, their editable nature lets you easily update them with new language and promotions. Let's dive into some of the ways you can use digital receipts to your advantage.
Gather guest feedback
25% of restaurants use a rating scale in their digital receipts, like a simple "thumbs-up, thumbs-down" rating about the guest's experience at the restaurant, or via a "rate your experience on a scale of 1-10" which provides the restaurant with information about your customer NPS.
Toast's Guest Feedback feature prompts guests to give a thumbs-up or thumbs-down while they're paying on a handheld terminal. If a thumbs-down is clicked, the on-duty manager will get a text alerting them of it, so they can go fix any issues before the guest leaves the restaurant (and goes home to leave a review).
In addition to implementing a rating system during the payment process, your restaurant can also add a link to your digital receipts to request that guests leave a review online. It's a great and easy way to gather reviews and learn from the feedback your guests offer so you can keep improving on the dining experience.
Build your loyalty program
Regardless of whether receipts are delivered through email or text message, restaurants are able to capture important contact information via digital receipts that can be used to increase brand loyalty and create returning customers.
For example, customers can be prompted to enroll in a loyalty or rewards program right at the point of sale when choosing their receipt delivery method. Rewards programs can be linked to an existing credit card, phone number, or email, so when future payments are made by that customer, points will be added to their account automatically. Once loyal customers have racked up a certain number of points, they'll be offered exclusive deals, coupons, and perks.
Capture emails and customer info
Through digital receipts, restaurateurs are able to open consistent lines of communication with guests by obtaining and saving their email or phone numbers. Managers can send customer satisfaction surveys to collect real-time feedback, encourage diners to check out the restaurant's social media pages, include asks for the guests to leave a review and keep guests up-to-date on upcoming promotions, menu changes, and limited-time offers.
Basically, digital receipts have opened a new guest engagement and marketing channel for restaurants.
The possibilities are endless and allow restaurant owners to keep in touch with diners, improve the experience based on their feedback, and ensure they come back again.
Plug a promotion or share important updates
Digital receipts can be used to let guests know about ongoing promotions, coupons, and announcements.
For example, if a restaurant is running an upcoming holiday promotion or a buy-two-get-one-free deal, they can include this information at the bottom of digital receipts so customers know the promotion is coming.
Blackbird Cafe in Burlington, MA uses its digital receipts to let guests know that they will soon be offering delivery. It's a great way to share information with guests and get them excited about future meals.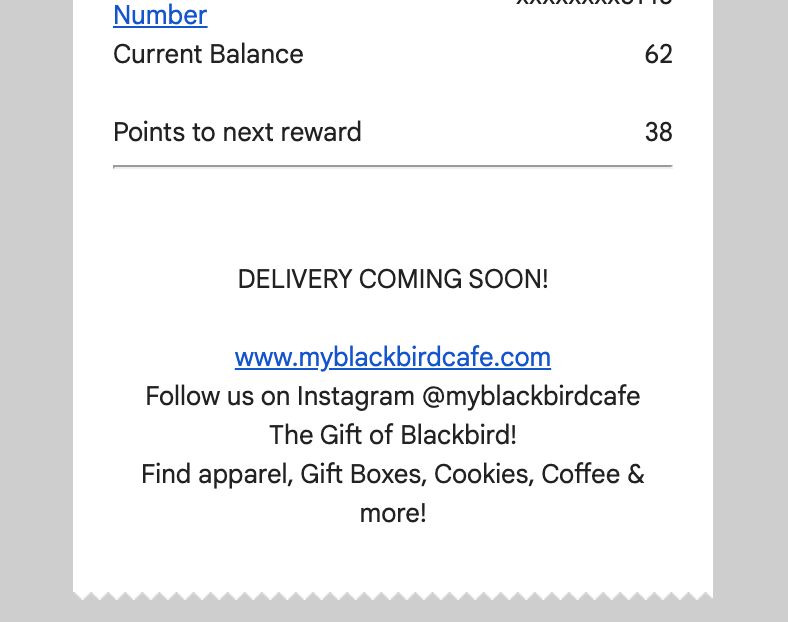 Link to your online ordering platform
Want to let your customers know that you offer online ordering? Include a link in your digital receipts.
It can also help your guests go to the online ordering form on your website rather than a third-party delivery site that charges you fees. According to a report from QSR Magazine, over 5 percent of adults say purchasing takeout or delivery food is "essential to the way they live."
You can also provide a small discount for those who go to your online ordering site via their emailed receipt.
Customize your receipts for events
One unique way of using digital receipts is to congratulate the newlyweds or parents-to-be with a custom message during events hosted at your restaurant. Jeremiah Wallis, the Sales Director at Lakewood Brewing Co., shared how they used digital receipts to deliver a great guest experience in their taproom:
I love that I can easily change the message at the bottom of receipts. It's a chance to thank people for their business. We did a wedding reception, for example, and wrote a congratulatory note on the receipts processed that night. Toast really lets us personalize the whole process.
Increase tips for your servers
By having a suggested gratuity page in your checkout process, you can configure suggested tip amounts to display on your receipts — both digital and printed. Suggested tip amounts are a win-win: guests don't have to scramble to do the quick math, and since guests are incentivized to choose one of the options you provide, servers will end up with more tips at the end of every shift.
RESOURCE
Tip distribution can be a lot easier. Here's how.
We'll handle your info according to our privacy statement.
How to make paper receipts work for you, too
In the short term, some of your customers will still want a paper receipt instead of a digital one — and that doesn't mean that you should skip out on marketing to them through their receipts. Toast's restaurant POS system allows you to customize your printed receipts so you can make the most of them, too.
To make the most of your printed receipts, there are two very helpful types of free tech you should know about: link-shortening tools like bit.ly, and QR codes, which are printable barcodes that a guest can scan with their smartphone camera that take them to your website, Yelp page, or whatever else you link.
Here are three ways you can morph your restaurant's paper receipts into a marketing channel or revenue-generating tool:
Receipt as an event invitation
You can promote upcoming events on your printed receipts: Write a very short sentence with the details of the event at the bottom or top of the receipt, along the lines of "We hope to see you again soon at our upcoming open mic night on [insert time and date]". You can also include a short link or QR code that leads the guest to your event's Facebook page or registration.
Receipt as a comment card
One of the best things that you can do with a printed receipt asks for feedback — you've definitely seen this before, where it says "Tell us how we did!" at the bottom of the receipt. In fact, according to Toast's 2019 Success Report, 31% of restaurants ask for feedback on their printed receipts.
You can use a rating system printed on the bill itself, like "How was your experience today? Circle 1 2 3 4 5" and leave space for feedback, or you can add a short link or QR code that leads to your Yelp page on the customer copy of the receipt.
Receipt as coupon
Encourage your guests to hold onto their receipts by setting up a limited-time promotion where a guest who comes back with their receipt from last time gets 10% off.
Don't let your restaurant receipts' potential end up in the garbage
Your receipts — digital, print, and otherwise — hold so much potential for growing customer loyalty and staying in touch with guests. Try out the above methods and find what works best for your customers.
Interest in learning more about Toast? Schedule a free demo to learn how you can take your restaurant technology to the next level.
Are you already using Toast in your restaurant? Learn how to configure your digital receipts on Toast Central.
Related restaurant resources
DISCLAIMER: This information is provided for general informational purposes only, and publication does not constitute an endorsement. Toast does not warrant the accuracy or completeness of any information, text, graphics, links, or other items contained within this content. Toast does not guarantee you will achieve any specific results if you follow any advice herein. It may be advisable for you to consult with a professional such as a lawyer, accountant, or business advisor for advice specific to your situation.