Article
Restaurant Website Design Best Practices and Examples
High-quality restaurant website design attracts potential customers and provides a great first impression. Here's how to design a good restaurant website.
Back in the early days of the internet, creating a website for your restaurant was challenging — not to mention expensive. Unless you knew HTML (short for HyperText Markup Language) and had access to a server (the computer kind, not the restaurant kind) to host your website, you likely had to hire someone else to do it.
Today, there are many website builders available to quickly and easily bring your restaurant online. But, even using a website builder, it can be hard to know exactly what to include on your website or how to design it in a way that delivers a great user experience.
In today's digital age, having a website for your restaurant is a must. It's the first place potential customers go to learn about your establishment and make reservations. But just having a website isn't enough; it needs to be well-designed, easy to navigate, and visually appealing.
In this article, you will learn:
Restaurant website design best practices, such as:

The importance of making the branding and visual identity of your website consistent with your brick-and-mortar restaurant experience
Why mobile-first and responsive design is key
How to use clear call-to-action (CTA) buttons to drive revenue

What the best restaurant website designs look like and how to take inspiration from them
How to create a user-friendly website with functionality that impresses visitors
Let's dive in.
RESOURCE
Tips & tricks for getting the most out of your website
We'll handle your info according to our privacy statement.
Restaurant website design best practices
When designing your restaurant website, you should always keep best practices in mind. Of course, you want your website to be unique and aligned with your brand identity. However, using website design best practices can ensure you're getting the most out of your website and providing a good user experience for everyone, regardless of how they're accessing it.
Here are some key restaurant website design best practices to keep in mind:
1. Make your restaurant branding recognizable
When it comes to good restaurant website design, one of the key factors is that it's easily identifiable as your restaurant's website. The easiest way to do this is to ensure you're using your brand's color scheme, fonts, and imagery on the website.
Haven't determined your restaurant's brand yet, or want to refresh the look and feel of your restaurant's identity? Take a look at our guide to restaurant branding.
RESOURCE
Tell your story (and build customer loyalty)
We'll handle your info according to our privacy statement.
2. Make your web design responsive and accessible
The number of mobile internet users in the United States is forecast to continuously increase between 2023 and 2028. In other words, mobile devices are becoming more and more common when it comes to internet usage. So, if your restaurant website isn't designed for mobile devices, you're losing out on a huge audience.
The vast majority of restaurant website builders are designed to be responsive — meaning that the design will adapt to whichever screen size it's being viewed on. But make sure that you're also following some common mobile design best practices, such as:
Using larger, readable fonts
Not cluttering your website
Avoiding pop-ups
Clearly labeled buttons
It's also important to keep web accessibility in mind. Before launching your new-and-improved website, ensure that it's accessible to every potential guest. Things to double-check include:
Do your images contain alternative text (alt text) to provide text descriptions for images that are on your page?
Do you have form labels for guests that use screen readers to interpret and interact with fields on your forms?
Do the videos on your website include captions or transcriptions?
For more information about ADA Accessibility standards, check out this article.
3. Don't forget the basics
Every restaurant website needs to cover the bases with basic information about your business. For example, the footer of your website should include your contact information such as your restaurant name, phone number, and restaurant location as well as links to your social media accounts. By adding this contact info to the footer of your website, guests will be able to see it no matter what webpage they're on.
4. Use clear CTAs and intuitive navigation
When it comes to website design, less is often more.
Your website should be easy to navigate and not cluttered with too much information or too many design elements. Keep the design clean and simple, with a clear hierarchy of information. All calls-to-action should be labeled and easy to find in order to drive visitors to take the next step, whether that's ordering food online or making a reservation.
5. Highlight what you do best — your food
One of the main reasons people visit your restaurant website is to see your menu. Make sure your menu is easy to find and easy to read. Avoid using PDF menus, as these are often not accessible for all users and can provide a poor experience for guests who are on mobile devices. Consider using high-quality images in both your digital menu and online ordering platform to showcase your dishes, but be careful not to overload the page with too many photos, as this can slow down load times.
Looking for more tips for your restaurant website? Check out this article for 10 things all restaurant websites should include.
Restaurant website design examples to use as inspiration
Now that we've covered the best practices, here are some examples of great restaurant website designs to pull inspiration from.
MIDA
MIDA, a contemporary Italian eatery in Boston, uses its website to showcase who they are. With powerful imagery and a focus on their renowned chef, Douglass Williams, guests get an immediate feel for what to expect from the restaurant. Plus, they keep their navigation menu short and succinct, with options to view locations, catering, events, job openings, and purchase gift cards.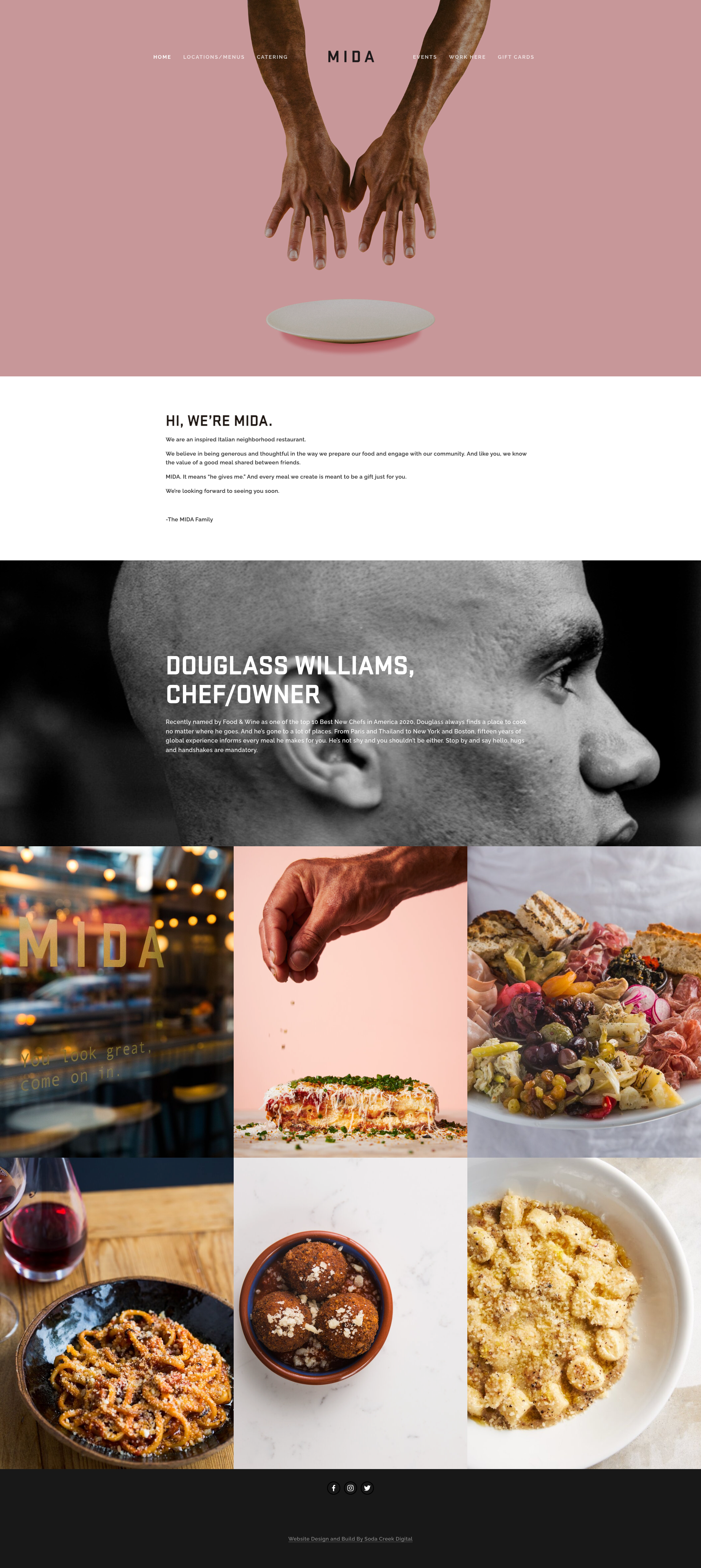 Paper Plate
Paper Plate is a food stand located in New York City. They use the homepage of their website to highlight their best-selling menu items in mouth-watering photos: smash burgers, fries, and shakes. They also include an "about" section to allow new customers to get to know them as well as a callout for customer reviews to highlight their strengths. Finally, they make sure to provide a map of the restaurant location as well as basic contact info in the footer of the homepage so folks can take the next step.

Comedor
Comedor, a modern Mexican restaurant in downtown Austin, TX keeps its website short and sweet by featuring only its hours and online reservation link on the homepage. They've perfectly captured the aesthetic and vibe of the brick-and-mortar location by bringing their branding, colors, and imagery into their online presence.
Plus, Comedor streamlines its navigation options by only allowing visitors to see what's most important: reservations, catering and private events, menus, the contact form, and gift cards. Most importantly, Comedor avoids using PDF menus and instead opts for text-based menus on its website, allowing search engines like Google to scrape this information and make it more likely for them to rank in Google searches for menu items that they offer. This is a very common search engine optimization (SEO) tactic that helps power popular Google searches such as, "Mexican food near me" or "Margaritas in Austin."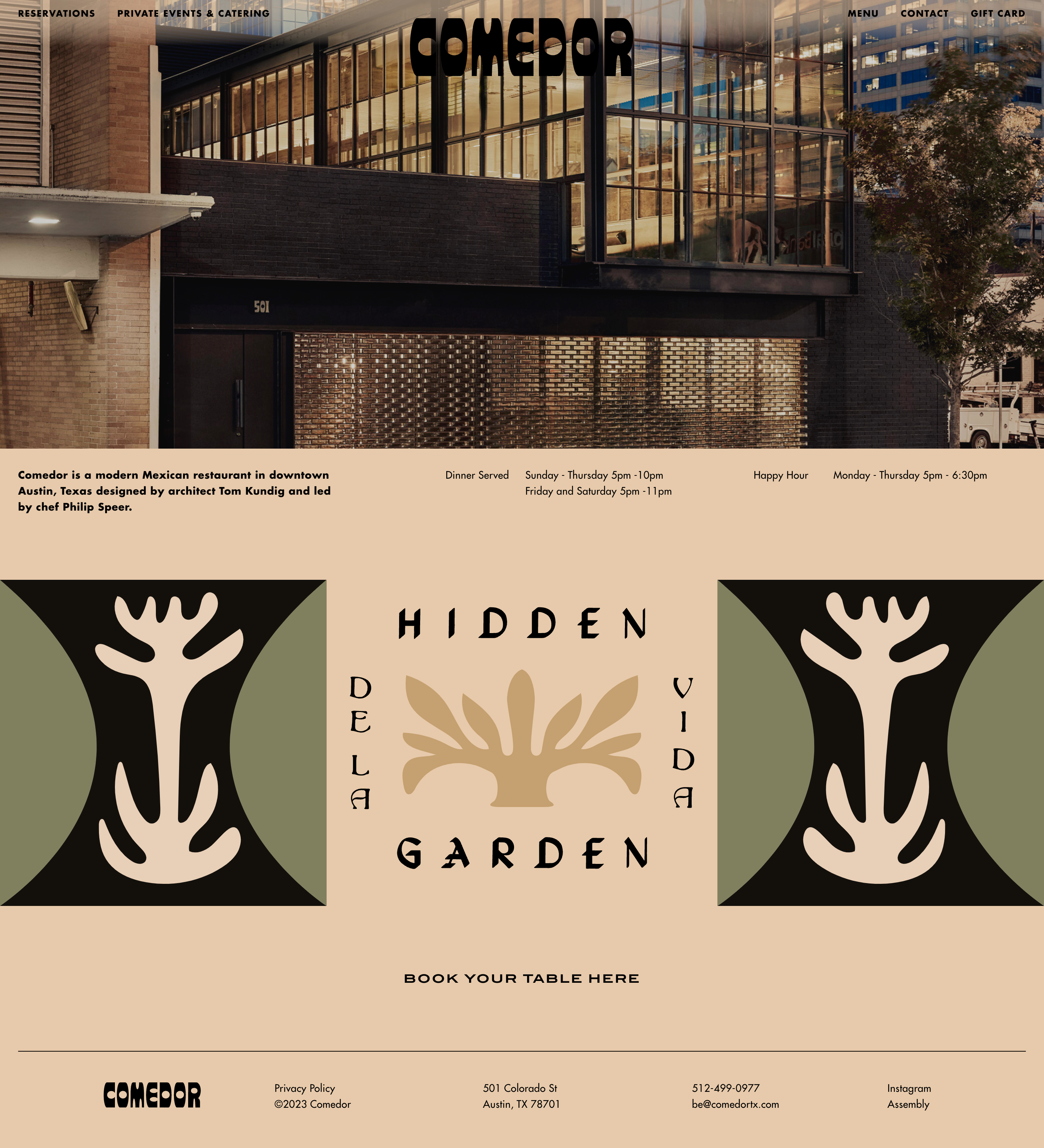 How restaurant owners can build a website that impresses website visitors
So, you've got a good idea of what your restaurant site should look like and what content to include. But now what?
Should you hire a third party to manage your restaurant's website?
There are many pros and cons to hiring a digital agency to run your website management responsibilities, especially if you don't have the experience to develop and design the restaurant website yourself. Just be sure to do your research. Read reviews, check portfolios, send emails to agencies' former clients, and compare the services each company offers to make sure you find the right fit.
Do you (or your staff) have the time and skillset to do it yourself?
Thanks to modern website builders, it's easier than ever to bring your restaurant online. If you have the time to build your restaurant website yourself, doing so can save you time and money in the long run. Plus, you'll have full control over your website and will be able to make updates on the fly, whether it's a change to your restaurant menu or your hours.
Still not sure which solution is right for you? Check out this article to learn more about managing a restaurant website.
Related Restaurant Resources
DISCLAIMER: This information is provided for general informational purposes only, and publication does not constitute an endorsement. Toast does not warrant the accuracy or completeness of any information, text, graphics, links, or other items contained within this content. Toast does not guarantee you will achieve any specific results if you follow any advice herein. It may be advisable for you to consult with a professional such as a lawyer, accountant, or business advisor for advice specific to your situation.