Article
How to Sell More Restaurant Gift Cards
Gift cards are an important revenue channel for restaurants. Here's how to market them to customers.
According to data aggregated by SaveMyCent, the global gift card market was worth $295.2 billion in 2020. That's no small pocket change.
So, how can your restaurant get a piece of the pie? And what can you do to increase your gift card sales?
Let's dive into how restaurant gift cards work, who buys gift cards, and the average return for a restaurant gift card. Then, we'll share some tips for how to market your gift cards to increase sales.
How do restaurants make money from gift cards?
Gift cards are a great way to generate immediate revenue.
During the COVID pandemic, gift card sales became critical for many businesses to stay afloat. As restaurants were forced to temporarily close their doors, loyal customers supported their favorite cafes, steakhouses, ice cream shops and more by purchasing gift cards to be used at a later date. It was an easy way to provide a restaurant with the cash they needed to stay in business in exchange for future goods or services.
However, even as we've moved out of COVID restrictions and back to business as usual, gift cards remain an important tool for restaurants. They help keep guests coming back, bring new guests into your restaurant for the first time, and are even shown to drive higher check sizes. That's right — according to a study by Blackhawk, 59% of consumers surveyed usually spend more than the card's value.
And, according to a survey by CreditCards.com, "47% of U.S. adults say they have at least one unused gift card, voucher or store credit, adding up to $21 billion nationwide." While this study took all gift cards into consideration, not just restaurants, it's clear that gift card sales do not always result in purchases. Of course, you'd prefer to see the smiling faces of happy guests who will become regulars, but it's clear that gift cards can help your restaurant's bottom line regardless of whether they're redeemed.
In short, restaurants make money from gift cards because they:
Provide immediate revenue without impacting inventory,
Lead to higher check sizes, and;
Are often never redeemed, leading to pure profit.
Who buys gift cards?
People of all ages, backgrounds, and socioeconomic statuses buy gift cards. But, according to data from SaveMyCent, Millennials are the main demographic, accounting for 37% of gift card purchases. They're followed by Gen-Xers at 28% and baby boomers at 25%.
In short, you should cast a wide net when marketing your restaurant gift cards because you never know who will be interested in making a purchase!
RESOURCE
The marketing tips & tricks your restaurant needs
We'll handle your info according to our privacy statement.
When do people buy gift cards?
A compelling, though not surprising, statistic when it comes to restaurant gift cards is that interest in them spikes around the holiday season. Take a look at this graph from Google Trends:
According to this data, there's a spike in searches for the term "restaurant gift card" every year, beginning around early November and lasting through mid-January. While there are also blips in the data around other holidays, such as Mother's Day and Father's Day, the vast majority of gift card sales are made at the end of the year.
Now, let's discuss what you can do to increase your gift card sales year-round. After all, the holiday season only comes once a year — but there's a birthday every day!
How can I increase gift card sales?
Whether your restaurant already offers gift cards or you're looking to add them to your restaurant's offerings, there are some common strategies to sell more gift cards.
Here are five quick tips to help you sell more restaurant gift cards:
1. Sell your gift cards online
Offering digital gift cards online is a simple, effective way to make it easy for your guests to make a purchase. Plus, digital gift cards allow you to offer restaurant gift cards without requiring you to keep any inventory on hand.
The team at Bueno Malo, a popular Mexican restaurant in Andover, MA, make it easy for guests to purchase a gift card by adding a link to their e-gift cards in their website navigation.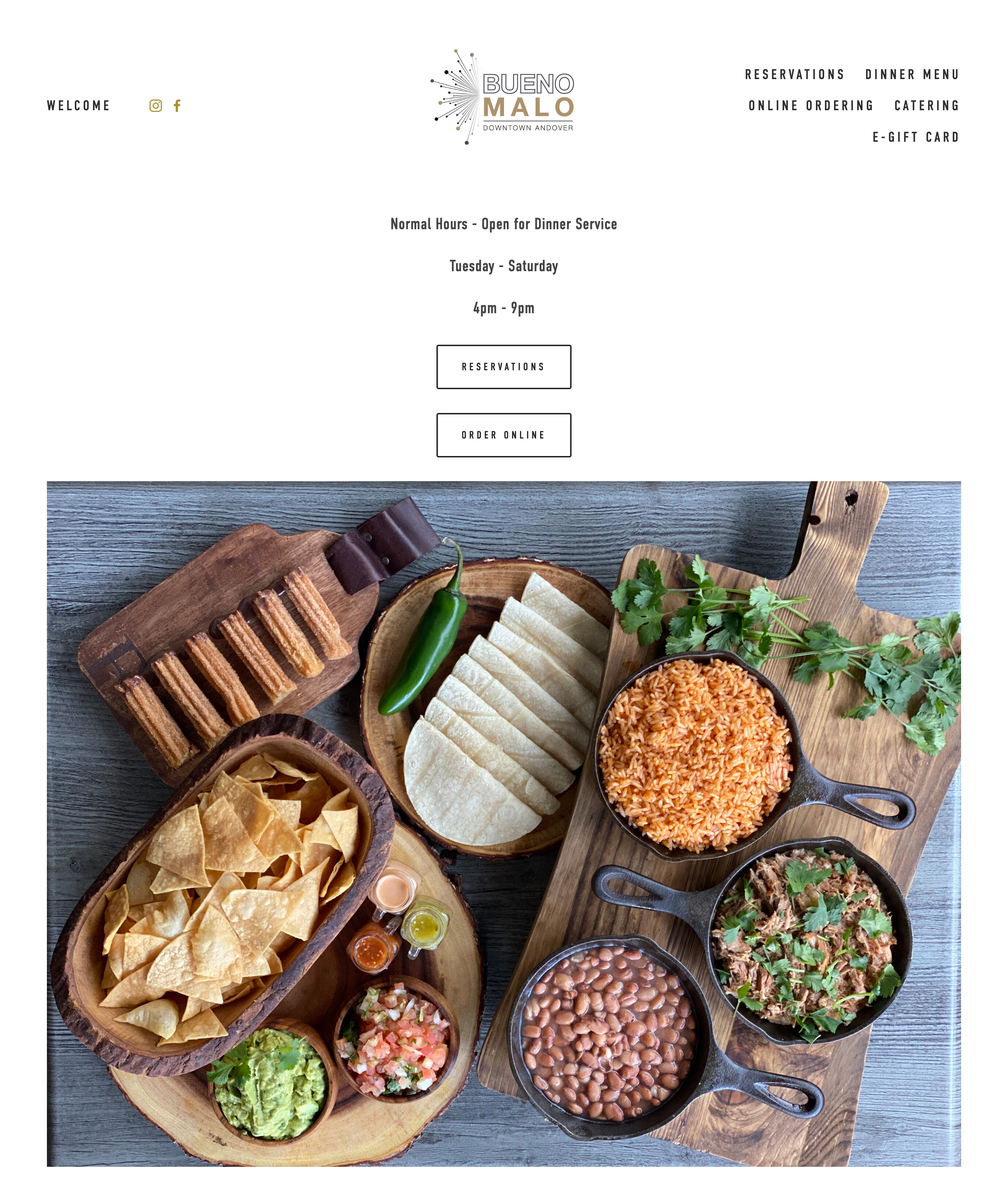 Plus, when you use a restaurant gift card platform, like Toast, guests can easily customize their gift card order with a gift message and even schedule the card to be emailed or texted to the recipient at a specific time and day.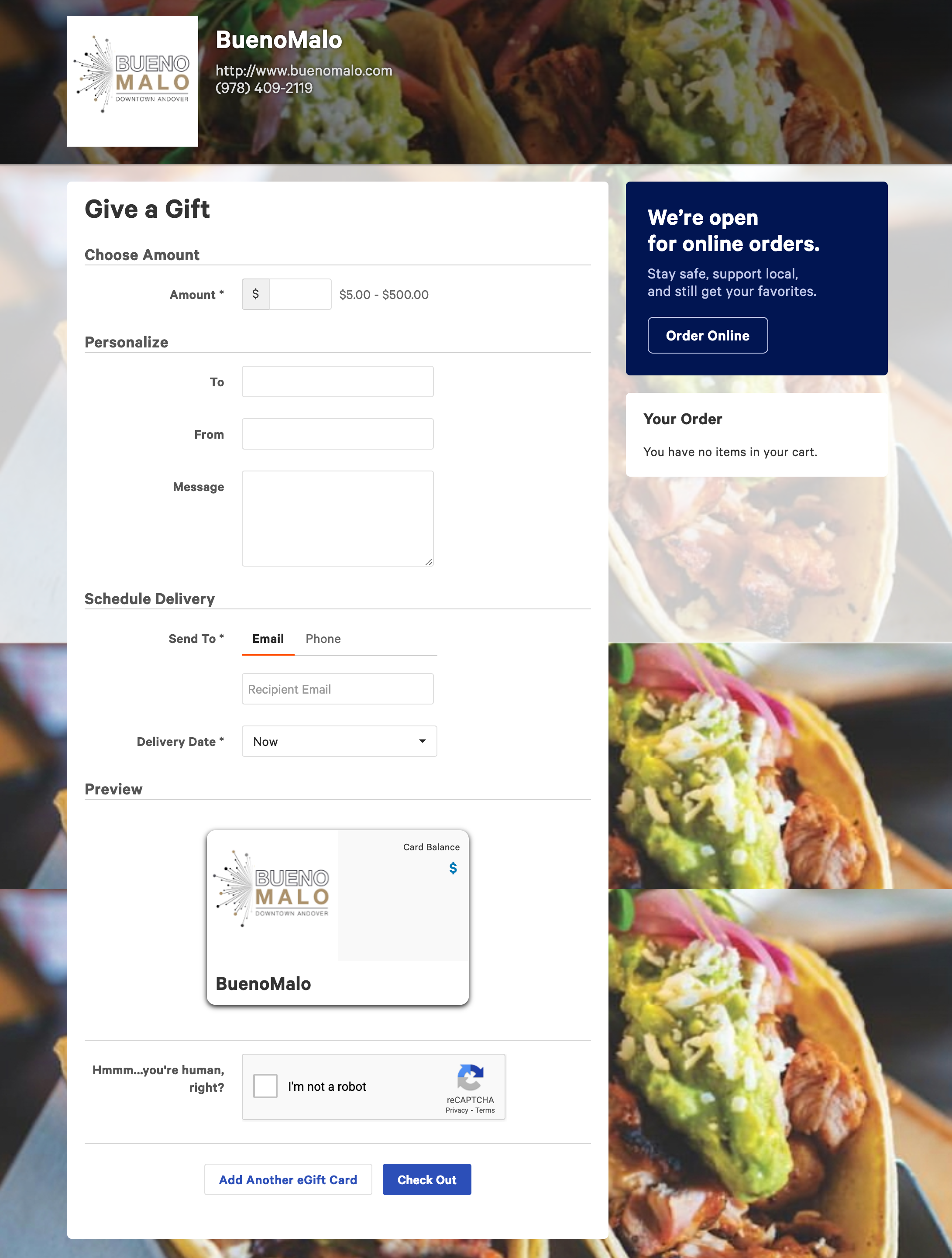 By making it easy to purchase gift cards from your restaurant, you're more likely to boost gift card sales and keep your customer base happy (and coming back for more)!
2. Take advantage of the spike in gift card sales near the holidays
There's no denying the power of the holiday season when it comes to gift card sales.
As mentioned above, Google searches for "restaurant gift cards" spike every year between November and January. So, during this peak gift card season, be sure to market your gift cards to guests!
Having a restaurant marketing plan in place can help make this easier. By determining your target audience, potential budget, and marketing goals, you can see even greater success in the holiday gift card rush.
3. Make your gift cards available year-round
While the holidays are the true meat and potatoes of gift card sales, offering gift cards year-round will allow guests to purchase your restaurant gift cards for their loved ones' anniversaries, birthdays, and other milestone events such as graduations. After all, there's something to celebrate every day of the year!
If you've only been offering gift cards, or even paper gift certificates, during the holidays, take this as your sign to make the pivot to year-round digital gift cards.
4. Promote them everywhere
You can have the greatest food and the best promotions, but if you don't let anybody know about your gift card program, it's doomed to fail.
Let customers know about your gift card program. The following platforms can be effective ways to make your gift card availability known:
In-store card display (at hostess stand, in waiting area, at cash register, etc.)
In-house signage, posters, and displays
Menu call-outs
Email marketing campaigns
Messages on receipts
All social media channels you have a presence on (Facebook, Instagram, LinkedIn, Twitter, etc.)
Server suggestion/upselling
Table tents
Direct mail
Storefront signs
In-store video screens
Local sports and event programs
Menu inserts
Your restaurant mobile app
In short, make sure that your guests know you offer gift cards, no matter how, where, or when they're accessing your restaurant. Having a solidified gift card marketing strategy will lead to a better bottom line for your restaurant.
5. Offer gift card deals or bundles
In order to encourage more gift card sales, consider implementing some sort of discount. This can take the form of a percentage off, a free gift card with a larger gift card purchase, or a discount for bulk gift card purchases.
While this tactic will be especially successful during the holiday season, it can also help boost your restaurant's bottom line during the slower season. You can also implement a gift card sale during the busy season to take advantage of the increased foot traffic.
Use your restaurant technology and POS system to increase gift card sales
Toast's all-in-one platform is built specifically for restaurants. By implementing Toast in your restaurant, you can offer online ordering, loyalty programs, sell gift cards online, and strengthen your restaurant brand.
Want to learn more about how Toast can help your restaurant? Request a free demo with a specialist.
RESOURCE
Find the right POS for your restaurant's unique needs
We'll handle your info according to our privacy statement.
DISCLAIMER: This information is provided for general informational purposes only, and publication does not constitute an endorsement. Toast does not warrant the accuracy or completeness of any information, text, graphics, links, or other items contained within this content. Toast does not guarantee you will achieve any specific results if you follow any advice herein. It may be advisable for you to consult with a professional such as a lawyer, accountant, or business advisor for advice specific to your situation.