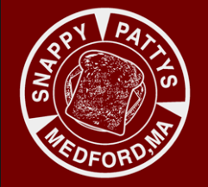 ---
---
Products Used
Toast POS
Reporting and Analytics
Results
4
Areas of the restaurant tracked for sales volume through Toast
Customer Story
Snappy Pattys Drives Profitability with Toast POS
Just outside the city of Boston lives a contemporary, upscale burger joint known as Snappy Pattys.
As Snappy Pattys gained popularity (and new customers), Nick realized that his point of sale system at the time did not offer the necessary features and functionality to run a successful business. "We needed a system that worked for full-service restaurants, which Clover didn't. It just failed on all different levels," says Nick.
Clover's Lack of Transparent Communication
Prior to partnering with Toast, Nick selected Clover as the point of sale system for his restaurant. However, he quickly became frustrated with the lack of two-way communication between his team and Clover's.
"We couldn't get in touch with them. Sometimes, we'd have to wait several days before they got back to us," says Nick.
On top of multiple communication efforts to no avail, Nick was frustrated with the unanticipated charges he experienced after terminating the partnership. "They debited our account for a month and a half after we ended our relationship with them, which they told us they wouldn't do," he recalls. "We also had to purchase the equipment - we were told that we were leasing the equipment and would never have to buy it at any point."
This behavior was unsettling for Nick, to say the least. "They'd send us monthly reports that were very vague in terms of how they were taking their cut."
To make matters worse, these unjustified payments added up to an amount deemed "absurd" by Nick. "While we were doing business with them, I figure we were paying them upwards of around $30,000 a year."
Powered by Froala Editor
Toast is able to break down how much revenue is earned in the different areas of the restaurant. Each area comes with a different price-per-person average.
Greater Visibility Into Operations With Toast's Reporting Features
Toast's product mix allows Nick to have complete visibility into where revenue is being generated. "On a daily basis, I can track exactly how many units of each item were sold," says Nick. This offers Nick and his team insight into Snappy Pattys' greatest revenue drivers, which can be used to continuously optimize menu offerings.
The product mix also creates visibility into where money is being lost. "I like the product mix because it shows me if employees are stealing," says Nick.
"Theft is a big problem in the restaurant industry, and having Toast has been able to hammer any of that because every single one of my employees knows that I can see and track everything."
Making Data-Driven Decisions For The Future
Nick has implemented Toast's price-per-person average feature heavily into his decision-making. With this data, Nick separated his restaurant into four distinct areas and analyzed the profitability of each section.
"Toast is able to break down how much revenue is earned in the different areas of the restaurant. Each area comes with a different price-per-person average," Nick explains.
"We know that we could make more money by expanding our bar seating capacity because the bar has the highest price-per-person average. And that's exactly what we plan to do: expand our bar area."
This type of data has served as a crucial factor behind the important decisions of Snappy Pattys, and Nick has identified it as indispensable for his business. It enabled him to make more intelligent decisions by investing only in profitable areas, decreasing risk, and eliminating unnecessary costs.
As Snappy Pattys expands, Nick intends to continue his partnership with Toast. "We would definitely use Toast again if we were to open a second location. It exceeds at all areas at a fraction of the cost of other POS systems."
Powered by Froala Editor