Article
Switching Your Restaurant Payroll Software: When and How to Do It
Good restaurant payroll software can give you precious hours back in your week. But how do you determine what's best and when it's time to switch?
Managing your restaurant staff — both front- and back-of-house — is so much more than just processing weekly payroll, setting schedules, and calculating your tip pool.
While these tasks have traditionally been extremely time-consuming, there are so many other management tasks that pop up throughout your week: hiring, training, managing conflicts, figuring out benefits, dealing with taxes… the list goes on. But implementing restaurant payroll and team management software built for your restaurant can help lighten the load.
By the end of this article, you'll have a better understanding of:
Why restaurant payroll and team management software is important
How integrating your restaurant payroll software with your point of sale (POS) system can improve efficiency and give you time back
Why now is the best time to switch your restaurant payroll
What to look for in new payroll and team management options for your restaurant
What to expect when switching your restaurant payroll software
What's the importance of good restaurant payroll and team management software?
A good restaurant payroll and team management software can be a significant time saver, giving you hours back every single week to deal with the unpredictable. Choosing the best payroll and team management software allows you to manage the entire employee lifecycle, not just the weekly tasks at hand. And, when the restaurant industry is facing a historic labor shortage, using team management software built for your restaurant can help retain employees through accurate and transparent pay, health and retirement benefits, and streamlined team communication.
In other words, using the right restaurant payroll and team management software can help your restaurant find, onboard, train, and retain employees — so it's important to get it right.
Integrating your restaurant payroll software and your POS to make the management process even simpler
Today, many restaurants are looking to take their staff management process a step further by ensuring their payroll and team management systems integrate with their point of sale, also known as POS, removing one additional step.
It can seem overwhelming to shake things up with your payroll system and your point of sale since these platforms together act as the nervous system of your business. But it's a worthwhile investment to find a solution that works well for your restaurant and removes major pain points.
How do you determine the best time to switch your restaurant payroll and team management software?
The best time to switch your restaurant payroll software is as soon as you determine there's a better solution for your needs that's both within your budget and can help you reach your business goals.
However, the easiest and smoothest time to switch is at the top of the year. Why? At the start of the new year, there's no historical data to migrate from your old system to your new one. Starting your first pay period of the year with a new provider means you're starting with a clean slate.
Let's walk through a couple of the main reasons restaurant owners decide to switch their restaurant payroll software. Take note of whether one or more of these apply to you. If so, it may be time to switch things up.
Your current payroll process is time-consuming
Restaurant operators tend to spend hours each week working on payroll. Since making sure staff is paid accurately and on time is such a critical business priority, it's a non-negotiable part of your and your team's weekly tasks.
Traditionally, most employees clock in and out on the point of sale device, meaning managers need to pull the timesheet information from their POS and port it over to the payroll system. They also need to spend time validating that the time entries are accurate and that tips are being distributed appropriately.
Each of these tasks requires additional steps on the manager's ever-growing to-do list, taking time away from what they love to do: working with their team and delighting guests.
Your current payroll process is not accurate or reliable enough
Sometimes, when exporting employee timesheets from the POS, the documents require manual formatting adjustment before you can import them into your payroll system. This presents an opportunity for human error.
When testing new recipes, errors can sometimes turn out to be happy accidents. But when it comes to running payroll, there's no room for mistakes. Getting your staff paid promptly and properly is a critical point of trust-building between an employee and an employer. If you start to notice that your payroll process is causing inaccuracies, it's time to switch.
You need a system to better manage new hires at your restaurant
The restaurant industry has always had high turnover rates, but the COVID-19 pandemic has intensified this. According to data from the Bureau of Labor Statistics, quit rates for the food service industry grew from 4.8% in 2020 to 6.9% in 2021.
As a result, hiring is often top of mind for restaurant owners, operators, and managers. Whether it's hiring new employees to support expansion or replacing employees due to turnover, every new hire must go through the onboarding process. If your current payroll and team management software offers a clunky, difficult experience in regards to hiring and onboarding, it's probably time to find a new solution.
How do you choose which restaurant payroll software to switch to?
When choosing new restaurant payroll software, it's important to keep in mind the above challenges, as well as the payroll features your restaurant needs to meet business goals.
Here are some must-have features in restaurant payroll and team management software you should look for:
The ability to integrate with other technology
Time is critical when operating a restaurant. The more you can integrate your payroll and team management into your existing technology stack, the better.
As an example, most restaurants use their POS to manage employee clock-ins. By integrating your POS and payroll system — or, better yet, finding an integrated platform that offers both — you can create a simple solution that eliminates the manual process of porting over timesheets to the payroll system in your restaurant. This saves you time and helps ensure accuracy across each pay period.
The capacity to digitally onboard your team
Employee onboarding is a critical step in the new hire process — it can make or break the employee's perception of your work environment and the support they can expect to receive as a team member. This experience can often be painful for both employees and employers due to the tedious amount of paperwork required to ensure compliance. From employee profile creation to federal, state, and local tax documents, the process can become overwhelming.
Finding a team management solution that allows the employee to complete everything digitally can help streamline these time-consuming steps. A digital platform can even allow employees to complete these documents on their phones and, most importantly, on their own time.
The ability to manage payroll taxes for you
Payroll taxes are a complex and important aspect of running any restaurant. Having a system that manages this helps give you peace of mind. A robust restaurant payroll software can automatically pay and file your quarterly and annual taxes on your behalf.
The capacity to grow with your business
Payroll and team management go well beyond weekly payroll and the initial onboarding process for new employees. Many restaurants are starting to offer benefits packages, such as health plans and retirement planning, as additional incentives for their employees. This may be a great option for your restaurant. As an employer, this strategy helps you retain employees and empower them to build a career within the restaurant industry.
As a restaurant owner, there are also additional services you require to run your business. Below is a list of common services seen in the restaurant industry:
Business Insurance
HR support
Workers' compensation
Identifying a restaurant payroll software that helps both your employees and your business grow gives you the opportunity to create long-term success.
What to expect when switching restaurant payroll services
Switching payroll providers can seem like a daunting task for your restaurant, but being prepared makes this an easy process.
Remember, if you switch at the New Year, it'll be an even easier process with less historical data to keep track of.
Here are a few key items to have on hand when preparing to switch your restaurant payroll provider:
FEIN and State Tax ID Numbers
An FEIN, or Federal Employer Identification Number, is a number assigned by the IRS to distinguish each business as a unique entity. This number, along with your State Tax Identification Number, allows your payroll provider to easily identify your business and help ensure you're compliant with both business and employee taxes.
Payroll banking information
The banking information determines which account you want payroll to be pulled from. Most businesses set up a separate bank account for managing payroll to ensure adequate funds are in the account each pay period.
Pay frequency and first check date
The pay frequency defines how often you will pay employees. Understanding the first check date helps determine the necessary steps to meet this pay frequency with a smooth handoff from your current payroll provider without a lapse in pay.
RESOURCE
Better training for happier employees
We'll handle your info according to our privacy statement.
Toast Payroll & Team Management is an integrated system designed specifically for restaurants
Managing payroll can be tedious, but it doesn't have to be. With Toast Payroll & Team Management, you can spend less time on managerial tasks and more time on what matters most — your guests and your team.
Pay your team accurately and quickly, easily bring new employees onto the team and up to speed, and simplify the day-to-day of your job with a single platform for payroll and team management.
Plus, there's no need to worry about making the switch thanks to Toast's Payroll Onboarding Consultants. We'll download the necessary information from your previous provider and bring it over into Toast Payroll for you. If you require any help or support throughout the process of switching your payroll software, Toast also offers 24/7 support so you'll never be left hanging.
Ready to learn more? Schedule a demo with a Toast specialist today and learn how, on average, customers on Toast Payroll & Team Management process payroll in ~30 minutes or less with 32% processing in less than 10 minutes.1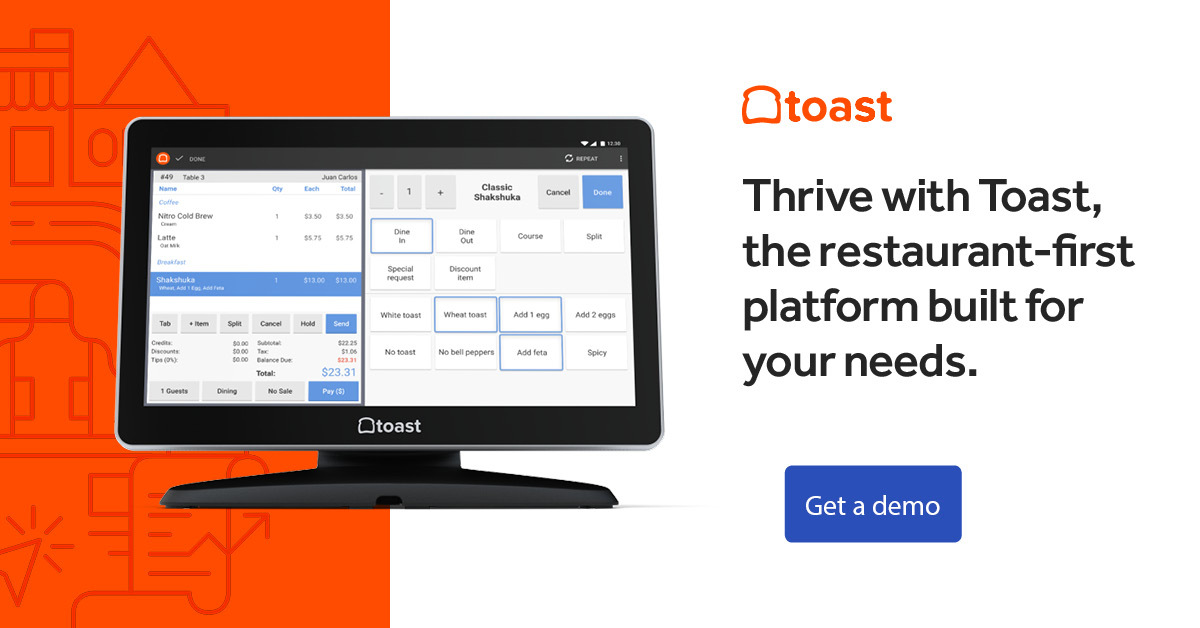 Related resources
1 Based on past performance at Toast Payroll & Team Management customers. Results may vary.
DISCLAIMER: This information is provided for general informational purposes only, and publication does not constitute an endorsement. Toast does not warrant the accuracy or completeness of any information, text, graphics, links, or other items contained within this content. Toast does not guarantee you will achieve any specific results if you follow any advice herein. It may be advisable for you to consult with a professional such as a lawyer, accountant, or business advisor for advice specific to your situation.