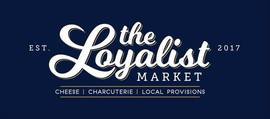 ---
---
Products Used
Toast POS
Online Ordering
Reporting and Analytics
Results
"Nothing has been bigger for our business than online ordering."
Customer Story
How The Loyalist Embraced First-Party Ordering and Kept the Charcuterie Coming
Chris Sottile is the owner of The Loyalist, a cut-to-order artisan cheese and charcuterie market and restaurant in Matthews, NC. Thanks to COVID-19, he's had to totally adapt how he runs his business.
Successful restaurateurs in 2021 know that sustainable profitability comes from embracing multiple ways of reaching, growing, and delighting customers. Restaurant operators everywhere, from fine dining to fast food, are embracing change and testing out new mixes of online and in-person ordering capabilities.
But as many restaurants develop their digital fluency, many are wondering if it makes sense to partner with an existing third-party online ordering and delivery service, or if it better serves customers and their bottom line to have takeout and delivery infrastructure in-house, through what's called a first-party online ordering system.
This would be a tricky enough question in the most normal of circumstances, but the COVID-19 pandemic adds in further complications. In the past, restaurants largely offered delivery through third-party apps and hoped that in-person revenue would offset the added commissions, which often range between 15 and 30 percent per delivery order.
But these days, with on-premise dining fluctuating along with COVID-19 cases in communities, it's more important than ever to build up a solid revenue stream through takeout and delivery, and to do so in a way that minimizes commissions and fees. Enter first-party online ordering.
First-Party Online Ordering at The Loyalist
One North Carolina-based restaurateur realized in the early stages of the pandemic that the right mix of third-party and first-party solutions could help him keep up with the demand from his customers, grow his community, and glean better insights into how his guests' consumption habits were evolving in real-time.
Chris Sottile opened the Loyalist Market in Matthews, NC, as a cut-to-order cheese and charcuterie shop with a focus on local and regional cheesemakers. Like many, he had to transition his entire business model to account for local restrictions and COVID-19 safety. In addition working with third-party platforms, he turned to Toast for his first-party needs, through Toast Online Ordering.
"Besides the vast improvement in efficiency that we've seen since making the switch to Toast, nothing has been bigger for our business than online ordering," said Sottile. "It literally pays for the yearly cost in the first month."
Higher Profit and Higher Tips
In a time when restaurant workers across the country have struggled to make ends meet, Sottile also shared that the online ordering system has led to a much higher tip average for his staff.
"Tip percentage is way higher than it ever was before online ordering and it also frees up our phones," he said.
For other restaurateurs looking to optimize their approach to online ordering, and to balance the reach of third-party services and the profitability of first-party systems, Sottile offers these six steps:
Identify your brand's top-selling items and fan favorites.

Move your top sellers and fan favorites off of your third-party menus so they only appear on your first-party platform.

Update your website so prospective customers know that they can only order these favorites on your direct ordering site.

Market your first-party menu: With Toast, you can promote popular menu items directly with integrated online ordering.

Keep an eye on third-party delivery volumes: It's okay if they dip, as long as it's offset by an increase in first-party volume.

Monitor performance: What does retention look like? Are guests going back to third-party platforms? If retention is good, store-level profitability should grow over time. If it's not there yet, keep educating your customers and explaining why first-party is the best way to support the business that they love.