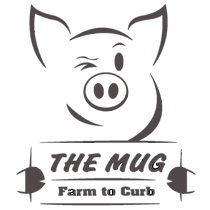 ---
Location
Greenfield and Irvington, IN
---
Products Used
Toast POS
Toast Go™
Online Ordering
Reporting and Analytics
Results
The Mug tried 3 different POS systems
before finding the right fit with Toast
Customer Story
The Mug Uses Toast Technology to Modernize the Convenience of Farm-to-curb Drive-ins
Toast has helped them increase efficiency and ultimately create a modern customer experience.
Located in Greenfield and Irvington, IN, co-founder Abi Tambasco created The Mug with the vision of a farm-to-table "drive-in" style restaurant. Toast has helped them increase efficiency and ultimately create a modern drive-in experience.
"Toast gives you the mobility to walk around, take an order, and better serve our customers," Abi explains. "If there's a line coming out the door I can send out one of my servers into the line and take their order. It has helped immensely with efficiency."
"Finally it was a POS that thought through this system and put everything we could have wanted into one POS, and that's why we switched to Toast."
- Abi Tambasco, Co-Founder/General Manager
- Abi Tambasco, Co-Founder/General Manager
Carside ordering made easy with handheld tablets
After going through three different POS systems, Abi declared that she "wasn't going to settle" on just any POS. Other systems were missing key features like online ordering, loyalty reward programs, and gift cards. Toast's all-in-one platform functionality was the perfect fit for The Mug.
With the use of handheld POS tablets, employees can use all of Toast's functions inside the restaurant, or while taking orders carside. Compared to last summer, ticket times have decreased by twenty minutes. "Customers love how convenient it is," recounts front-of-house manager, Emily Golob. "The handheld system has provided us the ability to give the type of service right at customer's cars, really bringing modern ages to the old-fashioned drive-in."
A smarter system is a smarter restaurant
"The data really matters to me," says Chris Baggott, owner of The Mug and their partner Tyner Pod Farm. "We focus on what's selling, what're the busy times, and what happens when there's a forecast of rain. Knowing what happens when and why helps to make us better marketers. Having the data coming out of Toast, it's not just a POS system to manage our cash, it's also a system to manage our marketing."
Being able to manage the backend reporting has helped The Mug become a smarter and more efficient restaurant. Managers can better track their sales, staff, and inventory without having to sit in an office in the back of the restaurant. The availability of data allows managers to view past records and make adjustments going forward.
For Emily, the use of Toast takes out the stress of trying to monitor her staff from home. "It has provided a sense of comfort, and I don't have to worry."
"Hands-free" online ordering
Before Toast, employees had to stop what they were working on to answer the phone for pickup and delivery orders at The Mug. Customers didn't want to be on hold, and employees didn't have time to constantly take calls in the middle of a lunch rush. With Toast's online ordering feature, customers are able to place an order without having to wait on the phone.
An estimated 40% of The Mug's orders are done online.
"We no longer have to stop and take phone calls during our busy times. We now have a voicemail message redirecting customers to our website where they can place their orders," says Emily. "The system does everything for us. It's literally hands-free."
Whether managers are tracking online orders, attending to carside customers, or monitoring the restaurant from home, The Mug is running an efficient business with Toast.