Article
5 Types of Restaurant Kitchens (and How to Optimize Them)
In this article, we look at five different types of kitchens and what restaurateurs can do to optimize their efficiency.
While there are certainly similarities, no restaurant kitchen is exactly like another one.
Some are optimized for speed, accuracy, and efficiency, while others fail due to poor design.
Let's look at five different types of kitchens in various restaurant concepts to see what it takes to run a restaurant kitchen smoothly.
RESOURCE
Four critical resources to help manage your BOH
We'll handle your info according to our privacy statement.
Kitchen Technology – Arming Your Kitchen
One tool many effective types of kitchens have – regardless of concept – is a kitchen display system.
Using a kitchen display system, or KDS, can benefit your restaurant in a variety of ways, such as improving efficiency, streamlining communication, and reducing mistakes, contributing to a better dining experience for your guests.
Have you thought about bringing a KDS into your kitchen, but don't know how it would fit into your workflow? In this article, we'll cover five different types of restaurant workflows and how they might be leveraging KDS in their operations.
Kitchen Type #1 – Fast Casual with Heavy Takeout
The first type of kitchen is for fast casual concepts that fulfill large amounts of takeout orders.
Often, these kitchens will have two separate prep lines: one for in-store orders and another for out-of-store orders.
For example, at restaurants like Sweetgreen, the "dine-in" prep line at the front of the store follows a typical fast casual "build-as-you-go" workflow. Here, no KDS or printed tickets are necessary since the customer is building the order live.
In the back of the kitchen, there is a second line crew fully dedicated to online and takeout orders. This line may have a KDS unit for tracking and fulfilling orders and a printer for the customer receipts for labeling takeout containers.
How does technology help optimize this type of kitchen?
With a KDS, the line cook can double tap to fulfill an order, which can automatically print a ticket on sticker paper. In addition, individual tickets can be printed for each item with a number count on each (1 of 3, 2 of 3, 3 of 3, etc.), which can then be used as a label for the item.
This helps the expo (or whoever is packing the order) identify which items should be bagged together and how many total items there are. See the above image for an example.
Kitchen Type #2 – Fast Casual Assembly Line
At fast-casual pizza joints like Oath Craft Pizza, diners order at the start of the line instead of the end, which is called a "post-pay" workflow since food is made after payment. Here, the prep line might follow an assembly line broken down into the stations such as: sauce, cheese, protein, and veggie.
Like most types of kitchens, each line member usually focuses on one aspect (starting the order, order phase one, order phase two, completing the order, checkout). The food is usually prepped in the background so it's ready for assembling when customers come in.
How does technology help optimize this type of kitchen?
With a KDS, modifiers can be configured to display with highlight colors.
In the above example, sauces are red, cheeses are yellow, proteins are pink, and veggies are green. As the pie gets passed down the line – particularly for online orders where a patron isn't ordering in person – each line cook only looks at their color of modifier, quickly parsing out the information without reading the entire ticket, saving time and preventing mistakes.
Kitchen Type #3 – Tapas or Small Plates
In tapas or small plate restaurants like Cava Mezze in Washington, D.C., plates are sent out as fresh as possible – as they become ready – rather than waiting for all the food for a table to complete cooking.
In the kitchen, line cooks are typically working on one item at a time. Waitstaff might pace the meal by sending two or three plates together in "rounds."
Complications can arise when all items in one party's order are printed on the same ticket. If the chit is taken out in the first round, orders can get forgotten or mistakenly brought to the wrong table.
How does technology help optimize this type of kitchen?
A KDS can be configured to display each item on its own ticket, rather than having all items for a single table on the same ticket. See below for the difference.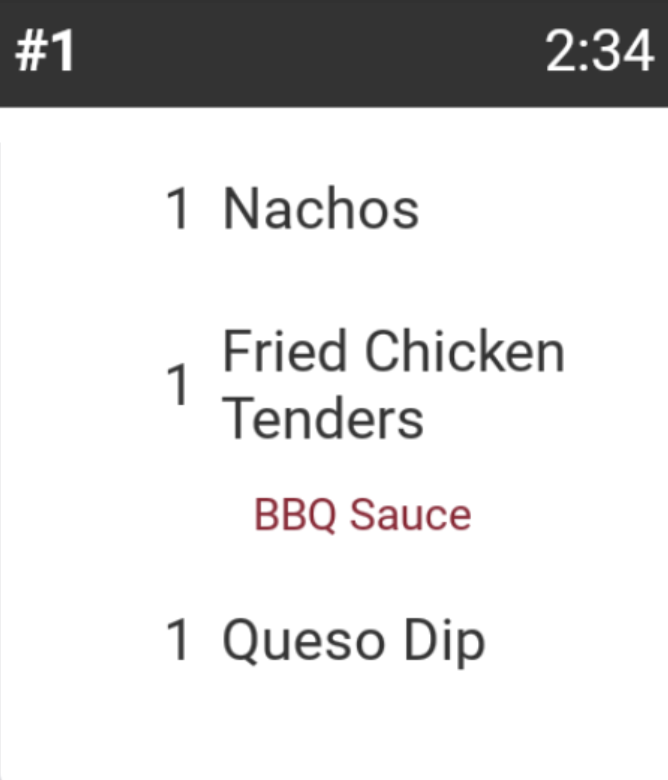 vs.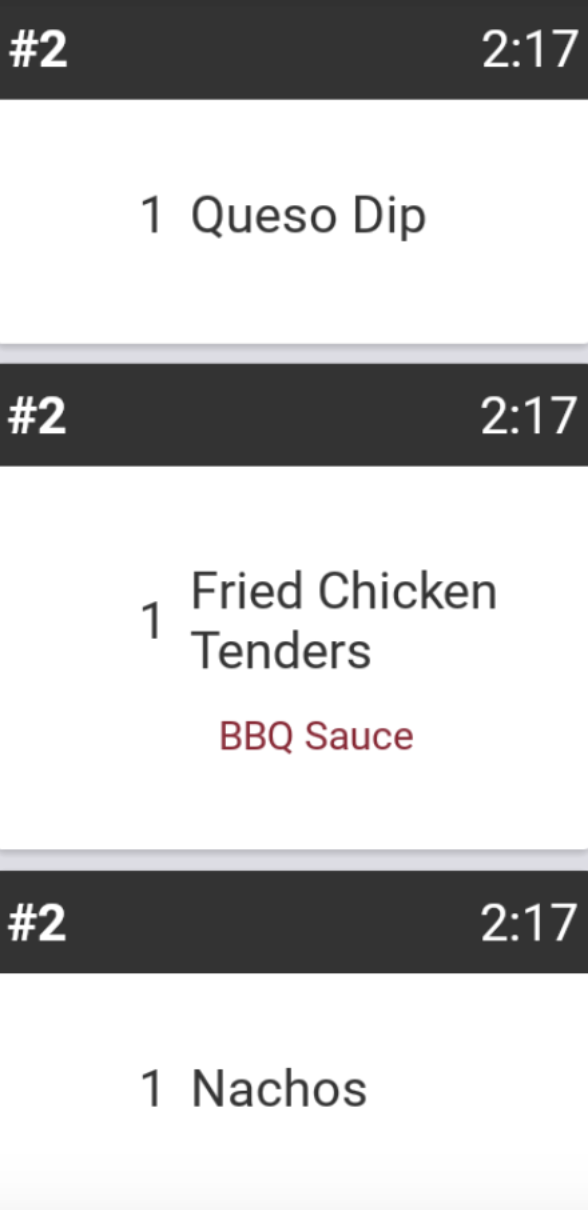 When the item is complete, the line cook will put the plate on the pass and double tap the KDS ticket to bump the item off the screen, which also automatically prints a food runner ticket at the expo station.
The expo can then marry the ticket with the plate and send a food runner out to deliver to the appropriate table. Since tickets are only printed as needed, rather than when the items are sent to the kitchen, the expo doesn't have to spend time sifting through a list of tickets to find the right one.
Kitchen Type #4 – High-Volume Full-Service Casual Dining
Full-service casual dining restaurants with high volume combine speed of service with a great diner experience.
To keep up with the volume of orders, some leverage two expediters in their kitchen: one "inside expo" managing the line cooks and one "outside expo" managing food running. Another option is for one expo to manage dine-in orders and one expo to manage takeout orders.
When guests aren't choosing their order right in front of you the way they would in a fast casual restaurant, allergens can become a more potent risk in this type of kitchen.
How does technology help optimize this type of kitchen?
To prevent mistakes with guest's dietary needs, a KDS can highlight allergy modifiers in a bright color to be very visible to line cooks.
To help increase efficiency by preparing common items in bulk, production items can be configured in the system and associated with menu items in an "all day" format. Production items keep a live count of ingredients needed across all tickets/items, listing the exact needed amount of burger patties, wings, ketchup sauce cups, etc.
Kitchen Type #5 – Traditionally-Coursed Full-Service
In more traditional full-service restaurants, meals (and their preparation) are broken into traditional courses such as appetizer, entree, and dessert. Waitstaff will typically take the entire order for all courses at the start of the meal and enter it into the POS system.
How does technology help optimize this type of kitchen?
As guests finish up each course, servers manually "fire" the next course to the kitchen. Additionally, if you know the prep times for all your items, kitchen display systems can be configured to fire the items intelligently (long items first, short items later) so that all food finishes at the same time. This ensures that food is served to the customer as fresh as possible.
Use kitchen technology configured to make upcoming courses visible and marked as held until the server fires the next course. This helps the line crew prepare for future courses and ensures that all food items finish at the same time and food is served to the customer as fresh as possible.
Leveraging a KDS in All Types of Kitchens
How have you implemented KDS to fit your restaurant workflow? Have you found it has improved operations and efficiency?
If you're thinking about using a kitchen display system in your restaurant, click below to learn more!
DISCLAIMER: This information is provided for general informational purposes only, and publication does not constitute an endorsement. Toast does not warrant the accuracy or completeness of any information, text, graphics, links, or other items contained within this content. Toast does not guarantee you will achieve any specific results if you follow any advice herein. It may be advisable for you to consult with a professional such as a lawyer, accountant, or business advisor for advice specific to your situation.