Article
The Most Important Types of Restaurant Technology and Hardware
Successful restaurants need technology that can keep up. Here's a rundown of the 9 most important types of restaurant technology you need to run your business more efficiently.
The restaurant industry has changed a lot over the past decade and at a rapid pace, largely due to new technology and evolving guest preferences.
Restaurant guests have changed what they eat, how they eat, and where they eat it. They want their food fast and don't want to wait long. They want the option for delivery, takeout, or dining in the restaurant. And they want their food to meet all of their dietary restrictions while living up to expectations and taste preferences.
These shifts in guest preferences emerged alongside the tech boom of the past decade, during which time the restaurant community — an industry once dominated by pen and paper — had to do its best to keep up with such change.
While restaurants are increasingly adopting technology as an important part of their business, the industry still has room for growth. In order to meet the constantly changing preferences of guests — not to mention run a more efficient business — restaurateurs should continue to invest in new technologies to stay up-to-date, or even ahead of, industry trends. This way, they focus on doing what they love: creating delicious food and memorable dining experiences.
Whether you're an early technology adopter or just joining the tech game, check out the list below for a rundown of the most important restaurant technology you need to run your business more efficiently and delight your guests.
While you're evaluating, download the POS comparison guide and check out the Toast vs competitors compare guide.
RESOURCE
Find the right POS for your restaurant's unique needs
We'll handle your info according to our privacy statement.
Types of Restaurant Technologies
Touchscreen Point of Sale Terminals
Order and Pay at the Table
Handheld Point of Sale Systems
Contactless Payments
Self-Order Kiosks
Kitchen Display Screens
Printers for Restaurant
Cash Drawer
Integrated Online Ordering Solutions
1. Touchscreen Point of Sale Terminals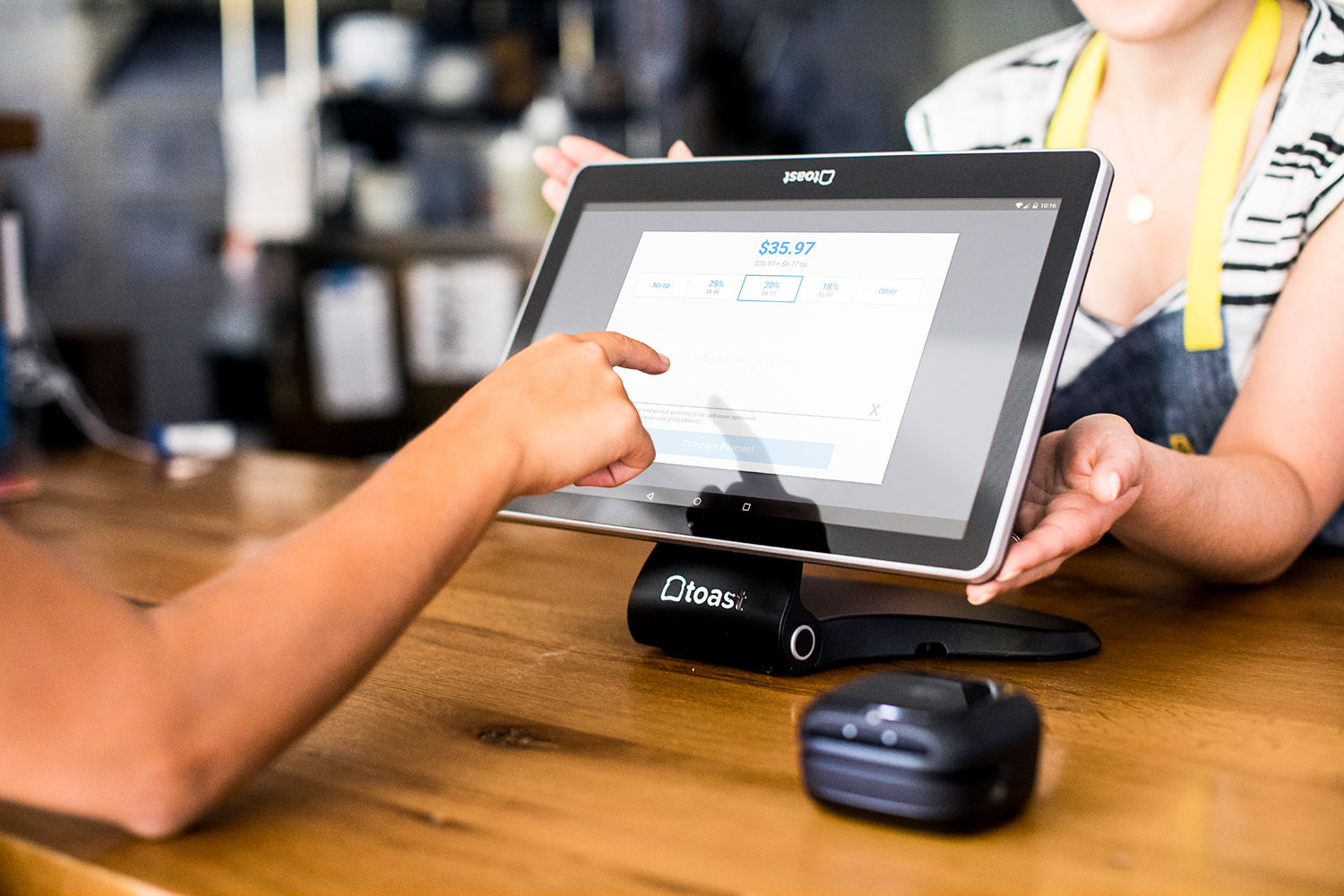 Modern point of sale (POS) technologies, like touchscreen terminals, exist to increase efficiency. They should be able to withstand the rigors of the restaurant with durable hardware, and they should be able to ensure that you and your team are always operating at restaurant pace.
Most touchscreen terminals are powered by restaurant POS software that's designed with an intuitive, easy-to-understand interface, so staff can move fast and new hires can learn quickly. Touchscreen POS terminals simplify the order-taking process, so you can place more orders faster and generate more revenue.
Many POS systems today, typically those used by quick-service restaurants, have guest-facing screens, which allow guests to follow along as they order, quickly pay, and tip on the screen. This improves order accuracy and speed so your team can keep the line moving.
Best-in-class POS terminals today also have the ability to take credit card and mobile payments via a reader directly integrated with the POS. Whichever payment processing device you go with, make sure it supports Near Field Communication (NFC) — like Apple Pay and digital wallets — Europay Mastercard and Visa (EMV), and Magnetic Stripe Card (MSR).
2. Order and Pay at the Table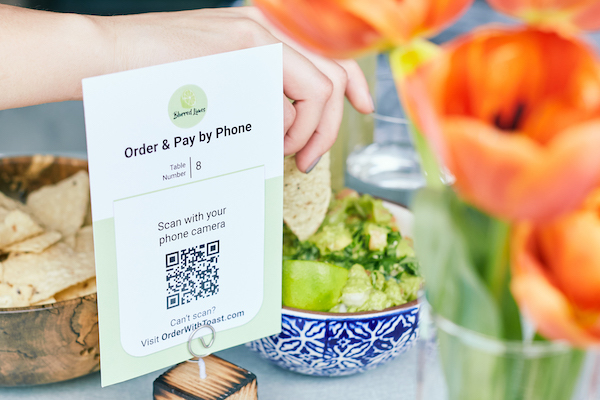 Safety, speed, and efficiency have always been important pieces of the dining experience. But in the wake of the COVID-19 crisis, they've become more important than ever.
In the Guide to the Restaurant Guest During COVID-19, 34% of guests said that contactless/mobile payment availability is now extremely important to their dining experiences. And 33% of guests said that pay at the table technology is extremely important to their dining experiences.
Toast Mobile Order & Pay™ gives your guests the ability to order and pay for their meal from the convenience and safety of their own device. Not only does it give your guests peace of mind, it helps you improve table turn times, reduce labor costs, and better understand your guests with valuable data.
Learn more about how Toast Mobile Order & Pay™ can help your restaurant.
3. Handheld Point of Sale Systems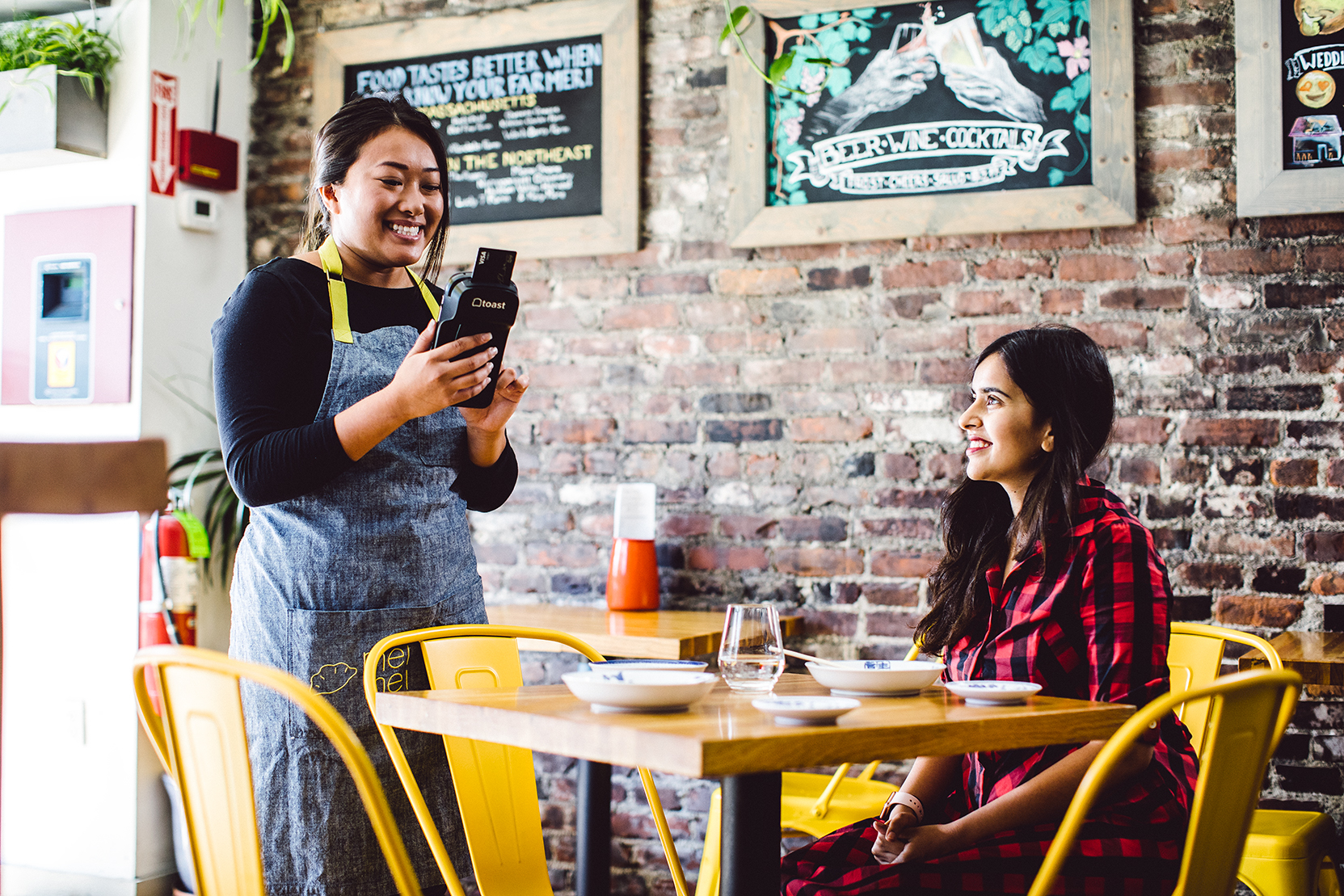 Imagine if your servers could close a check with one visit to the table instead of the four it takes to ask a party if they're ready for the check, bring them their check, take the check back to the POS terminal, and bring their change back if they paid in cash. Handheld POS systems allow your staff to do just that, streamlining operations by allowing guests to order and pay right at the table.
Because handheld POS systems allow for at-the-table ordering and payment, servers can improve order speed and accuracy and turn tables faster. And customers spend less time waiting for their food and the bill. Handheld POS systems also increase the number of customers you can serve and the number of orders you can fulfill in a given shift.
Beyond these operational improvements, handheld POS devices let your employees create a better guest experience. How? Because instead of trying to remember orders or running back and forth to a terminal, they can spend more time engaging with guests.
Learn more about the value of handheld POS systems and see how Odd Duck in Austin, Texas uses handheld POS systems to increase annual sales by $500,000.
4. Contactless Payments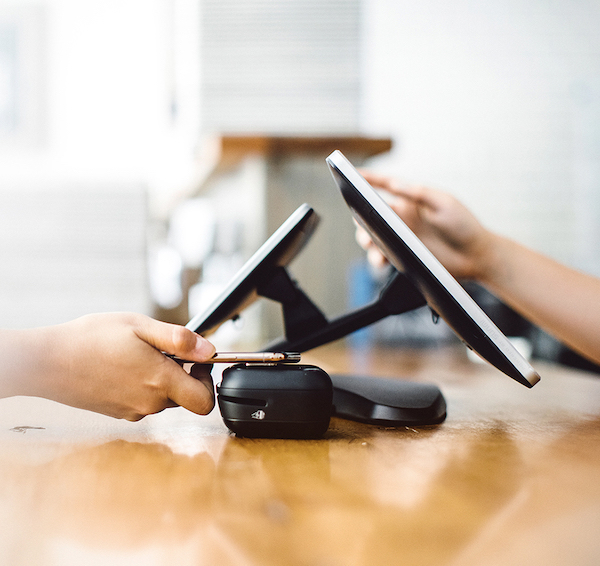 As we covered above for Order and Pay at the Table, contactless payment availability is becoming more and more important to guests' dining experiences. In the Guide to the Restaurant Guest During COVID-19, 34% of guests said that contactless / mobile payment availability is now extremely important to their dining experiences.
Contactless payment solutions help you keep your guests safe and secure by letting them tap, dip, or swipe to pay for their orders. This prevents unnecessary or unwanted physical contact between guests and staff at a time when safety and social distancing are paramount.
Check out this article for a deeper dive on contactless and mobile payments, and learn how contactless payment solutions can help your restaurant.
5. Self-Order Kiosks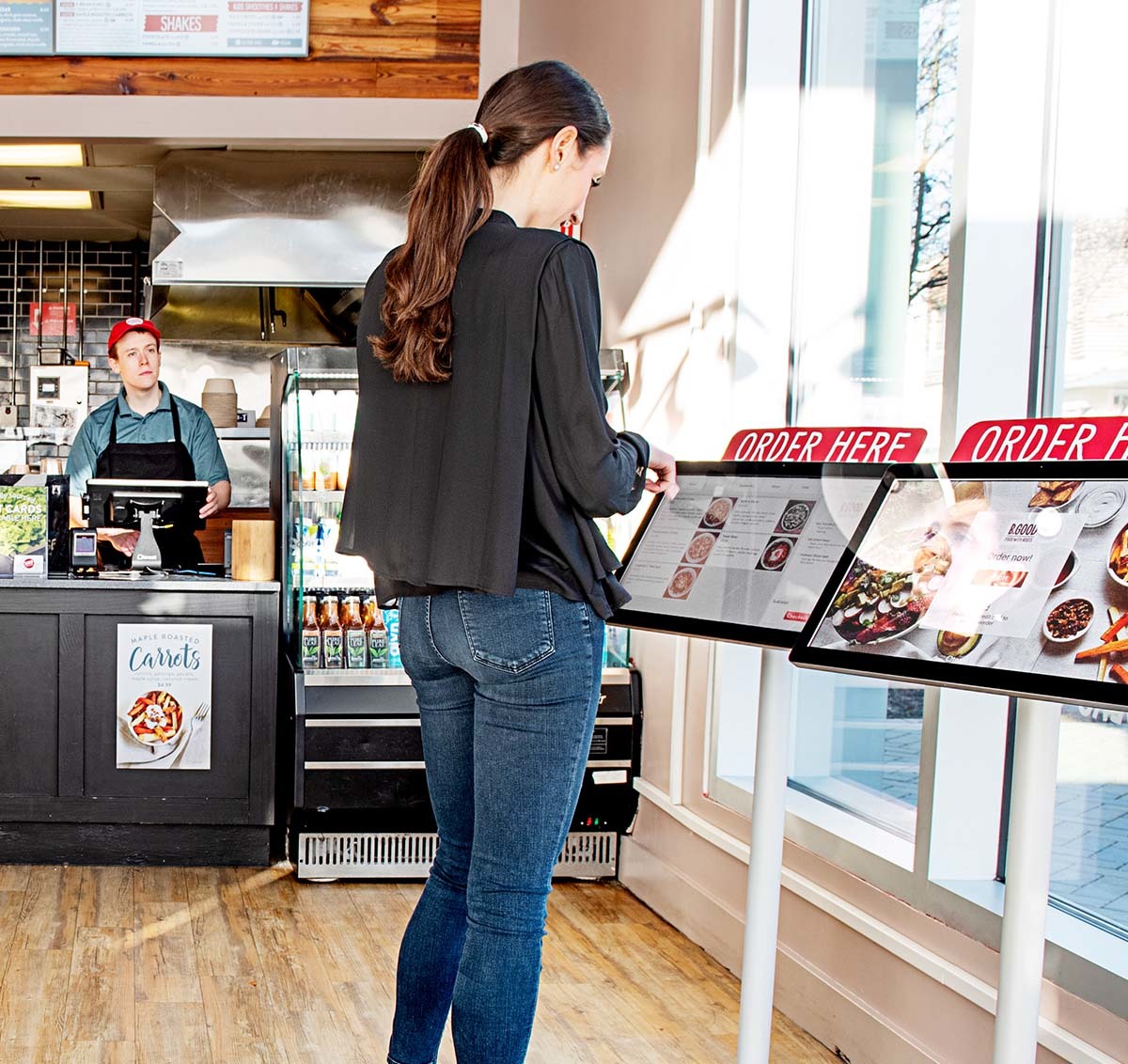 Self-order kiosks are a growing trend and are becoming a major facet of quick service and fast casual restaurants. In the 2019 Restaurant Success Report, 53% of guests marked self-ordering kiosks as either somewhat important or extremely important to their guest experience.
Self-order kiosks are gaining popularity for a number of reasons. They allow restaurants to meet diners' expectations with a top-notch digital experience and easy-to-use interfaces. They also give guests more control over the ordering process, making it easier for them to review the menu and customize their orders.
Beyond improving the guest experience, a thoughtfully-designed kiosk can help restaurants increase average check size (utilizing upsell prompts) and order volume, as well as shorten lines, all while helping your team avoid staffing and productivity constraints.
6. Kitchen Display Screens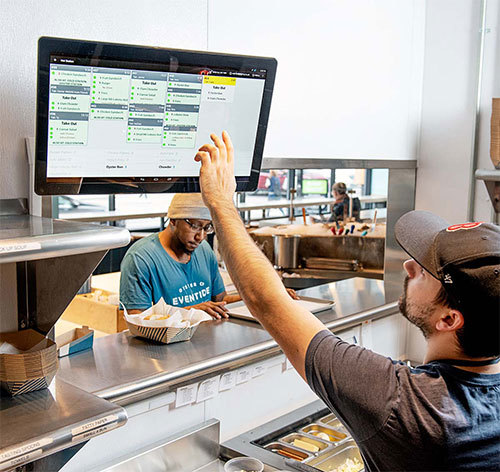 The restaurant kitchen can be a hectic place, so, depending on your restaurant's needs, printed tickets might not be your best option. Many restaurants today are instead using kitchen display systems (KDS) to keep things moving efficiently in the kitchen and throughout the entire restaurant.
KDS is becoming more common for a number of reasons. Compared to traditional ticket printers, KDS is more environmentally friendly because it's 100% digital. It also saves restaurants on the small but added cost of ticket paper and eliminates the all-too-common problem of paper tickets getting smudged by grease or falling to the ground.
Mounted to the wall (or on a counter stand), kitchen display systems allow kitchen staff to view all open orders on one screen. This makes it easier for the kitchen to stay organized and fulfill orders accurately and on time, all while keeping things moving according to plan in the front-of-house, too. How? KDS receives POS orders in real time, improving ordering speed and accuracy and, in turn, the guest experience.
Read this article for a deeper dive into the benefits of KDS for restaurants.
7. Printers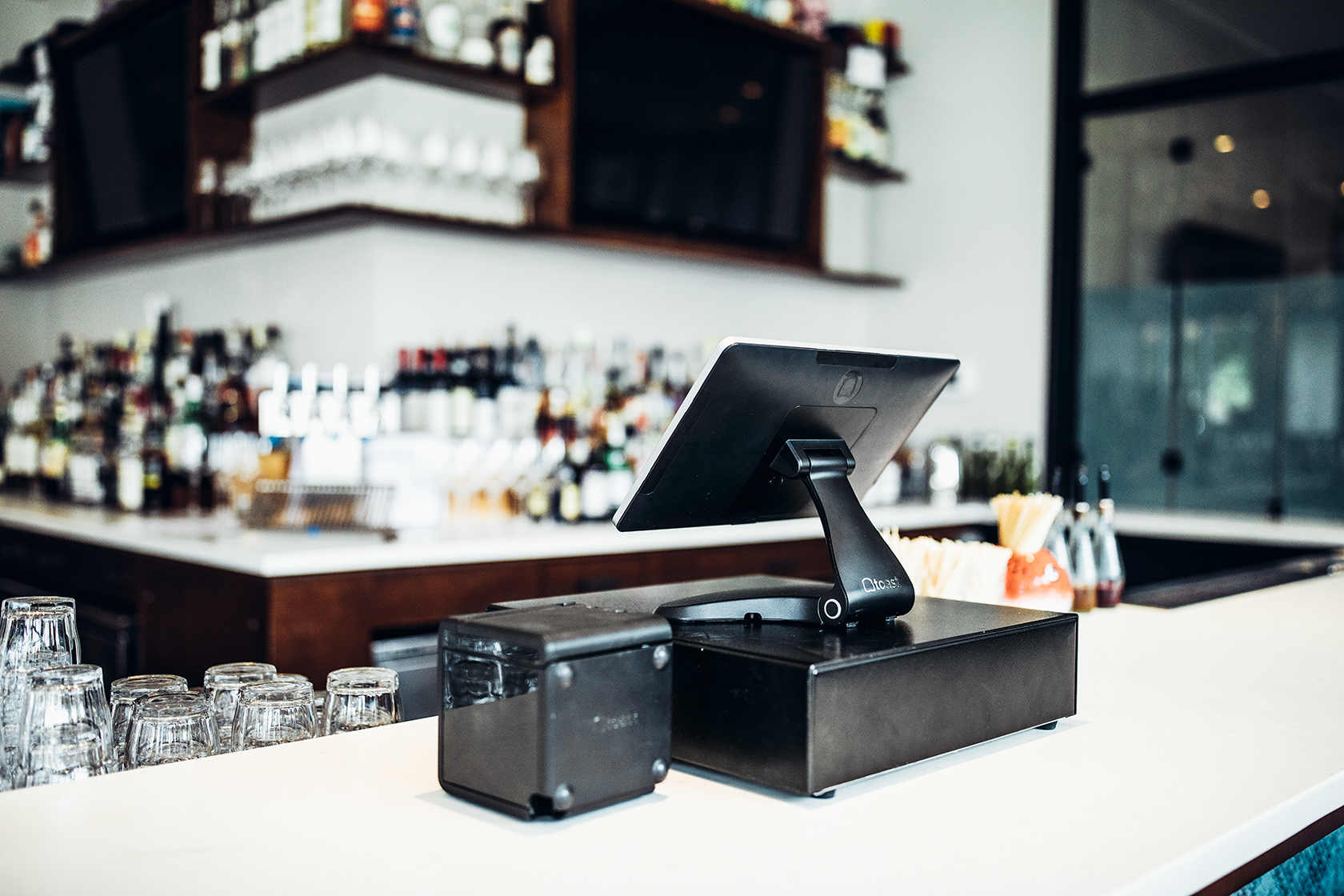 Digital receipts and kitchen display screens (which you learned about above) are growing in popularity and offer a lot of efficiency and benefits, but the reality is that many restaurants — especially full-service restaurants — still want the option to use paper receipts. And to print paper receipts, you'll need a thermal printer.
Receipt Printer
Thermal (or receipt) printers are most commonly used by the front-of-house because they print quietly and faster than traditional impact printers. All receipt printers are thermal printers, meaning they don't use ink. Instead, they heat the paper to create characters and images on thermally sensitive paper.
Kitchen Printer
The most common kind of printer for the kitchen is the ink (or "impact") printer. If your back-of-house team is tied up, they might not notice a new slip show up in the printer. Impact printers help to avoid problems like this because they have a louder printing process, catching the attention of cooks and chefs. It can also print in different colors like black and red, which you can use to highlight certain things on slips and tickets.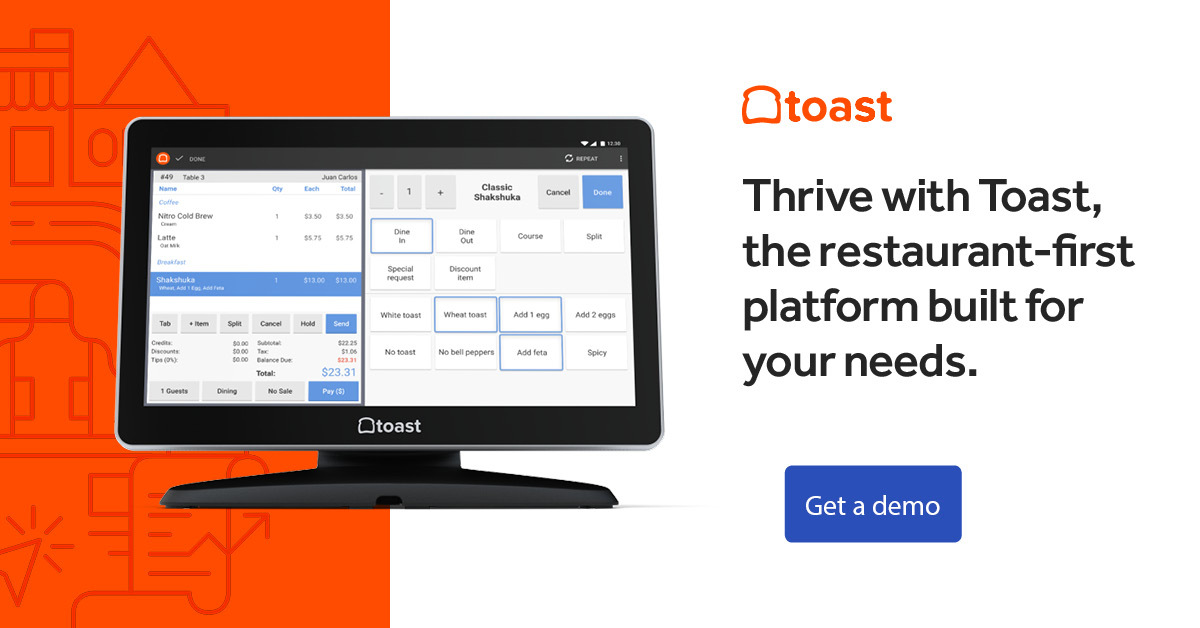 8. Cash Drawer
In the face of advancements in POS technology, the good old-fashioned cash drawer still stands strong and remains important to storing and managing cash.
If you're looking for a more modern approach to managing your restaurant's cash drawer, sync it up with your POS system so all transactions can be recorded. Naturally, you should also lock your cash drawer overnight and empty it out regularly for added security.
9. Integrated Online Ordering Solutions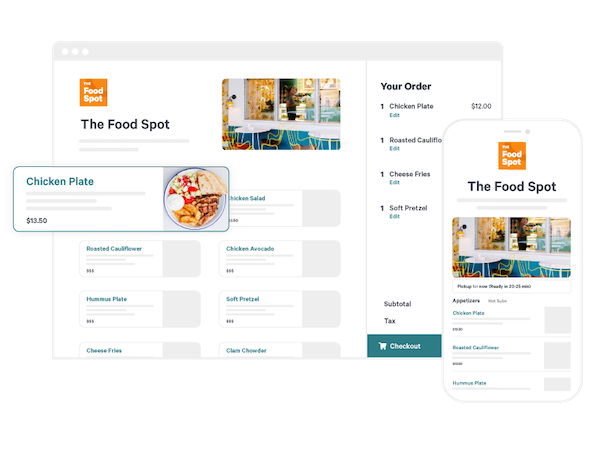 Even before the COVID-19 crisis hit, online ordering and off-premise dining sales were no longer small potatoes for restaurants. And now, in the fallout of the COVID-19 crisis, many restaurants rely on off-premise dining channels like takeout and delivery to keep their businesses alive.
But what happens when the COVID-19 crisis does eventually come to an end? How will guests' dining preferences change in the long run? Those are two of the questions covered in the report, The Guide to the Restaurant Guest During COVID-19.
In the report, a segment of guests shared that they would be ordering takeout and delivery more than they were prior to the COVID-19 health crisis. 27% of guests reported that they would be ordering takeout more. 23% of guests reported that they would be ordering delivery more. And 20% of guests reported that they would be dining out at restaurants significantly less.
With the research to back it up, we can safely say that off-premise is here to stay and will remain a crucial part of restaurants' strategies moving forward.
While third-party ordering and delivery services like DoorDash and Uber Eats have become important pieces of the off-premise dining puzzle, an integrated online ordering solution lets your guests easily order directly from your restaurant for takeout or contactless delivery. Plus, by using an integrated online ordering system, you eliminate third-party delivery fees and take better control over of the guest experience.
The benefits of an integrated online ordering solution speak for themselves, but guests also prefer to place online orders directly with restaurants. According to The Guide to the Restaurant Guest During COVID-19, 82% of guests place orders directly through a restaurant's app or website once a month.
Restaurant Technology and Hardware Built for Restaurants
To run a successful restaurant today, you need technology that can keep up. Toast's suite of custom-built, commercial-grade hardware, Toast Hardware, lets you run your operations three times faster than you are today. And take your hardware power even further by pairing it with robust restaurant technology solutions like Toast Mobile Order & Pay™, Toast Online Ordering, and Toast Delivery Services™.
If you'd like to learn more about how Toast can help you improve operations at your restaurant, schedule time to speak with a restaurant technology expert.
Related Restaurant Equipment Resources
DISCLAIMER: This information is provided for general informational purposes only, and publication does not constitute an endorsement. Toast does not warrant the accuracy or completeness of any information, text, graphics, links, or other items contained within this content. Toast does not guarantee you will achieve any specific results if you follow any advice herein. It may be advisable for you to consult with a professional such as a lawyer, accountant, or business advisor for advice specific to your situation.