Article
What is a POS System and How Does it Work?
A point of sale system, also known as a POS, is the heart of your business.
As a consumer, you've been on the receiving end of POS technology for nearly every modern-day in-store purchase. Let's jump right in and cover what a POS system is, how it works, and what business owners need to keep in mind when choosing one.
What is a POS system?
The definition of a point of sale system, also known as a POS, is a system that facilitates a transaction between a buyer and a seller.
Before the invention of the cash register in the late 1800s, sellers used handwritten ledgers to document each transaction. The cash register, which would become the foundation of modern accounting, was invented as a way to better track transactions by inputting the cost of the product and automatically calculating the change.
Over the years, cash registers improved and evolved from mechanical devices to electronic ones, and eventually into the modern-day POS which combines sophisticated hardware and software to facilitate order entry, tracking and reporting, payment processing, and more. A POS is at the heart of operating processes for many businesses, including restaurants.
RESOURCE
Find the right POS for your restaurant's unique needs
We'll handle your info according to our privacy statement.
What is a restaurant POS system?
A restaurant POS system is used to input guest orders, fire them to the kitchen for fulfillment, collect payments — whether digitally or via a cash drawer — and provide reporting on restaurant performance. Modern restaurant POS systems, like Toast, are cloud-based so that you can access your restaurant's critical information anywhere, at any time, and on any device.
Modern restaurant POS systems have also evolved to become much more than the traditional definition of a POS by seamlessly integrating with numerous other types of restaurant technology like payroll and employee management, inventory management, online ordering, gift cards, loyalty programs, marketing, and more.
How does a POS system work?
A POS system works by creating an efficient and repeatable process for a guest to place their order and pay for their meal. Let's break down the steps of how a restaurant POS is used.
A guest walks into a restaurant and places their order. Depending on the restaurant service model, the order may be placed via a table-side server, an employee at a counter, a self-service kiosk, or via digital ordering methods like mobile order and pay.
The restaurant employee then taps the order into the point of sale software, which calculates the order amount and sends it to the kitchen for preparation. If the guest is ordering at the counter, they would pay for their order via a credit card reader at this time.
The kitchen staff is alerted of the order by either a printed chit/receipt or an electronic kitchen display system like Toast KDS.
Once the food is prepped, the server is notified that the order is ready to be run to the guest and they bring it out.
If the guest is dining in, the server goes to the POS after the party has finished their meal to print the check and begin the payment process.
After reviewing the check, the guest hands their credit card to the server who then processes the payment on the POS, whether at a POS terminal or on a handheld POS device, which automatically closes the check and calculates the total revenue and tips.
At the end of the night, the manager logs into the POS to view their daily summary of orders, sales, discounts, and tips.
All in all, a restaurant point of sale system helps to streamline processes, connecting the front- and back-of-house and delivering a great customer experience.
What are the benefits of a POS system?
As mentioned, a POS system is a huge improvement from the days of pen and paper or even cash registers. However, the biggest benefits of a POS system in 2022 are integrations. By choosing a POS platform that offers a suite of restaurant products, such as inventory management software and customer relationship management tools, you can save time and money as a restaurant owner.
By choosing an all-in-one POS system that is built for restaurants, you can see success with an effortless and friction-free process that leads to better profits and value for your restaurant and guests. In other words, going with a POS platform that allows you to manage all of your restaurant in one system rather than having to sign up for 20+ solutions will save you time and alleviate stress.
What types of software and hardware does a POS system include?
In its simplest form, a modern restaurant POS provides a touch screen terminal used to enter orders, process payments, and track restaurant performance. However, powerful restaurant platforms, like Toast, provide much more than that. Every restaurant is different, so you should look for a POS that can be customized to meet your specific needs, help deliver a great great experience, make your employees' jobs easier, and ultimately help you grow your business.
Key software features:
1. Menu management: A restaurant POS system should allow you to easily edit your menu, anytime and from anywhere. Menus should be able to be adapted easily across different channels, including your on-premise menu, online ordering menu, third-party delivery menu, and more. With a POS that includes menu management capabilities, if an item is 86ed your servers and kitchen staff will know in real-time.
2. Connected FOH & BOH operations: Better connect your front- and back-of-house with real-time order firing and powerful kitchen display screen software that can track item prep times and alert guests or servers when the item is ready.
3. Payment processing: Guests should easily be able to pay with their preferred method, whether it's cash, dip, tap, or swipe, or a contactless mobile transaction via printed QR code or digital wallet. Integrated payment processors like Toast can also help you build a valuable guest database by connecting guest information with transaction history, so you can better understand your loyal guests and know who orders what.
4. Digital dine-in: Many restaurants are quickly discovering the powerful benefits of putting guests in control of their ordering and payment experience with technologies like mobile order and pay. With this technology, guests are in charge of placing their orders and submitting payment directly from their mobile devices, so they can order exactly what they want, when they want it, regardless of where their server is. When it comes time to pay, they can simply close out with a few taps and be on their way, helping you improve your table turn times. As a result, your servers are freed from the mundane transactional steps of service and can focus more on delighting guests by ensuring they have everything they need.
5. Off-premise ordering: All of your orders, whether in-store or online, should seamlessly flow into one system. Modern restaurant POS systems can allow you to have your own digital storefront that fires orders directly to the kitchen, while also directly sending third-party delivery orders into the POS so that you can ditch the tablet farm and eliminate unnecessary manual entry of these orders.
6. Guest engagement: Loyalty programs, gift cards, email marketing, and CRM should all seamlessly connect with your POS system and its data so that you can deepen your connection with guests and keep them coming back.
7. Payroll and employee management: Processing payroll should be easy. Integrated platforms like Toast allow you to quickly export timesheets and tips into payroll with a few clicks. No more spreadsheets and costly manual calculations.
8. Reporting and analytics: Every business needs to know how they're performing, and restaurants are no exception. A restaurant POS should provide you with the rich data insights you need to track sales data and understand what's working — and what's not — so that you can build the business of your dreams.
When considering a restaurant POS system, you should look for one that is designed for restaurants and seamlessly integrates the various types of technology that you need to run your business. Powerful restaurant POS platforms like Toast offer many of these products and services directly so that you don't have to deal with the headache of multiple disconnected systems and processes. An integrated all-in-one POS system can handle complex operational logistics so that you can focus on what matters most: delivering a delightful guest experience.
Key POS hardware:
1. Restaurant-grade hardware: Modern POS technologies, like touchscreen terminals, exist to increase efficiency in your business. They should be able to withstand the rigors of the restaurant with durable hardware, and they should be able to ensure that you and your team are always operating at a restaurant's pace.
2. Handheld POS systems: These devices put the full power of your POS system in the palm of your server's hand so that they can submit orders and take payments right from the table. This allows for faster service and better guest/customer support. They can also be used to line bust in quick service (QSR) concepts by allowing staff to take orders and payments regardless of how far away the guest is from the terminal.
3. Kitchen display systems (KDS): Increase speed of service and communication between the FOH and BOH by allowing staff to receive and respond to orders in real-time. If the kitchen needs to 86 an item, they can do so quickly with a few taps of the screen and servers will instantly know it's out of stock. KDS systems can also provide rich data on item prep times so you can improve your BOH efficiency while reducing your costs of printer receipt paper.
4. Guest-facing displays: If you run a QSR, such as a fast casual restaurant or cafe, guest-facing displays make it easy for guests to view their order, add a tip, and process transactions. They also make it easy to sign up for your loyalty program or request a digital receipt via text or email.
5. Contactless payment technology: Contactless payments were already on the rise, but the COVID-19 pandemic drastically increased their adoption. They are fast, secure, and reliable. Modern POS systems like Toast offer contactless payment devices on the terminal, counter, or handheld POS. This allows guests to use digital wallets, such as Apple Pay, or contactless card payments.
The hardware you need will depend on your restaurant's unique business model, but you should look for hardware that is designed for restaurants and built to handle the hustle and bustle of a busy Saturday night. This hardware should also work together to improve operational efficiency and ultimately improve your business's bottom line.
How much does a POS system cost?
The range for restaurant POS system costs typically falls between $79-$150 per month for software. In addition to monthly software costs, there are often one-time fixed costs associated with hardware.
Hardware: This includes routers, terminals, kiosks, handheld devices, card readers, kitchen display systems, printers, and guest-facing displays.
Software: This includes the tech stack or platform with features like the ability to place orders, payment processing, and analytics and reporting.
Additional Features: This includes software integrations, gift card programs, online ordering and delivery, payroll/team management, and loyalty/rewards program hosting.
There are many different types of systems and pricing structures. More expensive doesn't always mean a better system, and less expensive doesn't necessarily mean better value.
With each of these systems comes different hardware and capabilities from different brands, including hardware, software, and additional features. Because of this, you can't compare quotes from different POS vendors like apples to apples. Instead, be sure to take into account which features are most important for you as a small business owner and which platform will be able to grow with your restaurant.
Find a restaurant POS system that makes front- and back-of-house communication easy
There are many POS systems out there to choose from, but what's important is that you find one that will improve your FOH and BOH operations by facilitating communication, increasing your speed of service, and allowing you to customize the whole system to suit your unique needs.
Be wary of POS systems not designed specifically for restaurants, because these can lack the deeper level of customization and integrations that are necessary for your business to thrive.
At the end of the day, a restaurant POS system should make it easier for your staff to do their job and for you to manage your business. If your POS isn't doing that, then it might be time to consider making a change.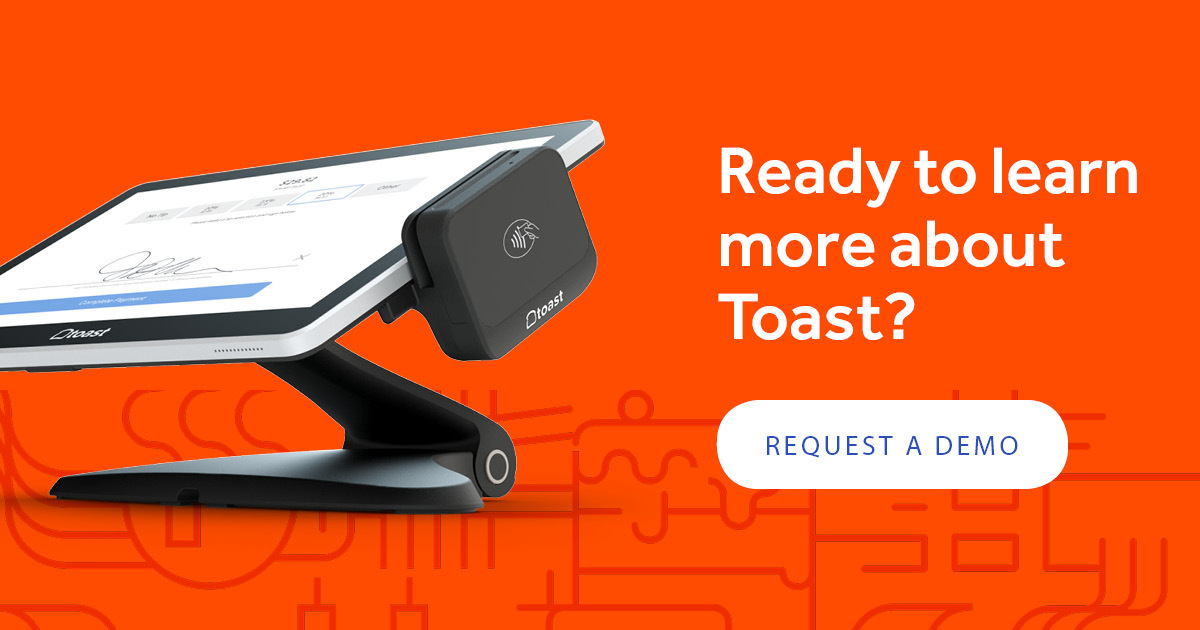 Running a restaurant is hard. Using Toast isn't. Request a demo to see how Toast differs from other point of sale platforms and get a customized walkthrough for your unique needs.
DISCLAIMER: This information is provided for general informational purposes only, and publication does not constitute an endorsement. Toast does not warrant the accuracy or completeness of any information, text, graphics, links, or other items contained within this content. Toast does not guarantee you will achieve any specific results if you follow any advice herein. It may be advisable for you to consult with a professional such as a lawyer, accountant, or business advisor for advice specific to your situation.