Article
Why We Built Toast Go® 2: The Future of the POS is in Your Hands
Toast Go 2, the next generation of our handheld POS, delivers speed, safety, and flexibility to help restaurants adapt to new service models and evolving guest expectations.
Over the last several years, handheld tablets have streamlined efficiency in restaurants with faster ordering and on-the-spot payment.
Now, a new solution for the hospitality industry is about to take this evolution to the next level.
Introducing Toast Go® 2 – a fully integrated handheld point of sale, custom-built for the restaurant industry.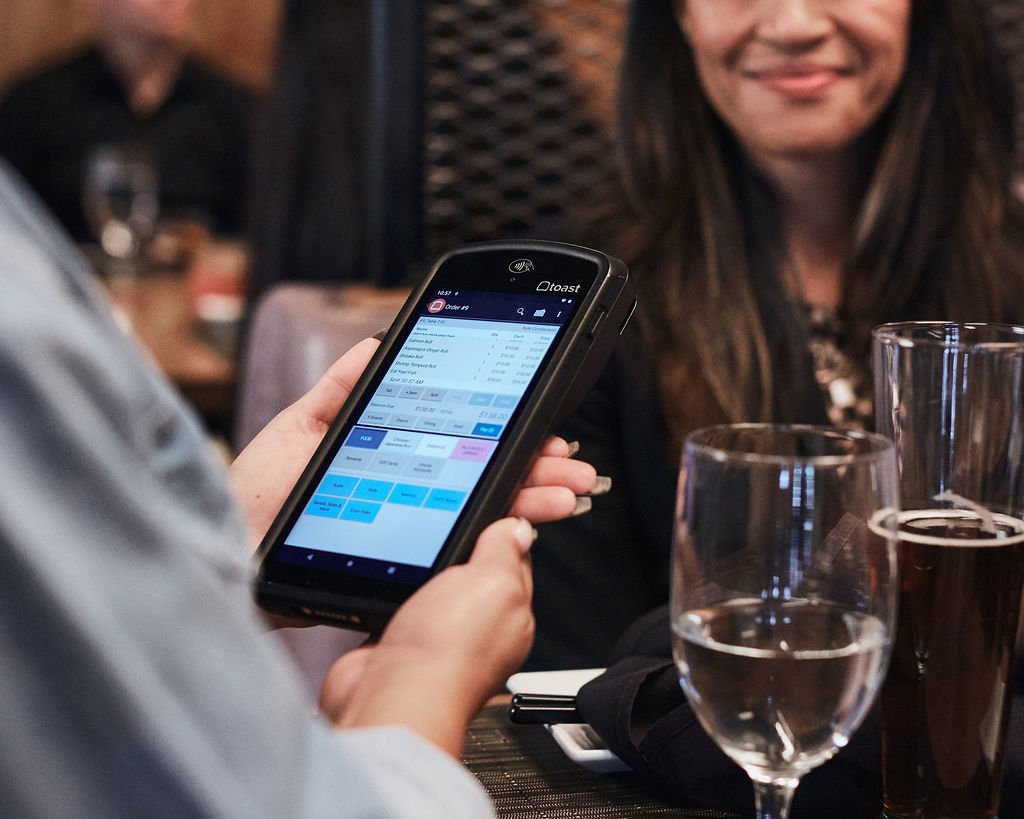 The next generation of our handheld point of sale reduces unnecessary contact through contactless payments and seamlessly flexes between service models, whether you're fulfilling orders curbside, doing more takeout, or opening your patio. Three times faster than Toast Go®, Toast Go® 2 saves your team valuable seconds with every transaction. Toast Go® 2 is spill-proof, drop-proof, and dust-proof to withstand the rigors of your restaurant.
We built Toast Go® 2 because we believe the future of the restaurant POS is in your hand — literally. Now you can deliver service that's faster, safer, and ready to pivot on the fly with Toast Go® 2. We're excited to partner with restaurants everywhere to help delight guests by equipping staff with portable technology designed exclusively to maximize restaurant success.
The Beginning of Our Love of Handhelds
Handhelds have been an important part of Toast's business from our first customer, Barismo. With the use of Toast handhelds, Barismo balanced coffee and lunch counter service during the day and full table service on the weekends. Customer number two, Mei Mei, operated a food truck, so handhelds were a game-changer for them, as their POS was on-the-go just like their restaurant.
Lastly, our third customer was primarily full service, but had a strong loyalty program, and they told us handhelds and digital receipts increased their on-the-spot loyalty program sign-ups by 10x.
When we were first building the Toast business, we made sure to research what we were getting ourselves into, and one finding really struck a chord with us. We found that the two biggest frustrations for guests were waiting for their food and waiting for the check.
Our handhelds address these diner woes. I love the example of The Listening Room, where founder Chris Blair explains how Toast's handheld technology gets food and drinks on the table faster. Upon opening, servers will take drink orders at the first two tables using handhelds, and "that first table has their drinks before the server has even finished up with the second table. With Toast handhelds, guests are served in half the time and the server doesn't have to run back and forth."
This experience is magical for the guests, and a clear example of how handhelds reduce wait times.
Eventually, we came to the conclusion that we could improve this solution even more with a handheld that was custom-built for the restaurant industry — one more portable, usable, and most importantly, powerful. This conclusion led us to launch the original Toast Go® in 2018, which today is used by almost 50% of Toast Customers, After collecting customer feedback on Toast Go® for the past two years, and we've incorporated this feedback into the next generation Toast Go® 2 in 2020.
Below, I go into more depth on our vision behind Toast Go® 2 and how we see it helping your restaurant achieve success and delight your guests — even as you navigate the challenges of this tumultuous year.
Toast Go® 2: Built for 2020
We've learned a ton since we introduced the original Toast Go®. As a result, our product team has been hard at work on the next generation device, and we're excited to bring it to market this week with some new capabilities.
Give your guests the convenience of contactless payments alongside dip and swipe: Guests can pay by tapping their cards or with phone apps like Apple Pay, Google Pay, and Samsung Pay.
Jax Bell, of Hawaiian Bros. Island Grill in Kansas City, MO, tells us, "Ever since COVID-19 hit, our customers have been asking for no-contact payment options. With Toast Go® 2, we're taking orders curbside with guests not even getting out of their cars. The order is sent straight to the kitchen, we take payment on the spot, and it's all completely contactless."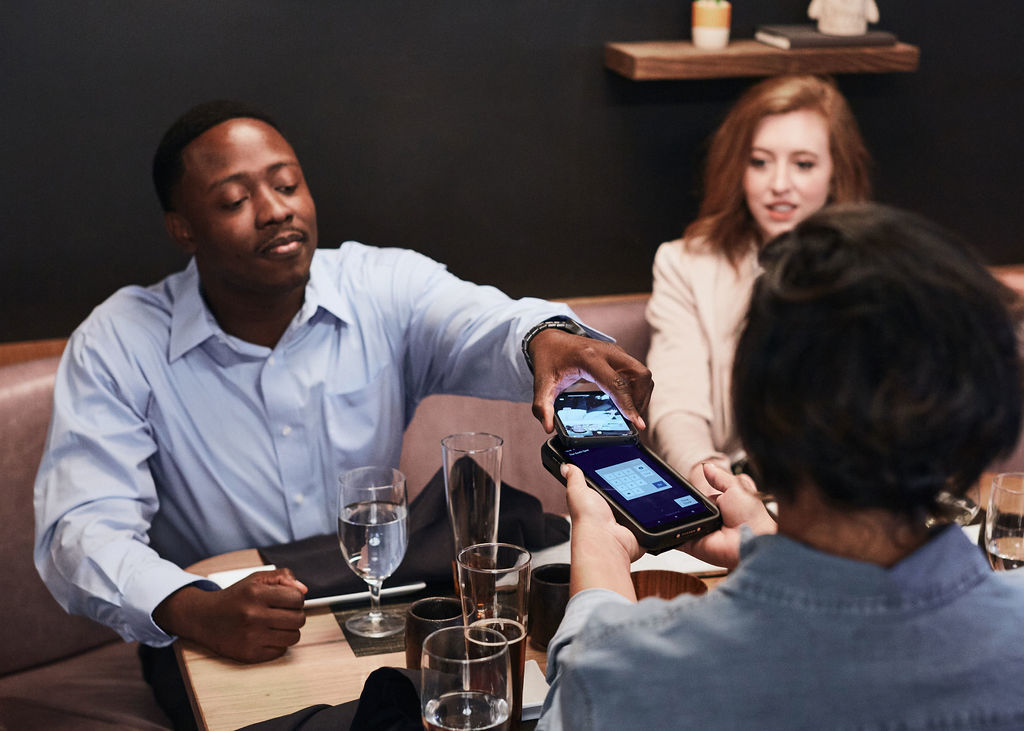 Carry it comfortably all shift long: Toast Go® 2 has best-in-class battery life, lasting 24 hours. And it's sleek and slim, so it tucks easily into your back pocket or apron without weighing you down. Like the original, it also has a comfortable hand strap that makes it easy to carry.
Kharis Corpening of Brevity Coffee Co. in San Antonio, TX, says, "With the Toast Go, we were having to charge them six hours into a shift which was really disruptive. With Toast Go® 2, the battery life is incredible. We're open from 5am-9pm and don't need to charge them at all throughout the day. Being able to offer customers a contactless experience puts them more at ease. That and the increased speed and battery life were the most exciting game changers."
Serve guests faster, no matter your model: Ready for use indoors, outdoors, drive-through, or curbside, Toast Go® 2 adapts to how you're serving now.
Put safety first: Doing more off-prem sales these days? Take payments curbside so your guests never have to leave their cars. This reduces unnecessary contact and streamlines service.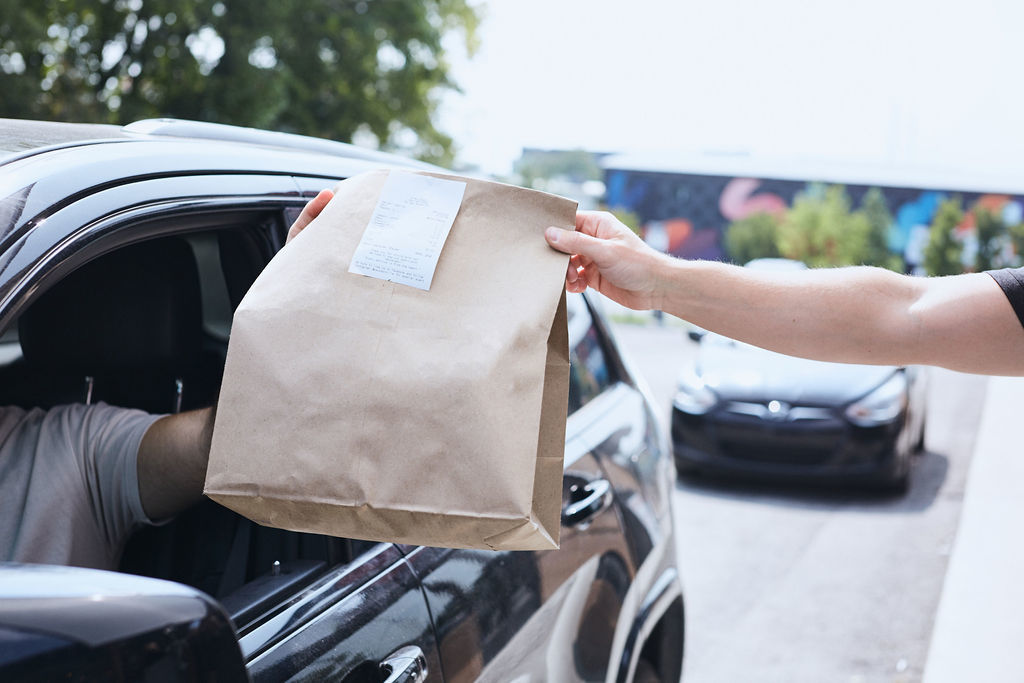 Stronger and faster: Drop proof from up to 4 feet, IP54 rated for spill and dust resistance*, with three times the processing speed of Toast Go®.
Eli Feldman, of Shy Bird in Cambridge, MA, says, "Toast Go® 2 is a fantastic product. The original was great and the 2 addresses every issue we ever had with it. The loading time is exponentially faster as is order entry. It's also super durable. We've dropped it a few times and it's none the worse for wear."
The Power of Handhelds, By the Numbers
As we've expanded our customer base from three to tens of thousands across all 50 states, we've seen our handhelds positively impact the restaurant experience for both restaurants and their guests.
Diners find themselves waiting less for their food and the check, while restaurants are seeing increased revenue and efficiency.
Let's take a look at some statistics from restaurants using Toast's handheld point of sale.
I still remember a conversation with a server at Cafe Luna – one of our first customers near our office. She was so happy with us because she was going on vacation the next week with the extra tips she made from being able to serve more tables.
We're thrilled to see these restaurants provide better service to even more guests than they could have accommodated without handhelds.
Connecting the Entire Restaurant in Real-Time
When point of sale functionality is limited, sending an order to the kitchen can easily turn into a game of telephone. This means miscommunication and incorrect orders can define the restaurant experience instead of efficiency and clarity.
We wanted to put even more power in the palm of your employees' hands.
With Toast Go® 2, your servers can easily share modifications and allergy warnings with the kitchen right from the handheld, and now they can do all this three times faster than before. Because Toast Go® 2 is fully integrated with the back of house, servers will always know which items are in or out of stock, so no more awkward conversations with guests having to explain that the dish they ordered is out of stock.
And when an order is fulfilled, your servers get a notification on the handheld, so they can serve guests their food right when it's ready — and they'll be able to take payment faster than ever before.
Strength and Durability
Toast Go® combines software and payments on a beautiful device built to withstand the rigors of the restaurant industry. Toast Go® 2 builds on this legacy, and now has more than two times longer battery life than iPad-based POS systems and a wifi chipset built to navigate restaurant networks, Toast Go® is the handheld POS device that will revolutionize your restaurant operations.
It's also spill-, dust- and drop-resistant. We want you to feel confident in the durability of these tablets and their ability to survive a day in the weeds and all the twists and turns it entails.
Sticky Fingers
I've also heard concerns regarding the potential theft of tablets. While shiny, silver, consumer-grade tablets may be appealing to someone with sticky fingers, Toast Go® has little value outside of a restaurant. The hardware and software are custom-built for restaurants and offers no concrete use for a consumer or disgruntled employee, so you can be sure that the investment will not go to waste from theft.
Toast Go® 2 in All Restaurant Concepts
Finally, it's not lost on me that many see handhelds as an FSR-only tool.
Plenty of restaurants – particularly those that aren't full-service – operate under the assumption that a handheld is "not for them," but this may not be true. At Boston cafe chain Flour Bakery, employees use Toast handhelds to shorten the line. The tablets are essentially used as another fully-functioning terminal to "line bust" – taking immediate orders and payments, speeding up the wait times for guests to get their coffees and pastries faster.
Eventide, an upscale fast-casual restaurant, sends employees out to the floor to ask guests if they'd like to order another drink or round of oysters, giving them another interaction with the guest after they've already paid for their food in line.
Brevity Coffee Co. uses Toast Go® 2 in their drive-through coffee shop from 5am to 9pm every day on one charge, rain or shine. "We can get through a lot more cars in the morning because of how fast Toast Go® 2 can process payment and send orders," says Kharis Corpening, co-owner of Brevity Coffee Co. "The speed and efficiency is one of our favorite parts about the new handhelds."
Next Steps
We believe we've crafted the best handheld POS solution for restaurants, because Toast Go® 2 is designed exclusively for the industry. The hardware is sleek enough to match your restaurant concept and slim enough to slip into a back pocket, yet durable, and it can increase your restaurant's sales up to 20%.
We hope Toast Go® 2 will be a huge asset on your mission to delight your guests, do what you love, and thrive.
Related Restaurant Resources
DISCLAIMER: This information is provided for general informational purposes only, and publication does not constitute an endorsement. Toast does not warrant the accuracy or completeness of any information, text, graphics, links, or other items contained within this content. Toast does not guarantee you will achieve any specific results if you follow any advice herein. It may be advisable for you to consult with a professional such as a lawyer, accountant, or business advisor for advice specific to your situation.