The James Beard Foundation (JBF) is a recipient of an Impact Grant from Toast.org, the company's philanthropic arm, as a part of its Pledge 1% commitment. In addition to producing the The James Beard Awards, one of the highest honors in hospitality and food, JBF supports the industry through a variety of community-focused initiatives, programs, advocacy work and events across the country. The Toast.org Spotlight Series highlights outstanding organizations dedicated to enriching the food experience for all.
Thumbnail photo © Arielle Figueredo / Courtesy of the James Beard Foundation
---
Founded over 30 years ago, JBF's mission is "to celebrate, support, and elevate the people behind America's food culture and champion a standard of good food anchored in talent, equity, and sustainability." In addition to hosting the James Beard Awards each year, JBF leads a number of advocacy efforts, educational programs, events and other efforts in pursuit of this mission. In spring 2023, they opened Platform by the James Beard Foundation (Platform by JBF), a new kitchen and educational space in New York City that hosts rotating chefs-in-residence, dining experiences, culinary arts programming, and events. The new space has allowed JBF to expand its programming in a number of ways, including several events in celebration of the LGBTQIA+ community in June for Pride 2023.
In the midst of a big month, we connected with President and Chief Operating Officer Kris Moon (he/him) to talk about how JBF's celebration of Pride and the queer community has evolved, and what this moment means for him and JBF.
The James behind JBF
James Beard is an undeniable icon in the food world, he's authored over 20 cookbooks, and he's even credited with having invented American cooking. His name is nearly synonymous with culinary achievement through the James Beard Awards, but despite this profound impact on the industry, until somewhat recently, little was discussed about his personal life.
"We were named after James Beard, a queer man, and this was an important part of his identity, but when I joined the foundation 16 years ago, I would say it was known, but not a regular part of our identity in the organization," said Moon.
Beard did come out publicly in a revised version of his memoir Delights and Prejudices in 1981, and while complicated, his personal connection to the LGBTQIA+ community has been more widely recognized after his death in 1985.
"He wasn't out, but he wasn't in the closet. It was a very different time, and as a public figure he wasn't leading with that identity," said Moon. "But I think it obviously shaped who he was and how he thought and talked about food."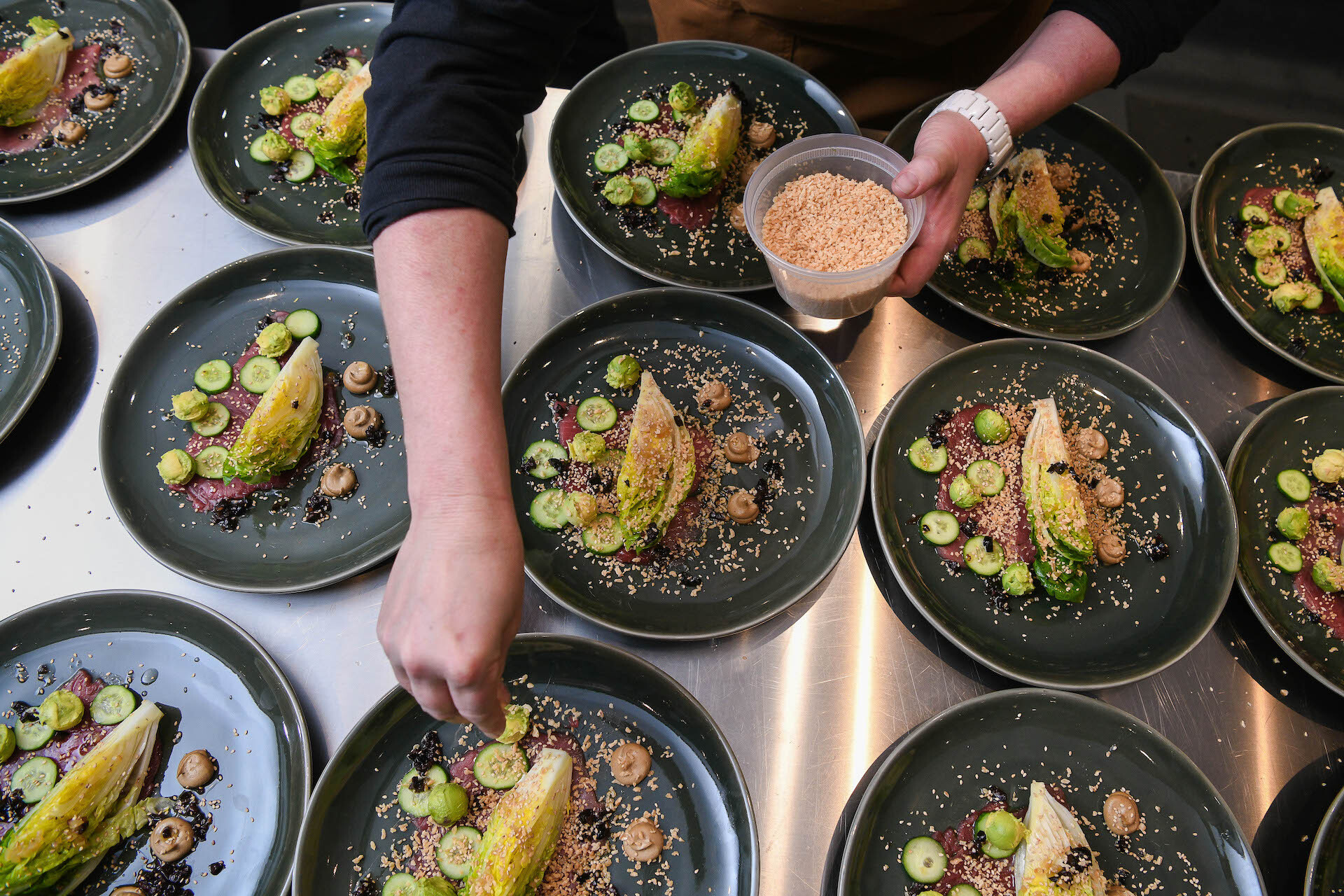 Serving up culinary delights at one of Platform's first events / © Max Flatow / Courtesy of the James Beard Foundation
Finding queer and culinary identity
As the times have changed, so has the James Beard Foundation, along with its focus and mission on empowering all kinds of people in food. When Moon, who identifies as part of the LGBTQIA+ community himself, first joined the organization, he helped create and execute one of its first celebrations for Pride month, The Big Gay Soiree, which was so successful it became an annual event, growing to a bi-coastal celebration in San Francisco in addition to New York.
"It was basically a cocktail party on Pride weekend in New York, where we featured chefs and beverage professionals who identified as queer or who were true allies of the community," said Moon. "We then did one in San Francisco a couple of years after that, to really expand on the James Beard Foundation's embracing and acknowledgement of James Beard as a queer man, the role that that plays obviously, and our role within the industry at large."
Along with growing its recognition of queer influence in American food, JBF has made a concerted effort in recent years to expand its support of a number of diverse groups, notably restructuring the James Beard Awards nomination and voting process in 2020 to be more inclusive.
"The industry has a long time been skewed toward one community, and there is a lot greater diversity represented in the food and beverage industry," said Moon.
James Beard's own identity and legacy, however, poses an unique challenge for JBF to celebrate and elevate the queer culinary community, while allowing professionals in food to do so on their own terms.
"There are a number of people in this community who are queer, but really intentionally decide not to lead with that in their culinary career and persona," said Moon. "Curating programming has been interesting in that regard to not make assumptions. I want to respect everybody's decisions about where they identify with their personal sexuality, etc. and how they personally have shaped their careers."
"Most delicious at our most diverse"
With this in mind, Moon and JBF have curated its first-ever full month of programming for Pride month dedicated to queer food, talent, and events. The expanded Pride celebration is made possible in part by the opening of its new home, Platform by JBF, which opened in Spring 2023 at Pier 57 in New York City.
Representing a physical manifestation of JBF's Good Food for Good® mission, Platform is both a state-of-the-art events space and retail incubator where rotating chefs-in-residence can try and test new culinary concepts. In the few months since opening, Platform has played host to a wide variety of culinary celebrations, focused not only on representation but intersectionality in food — from a Mexican Passover Seder to an Eid al-Fitr celebration by a Bahraini baker, and a series of Hip Hop to Hospitality events discussing the challenges facing women in both the male-dominated industries of music and cooking.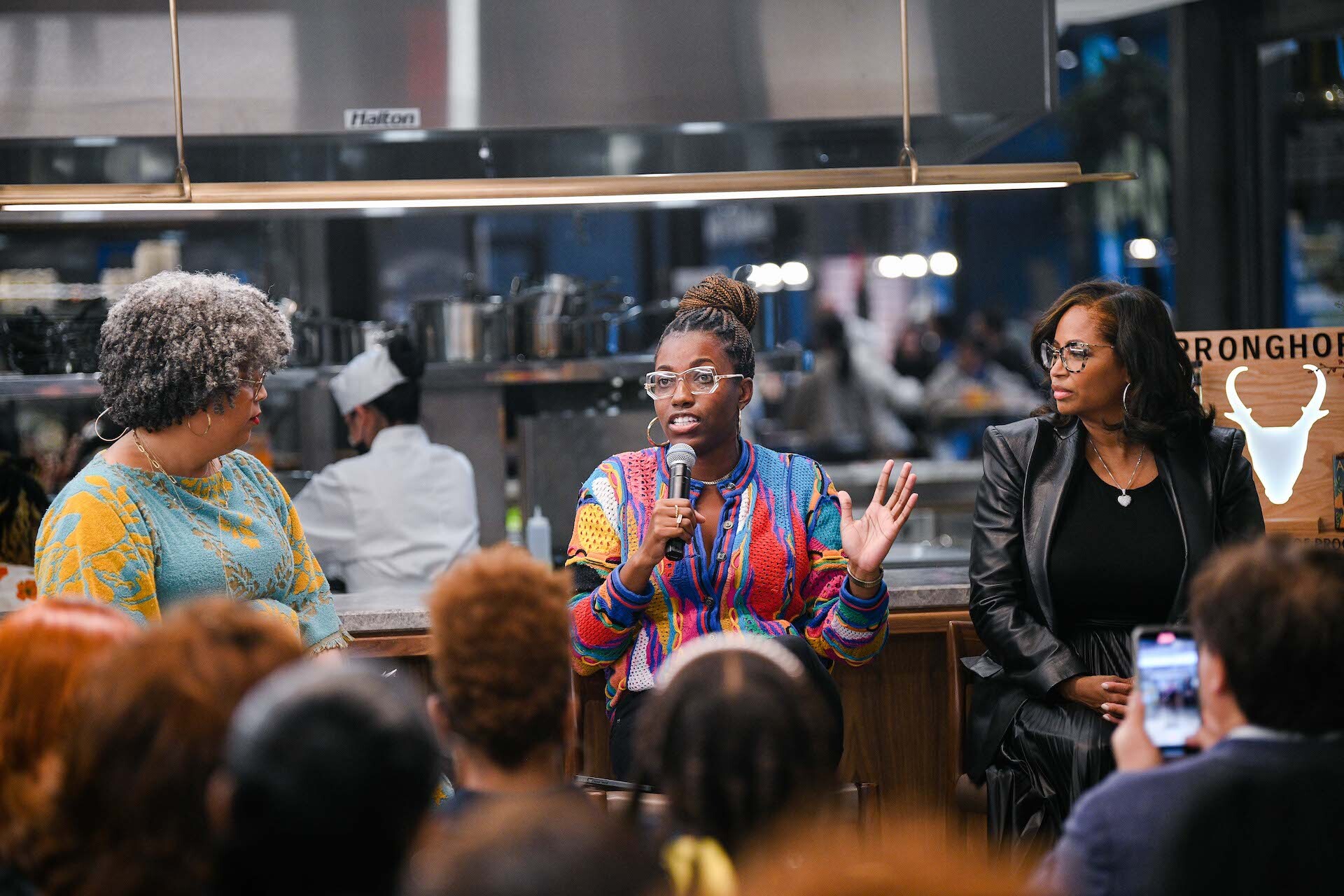 Scenes from Hip Hop to Hospitality / © Max Flatow / Courtesy of the James Beard Foundation
"It's an element of our overarching mission to create space for all people in our industry, and certainly June being Pride month feels like the right time to shine a spotlight on this community in particular, said Moon. "I think truly, our belief is that the American kind of food culture and food landscape can only really be at its best and most delicious if it's also at its most diverse."
As they finalized the schedule for June, JBF focused on curating events that would be just as exciting, surprising and inclusive, like a talk on "What makes a queer restaurant?", queer speed dating, tastings from queer-identifying chefs and of course, drag brunch.
"That was a personal request of mine," said Moon. "Given everything that's happening in the world, we need drag queens."
---
Kris Moon is the President and Chief Operating Officer at the James Beard Foundation. He has held several roles in his nearly 20-year tenure with the organization and has been instrumental in advocacy work and programs that engage the culinary community in the ongoing process of creating a sustainable food system that provides nutritious and delicious food for all.
You can find out more about the James Beard Foundation on its website and Instagram.
Platform by JBF is located at Pier 57 in New York City, you can keep up with its latest programming on its website and Instagram.