Restaurant innovation starts here.


Let's face it: We need big ideas now more than ever.
Better ways to do it all. Ways that inspire our staff, our guests, and our community.
And it's your ingenuity that inspires us day-in and day-out.
It all starts with a spark. Every great meal. Every big idea. And this is just the beginning.
At Toast, we are committed to enable restaurants to delight their guests, do what they love and thrive. And new challenges — from rising food costs to labor constraints — are an opportunity for Toast to create new solutions for the restaurant community. When restaurants face hardships, we listen, and create new solutions to help.
Here is everything Toast announced at Spark.
Combat Inflation and Streamline Operations
Take steps to fight inflation and streamline your operations with new tools designed to save you time – so you can focus on what you love.
---


xtraCHEF Price Tracker
Stay on top of fluctuating ingredient prices and costs with price tracker.
Accessible from the newly designed xtraCHEF dashboard
Highlights key price changes over time to help you make strategic decisions about your menu, your recipes, and your purchasing habits


Toast Menu Package
Need menu help? Let us take that off your plate.
Clean up menu clutter, optimize for your bottom line, and simplify your accounting.


Sticky Item Labels
Sticky item labels help your expo quickly consolidate orders so both you and your guests can easily identify which item is which – crucial when it comes to takeout orders in opaque packaging. (Hello, pizza boxes.)





Toast Invoicing
Multiple revenue streams used to mean multiple systems. Not anymore.
Toast Invoicing merges your catering, events, and wholesale orders and brings them all to Toast – so you can spend more time fulfilling all those orders and less time dealing with paperwork.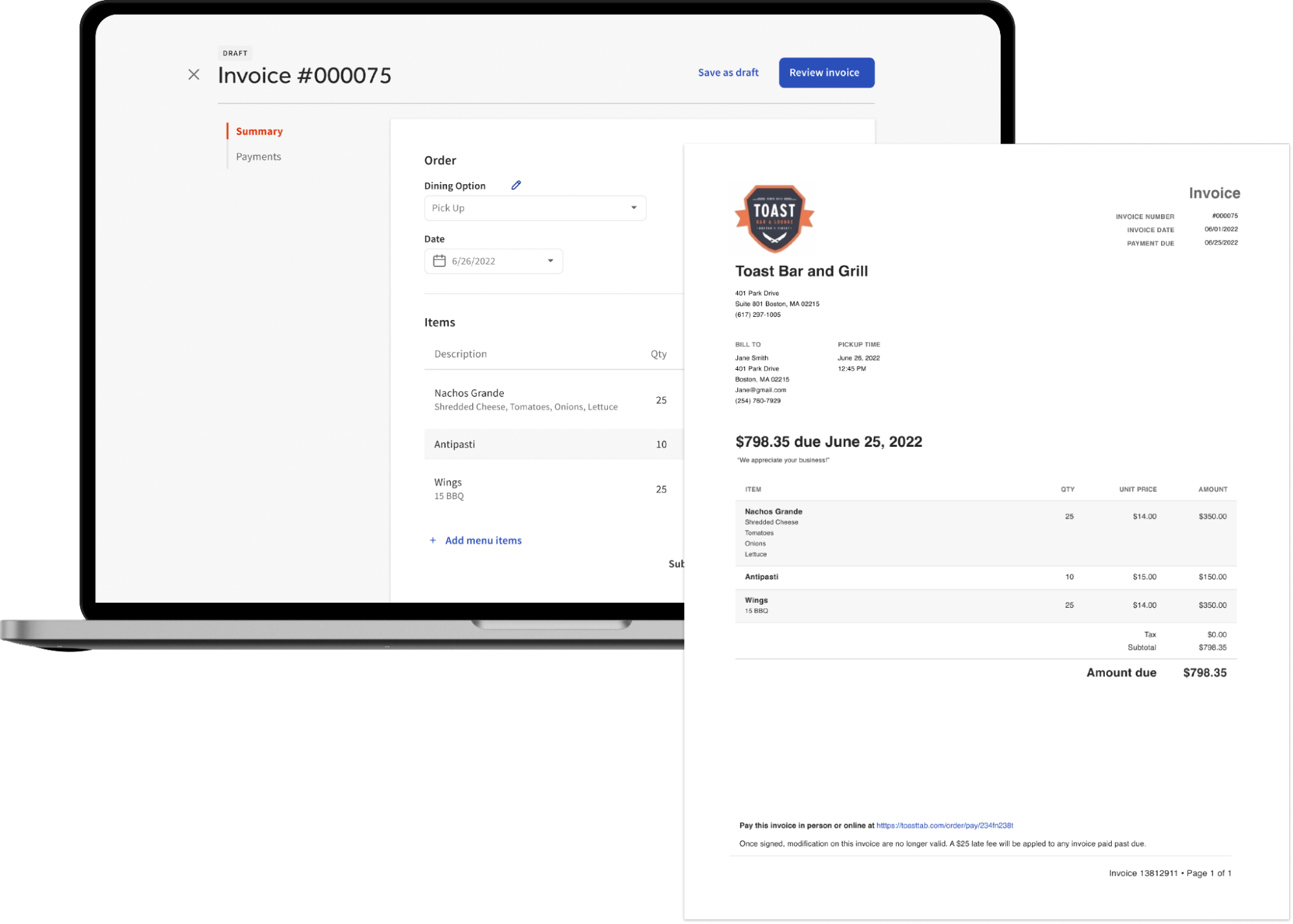 Kitchen Display Screen (KDS)
Help streamline operations where every great meal starts: the kitchen. From new options to manage off-prem or on-prem orders to new tools to keep tabs on kitchen efficiency, you'll feel these Kitchen Display Screen updates in every area of your business.
KDS Dining Options - Allows you to easily manage a dine-in or takeout orders.
KDS Kitchen Reporting - Keep tabs on kitchen efficiency and speed up fulfillment times.
KDS Order Fulfill Notifications - Tells your customers as soon as the kitchen has fulfilled their order.
Reliability Updates - KDS is about to get way more reliable. By using the local network to communicate between your terminals, this new offline mode update will ensure you can stay online even when internet's down. Planned for release later this year.





Delight Your Guests and Turn them into Regulars
With new products that reach guests wherever they are, Toast makes it even easier to delight your guests and turn them into regulars.
---

Orders Ready Notifications
New order ready notifications tell your customers as soon as the kitchen has fulfilled their order.


Mobile Payments
Guests can now pay their tab with ApplePay – and you get the guest data you want to keep them coming back.


Guest Profiles
Get to know your regulars and keep them coming back with Guest Profiles.
Easily identify your top spenders, new guests, and more.


Single-Use Promo Code
Offer discounts to your guests while controlling promotional costs with new single-use promo codes.


Ordering, Tip Pooling, Employee Scheduling, and Pay Updates
Check out brand-new employee management products designed to make restaurant life way easier.
---


Mobile Order & Pay™
Increase efficiency without sacrificing hospitality with new server-started ordering.
Servers can now greet guests, introduce them to the QR code menu, and then offer to take their first order.
If guests want to order another round, no problem – they can add items to the same tab using the QR menu.


Tip Pooling by Order
Tip pooling by order, a feature of Toast Tips Manager, gives restaurants the ability to build tip pools by individual checks so they can more accurately tip out staff based on who's clocked in at check open.


Toast Pay Card & PayOut*
Give your staff instant access to a portion of tips and wages after every shift with Toast Pay Card and PayOut — a free and new way to pay your staff.(1)
Empower your staff to take control of their finances so you can build a stronger team, attract and boost employee engagement, and increase retention.
Sling by Toast
Through features including scheduling templates, in-app messaging and multi-location team management, Sling by Toast helps restaurants staff more efficiently, better manage labor costs, and help increase employee job satisfaction.

Access Financing and Easy Payment Options
New flexible funding options from Toast don't just help you pursue your goals – they help you realize them.
---
Toast Capital*
Get what you need to accomplish your goals with fast, flexible funding to power your restaurant. Access loan amounts between $5,000 to $300,000, as eligible, through Toast Capital.


Pay As You Go**
Get started with Toast with no upfront costs and no fixed monthly fees. Pay-As-You-Go offers one simple rate to access the best of Toast.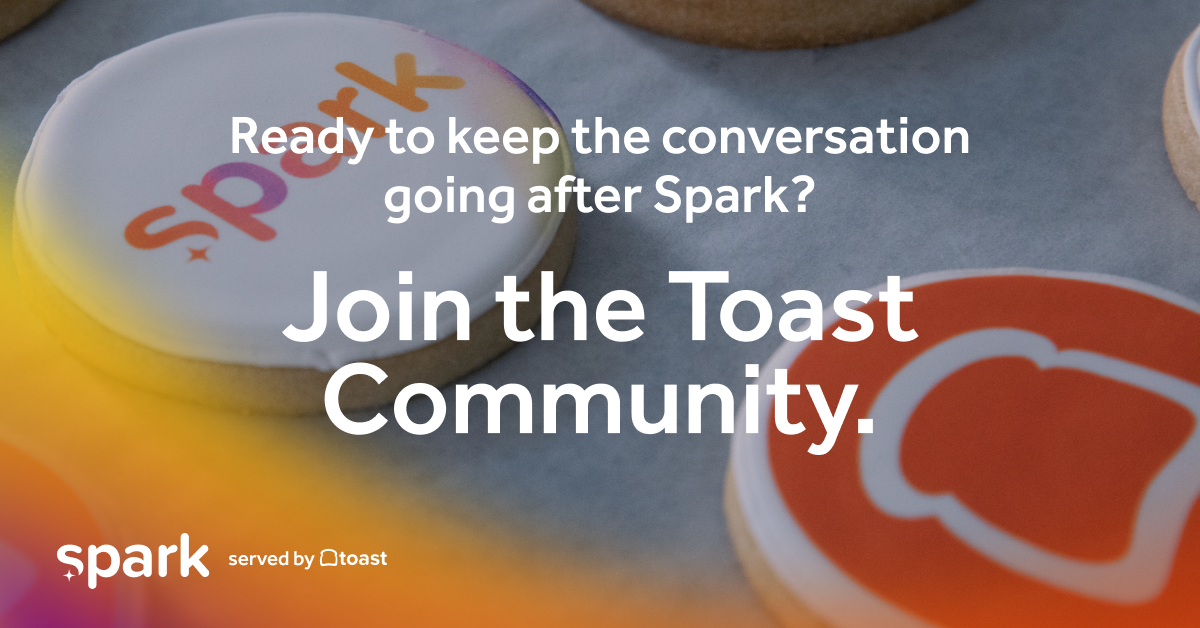 Disclaimers: (1) Access is typically instant after the employee's shift, except that for restaurants that tip pool using Toast Tips Manager, access to tips will be available after the tip pool is approved and sent to Toast Payroll (typically the next day). There is no cost for employers to offer Toast Pay Card and PayOut. Toast Pay Cards have no ATM withdrawal or other fees, but third party ATM operators outside the MoneyPass® Network may charge a fee. MoneyPass is a registered trademark of Fiserv, Inc. Terms and conditions apply to this program. See toasttab.com/pay-card for details."
* Toast Capital Loans are issued by WebBank. Loans are subject to credit approval and may not be available in certain jurisdictions. WebBank reserves the right to change or discontinue this program without notice. Funds are typically disbursed within 1-2 business days following application.
**The upfront costs for Toast are hardware and implementation, which vary depending on your specific hardware packages and installation needs. 0% interest financing by application and subject to approval. Within our Starter Package, we also offer the Pay-as-You-Go plan that reduces your upfront hardware and installation costs through an all-in-one platform rate.