La Cocina is a recipient of an Impact Grant from Toast.org, the company's philanthropic arm, as a part of its Pledge 1% commitment. La Cocina's mission is to cultivate low-income food entrepreneurs as they formalize and grow their businesses. With an emphasis on supporting women from communities of color and immigrant-owned food businesses, the organization itself is as multifaceted as its members — including an incubator program, commercial kitchen, and events and retail space to support each business' unique product. The Toast.org Spotlight Series highlights outstanding organizations dedicated to enriching the food experience for all.
---
La Cocina is a nonprofit working to solve problems of equity in business ownership for women, immigrants and people of color. The organization supports budding entrepreneurs through their incubator program, which provides technical training and access to resources like a commercial kitchen and retail space to help early-stage founders grow and develop thriving food businesses.
On the heels of their first in-person food event since 2020, Tacolado (a celebration of tacos and ice cream, what could be better?) we had the chance to sit down with La Cocina's Head of Advancement, Michelle Magat Williams, to learn about the organization's impact and what makes it so special to the San Francisco Bay area community.
Telling their stories
"Did you want to do something about La Cocina in general, or did you want to go through a few stories of our entrepreneurs?" says Michelle Magat Williams as she signs on for her interview. It's a thoughtful question, but then she jumps right in and, as she begins to describe some of the La Cocina entrepreneurs, the right answer quickly becomes clear.
"We have so many incredible stories about who is defining our local food business community " she continues, "like Alicia Villanueva, she's a talented cook who started out by selling tamales door-to-door while raising three children and working. And now she has a thriving family business where anyone in the U.S. can taste her food and she advocates for the support of small business owners."
Villanueva learned the art of tamale-making from her mother and grandmother in Sinaloa, Mexico, where she was born. After moving to the US in 2001, she began her tamale business as a way of connecting her culture with her new home, making about 500 each week to sell.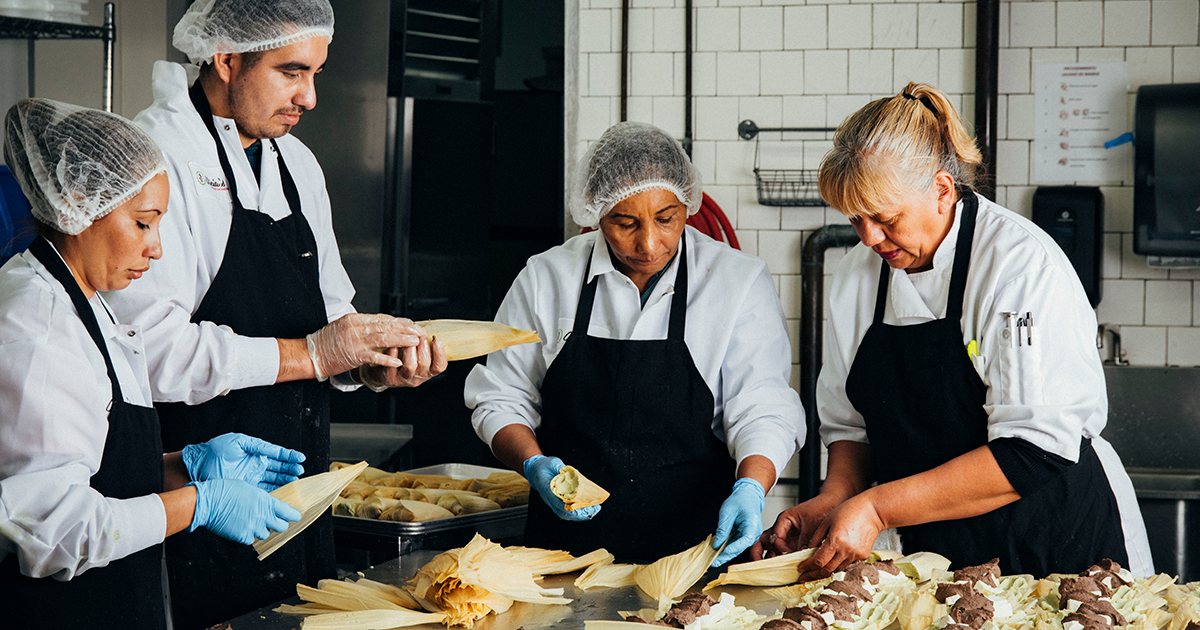 Alicia Villanueva and her team
With the support of La Cocina, Villanueva was able to learn critical new skills and grow her business, Alicia's Tamales Los Mayas, to go way beyond door-to-door sales. She was soon able to open up a 7,000-square-foot factory, employing over 20 people directly from her community. She began receiving opportunities for partnerships with big food retailers like Whole Foods and William Sonoma and recently announced a partnership with Alaska Airlines to feature her tamales.
The company produces over 45,000 tamales a month which is impressive growth for anyone, but a particularly major accomplishment when you consider Alicia's humble beginnings. But what Alicia has been able to do personally with this success is even sweeter.
"In 2019 Alicia was able to send her youngest daughter to college and she and her husband purchased a home after being in San Francisco for 20 years," said Williams.
Creating "things that just didn't exist before"
In the spirit of the business owners they support, La Cocina is, at its core, an entrepreneurial venture itself, spinning up new elements to the program based on changing needs for their entrepreneurs and community. While the cornerstone of their work is their Incubator Program, which currently has 44 entrepreneurs in the program, in the 18 years since La Cocina's founding they've also created their own cookbook, live storytelling show, marketplace, events, and more.
"One of the things I've long been in awe of about La Cocina is how the organization creates things that just didn't exist before," explained Williams. "When La Cocina struggled to get entrepreneurs into food festivals, it created its own, which ran for 10 years. La Cocina created its own cookbook that featured entrepreneurs' recipes and stories in their own words. When La Cocina struggled to get entrepreneurs' into brick-and-mortar locations in an expensive city, we worked with dozens of partners to build the Municipal Marketplace."
The number of "things" La Cocina does to support their community is almost dizzying, but Williams explains how this is critical to La Cocina, and their entrepreneurs' success.
"There are a lot of barriers for BIPOC, women, and immigrant entrepreneurs wanting to enter the food industry,'" said Williams. "Our organization has evolved beyond providing an affordable kitchen space and mentoring to provide access to sales opportunities, like our catering program, which supports entrepreneurs in securing and successfully catering an event."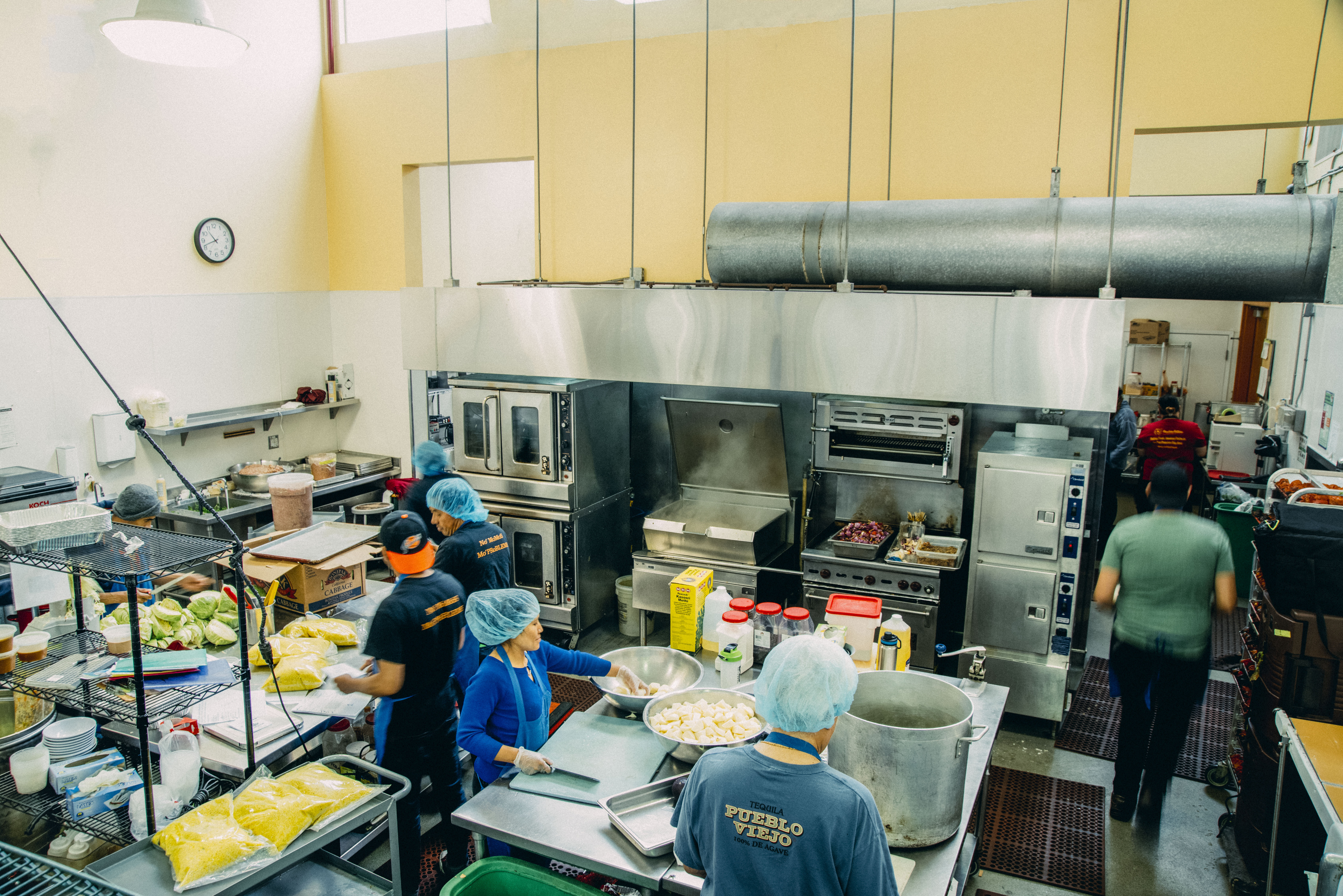 Inside La Cocina's incubator kitchen


A community of support
While La Cocina offers a number of resources and the infrastructure for entrepreneurs to get their businesses off the ground, the support of that staff and community and how La Cocina supports the San Francisco community around them is what really makes the organization special.
"They are some of the most important critics, I love giving them food because they're so honest, and their opinion really matters," said Reyna Maldonado, co-founder of La Guerrera's Kitchen, a La Cocina graduate and Toast customer. "Everyone that works at La Cocina has so many different skills that they bring into the organization, I really love learning from each and every one of them. They go above and beyond to dedicate time to guide and support you to build the structure you need for your business."
Williams explains how the entire community around La Cocina — from donors like Toast.org, to the guests who visit their businesses — are critical to these entrepreneurs' success, and the ripple effect this can have far beyond their individual businesses.
"We have a lot of people who admire the work that we do, but organizations like ours can't survive on admiration alone," says Williams. "The communities that exist here are rich because of all the small businesses that make up those communities. When you donate or patronize businesses that are part of La Cocina, you're enabling these BIPOC, women, and immigrant entrepreneurs to create a business that are unique to their community, and that helps further economic development in our city."
---
Michelle Magat Williams is Head of Advancement for La Cocina and has worked with the organization for over 14 years, volunteering for a decade before joining officially to serve in various roles from serving food at events to serving on its board.
You can learn more about La Cocina on their website, and connect with them on Instagram and LinkedIn.
This information is provided for general informational purposes only, and publication does not constitute an endorsement. Toast does not warrant the accuracy or completeness of any information, text, graphics, links, or other items contained within this content.