New Voice of the Restaurant Industry, served by Toast outlines how restaurants adapt to inflation, labor, and changing guest expectations.

Restaurants are at a crucial time — a historical digital and economic inflection point that may well change the industry forever. Owners and operators are confronted with labor shortages, inflation, and supply-chain issues, while disruptive technologies create new revenue opportunities and operation complexities for restaurants to navigate. As restaurants keep up with changing demands, they're leaning into challenges as new opportunities, showing that the industry's future is adaptable, resilient, and a cornerstone of our society.
To better understand how restaurants navigate the current climate and their priorities for the future, Toast polled more than 900 restaurant decision-makers for its first Voice of the Restaurant Industry survey. Below is a summary of the top challenges restaurants face in 2022 — from labor shortages to increased prices due to inflation — and how businesses are both reacting and planning for the future.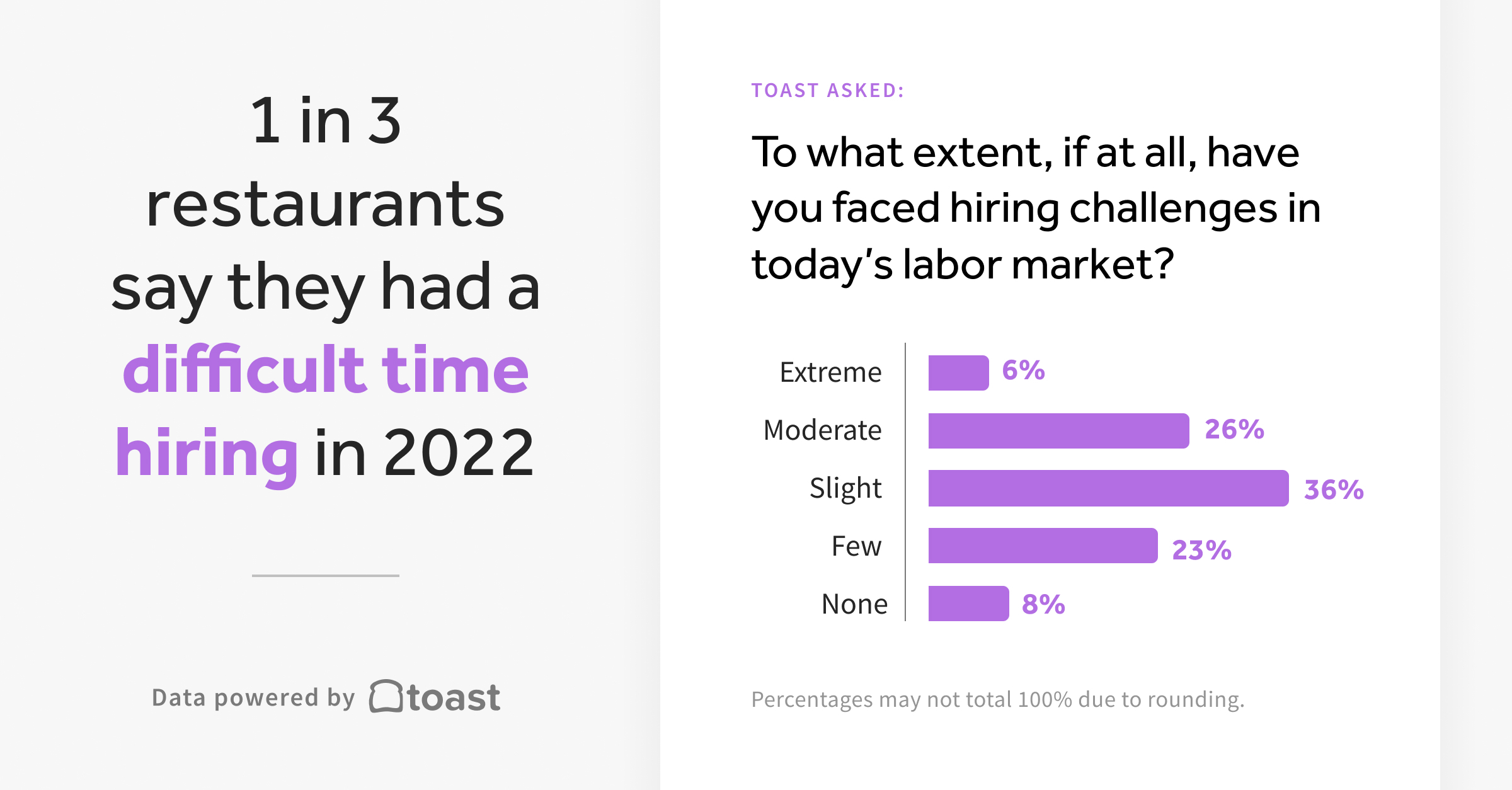 Among inflation concerns, a top issue for restaurants in 2022 is hiring. About 32% of existing restaurants said they faced extreme or moderate hiring challenges this year, which climbed to 44% for new restaurants. These challenges impacted most restaurants and were especially difficult for new restaurants that had to staff from the ground up.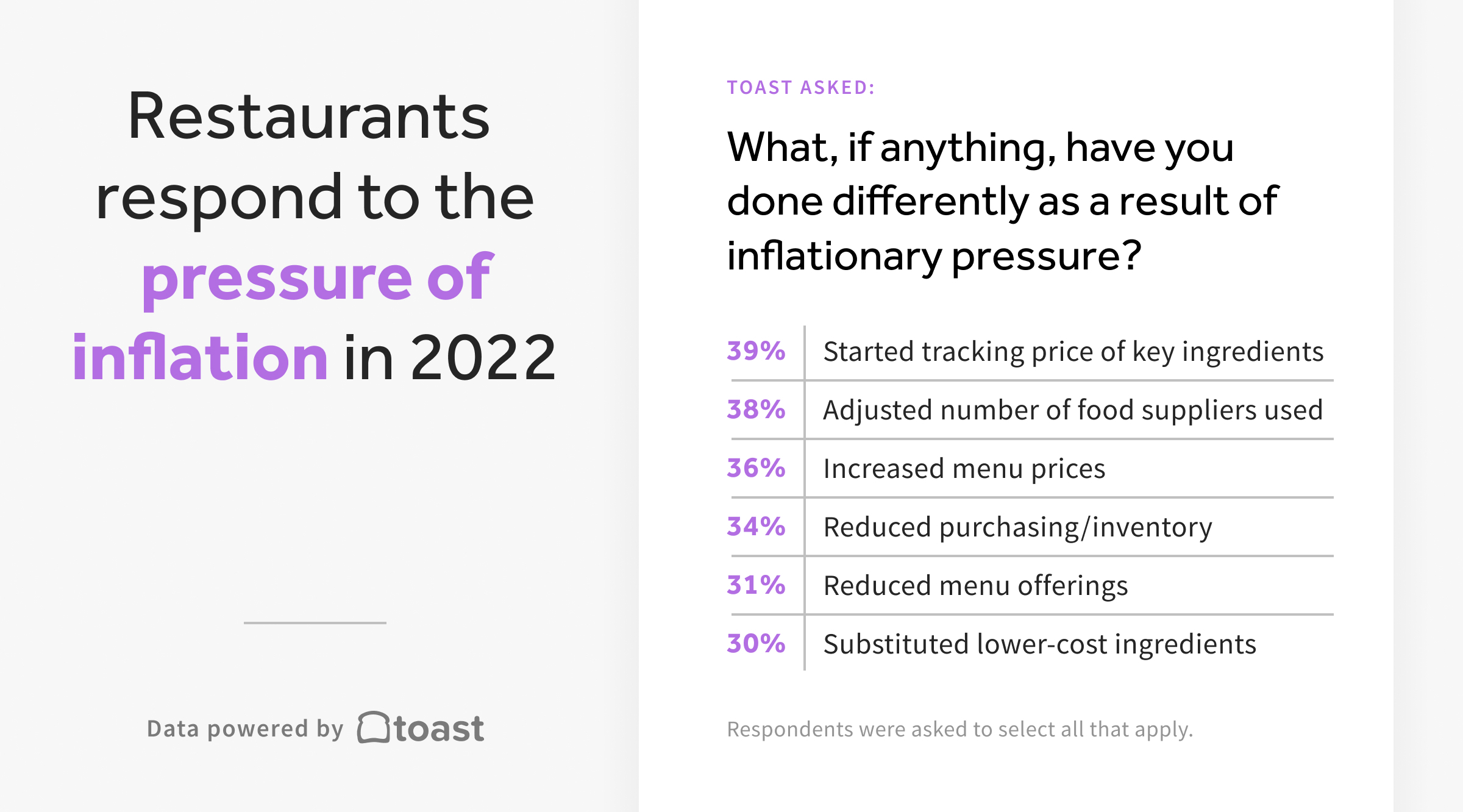 Restaurants adapted quickly to changing macroeconomic conditions in 2022 as inflation rose and prices increased for everything from flour to vendors. They turned to technology to keep their bottom line in check, tracking key ingredients, adjusting their suppliers and inventory levels, increasing menu prices, reducing the number of items on a menu, and substituting lower-cost ingredients.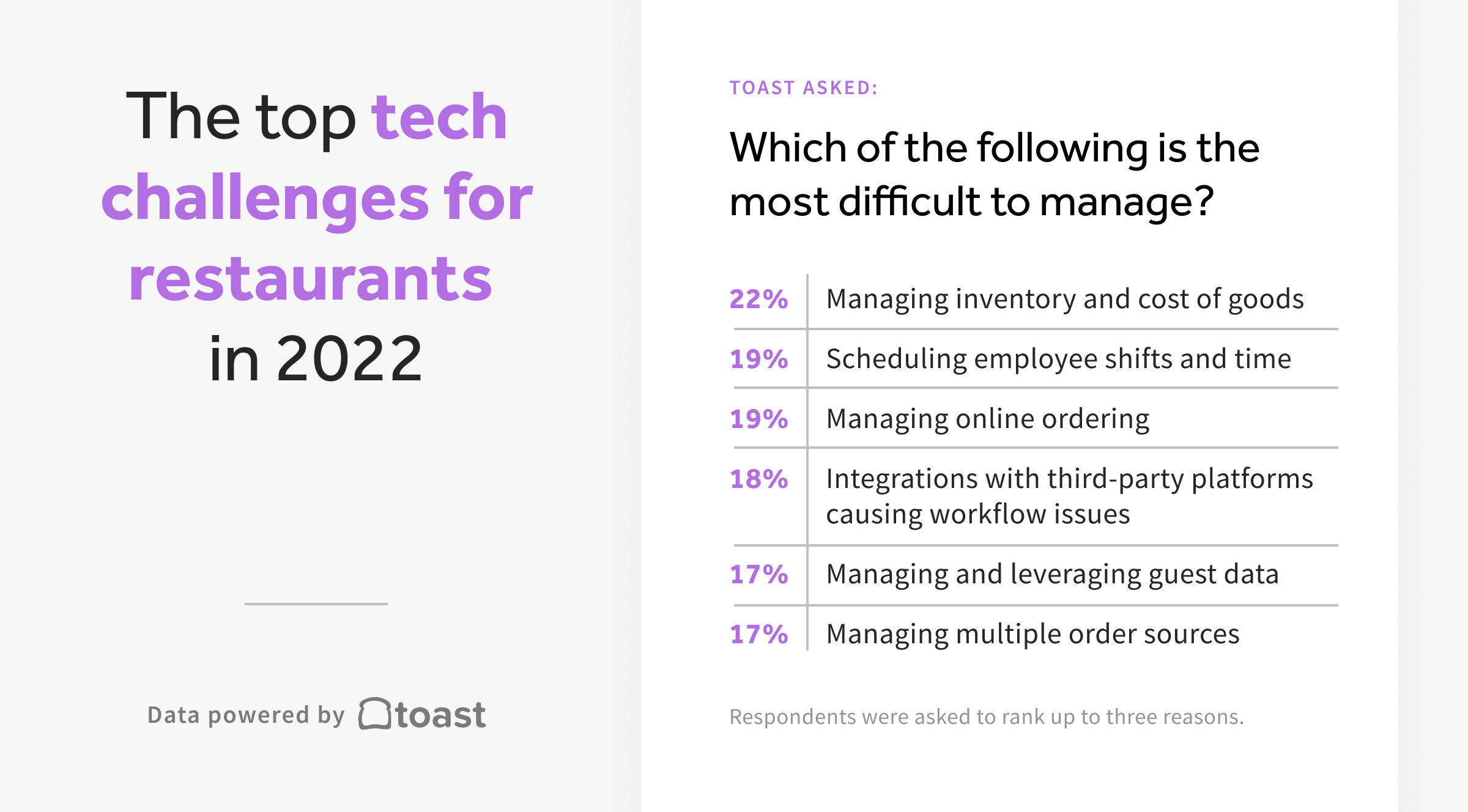 Technology is changing how restaurants operate, creating more efficient systems to help streamline the complexities of running a restaurant. However, some restaurants continue to face technology challenges. Managing inventory and cost of goods topped the list of top tech challenges in 2022, with scheduling employees and handling online orders closely behind. Compared to internal survey results from 2021, challenges related to scheduling employees and managing inventory and goods both increased more than other reasons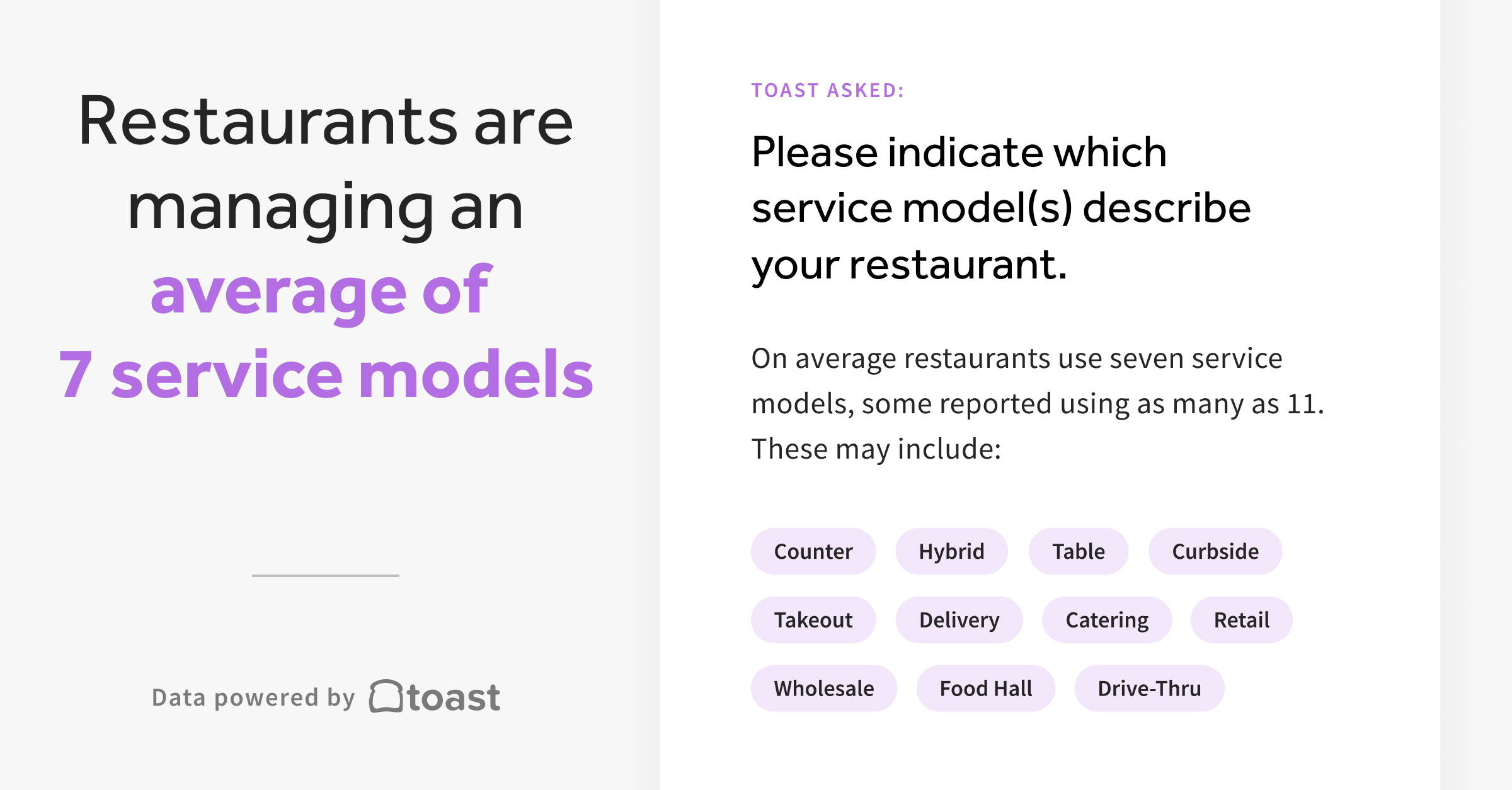 Restaurants are allowing guests to choose the type of service that suits them best by offering a variety of avenues through which their guests can receive service from their business. The average number of service models for restaurants is seven, but some offer up to 11 different models for service. Those service platforms are counter, hybrid, table, curbside, takeout, delivery, catering, retail, wholesale, food hall, and drive-thru.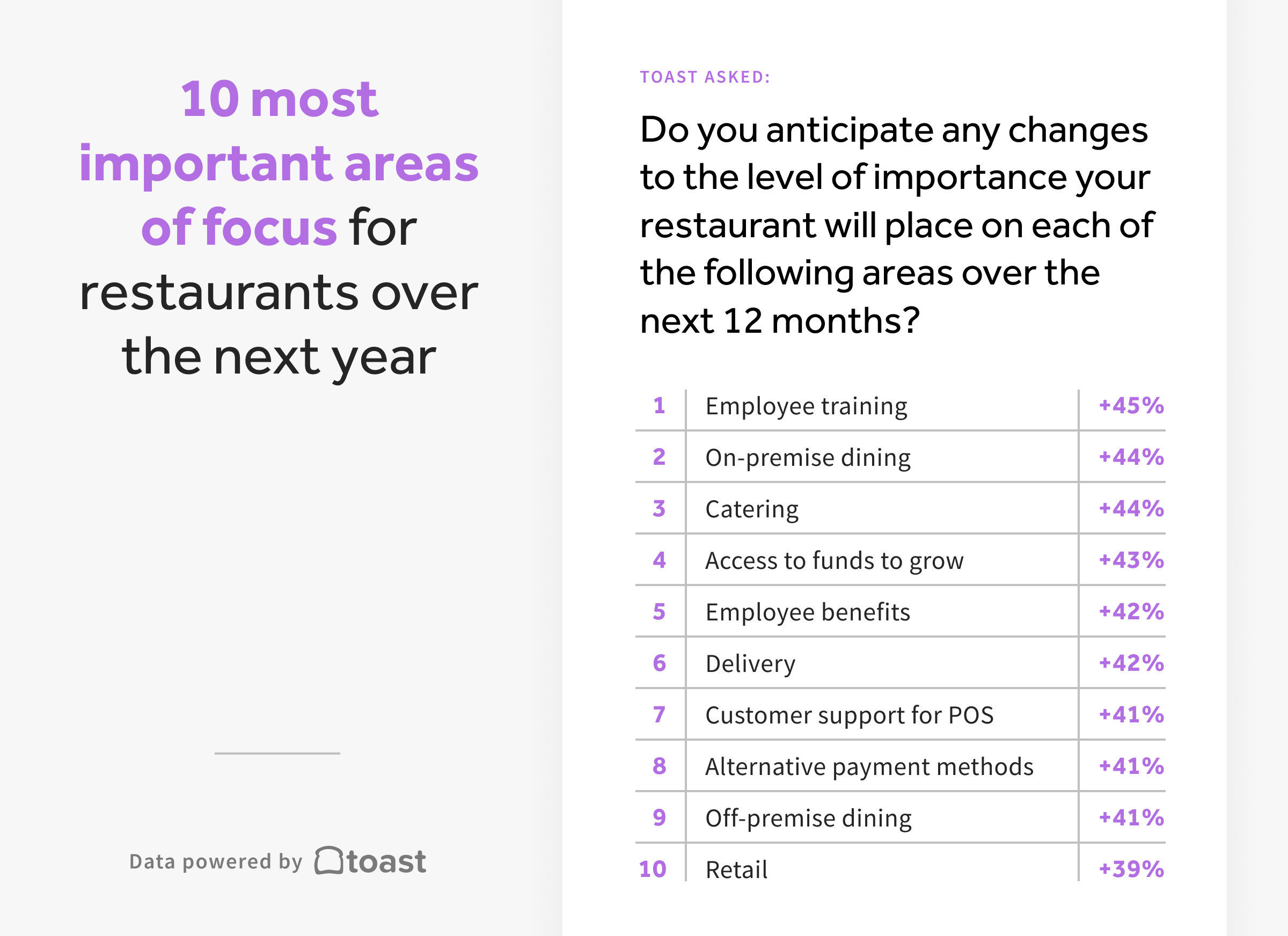 As restaurants adapt to recession fears, inflation, hiring issues, and new guest expectations, Toast asked restaurant operators what parts of their business they anticipate as an area of focus over the next 12 months. Among the top spots, technology can play a significant role in implementing new systems to help restaurants navigate the year ahead.

Methodology:
To help better understand the restaurant industry, Toast conducted a blind survey of 956 restaurant decision-makers from May 13, 2022, to June 28, 2022. Respondents were not made aware that Toast was fielding the study. Panel providers granted incentives to restaurant respondents for participation. Using a standard margin of error calculation, at a confidence interval of 95%, the margin of error on average is +/- 3%.