New solution simplifies table management, personalizes hospitality, and enables restaurants to reach guests where they search
Boston, MA - Toast (NYSE: TOST), the all-in-one technology platform built for restaurants, today announced the launch of Toast Tables, a reservation and waitlist management solution that integrates with the company's robust restaurant technology platform. Toast Tables gives restaurants an affordable option to manage seating and turn first-time guests into regulars, including features like real-time table updates, automatically synced server rosters, and personalized guest profiles to power Toast Marketing and Loyalty integrations. The new suite is available to Toast customers for a flat monthly price, no fees per cover, and package options for different seating policies.
As part of the new solution, Toast also expands its collaboration with Google to tap into millions of guests searching for restaurants and enable them to book a reservation through Toast Tables, directly on a restaurant's Google Business Profile. According to Toast's Voice of the Restaurant Guest survey*, when it comes to finding full service restaurants, guests use Google Maps more than any other restaurant discoverability channel except for personal recommendations. The extension of this collaboration helps restaurants to save money on costly third-party reservation platforms—which account for only three percent of guests' restaurant discovery*.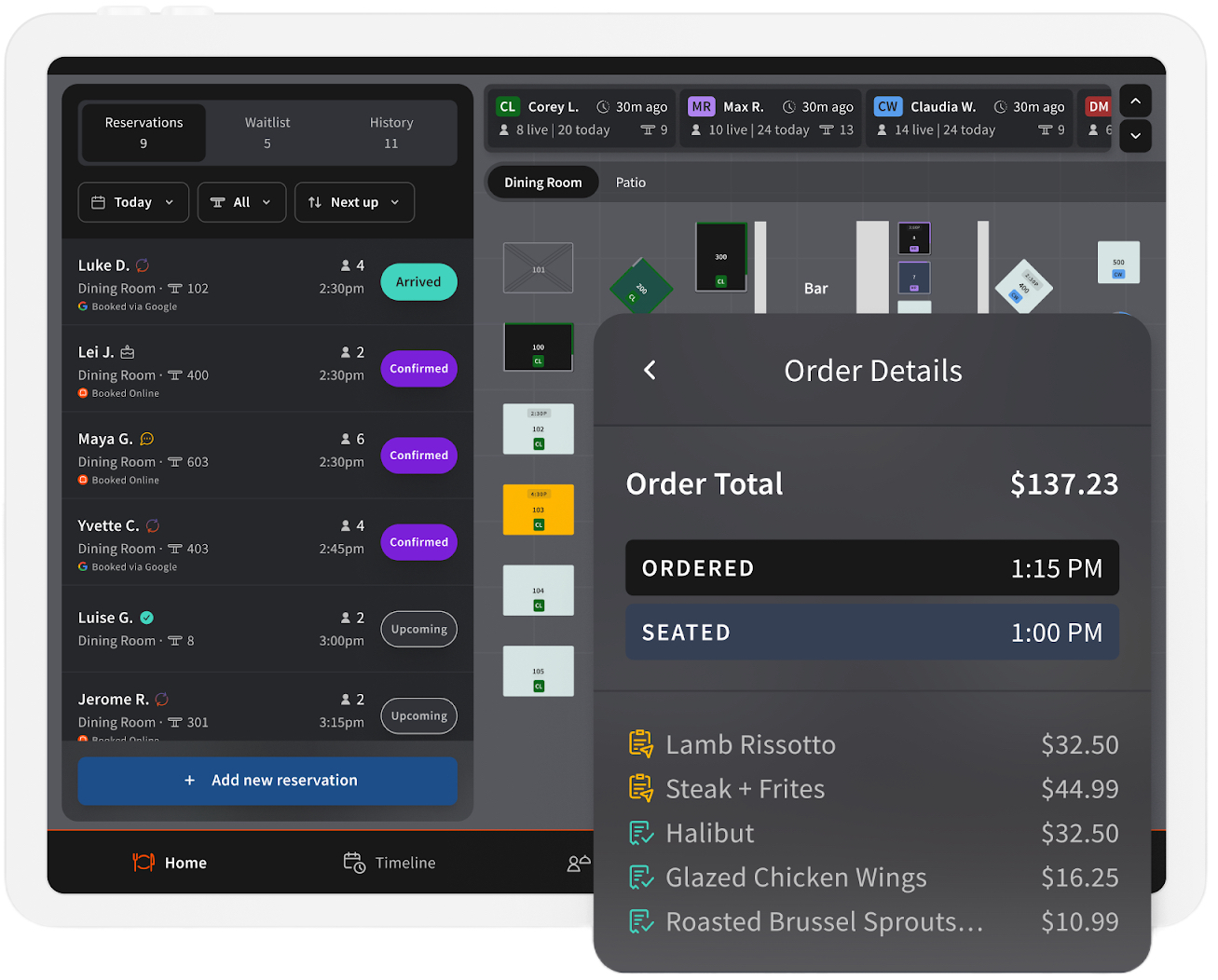 With real-time table status updated from the Toast Point-of-Sale and Kitchen Display System, the host can see what guests have ordered, when orders have been fulfilled, and when they have paid for their meals.
"Reservation and waitlist management capabilities have moved from 'nice to have' to 'must have' for many restaurants in recent years," said Aman Narang, Chief Operating Officer and Co-Founder of Toast. "Toast Tables empowers restaurants to provide more personalized and efficient hospitality before, during, and between guest visits. We're pleased to see our collaboration with Google come to life again in this launch and benefit the restaurant community."
Toast Tables allows restaurants to:


Benefit from a fully integrated reservation and waitlist solution: Toast Tables is easy to use and integrates with the broader Toast platform. Toast Tables syncs seamlessly with products like Toast Point of Sale (POS) and Kitchen Display Systems (KDS), so restaurants can spend less time updating systems and more time with their guests. Restaurants can get started in minutes with a host app on select Android and iOS devices that automatically imports their floor plan and server roster while eliminating the need to manage a separate reservation and waitlist provider.
Manage capacity without the complexity: With real-time table status updated from the POS and KDS, the host can see what guests have ordered, when orders have been fulfilled, and when they have paid for their meals. Hosts can keep servers happy by seating based on built-in cover counts and "next up" server rotations. Restaurants can avoid no-shows thanks to estimated wait times, automated notifications, and two-way SMS messaging, which make it easy for guests to stay up-to-date and communicate if their plans change.
Personalize hospitality to turn first-time guests into regulars: Guests can easily find restaurants they love and reserve a table or join an online waitlist directly from Google Search and Maps. With personalized guest profiles, restaurants can anticipate preferences, recognize special occasions, reward regulars or VIPs, and grow their marketing list. Guests can view the menu to prepare for their visit and even opt into the restaurant's loyalty program, so that owners and operators can prompt repeat visits by re-engaging guests with meaningful conversation and offers.
"Toast Tables has become one of my favorite parts about Toast," said Franco DiCarlo, owner of PA House. "Turn times, check sizes, popular items, server efficiency - I can see it all right from my iPad. With online reservations through our website as well as through Reserve with Google, our guest list stays full, and with auto-confirmation texts, we're able to keep it that way."
Learn more about Toast Tables.
*Data from Voice of the Restaurant Guest, served by Toast. Toast conducted a blind survey of 969 US consumers from January 13, 2023 – January 23, 2023. Respondents were not made aware that Toast was fielding the study. Incentives for participation were granted to respondents from the panels that conducted the survey. The margin of error is +/-3 percent.
---
FORWARD-LOOKING STATEMENTS
This press release contains "forward-looking statements," within the meaning of Section 27A of the Securities Act of 1933, Section 21E of the Securities Exchange Act of 1934 and the Private Securities Litigation Reform Act of 1995. Forward-looking statements may be identified by the context of the statement and generally arise when Toast or its management is discussing its beliefs, estimates or expectations. Such statements generally include the words "believes," "plans," "intends," "targets," "may," "could," "should," "will," "expects," "estimates," "suggests," "anticipates," "outlook," "continues," or similar expressions. These statements are not historical facts or guarantees of future performance, but represent the beliefs of Toast and its management at the time the statements were made regarding future events which are subject to certain risks, uncertainties and other factors, many of which are outside Toast's control. Actual results and outcomes may differ materially from what is expressed or forecast in such forward-looking statements. Forward-looking statements include, without limitation, statements regarding the expected results of the launch of Toast Tables and the benefits of Toast's expanded collaboration with Google on Toast's business and operations.
The forward-looking statements contained in this release are also subject to other risks and uncertainties, including those more fully described in Toast's filings with the Securities and Exchange Commission ("SEC"), including in the sections entitled "Risk Factors" and "Management's Discussion and Analysis of Financial Condition and Results of Operations'' in Toast's Annual Report on Form 10-K for the year ended December 31, 2022 and Toast's subsequent SEC filings. Toast can give no assurance that the plans, intentions, expectations or strategies as reflected in or suggested by those forward-looking statements will be attained or achieved. The forward-looking statements in this release are based on information available to Toast as of the date hereof, and Toast disclaims any obligation to update any forward-looking statements, except as required by law. These forward-looking statements should not be relied upon as representing Toast's views as of any date subsequent to the date of this press release.