Restaurant tips hold steady for another quarter despite rising food costs.
BOSTON, MA – November 17, 2022 – Toast (NYSE: TOST), the all-in-one digital platform built for restaurants, today announced its Q3 Restaurant Trends Report, providing visibility into the overall state of the restaurant industry through aggregated sales data from selected cohorts of restaurants on the Toast platform, which serves approximately 74,000 locations in the U.S. as of Sept. 30, 2022.
Restaurants continued to manage rising food costs and labor constraints in Q3 of 2022, as inflation finally started to slow but remained the highest it's been in decades. Despite higher prices at the table, patrons continued to tip well, especially in full-service restaurants. Here are some of the key findings Toast observed this quarter: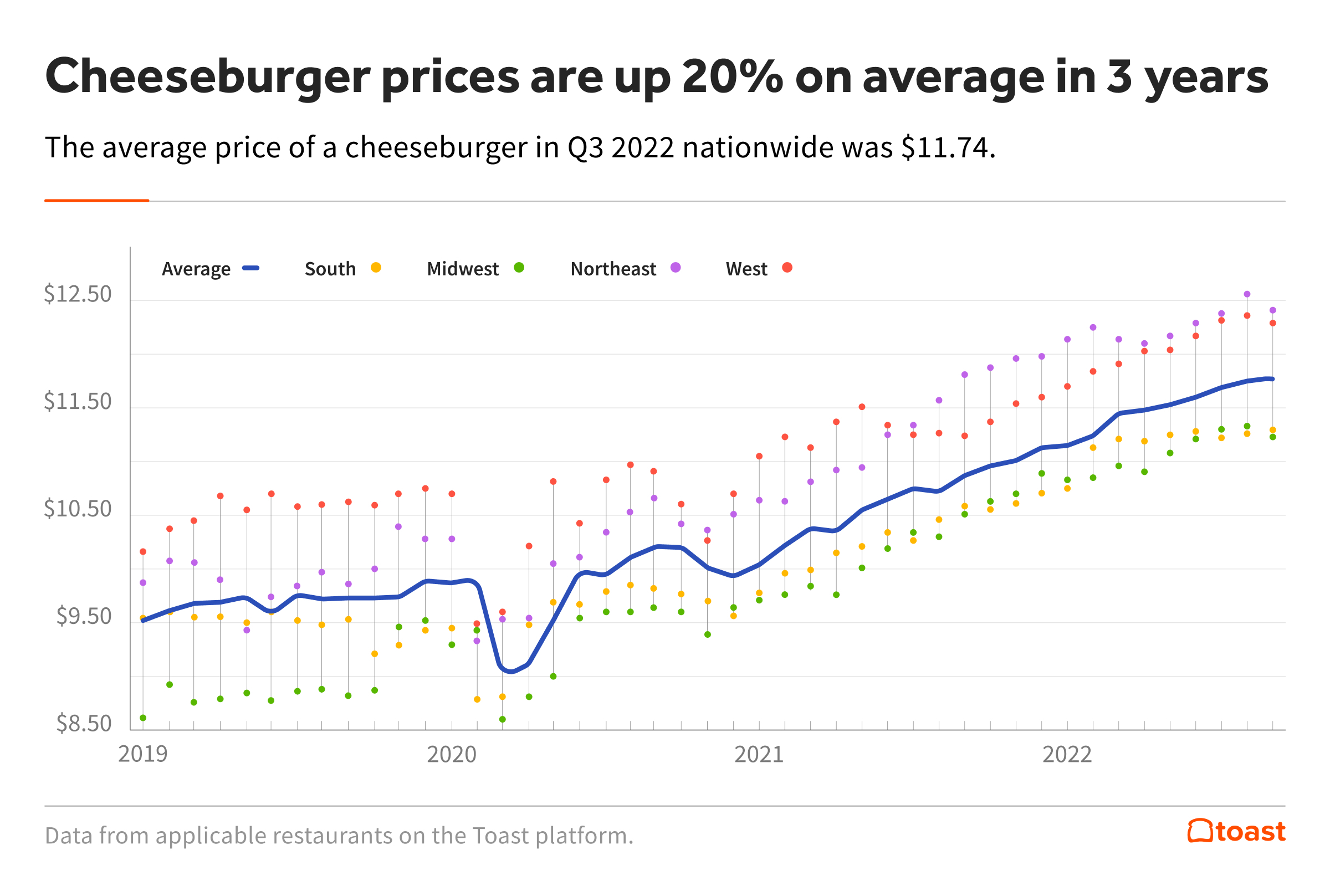 Inflation has touched nearly all aspects of life in the past two years, including an American food staple: the cheeseburger. Toast analyzed burger prices from applicable restaurants on its platform and found that the menu price for a cheeseburger has jumped significantly in recent years. The average price of a cheeseburger in Q3 2019 was $9.74. In Q3 2022, the average price jumped to $11.74. That's an 8.9% increase YOY and $2 more compared to Q3 2019 before the COVID-19 pandemic — a 20% increase in just three years.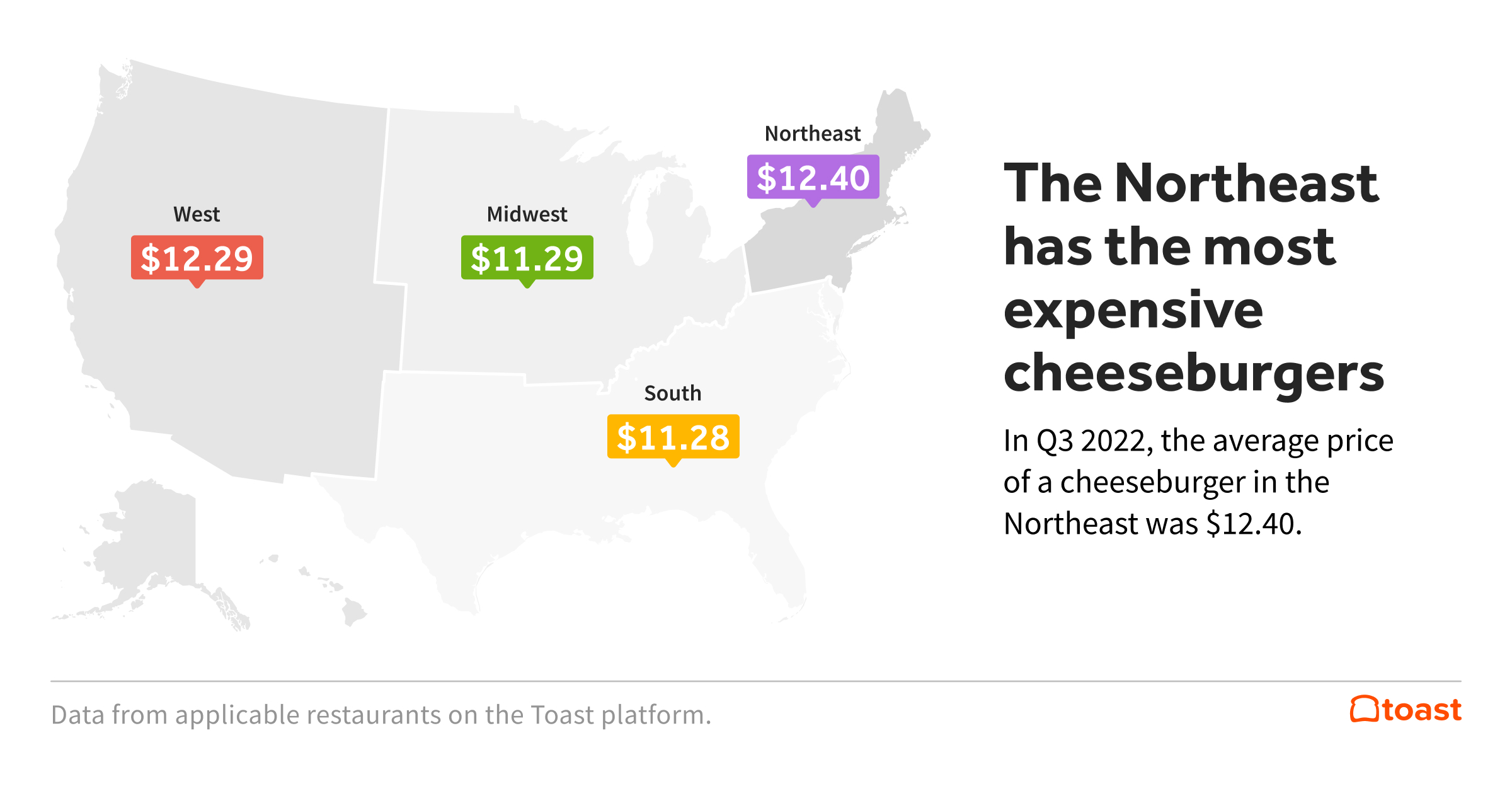 Toast observed the average menu price of cheeseburgers by region and found the Northeast takes the prize for the area with the most expensive cheeseburgers in the United States. In Q3 2022, the average price of a cheeseburger was $12.40 in the Northeast, $12.29 on the West Coast, $11.28 in the South, and $11.29 in the Midwest.

To gain further insight into state tipping trends, Toast looked at the average tip percentage for both quick and full-service restaurants in each state across transactions where a tip was added to the order via a credit card or digital payment. Indiana remains the state with the highest average tip percentage at 21% for the third quarter in a row in Q3 2022, though Delaware is inching closer with an average tip percentage of 20.9%. To beat Indiana, Delawareans will need to tip more at quick-service restaurants.
California, one of the most expensive states in the country, had the worst tipping percentages for both full-service restaurants (18.3%) and quick-service restaurants (15.3%). Rhode Island also shared the lowest tip rate for QSRs at 15.3%, though its average tip percentage for FSR in Q3 was much higher at 20.5%.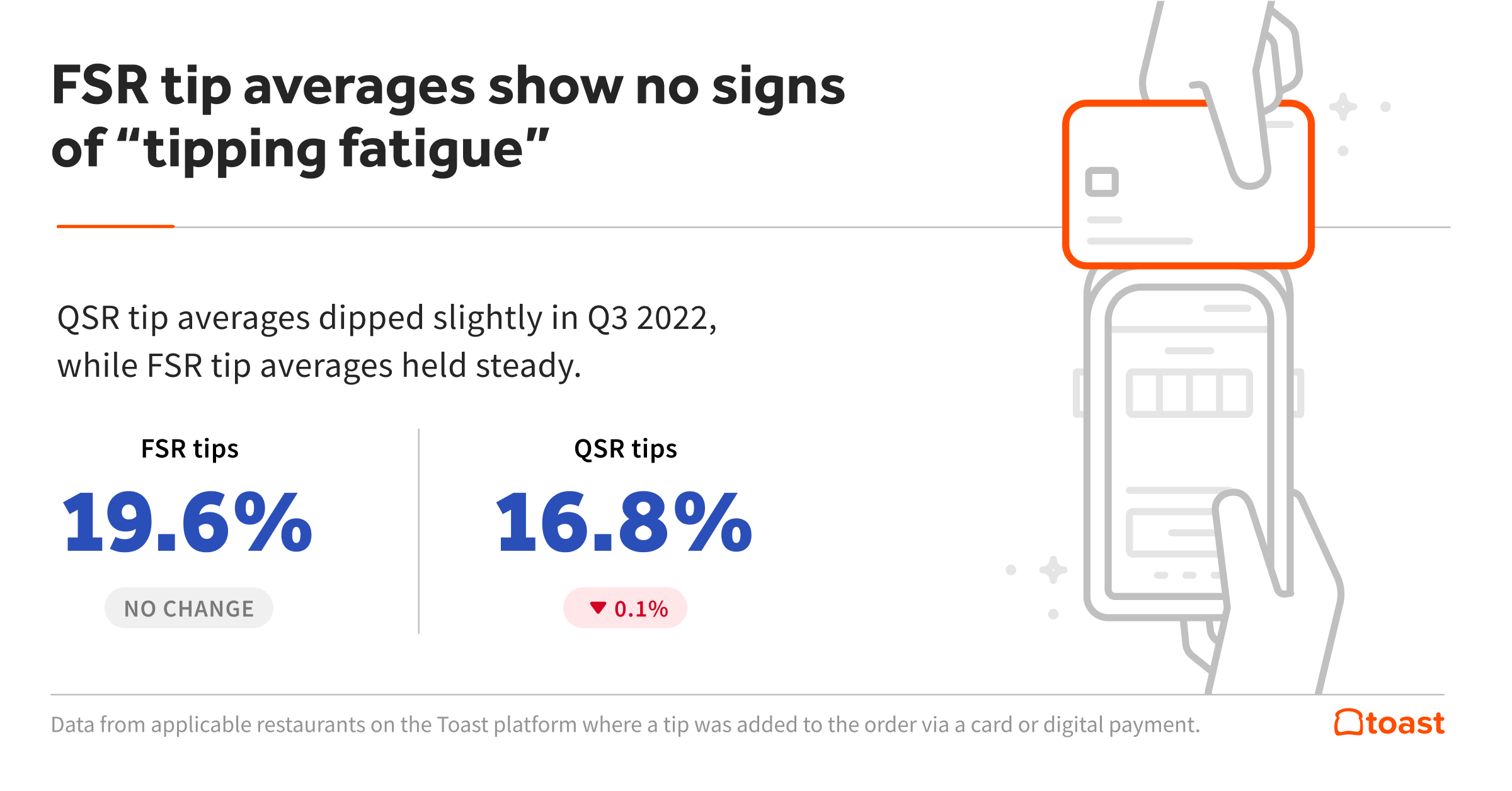 Consumers continued to tip restaurant staff generously as inflation remained high in Q3 2022. The tipping percentage for quick-service restaurants dipped slightly this quarter, averaging 16.8% vs. 16.9% in Q2 2022. Tips at full-service restaurants remained unchanged in Q3, averaging 19.6%. Diners continued to tip more when eating inside an establishment, as in-person dining tips averaged 19.6% in Q3 2022, while those who got delivery or takeout tipped an average of 14.4%.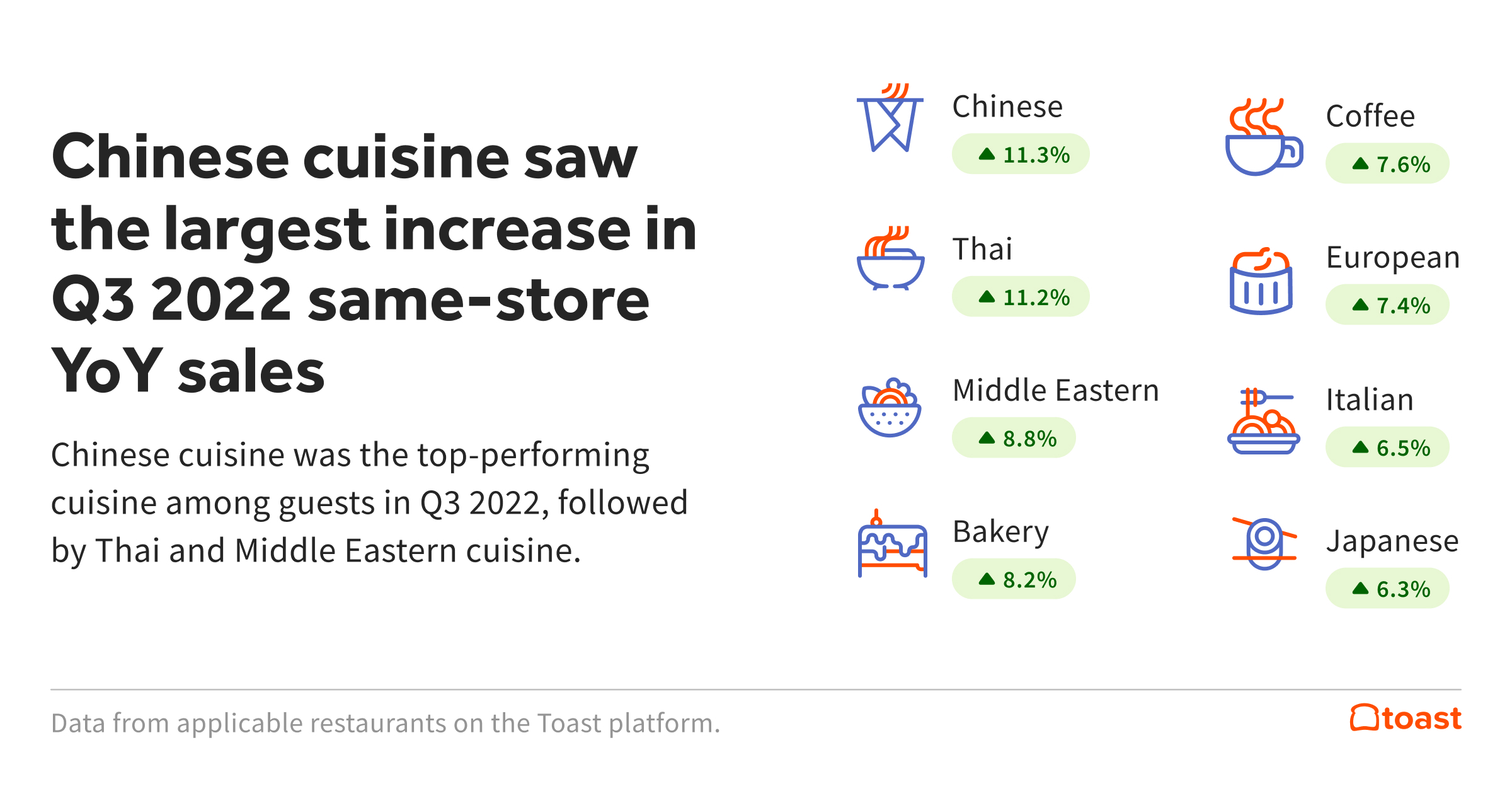 Chinese cuisine had the most significant increase in YOY same-store sales in Q3 2022 at 11.3%, followed by Thai at 11.2% and Middle Eastern cuisine at 8.8%. Bakeries cooked up an 8.2% increase, while coffee sales jolted a 7.6% increase in Q3 2022 YOY sales. European food sales increased by 7.4%, and Italian cuisine grew sales by 6.5%. Japanese cuisine sales increased by 6.3%, and pizza sales grew by 5.7% in Q3 2022 YOY sales.
Methodology
The Restaurant Trends Report, powered by Toast, uncovers key trends across the restaurant industry through aggregated sales data from a cohort of restaurants on the Toast platform, which has approximately 74,000 locations as of Sept. 30, 2022, in the U.S. All growth rates are calculated on a same-store sales basis for the applicable period of time. The Restaurant Trends Report is not indicative of the operational performance of Toast or its reported financial metrics, including GMV growth and same-store GMV growth.
Cheeseburgers: Toast analyzed all menu items sold on a one-week period each month from January 2019 to September 2022 and identified keywords and phrases to determine cheeseburgers as a menu item. Cheeseburger adjacent menu items such as veggie, turkey, black bean, vegan, and slider burgers were excluded. Kid menu items were also excluded in addition to double, triple, and quad to account for multi-patty burgers. Unit prices analyzed were greater than zero and less than $50 to exclude promotions and overtly expensive burgers from fine-dining restaurants.