BOSTON, MA - Toast (NYSE: TOST), the all-in-one digital technology platform built for restaurants, today announced new members to its 2023 Customer Advisory Board (CAB). Founded in 2021, the CAB comprises thought leaders from across the Toast customer network who help provide Toast with valuable industry and customer insights that help guide the future of Toast and the restaurant community. Toast has partnered with small-to-medium business (SMB) and enterprise customers to work closely with the company to provide feedback and discuss strategies to help restaurants thrive.
"Learning from the experiences of others is essential in the hospitality space and is a value that we embrace at Toast," said Katherine Kalec, Director of Customer Marketing. "Adding new members to our Customer Advisory Board is an opportunity for Toast to learn more about the unique challenges many restaurants face so that we can adapt, innovate, and find new opportunities to improve the industry. We're delighted to welcome this new class of members to the Customer Advisory Board."
Working together with the Customer Advisory Board:
Since its founding in 2021, the Toast CAB program has guiding principles that aim to achieve several goals, including gaining customer insight, validating strategic direction, and creating an open forum for new feature requests. The CAB also plays a crucial role in informing product direction and influencing decision-making for improvements within the Toast ecosystem.
Members of the CAB collaborate on business issues through structured workshops designed to ideate and build solutions to the industry's key challenges, and the program provides an enhanced network and community. Additionally, Toast provides thought leadership opportunities by connecting CAB members with media platforms to share their expertise with broad audiences in restaurants, tech, and business.
The program directed $10,000 in grants from Toast.org to The Food Project, a nonprofit that works at the intersection of youth, food, and community. Toast.org has since donated an additional $40,000 to the organization.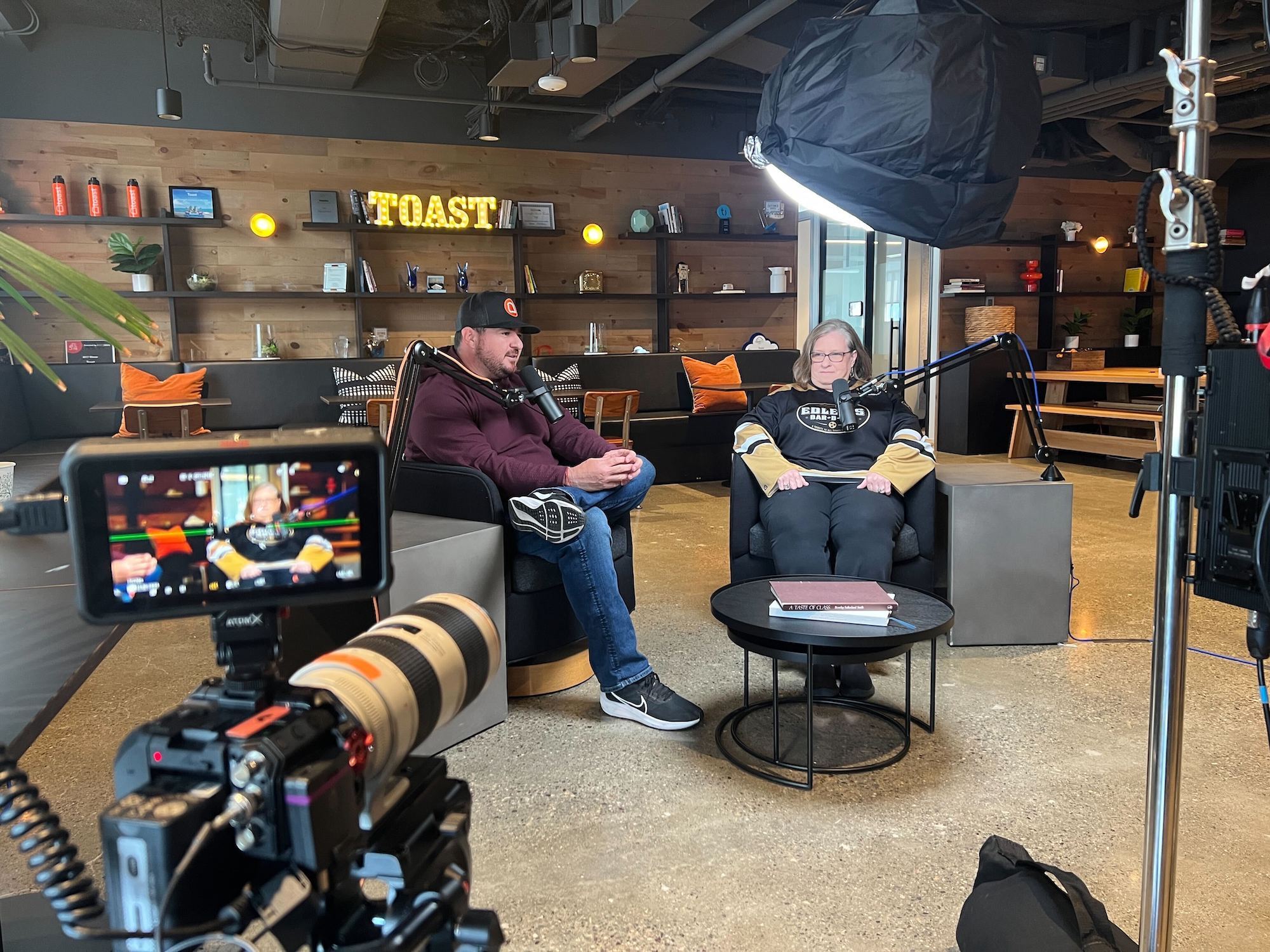 CAB members Shawn Walchef and Sara Finnegan
"Being part of the Toast Customer Advisory Board allows me to be in a community of users passionate about improving the customer experience," said Kelly Vega, Owner of St. Joe Community Taproom. "As an advisory board member, I hope to share feedback and insights with other Toast users that we can use to enhance the user experience, provide the best service, and grow the Toast Community."
"I am thrilled to be a part of the Toast's Enterprise Customer Advisory Board," said Massimo Mallozzi, Vice President of Information Technology at Paris Baguette America. "As a part of a high-growth brand, it is exciting to collaborate with a partner that shares a passion for continuously innovating and improving the guest experience. In the CAB, I have an opportunity to share ideas with the product team and influence decisions on product improvement, as well as build relationships with other industry leaders to hear about their challenges, successes, and how Toast can support continued success for all its customers. I look forward to the continued partnership and collaboration to drive joint success in the partnership."
Meet Toast's new SMB CAB members:
Caitlin Donahue Events & Operations Manager, State Bird Provisions, The Progress, and The Anchovy Bar San Francisco, CA
Crystal Drakes Regional Director, Spice House Restaurant & Lounge, Atlanta, GA
Nia Grace Proprietor, Operator, Darryl's Corner Bar & Kitchen, Boston, MA
John Keith Owner, THINK Coffee, Conway, AK
Alyssa Lee Managing Partner, Mei Mei Dumplings, Boston, MA
Jefferson Macklin President, CEO, Bar Mezzana, Boston, MA
Matthew Malikowski Director of Operations, Groton Hill Music Center, Groton, MA
John Myers Chief Technology Officer, Big Tree Hospitality, Portland, ME
Ran Nussbacher CEO, Shouk, Washington, D.C.
Andrei Stern CFO, Partner, SuViche Hospitality Group, Miami, FL
Kelly Vega Owner, St. Joe Community Taproom, St. Joseph, MI
Brady Vicciello Owner, Steinhilbers, Virginia Beach, VA
Britany Vinson Chef, Owner, Tomé Catering, Lufkin, TX


Meet Toast's new Enterprise CAB members: