Company deepens support for cafes, coffee shops, and bakeries with Catering Online Ordering, Restaurant Retail, and other products
Boston, MA — Toast (NYSE: TOST), the all-in-one technology platform built for restaurants, today announced the launch of Toast for Cafes & Bakeries—a new solution designed to help cafes, coffee shops, and bakeries add new revenue streams, speed up service with faster workflows, meet guests where they are, and grow their business. Catering Online Ordering and Restaurant Retail are among the exciting new features that cafes, bakeries, and all other restaurant types Toast serves can benefit from using. Toast for Cafes & Bakeries builds on recent launches from Toast that introduce functionality tailored for specific restaurant categories, such as last year's releases of Toast for Quick Service and Toast for Hotel Restaurants.
"Running a successful cafe or bakery requires meticulous planning and preparation to produce a high volume of great food and drinks daily while also providing lightning quick service during the morning and afternoon rush," said Aman Narang, Co-Founder and COO of Toast. "Toast for Cafes & Bakeries is designed to handle everything from rush times to catering orders, merchandise, and more. Whether getting a first location off the ground, growing new revenue streams like retail or catering, or accessing functionality specifically designed to make cafes and bakeries more efficient, Toast is an ideal partner."
New Catering Online Ordering adds revenue stream, helps save time
Approximately four out of five small to medium-sized cafes and bakeries derive a portion of their sales from catering— generating 12 to 32 percent of their revenue from this channel, according to a recent Toast survey.1 Available in Toast's Catering & Events Pro module, Catering Online Ordering helps cafes, bakeries, and other restaurants customize their digital ordering experience to fit their catering operations. This provides a frictionless online ordering experience, making prep for large orders easier, and expanding Toast's digital ordering capabilities to enable restaurants to continue growing their off-premise revenue streams. Restaurants can set separate hours of operation for the catering business, longer lead times for large orders, and even order minimums. Staff can also easily prep for big orders, creating printable pack sheets and prep lists, and tracking catering orders through a shared calendar.
"As a bakery, Toast has been a game-changer," said Steven Rennau, Director of Operations at Toni Patisserie & Café in Hinsdale, Illinois. "With Catering Online Ordering the entire team saves time. It gives us a bit more control as we can set longer lead times and higher minimum order size. In addition, we were able to roll out an entirely new category of 'Celebration Cakes' —we're talking about $150-$175 cakes coming in online."
Restaurant Retail—a unified foodservice and retail POS system
For many restaurants, including cafes, coffee shops, and bakeries, food service and retail go hand in hand. Guests may want to get a bag of coffee beans, a branded mug, or other curated goods with their morning latte. Unlike most POS products on the market today, Restaurant Retail provides a unified foodservice and retail platform on a single account, giving restaurants like cafes, coffee shops, and bakeries the power to use merchandise, dry goods, and other items to build their brand and cater to their customer base. Restaurants can easily and efficiently manage their barcoded inventory providing tools that allow them to create and update inventory across multiple locations, generate and print barcodes, and auto-calculate mark-ups to help optimize margins. Unlike other retail solutions for restaurants that separate the POS from inventory lists, Restaurant Retail is purpose-built to allow retail items to flow throughout Toast products such as its POS terminals, online ordering, and kiosks, enabling restaurants to seamlessly manage both the foodservice and retail elements together.
"The interface was so many levels above what we were using. When I peeked behind the curtain and saw some of the features Toast offers, I was sold," says Shayna Ferullo, founder of Snowy Owl Coffee Roasters on Cape Cod, Massachusetts. "Having Toast Restaurant Retail gives us much more confidence in adding new SKUs to our shelves."
Additionally, Toast for Cafes & Bakeries allows restaurants to:
Input complex orders easily and quickly with Open View: Open View simplifies order-taking by displaying items and modifiers all at once, a critical innovation for establishments with a high volume of highly configurable menu items. Staff taking complicated coffee orders, for example, can input a guest's exact preferences in any order on a Toast POS terminal via the new layout according to the natural flow of conversation.
Reduce chaos at the pickup counter with Order-Ready Boards: Toast's new Order-Ready Boards allows staff to share the status of an order on a guest-facing screen within the restaurant. Instead of staff calling out to guests that their latte is ready, cafes, coffee shops, and bakeries can uplevel the order pickup experience.
Reward guests for becoming regulars with Item-Based Redemption and Offers: Coming this fall, Item-Based Redemption lets cafes and bakeries configure menu items as rewards, allowing guests to redeem a free item in exchange for loyalty points. Toast's new Offers feature lets staff create wow-moments for guests by designing custom promotions like Buy One Get One deals or half off pastries after 3pm. With these out-of-the-box tools, cafes, coffee shops, and bakeries can now easily keep regulars coming back without having to devote time and resources to build features like this on their own.
Be the heart of the community with Fundraising: The Toast Fundraising feature allows restaurants to pick their favorite non-profit to support and gives guests the option to round up their check to the next dollar and donate the difference. To maximize impact and contributions, this can be surfaced to guests on several Toast products, including Toast Flex terminals, Toast Go handheld devices, Toast Online Ordering, and the Toast TakeOut app.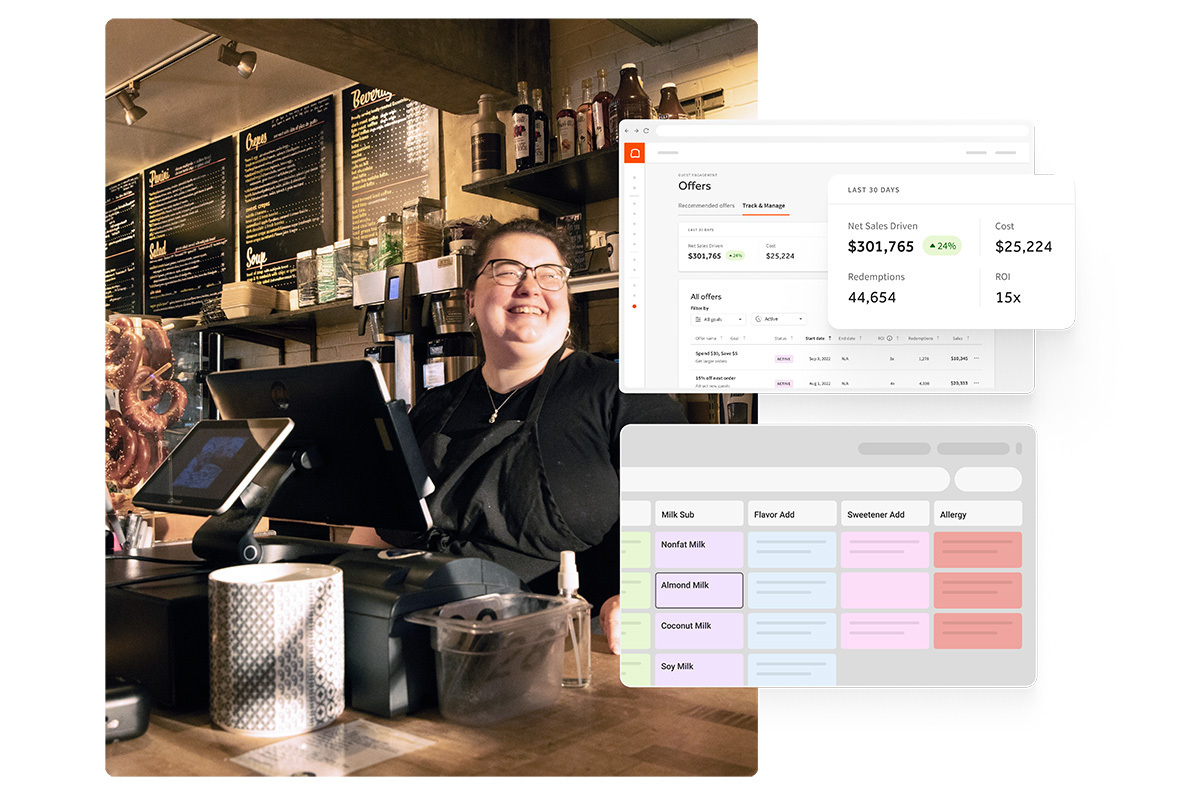 Toast for Cafes & Bakeries is designed to help restaurants thrive. Multi-location cafe and bakery Maman has grown with Toast from six to 25+ locations across the eastern seaboard with more locations planned.
"Toast has made it so much easier for us to grow," said Benjamin Sormonte, Co-Founder and CEO of Maman. "Without having a partner like Toast, it would've been very complex and challenging for us to continue to expand."
Learn more about Toast for Cafes & Bakeries.