Boston, MA - October 11, 2022 - Toast (NYSE: TOST), the all-in-one digital platform built for restaurants, today announced the launch of Toast Invoicing, a new product to help restaurants seamlessly manage catering and wholesale orders alongside their in-person, takeout and delivery business. Available at no additional monthly cost* to existing customers, Toast Invoicing allows restaurants to streamline operations and simplify payments for all types of orders and events, merging revenue sources that had otherwise required multiple systems to manage.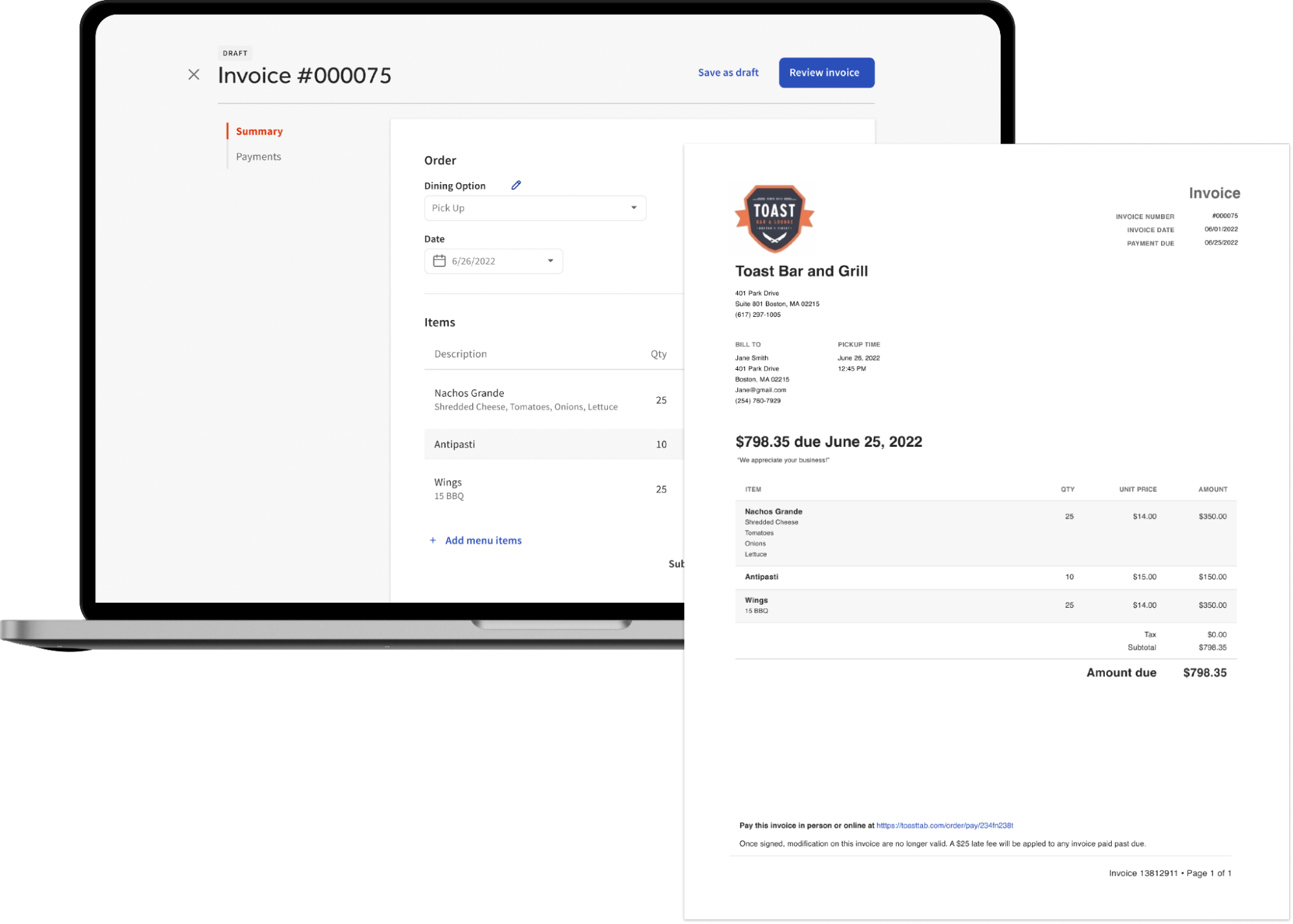 Toast Invoicing allows restaurants to create and send itemized, digital invoices to their customers for catering, events, and even wholesale orders.
"Whether it's a bakery fulfilling an order for a wedding or a downtown brewery selling craft beer to other local businesses, restaurants have evolved to more than just providing guests an incredible on-site experience," said Aman Narang, president and co-founder of Toast. "Our customers are managing in-person dining, online orders, catering and wholesale orders all under one roof. Toast Invoicing is another key building block for restaurants to expand their service models and grow their entire business all on one platform with Toast."
"I used to designate about one to two days to invoicing," said Brynn Keefe, cake shop manager of Luna Bakery & Cafe. "Now within five or ten minutes, I can send a contract through an invoice and the customer pays it within a day or two. I never would've thought the food industry would need technology like we do. Now that it is here, I can't imagine life without Toast Invoicing."
According to Toast's first Voice of the Restaurant Industry survey, 72 percent of restaurants offer catering in addition to their on-premise business. Catering is one of the top three areas of focus for restaurant owners and operators heading into 2023.** However, many restaurants need a different system to bill customers for catering, wholesale and house account balances. Toast Invoicing eliminates the need for multiple systems by integrating the invoices with a restaurant's existing sales and operations. Toast Invoicing allows restaurants to:
Streamline catering and wholesale with integrated order and payment tracking
Toast Invoicing enables restaurants to easily capture orders online, print full page prep sheets, and track orders through a calendar view that is fully integrated with Toast Point of Sale and Toast Kitchen Display System (KDS). It provides everyone from catering managers to back of house staff access to the tools and information they need to be successful.
Easily manage invoices for all types of orders
Toast Invoicing integrates directly with a restaurant's menu in Toast, so they can simply itemize invoices from their existing menu. It also allows restaurants to accept tips with an invoice and digitally distribute them to staff using Toast Payroll & Team Management.
Simplify payments
Toast customers have the ability to send an invoice from any device, not just their point of sale system. They can set payment due dates and reminders as well as collect and redeem deposits. Through Toast Invoicing, a restaurant's customer has the flexibility to pay online at any time.


Learn more about Toast Invoicing.
* Toast Invoicing is available at no additional monthly cost. Online payments accepted through Toast Invoicing are processed as card not present transactions subject to processing fees.
** Data from Voice of the Restaurant Industry, served by Toast. Toast conducted a blind survey of 956 restaurant decision-makers from May 13, 2022, to June 28, 2022. Respondents were not made aware that Toast was fielding the study. Incentives for participation were granted to respondents from the panels that conducted the survey.