Company plans to open an office in 2024 at 333 Summer Street.
BOSTON, MA - Today, Toast (NYSE: TOST), the all-in-one digital technology platform built for restaurants, announced the location of its new headquarters in the heart of Boston's Seaport District at 333 Summer Street. Toast plans to open the new space in early 2024.
"From the startup tech scene to the restaurant community we support to the various neighborhoods we've called home, the Boston area has always been welcoming to Toast," said Aman Narang, Chief Operating Officer and Co-Founder of Toast. "When we dreamed up the idea for Toast in a bar in Kendall Square more than a decade ago, we never imagined the impact it would have on so many people and businesses. We are grateful to the greater Boston community for supporting us throughout the years, and look forward to opening our new, collaborative space."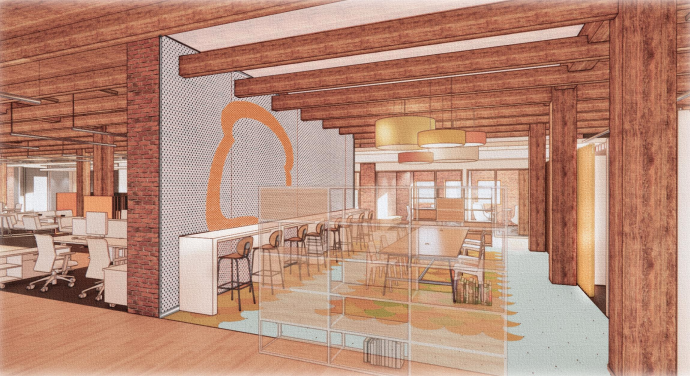 "With over 4,500 Toasters across the world serving approximately 93,000 restaurant locations as of June 30, 2023, finding a new headquarters in Boston with flexible spaces to support our growing business and our collaborative way of working was essential in our decision-making process," said Beth Choulas, VP, Global Real Estate and Workplace Experience at Toast. "We are eager to explore all that the Seaport offers—especially the restaurants."
For updates on Toast's new Boston office and other Toast news, visit the Toast Newsroom.
All images in this post are renderings via Sasaki.
---
Forward Looking Statements
This document contains "forward-looking" statements within the meaning of the Safe Harbor provisions of the Private Securities Litigation Reform Act of 1995. All statements other than statements of historical fact could be deemed forward-looking, including, but not limited to, statements about Toast's new office location. Forward-looking statements involve known and unknown risks, uncertainties, and other factors that may cause Toast's actual results, performance, or achievements to differ materially from results expressed or implied in this document. Risks that contribute to the uncertain nature of the forward-looking statements include, among others, risks listed or described from time to time in Toast's filings with the Securities and Exchange Commission. Any forward-looking statements contained in this document are based on assumptions that Toast believes to be reasonable as of this date. Except as required by law, Toast assumes no obligation to update any statement included in this document.
About Toast
Toast [NYSE: TOST] is a cloud-based, all-in-one digital technology platform purpose-built for the entire restaurant community. Toast provides a single platform of software as a service (SaaS) products and financial technology solutions that give restaurants everything they need to run their business across point of sale, operations, digital ordering and delivery, marketing and loyalty, and team management. By serving as the restaurant operating system across dine-in, takeout, and delivery channels, Toast helps restaurants streamline operations, increase revenue, and deliver amazing guest experiences. For more information, visit www.toasttab.com.