Grants from Toast.org will fund nonprofits working at various leverage points in the food ecosystem to address the climate crisis and promote a healthy environment.
BOSTON, MA – Toast (NYSE: TOST), the all-in-one digital platform built for restaurants, today announced over $1M in grants from Toast.org, the company's philanthropic arm, to nonprofit organizations striving to enrich the food experience for all and address critical sustainability issues in the food ecosystem.
This global grant-making includes $750k in Toast.org Impact Grants to over a dozen nonprofit organizations working in countries around the world. An additional $300,000 in funding was directed by Toast employees as a part of the company's annual Earth Month celebration to support local organizations making a positive impact on the environment in over 30 cities around the world where they live and work. In addition to grant-making, Toast's commitment to Earth Month includes over 50 employee volunteer events, various employee education opportunities, and a series of internal working sessions on creating a more sustainable world through our technology.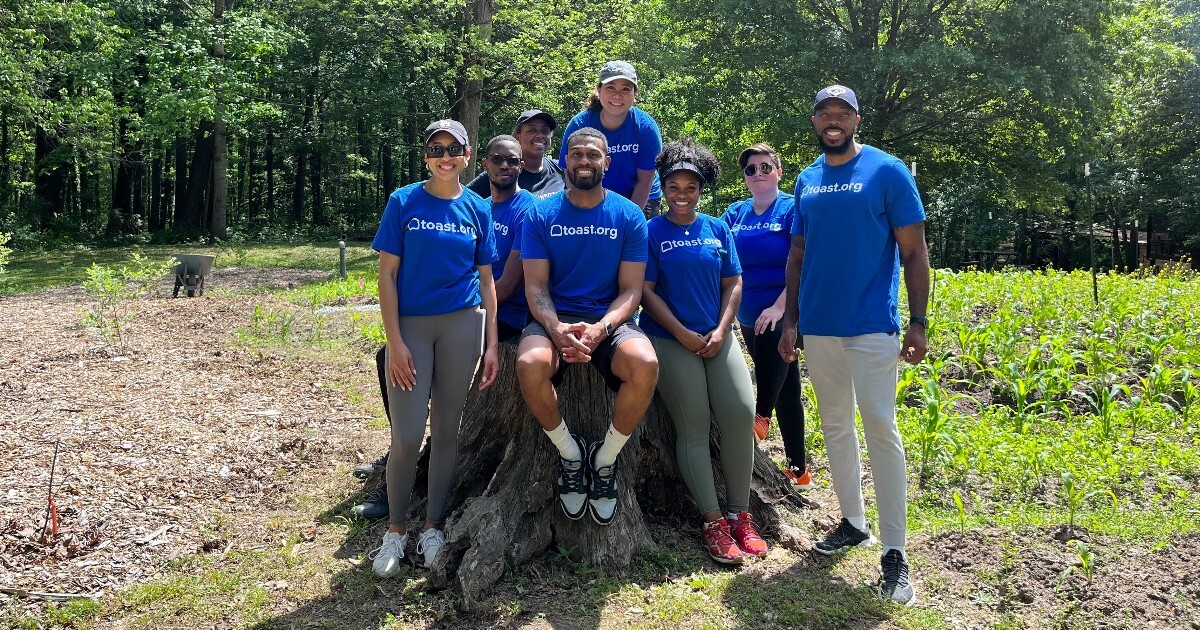 Toast employees volunteering in Atlanta.
"As active contributors to the food community, Toast.org has the opportunity to make real-world changes in our food system," said Jonathan Grimm, CTO of Toast.org and Co-Founder of Toast. "The grantees selected are best-in-class nonprofits working to create a flourishing food system for communities and the planet. We're pleased that Toast.org's expertise and capital can help advance their impact."
The grantees announced today were selected for their standout work in one or more of these focus areas:
Regenerative agriculture:

supporting healthy biodiversity and improved soil and ocean systems capacity for carbon sequestration

Sustainable consumption and diet:

promoting plant-forward menu development, resilient local food systems, and sustainable procurement practices

Packaging:

reducing disposable waste from restaurants and promoting planet-friendly designs and materials

Food waste:

reducing food waste from restaurants and upcycling waste for alternative uses


"Toast.org is committed to helping the food community minimize food waste, address single-use packaging, decrease greenhouse gas emissions, and strengthen local food systems for future generations," said Amy Skeeters-Behrens, Vice President of Social Impact and Sustainability at Toast. "The grantees announced today are inspiring organizations that provide innovative solutions to pressing environmental challenges in the food system and are mobilizing important constituencies, including consumers, restaurant workers, farmers, and chefs, to become changemakers."
Criteria for selection also included innovation; level of impact; commitment to diversity, equity, and inclusion; relevance to the restaurant community; and the opportunity for meaningful employee engagement.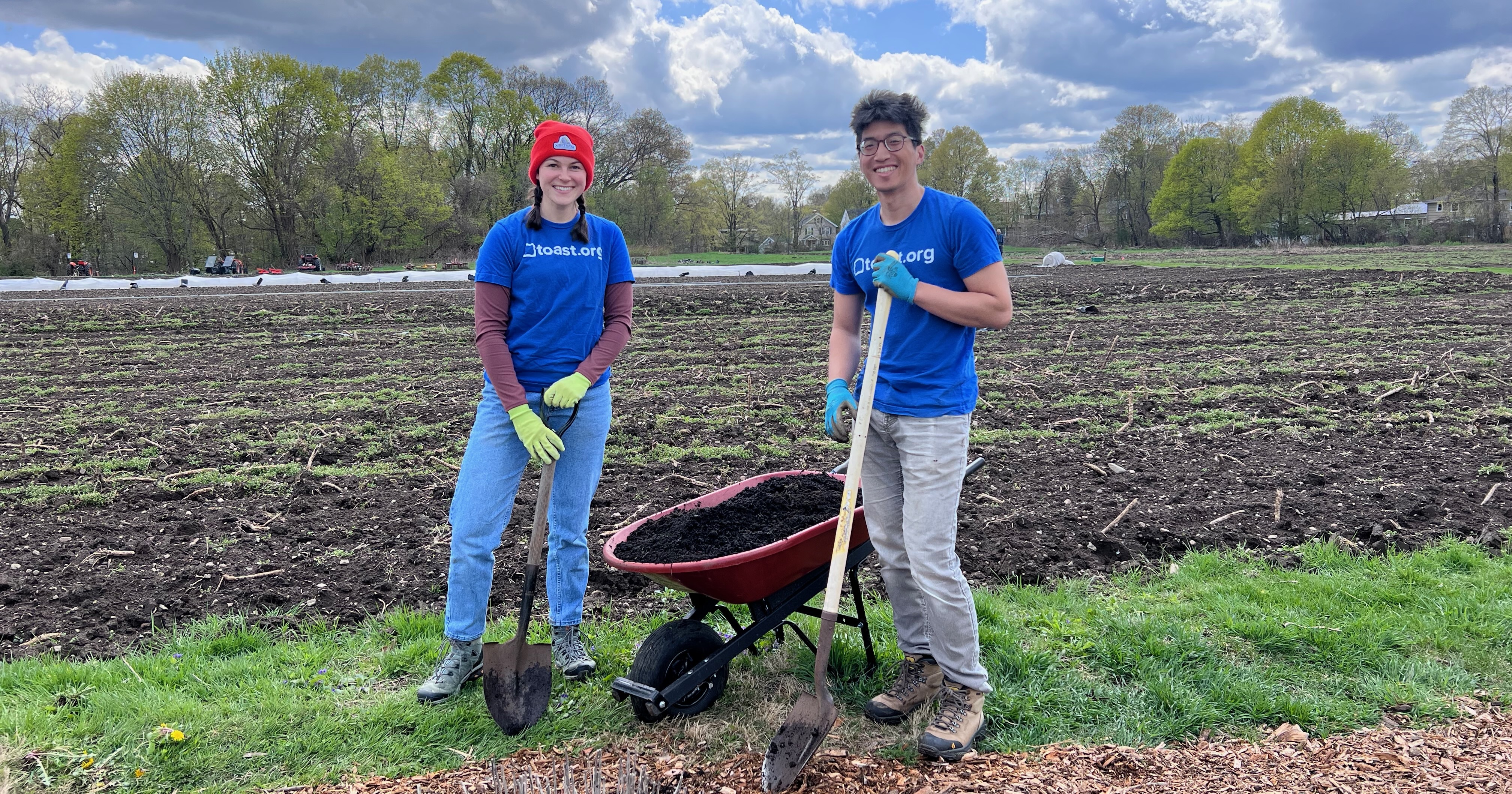 Toast employees volunteering in Massachusetts.
"In the United States, an estimated 35% of food is wasted while more than 38 million people are food insecure," said Maen Mahfoud, CEO of Replate. "That waste rots in landfills, contributing to climate change and squandering our resources. This is an absurd problem that we at Replate are working to mitigate. We are grateful for the support from Toast.org that will help us build additional capabilities for our food service customers to donate and track excess food, meanwhile helping to address food insecurity in communities across the country."
The Spring 2023 Toast.org Impact Grantees include:
Beyond Plastics is a nationwide environmental project based at Bennington College in Vermont, pairs the wisdom and experience of policy experts with the energy and creativity of grassroots activists to build a vibrant and effective movement against plastic pollution and for more sustainable alternatives to plastics.


Boston Area Gleaners is a regional food systems organization working at the intersection of farming, food waste, and hunger relief. (Greater Boston Area)


Center for Environment Education develops innovative programs and educational material and builds capacity in the field of Education for Sustainable Development. (India)


DC Central Kitchen is a pioneering social enterprise and nonprofit that combats hunger and poverty through job training. The organization prioritizes sustainable practices with intentional purchasing from local farms in their work to create a more equitable, zero-waste food system. (Washington, D.C.)


Food for Climate League promotes an equitable, nutritious, and sustainable food system that's rooted in people's core needs, values, and diversity of cultures. (U.S.)


Food Recovery Network is the largest student led movement fighting food waste and working to end hunger. (U.S.)


The Food Project works to create a thoughtful and productive community of youth and adults from diverse backgrounds who work together to build a sustainable food system. (Greater Boston Area)


GreenWave supports ocean farmers to catalyze the scaled planting of regenerative ocean crops to yield meaningful economic and climate impacts. (North America)


Menus of Change is an initiative of The Culinary Institute of America in partnership with Harvard T. H. Chan School of Public Health, works to realize a long-term, practical vision integrating optimal nutrition, public health, environmental stewardship and restoration, and social responsibility concerns within the foodservice industry and the culinary profession. (Global)


Native Seeds/SEARCH) is a nonprofit seed conservation organization working to conserve and promote the arid-adapted crop diversity of the Southwest in support of sustainable farming and food security. (Tucson, AZ)


New Entry Sustainable Farming Project is a program of the Friedman School of Nutrition Science and Policy at Tufts University, works to foster resilience in local, regional and national food systems by training a new generation of farmers to produce food that is nutritious, culturally connected and accessible to all individuals. (U.S.)


NRDC's Chefs for Healthy Soil is a community working to build a regenerative food system that fosters soil health as a tool to fight climate change. (Global)


Planting Justice empowers people impacted by mass incarceration and other social inequities with the skills and resources to cultivate food sovereignty, economic justice, and community healing. (San Francisco Bay Area)


Replate is a tech-enabled nonprofit that has created tools for businesses to reduce waste by donating surplus food to communities experiencing food insecurity, and preventing future excess through source reduction. (U.S.)


Upstream sparks innovative solutions to plastic pollution by helping people, businesses and communities shift from single-use to reuse. (North America)
Learn more about our efforts to enrich the food experience for all at Toast.org and see other recent Toast.org grantees.