Tipping holds steady with average same-store tip size up approximately 10% despite inflation, casting doubt on the impact of tipping fatigue
BOSTON, MA – August 18, 2022 – Toast (NYSE: TOST), the all-in-one digital platform built for restaurants, today announced its Q2 Restaurant Trends Report, providing visibility into the overall state of the restaurant industry through aggregated sales data from selected cohorts of restaurants on the Toast platform, which serves approximately 68,000 locations in the U.S. as of June 30, 2022.
Rising food costs, inflation, and labor constraints are some challenges restaurants faced in Q2 of 2022. Despite these hardships, restaurants are seeing strong demand and generosity from consumers with consistent tips and increased growth. Here are some of the key findings Toast observed from this quarter: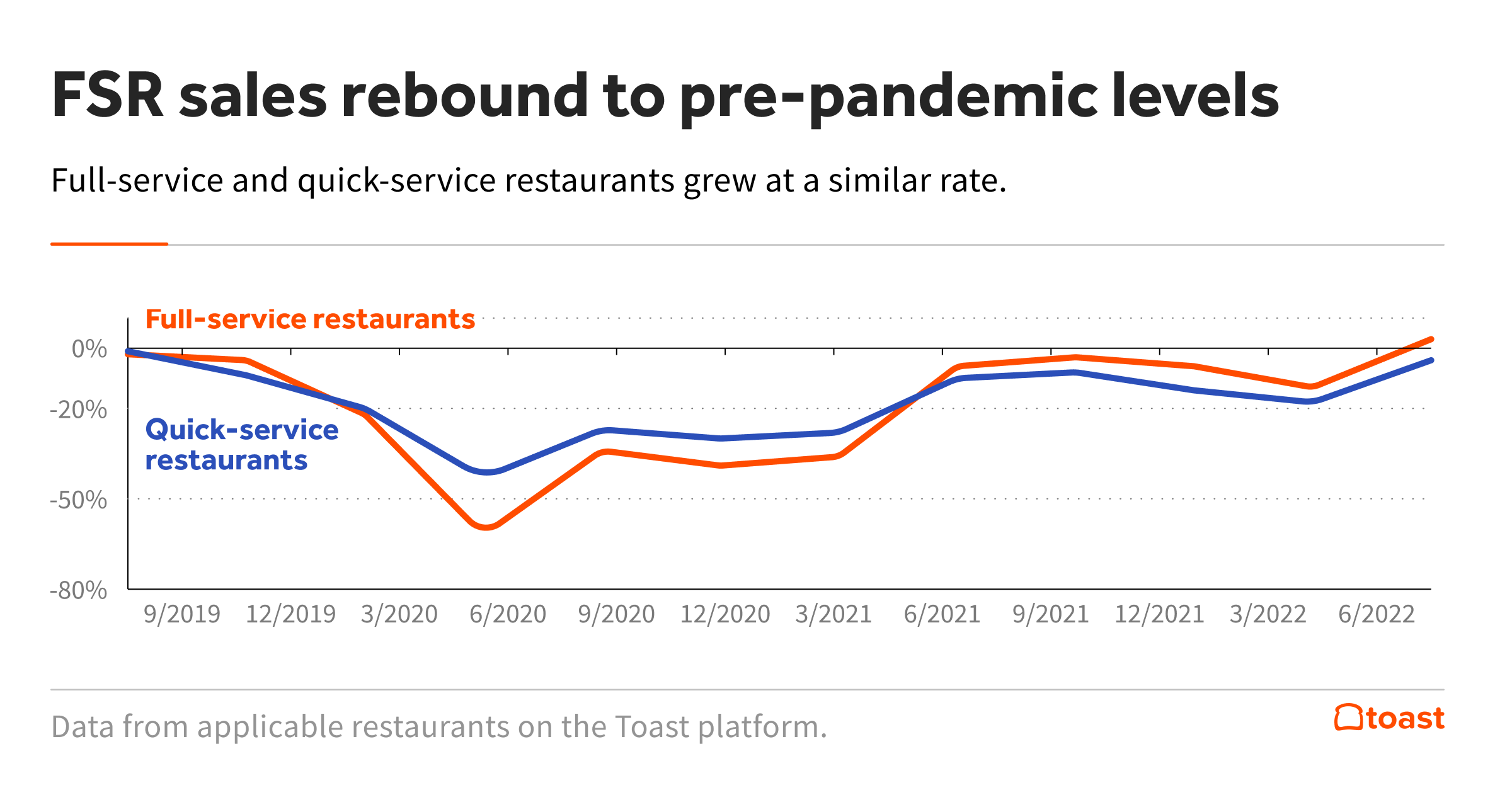 Full-service restaurants (FSR) saw the biggest dip in sales during the COVID-19 pandemic, with dining room closures and local capacity restrictions. Observing trends in sales growth in restaurants on the Toast platform from Q2 2019 through the end of Q2 2022, sales for FSR have recovered to levels not seen since before the pandemic. Sales measured by gross merchandise volume (GMV) for FSR on a same-store basis are up 18% in Q2 2022 compared to Q1 2022. Sales for quick-service restaurants (QSR), which also saw a significant hit in 2020, are nearly back to pre-pandemic levels, with same-store sales up 17% in Q2 2022 compared to Q1 2022.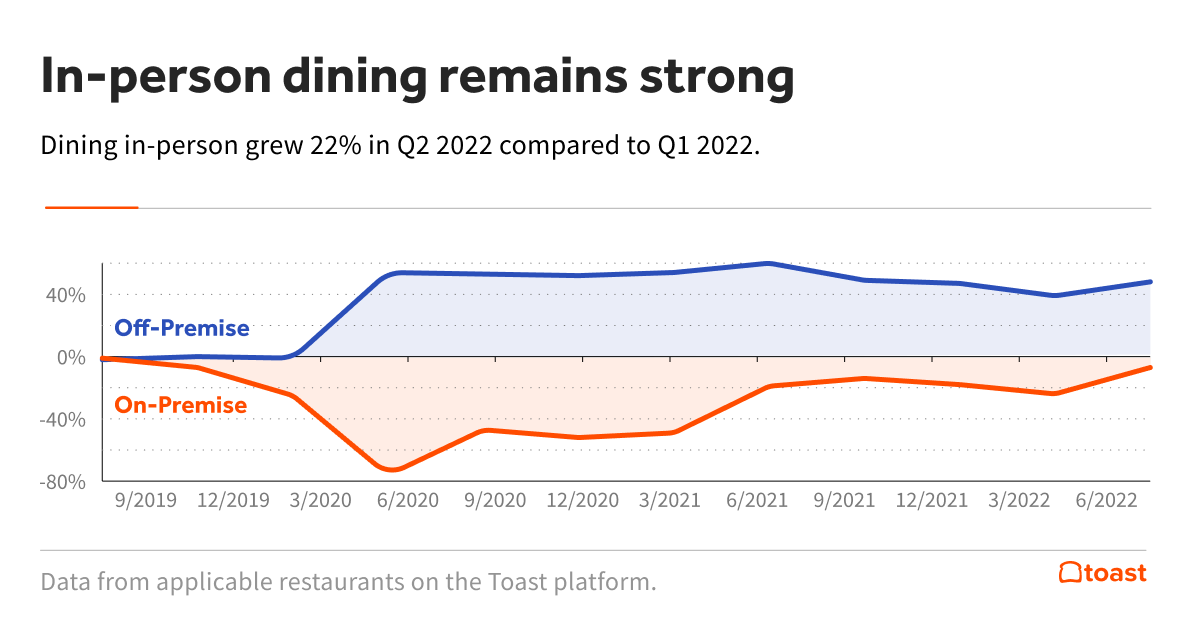 In-person dining growth continued to close the gap with off-premise dining, though both saw growth in Q2 2022. The appetite for in-person dining remained strong in Q2 through rising inflation, economic uncertainty, and COVID-19 subvariant spikes. Observing dining trends based on restaurants on the Toast platform from Q2 2019 to the end of Q2 2022, sales for on-premise dining in Q2 2022 grew nearly 22% compared to Q1 2022. Takeout and delivery grew approximately 6% in Q2 2022 compared to Q1 2022.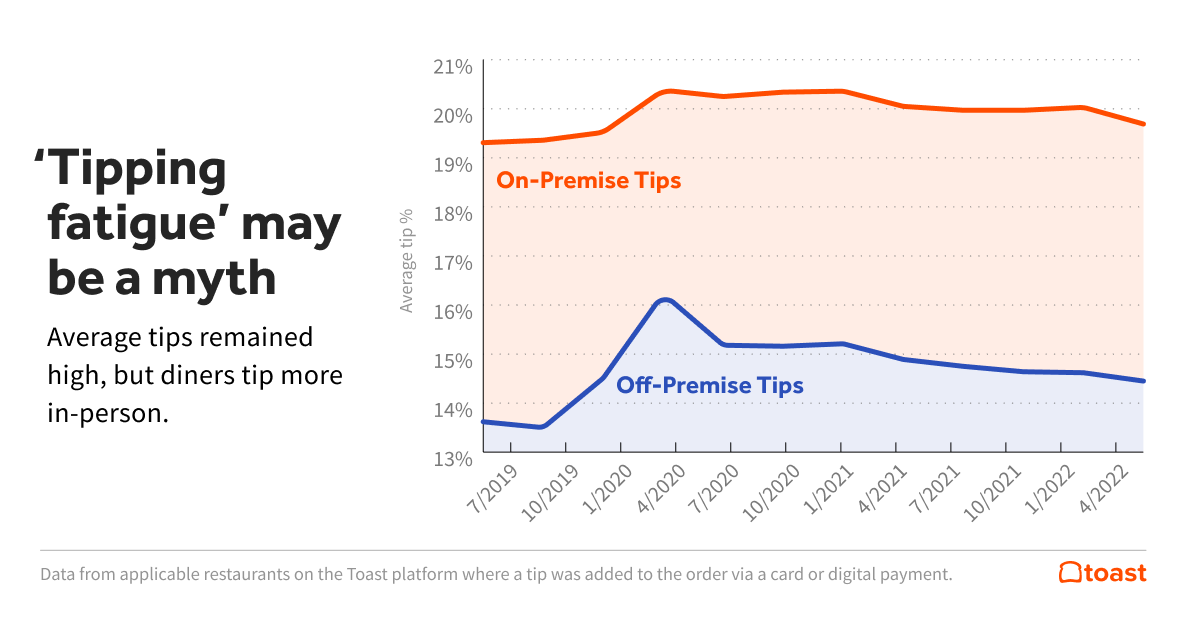 Consumers generally tipped well, even with inflation. As the price of goods and services increased, the average same-store tip amount is up nearly 10% compared to last year, showing consumers' willingness to tip remained strong during economic changes.
The tipping percentage was robust in Q2 2022 between both QSR, averaging 16.9%, and FSR, at an average tip of 19.6%. However, Toast observed that diners are less likely to tip as much when they don't eat inside an establishment. In Q2 2022, in-person diners dished out an average tip of 19.7%, while those who got delivery or takeout tipped an average of 14.5%. This trend remains similar to Q1 2022's findings, where diners on-premise tipped more than off-premise diners.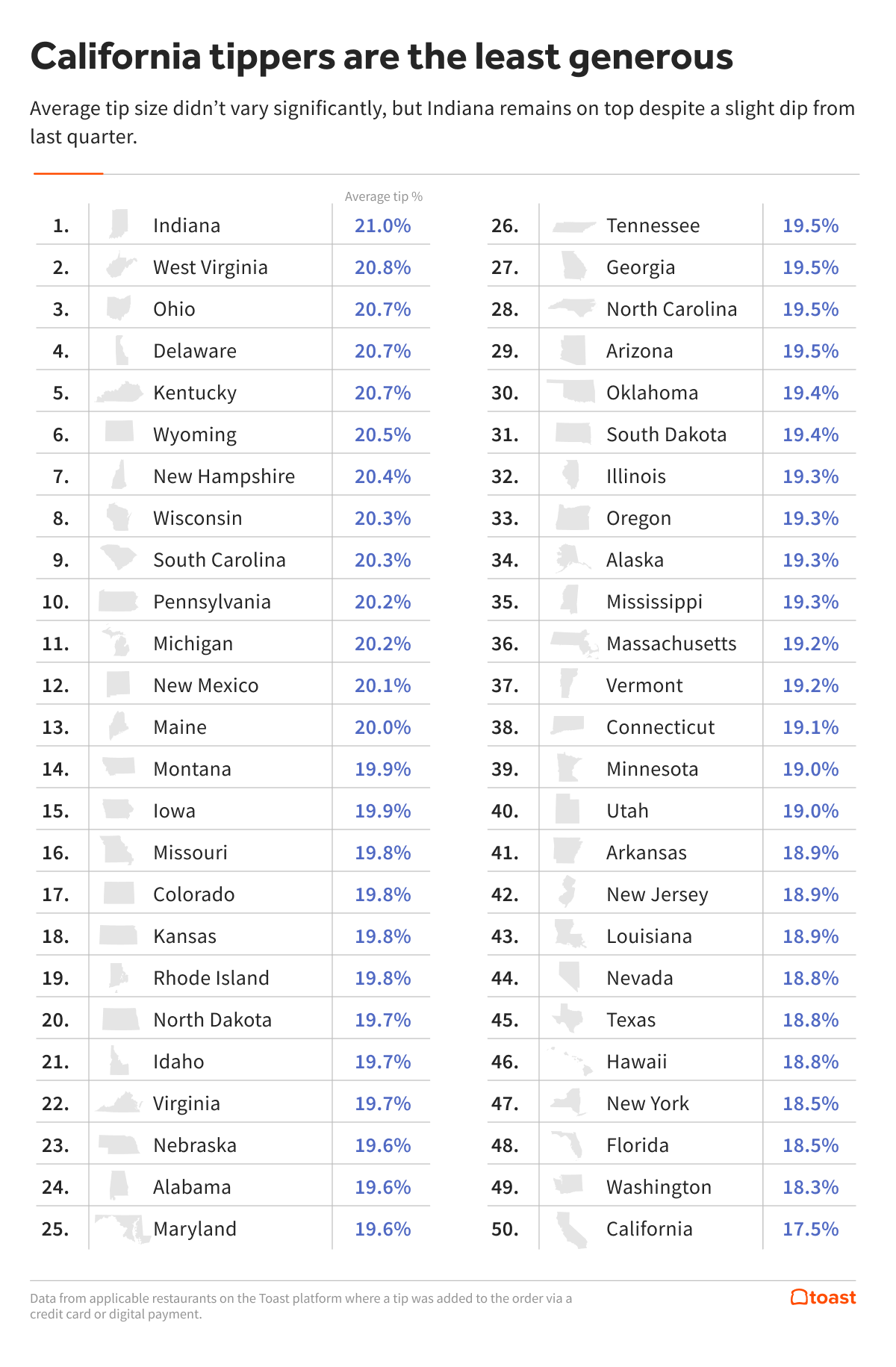 Indiana's Hoosier Hospitality led the way for the second quarter in a row, followed by West Virginia and Ohio. While Californians tipped the least, the state has one of the highest minimum cash wage laws for tipped employees in the country according to statistics from the Department of Labor.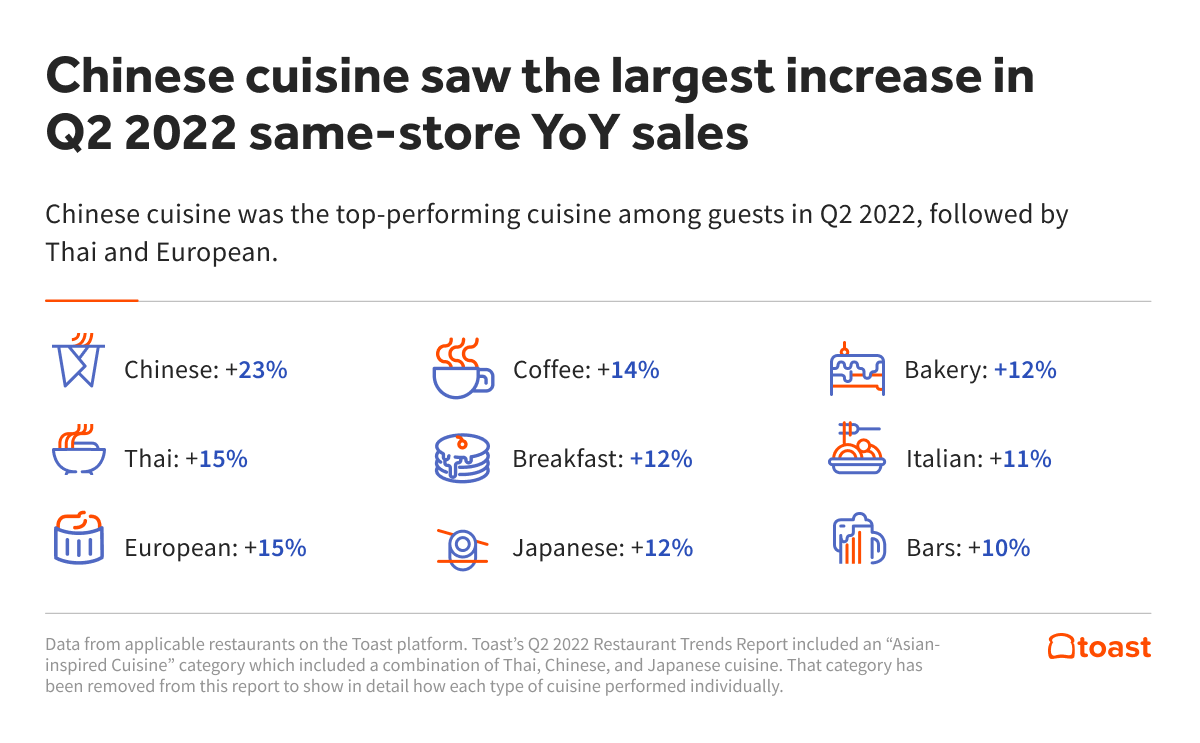 Chinese cuisine saw the largest increase in YoY sales in Q2 2022 at 23%, followed by Thai and European cuisine at 15%. Jump-starting the day, coffee sales increased 14% in Q2 2022 YoY, while Breakfast, Japanese, and bakery sales tied with a 12% Q2 2022 YoY increase. Italian cuisine rounds out the top-performing cuisines with an 11% Q2 2022 increase compared to the same time period the year before.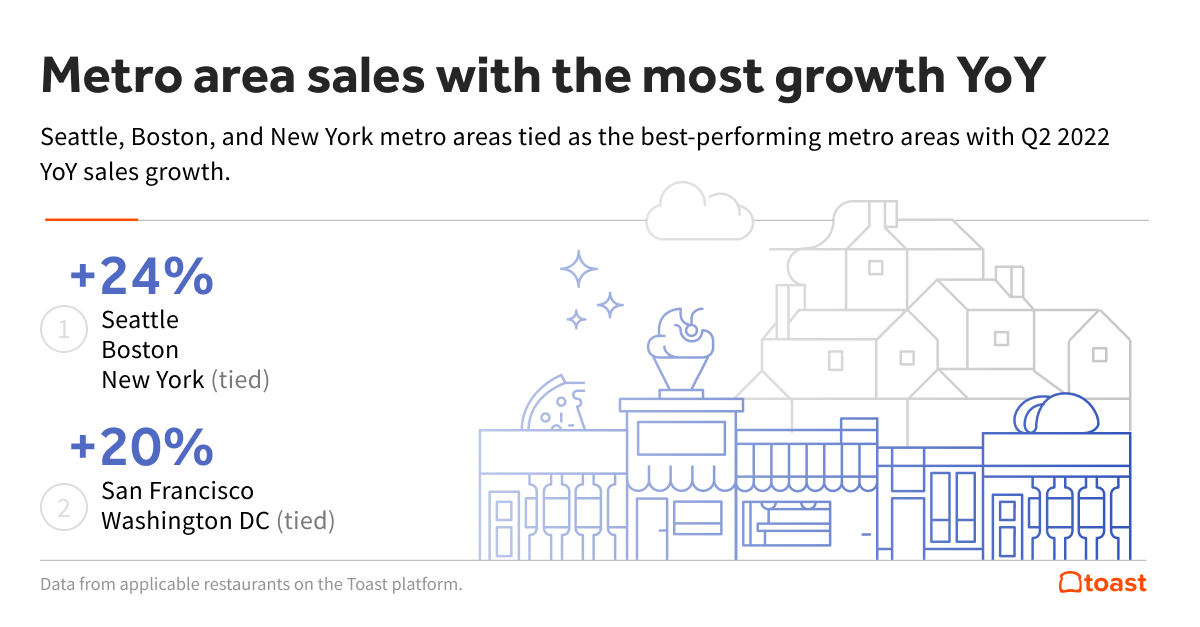 The Emerald City, Beantown, and the New York City metro area, which includes Long Island and Northern New Jersey, tied for the best-performing metro areas in Q2 2022. These areas had approximately 24% sales growth year-over-year (YoY) when comparing Q2 2022 with Q2 2021. The Bay Area saw a 20% increase while the nation's capital and surrounding areas also saw a large increase in same-store sales at approximately 20% in Q2 2022 compared to the same period last year.
Methodology
The Restaurant Trends Report, powered by Toast, uncovers key trends across the restaurant industry through aggregated sales data from a cohort of restaurants on the Toast platform, which has approximately 68,000 locations as of June 30, 2022, in the U.S. All growth rates are calculated on a same-store sales basis for the applicable period of time. The Restaurant Trends Report is not indicative of the operational performance of Toast or its reported financial metrics, including GMV growth and same-store GMV growth.