The POS built for restaurants.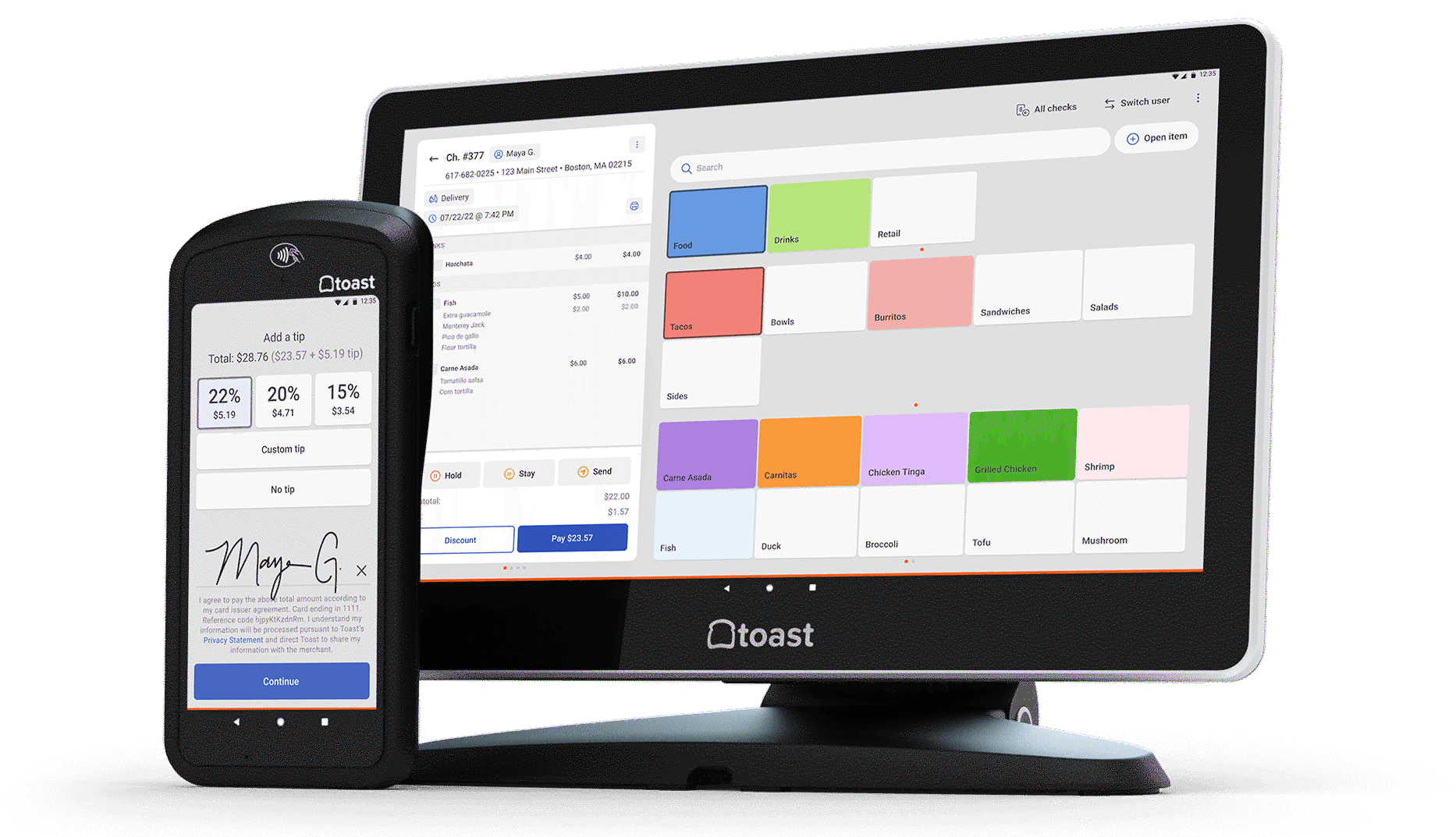 Toast POS is built to withstand the most demanding restaurant environments, allowing you to focus on your cuisine, not your technology.

Whether you're fulfilling orders in the dining room or hitting the road, the next generation of our handheld POS is ready.

Get all the technology you need, all connected to one platform.
TOAST HARDWARE DISCOUNT.1
$500 off for existing restaurants; or $750 off if you're opening a new restaurant or new location


TOAST SOFTWARE DISCOUNT.1
3 months free off our most popular SaaS packages, Growth or All-in-One - an est. value of $1065 or $1947
FREE BEVERAGE MENU OPTIMIZATION
Toast and Pepsi will optimize your existing Pepsi beverage assortment online menus intended to drive higher online ordering sales
Get a demo
Already use Toast at your restaurant? Log in to Toast.
By requesting a demo, you agree to receive automated text messages from Toast. We'll handle your info according to our privacy statement.
A single restaurant platform that works better.
Built for ease
Stay ahead with a restaurant-first platform that's easy to learn, use, and grow with.
Built for efficiency
All the tools you need, right where you need them.
Built for great guest experiences
Turn newcomers into regulars with quality service, every time.
Built for a better bottom line
Keep costs down and drive revenue up with more ways to take orders.
1Toast x PepsiCo, Inc Customer Promotion Terms & Conditions
New Toast, Inc. ("Toast") merchant customers who sign Toast's Merchant Agreement on or before March 31, 2024 ("New Customer") and are referred to by Pepsi may be eligible to receive a one-time discount on Toast hardware ("Hardware") of up to seven hundred fifty dollars ($750) on applicable Hardware, a one-time promotion on Toast software packages ("Software") of three (3) months free off New Customers software payments (applicable to either Toast's "Growth" or "All-in-One" software packages, only), and free Pepsi Beverage Menu Optimization (services to be rendered during New Customer's onboarding experience with Toast). New Customer must have a referral from Pepsi at the time of or prior to signing Toast's Merchant Agreement.
The discount may only be applied once per New Customer. The discount cannot be redeemed for cash and may not be applied toward software (other than the listed Software promotion), implementation, shipping, or other fees. This is a limited time offer subject to change. Toast reserves the right to suspend, modify, or cancel this promotion at any time.Toast shall determine in its sole and absolute discretion whether a New Customer meets the conditions of, and qualifies for, this offer.