Restaurant trends & insights to help your operation run smoother
Toast's inaugural Restaurant Industry Outlook Report — powered by input from nearly 1,000 restaurant decision makers — captures key learnings from 2022 as well as what operators expect to see in 2023. The insights cover opportunities, challenges, and tactics for restaurant success.
---
What's inside?

You'll find quotes from Toast customers, partners, and executives throughout the downloadable report — as well as a foreword penned by Toast President and Co-Founder, Aman Narang.

Top takeaways and key data points from the report include:


Inflation and labor challenges remain paramount for restaurants, with twice as many QSRs listing inflation as "extremely" challenging compared to FSRs.
Three quarters of survey respondents plan to increase their restaurant technology spend, with POS, payroll, and accounting software being most popular.
63% of restaurants employed seven-plus different service models (e.g. counter service, table service, curbside) in 2022, signaling the need for a truly blended approach to satisfying guest needs.
---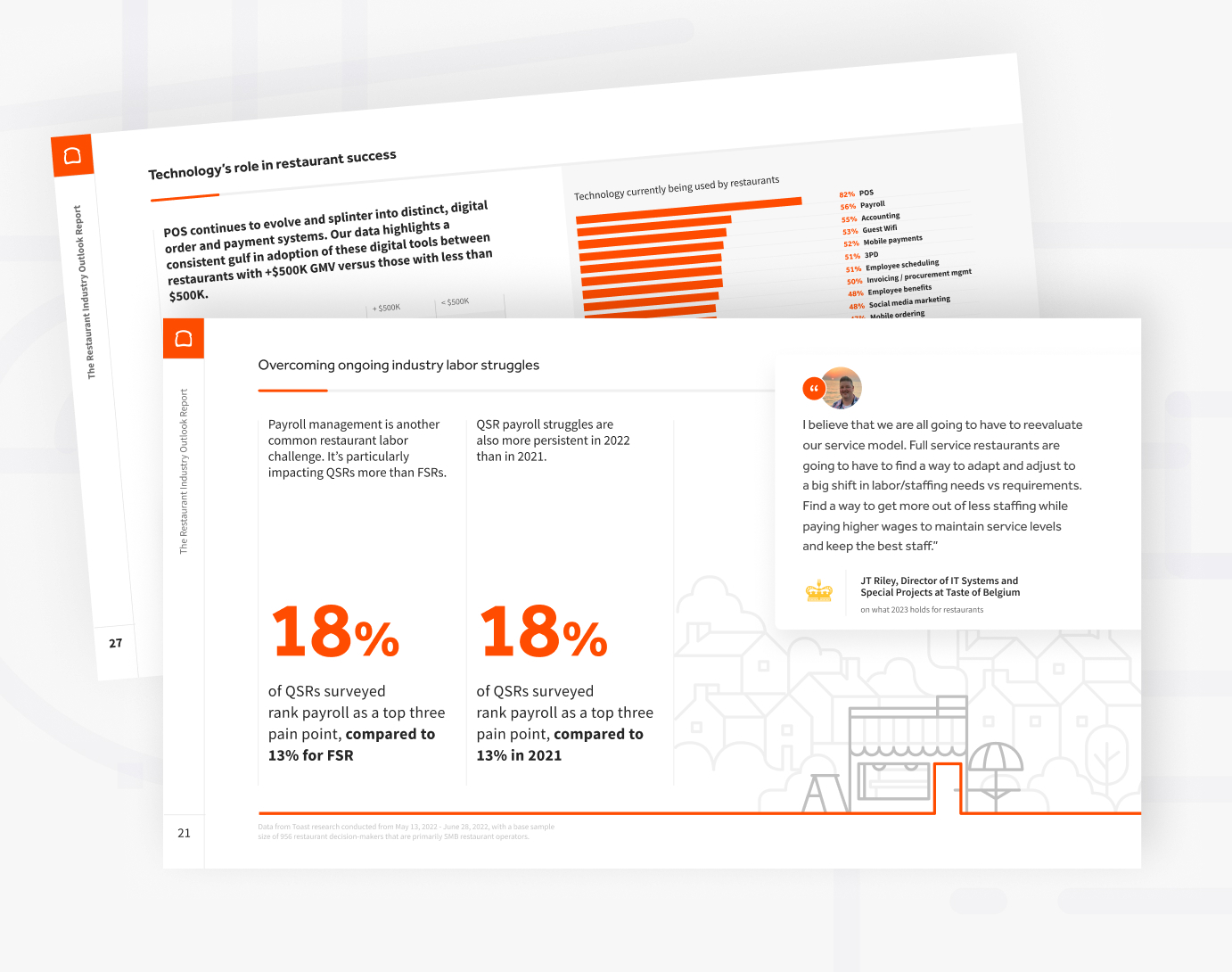 How can the report's insights help you better run your business?

The Restaurant Industry Outlook Report provides a snapshot of the restaurant industry as we dive into 2023, including restaurant technology priorities, top challenges and tactics to combat them, and insight into how operators have adapted to the past few years. We look at the industry as a whole as well as deeper analysis by restaurant type and performance.

For example, our data shows that inflation and labor challenges remain paramount for the entire restaurant industry. Though when we zoom in on full-service (FSR) versus quick-service (QSR) operations, we see that twice as many QSRs list inflation as "extremely" challenging compared to FSRs.

Download the report to get these insights and more — all tailored to help you better manage your restaurant in 2023 and beyond.