Find the right POS for your cafe or bakery's unique needs
A free, customizable Cafe and Bakery POS Comparison Tool to research and compare point of sale systems in one Excel spreadsheet or editable PDF.
---
What's inside?
An overview of hardware details, software features, setup involvement, support availability, pricing, and more
A list of more than 100 software features to consider when choosing a POS system for your cafe, from loyalty programs and training mode to reporting and online ordering
Service options such as training, installation (onsite, remote, or self-install), and data import to ensure a smooth onboarding process as you implement a new POS system for your cafe, bakery, or coffee shop or make the switch from your current POS provider
---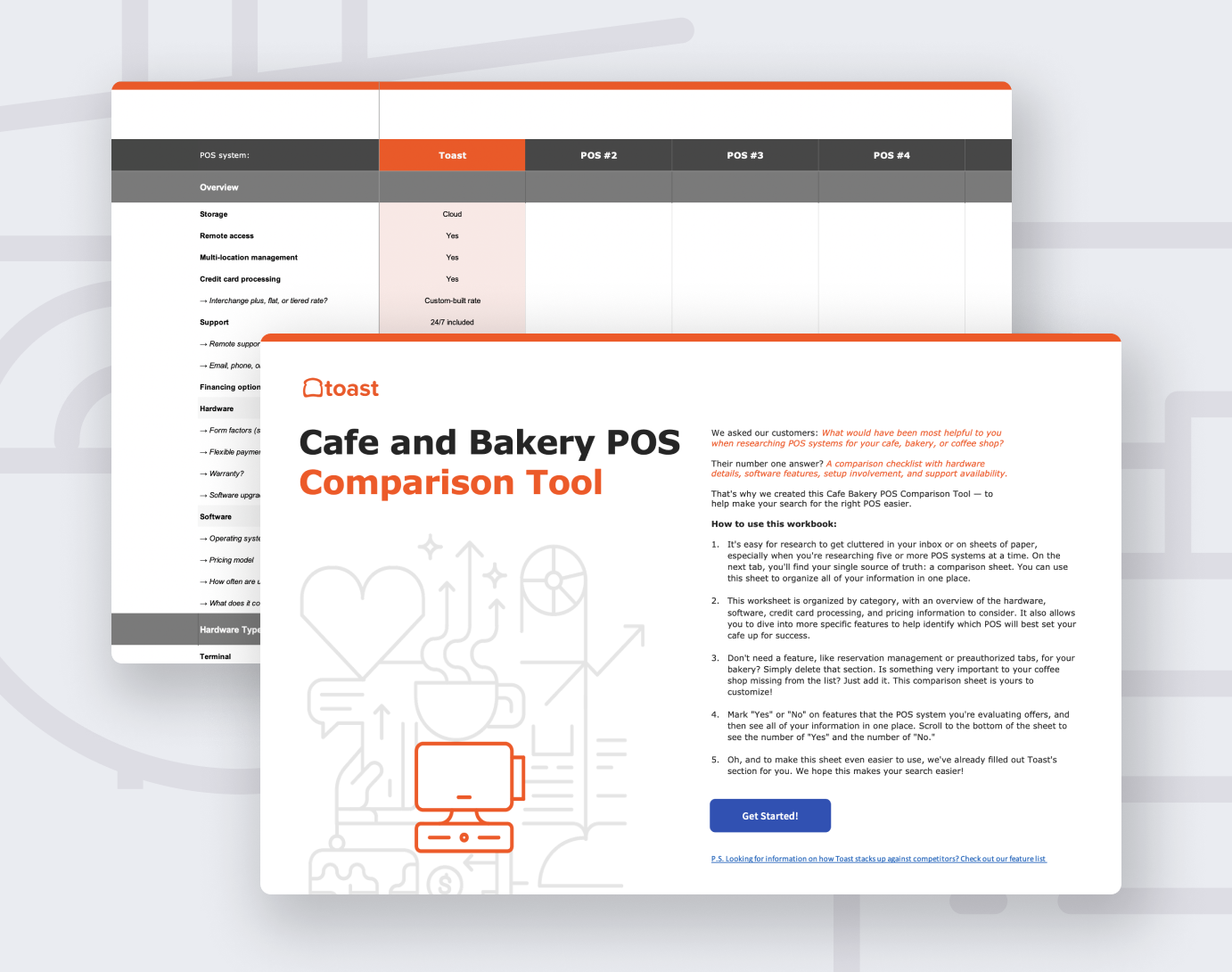 Compare POS systems for your cafe or bakery with this checklist
It's easy for POS research to get cluttered in your inbox or on sheets of paper, especially when you're researching five or more cafe POS systems at a time.
Here, you'll find your single source of truth: a comparison checklist. You can use this document to organize all of your information in one place.
And to make this document even easier to use, we've already filled out the Toast column for you. We hope this makes your POS search that much easier.


How do I know which POS system is best for my cafe, bakery, or coffee shop?
Using this Excel workbook or editable PDF, you'll be able to compare the hardware options and software features that are most important for your cafe or bakery. Using a "Yes" and "No" system, you can compare up to five POS providers in one document and see which service will best serve your restaurant.
If you don't need a certain feature for your cafe, bakery, or coffee shop, you can simply delete the row. We've also left rows for you to add in features that may be missing.
Keep in mind that if you're just starting up a new restaurant, you want to find a POS platform that will grow with you. When evaluating which POS hardware and software to choose for your cafe or bakery, consider the features that you may need in the future, not just the features you need right now.

Related cafe and bakery resources: