Restaurant Chef Tips: 21 Kitchen Hacks From the Experts
Read kitchen hacks from some of America's leading culinary geniuses.
---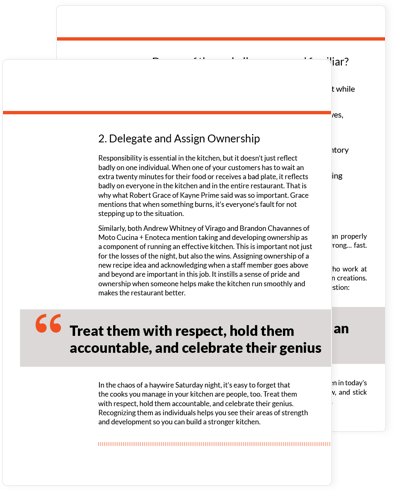 The kitchen is the heart of every great restaurant.
It's where the magic happens! Turning ordinary ingredients into the food, dishes, and meals that your customers will love is what keeps your doors open. Without a great kitchen, your restaurant is nothing.
All experienced restaurant owners know the power of a great kitchen manager and/or head chef. They give the line cooks direction and come up with your specials and house favorites. We need their kitchen hacks.
In this eBook, we reached out to 21 executive and head chefs of some of the nation's most loved restaurants. We asked them one simple question: "What is your number one tip for running an efficient kitchen?"
Powered by Froala Editor
---
21 Successful Chefs Give Their #1 Kitchen Hack for Running an Efficient Restaurant Kitchen, Including...
Chris Hill
Chef, Author, Entrepreneur, and 2x TEDx Speaker.

Culinary Leaders of M Street Nashville
Some of the South's best minds.

Jon Schroeter
Director of Operations at one of Florida's most popular pizzerias.

Wil Gilson
Chef and owner of one of the most renowned restaurants in Boston.