Which types of discounts can be used for online orders?
Restaurants can set up promo codes to apply discounts to online orders. Here are a few guidelines to follow when creating discounts for Toast Online Ordering.
Promo codes are required to apply discounts to online orders

Auto-apply and Open discounts are not supported for online orders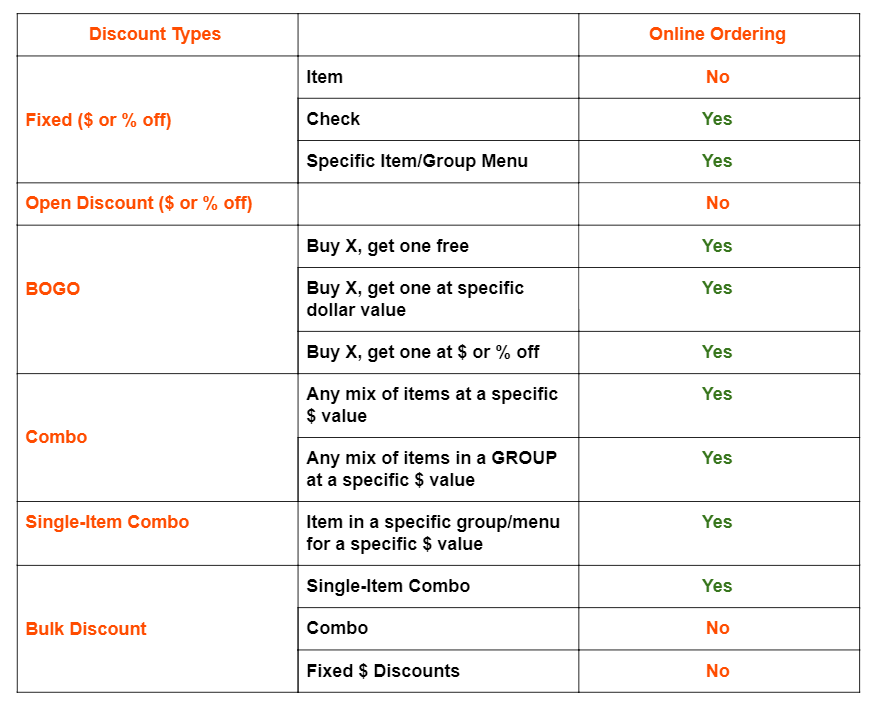 Creating a Discount & Promo Code
Follow these steps to set up discounts. Once the discount is created, we will add a promo code to the discount. Guests will enter the promo code during checkout for online orders.
In this example we will create a discount for a Free Kids Meal with the purchase of an entree.
1. From toasttab.com, navigate to Discounts under the Payments section.
2. Create a new discount by selecting + Add a new discount.

3. Name your discount. In this example, we are adding a Free Kids Meal discount.

4. The discount will default to active. You can deactivate discounts from the discounts page.

5. Next, select your Discount Type. For this example, we will choose Buy One Get One (BOGO) since guests are required to purchase an Entree in order to receive a Free Kids Meal.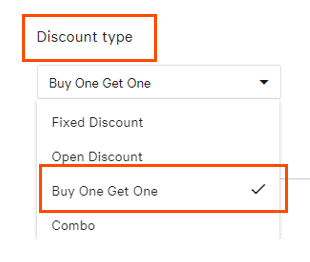 6. To set up the BOGO offer, you will need to enter details in the following fields:
Buy Items - Select a specific item or a group of items that are required to purchase in order to receive the free time. In this example, Entrees are selected.
Get Items - Select a specific item or a group of items that will be discounted with the required purchase.
Discount - Select if you would like the "Get Items" to be discounted at a % or $ amount and select if the item eligible to discount is the first, least expensive, or most expensive.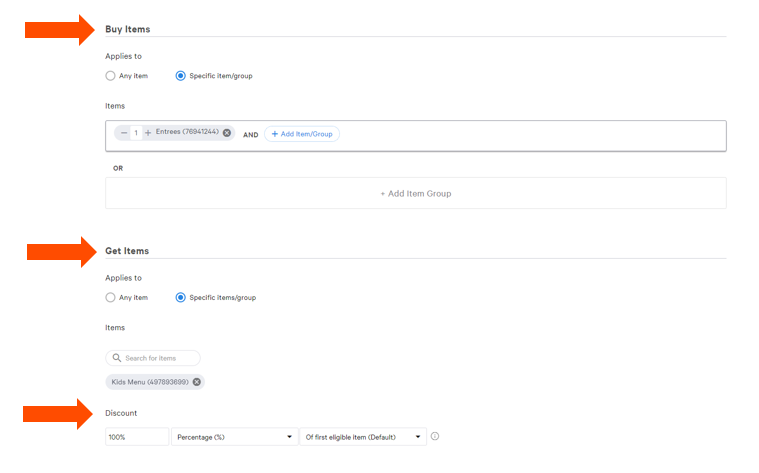 7. Next let's set up when your discount will be available. Under Availability, complete the following fields:
Discount available - Select the dates you would like to make the offer available.

Days of the Week - Select specific days or all days.

+ Add Hours - Limit the availability of the discount to specific hours of the day.
Note: Each Discount can be assigned only one date range. For example, you cannot have a discount for both January 1-5 and 15-20. You can, however, set a discount to be available every Tuesday in January from 10am-12pm and again from 5pm-8pm.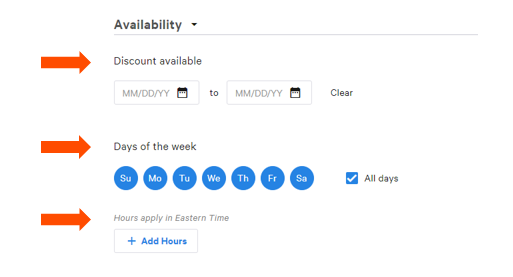 8. Next, you can set any applicable Discount Rules by completing the following fields:
Allow with other discounts - Allow multiple discounts to be applied to an order. You must select this in order for multiple BOGO offers to be discounted on an order. In this example, we want to be able to discount multiple kids meals if multiple entrees are purchased. In order for this to work, you must select Allow with other discounts. If you DO NOT wish to honor multiple discounts on an order, DO NOT select this rule.

Min/Max - This is used to require a minimum or maximum value to a certain check or item before it can be discounted. For example, you must spend $30 to get a free slice of pizza.
Note: Auto apply discount does not apply to online orders.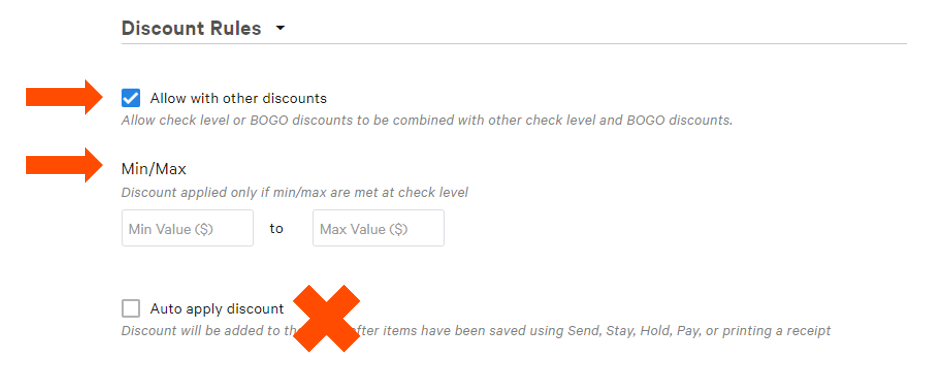 9. Now it is time to add a promo code. This is the code customers will use online in order to receive a discount. Select + Add Promo Code.

10. Enter information in the following fields:
Code - Enter the promo code using letters and/or numbers. Remember, this is the code you will ask customers to enter so make sure it is easy to understand. In this example, we will use KIDSFREE.

Description - Add a description for your promo code such as - free kids meal with entree purchase.

Start and End Date - This allows you to set an eligible time period for the promo code to be used but is not required.
Note: Both start and end date must be selected for the eligibility period to apply.

11. Select Save and Publish Changes.