The Restaurant Productivity Calculator
A free productivity tool built exclusively for restaurant industry professionals.
---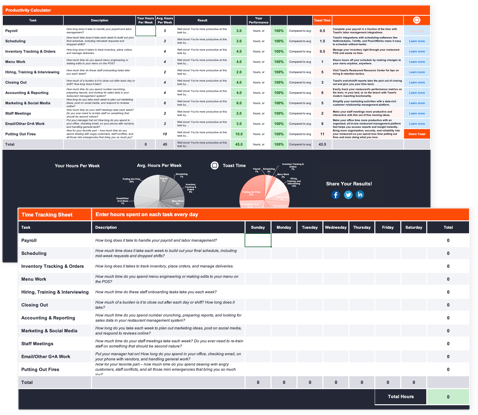 A 40-hour week is a rarity in the restaurant industry. Track and cut back on wasted time with this free tool.
Step 1 Track your time in the free spreadsheet.
Step 2 Find the time gaps in your schedule.
Step 3 Make the changes to your day.
Step 4 Become more productive!
Use this tool to track your time spent on inventory, office work hours, and time spent putting out fires in this doc and start making the most of your day.
Restaurant owners and managers don't work five eight-hour days. More likely, we're talking about five or six days of ten to fifteen hours. Is that the best use of your time?
Powered by Froala Editor