Catering and events planning just got easier
Use this free restaurant banquet event order (BEO) template to help your restaurant optimize incoming catering requests and streamline documentation.
---
What's inside?
An editable Microsoft Word file and printable PDF so you can use this template digitally or by printing it out and completing it by hand.
---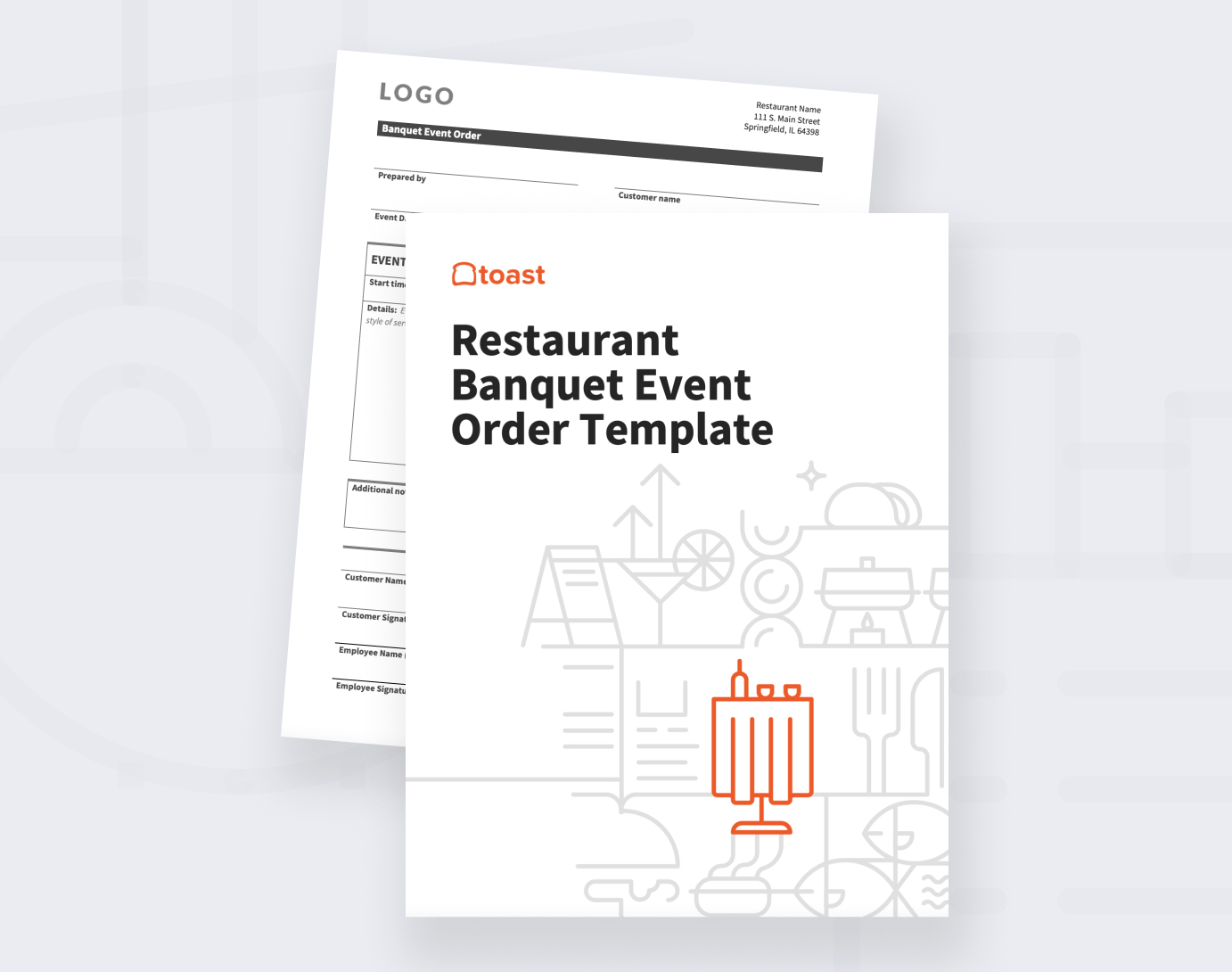 The benefits of using a banquet event order (BEO) for your restaurant

Restaurants use a banquet event order (BEO) for catering because it helps ensure the smooth and organized execution of events, improves communication between your restaurant and your customer, and provides a detailed overview of the event logistics and requirements.
Here are some key benefits of using a BEO:
Clarity and accuracy: A BEO provides all the necessary information about the event, including the date, time, location, menu items, quantities, special requests, dietary restrictions, setup instructions, and other essential details. Using a BEO ensures that all the information is documented accurately and helps eliminate any potential confusion or misunderstandings.


Operational efficiency: A BEO provides a standardized format for recording and organizing all the necessary information. This helps kitchen staff plan and prepare the required food items, ensures accurate inventory management, and enables efficient allocation of resources such as manpower, equipment, and supplies. This level of organization minimizes the chances of errors, reduces waste, and optimizes the overall catering process.


Customization and personalization: Each event is unique, and a BEO allows restaurants to customize the details according to the client's preferences. It helps capture specific requirements and requests to ensure a personalized experience for the client and their guests.

How to use a banquet event order (BEO)

When you download this asset, you'll find a BEO template we've created as a starting point for your restaurant business. It's important to note that the specific information included in a BEO may vary depending on your policies, the type of event, and the preferences of the event organizer — so feel free to tweak this template and make it your own. Once you're comfortable with the content in the BEO template, you can either use it digitally or print it out.

Looking for a better way? Introducing Toast Catering & Events.

Streamline catering and events management with Toast's new integrated solution — Toast Catering & Events — built to boost efficiency and grow your business. From planning to execution, manage every step of your order all within Toast, including lead management, prep tools, and invoicing.
With Toast Catering & Events, you can:
Create customizable event and order templates to make a BEO that works for any type of event
Manage leads through online forms that your guests can fill out
Keep track of upcoming events and their status in a shared calendar
Easily collect deposits and apply them to orders directly on the Toast POS
Schedule time with your local Toast product expert to learn more. You'll get a demo customized for your restaurant's unique needs and a no-pressure quote.
---

After downloading the free Restaurant BEO Template, be sure to check out our other resources below.