Restaurant Marketing Guide 101: How to Market a Restaurant
With ideas, tips, and strategies to get more customers, this restaurant marketing guide will be your go-to resource for how to market your restaurant.
---
What's inside?
Actionable advice on branding, including choosing a name and logo

Strategies on using social media to increase guests at your restaurant

Simple restaurant website tips to help local customers find your restaurant

Ideas for growing your email list and spicing up your restaurant email marketing strategy
---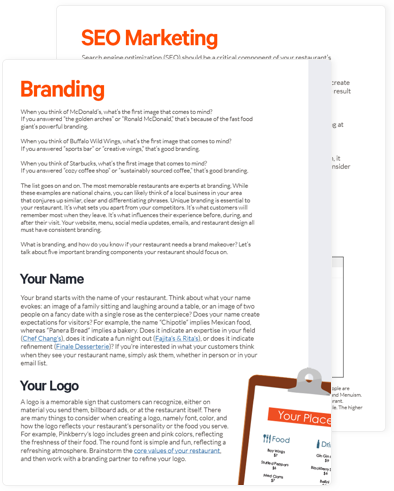 Why is Restaurant Marketing Necessary?
Restaurant marketing helps build connections with both past and future customers. So why aren't more restaurants investing in it?
In 2012, only 50% of restaurants even had a website. However, 92% of consumers search for restaurants online, and 75% choose a restaurant to dine at based on those search results.
In order to attract new customers, retain old ones, and create a seamless brand experience, your restaurant needs a solid marketing strategy. Start here restaurant marketing advice you can apply today.
Powered by Froala Editor