The marketing tips & tricks your restaurant needs
Use this restaurant marketing plan to create a custom marketing plan for your restaurant, outlining your marketing strategy, planned marketing activities, marketing budget, anticipated results, and more.
---
What's inside?
Restaurant Marketing Plan Guide (PDF): A PDF with instructions on how to build a marketing plan for your restaurant and how to set up a restaurant marketing calendar, as well as best practices and tips for using popular restaurant marketing channels, including social media, email marketing, Google, video, and more.
Restaurant Marketing Calendar (Excel): An interactive Excel spreadsheet to help you plan out your restaurant's marketing initiatives, project spend, and record actual performance metrics as your marketing campaigns go live.
Restaurant Marketing Playbook Template (Word): A customizable Word doc to help you set your restaurant's marketing goals.
---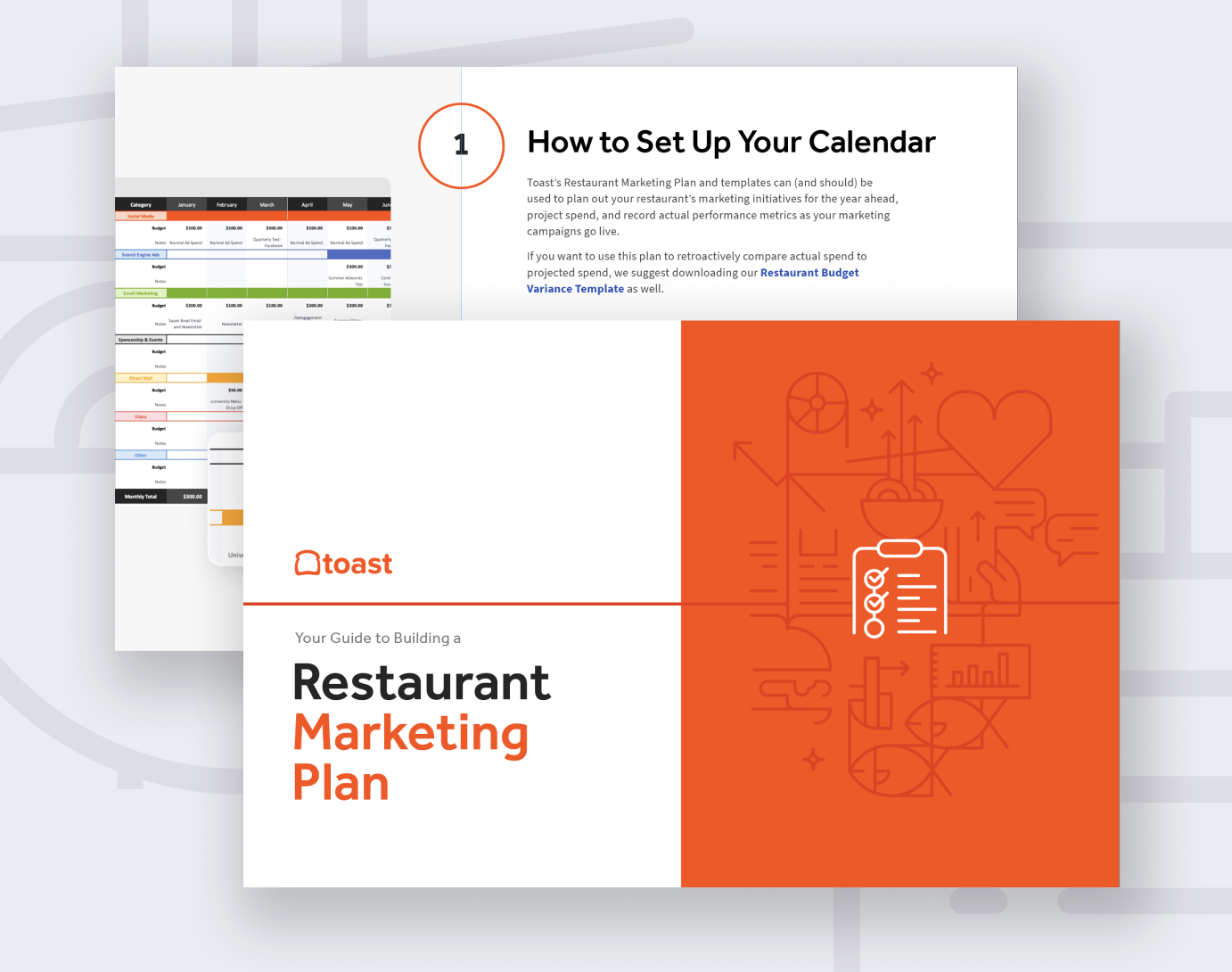 What is a restaurant marketing plan?
A restaurant marketing plan outlines your business's specific marketing strategy and includes activities you have planned over a specific time period, as well as why you're doing them, when they'll take place, how much they'll cost you, and anticipated results.
What is a restaurant marketing strategy?
A restaurant marketing strategy refers to your business's overall plan for reaching new people, turning them into customers, and then turning them into repeat visitors.
How can I promote my restaurant business?
There are many ways to promote your restaurant. You can use social media channels like TikTok, Instagram, and Facebook to reach new customers and communicate with fans. You can engage with customers using email marketing, sending out a newsletter, a coupon promotion, a reengagement message, or a loyalty update. You can optimize your restaurant's website so guests can easily search for you and find you online. You can sponsor a community event or partner with a local charity.

And the list goes on. Try out new marketing activities and see what works for your restaurant.
Create a marketing plan that's as unique as your restaurant
There's no such thing as one-size-fits-all when it comes to marketing your restaurant. Download the customizable restaurant marketing plan, and you'll create a marketing plan that's as unique as your restaurant.