The Restaurant Staffing Guide: How to Hire, Manage, and Lead the Perfect Team
Increase staff productivity, engagement, and retention with these insightful tips and solutions.
---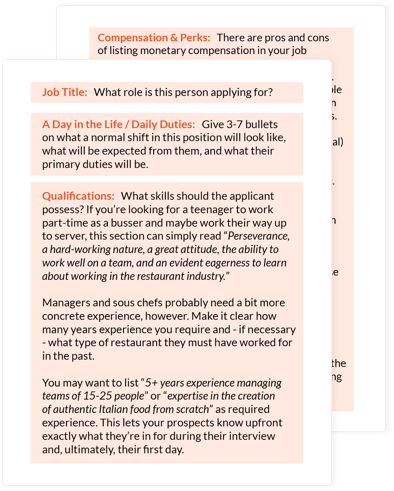 Hiring & training staff is the biggest challenge for restaurants.
In one of our restaurant industry reports, we found that restaurant owners named hiring & training staff as their biggest challenge. After all, the turnover rate is an astoundingly high 66% in the restaurant industry.
With a little guidance, we believe your restaurant can see a lower staff turnover rate, a higher level of employee engagement, and an overall more productive restaurant staff.
The Restaurant Staffing Guide contains 25 pages of helpful tips and processes you can put in place in your restaurant. Whether you run a multi-location chain with thousands of employees or a small business with five, this ebook can help you.
Powered by Froala Editor
Powered by Froala Editor
---
This guide to making your staff succeed is full of advice from industry experts. You'll learn how to:
Establish Core Values
Identify what your restaurant stands for, and by extension, what your staff should stand for.

Onboard & Train
Equip your team with the tools and knowledge they require to perform the job with proficiency and ease.

Pick the Best Interview Questions
You can narrow down who will truly be the best addition to your staff - not just another face.

Avoid Turnover
Keep your best performers around so they will continue to satisfy customers again and again.